A couple of weeks ago, I was invited to a friend's home for a girls' lunch meet-up where I came across one of the most interesting dishes using fenugreek seeds.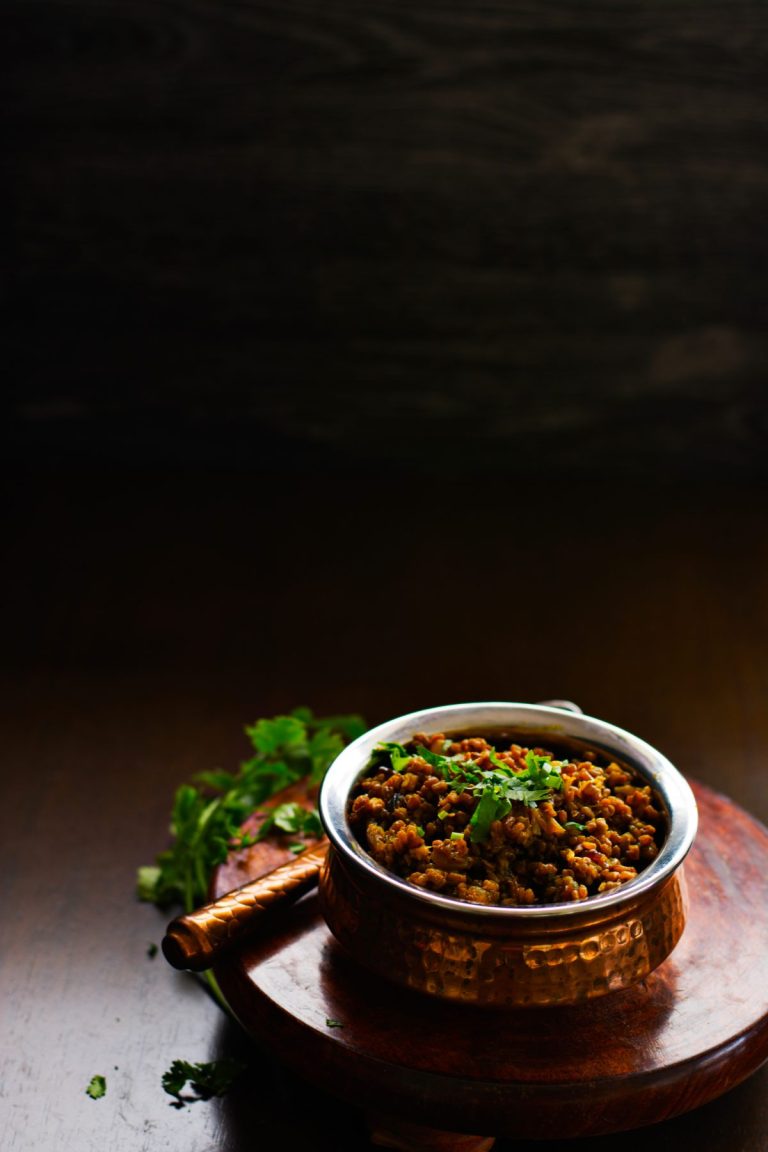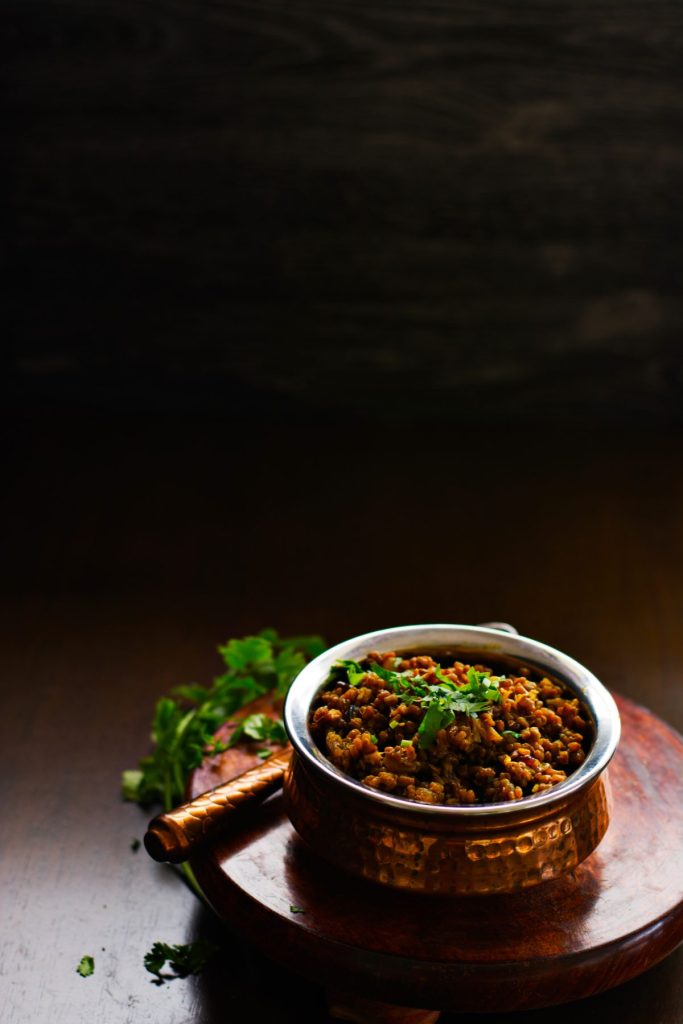 My friend was so excited to serve this dish because none of us had ever heard of or seen this preparation before. Many of the girls thought it was a lentil dish but I did figure out that it was fenugreek seeds from that mild hint of bitterness. Though I use fenugreek seeds a lot in my cooking, it has always been as a spice and never as the main ingredient.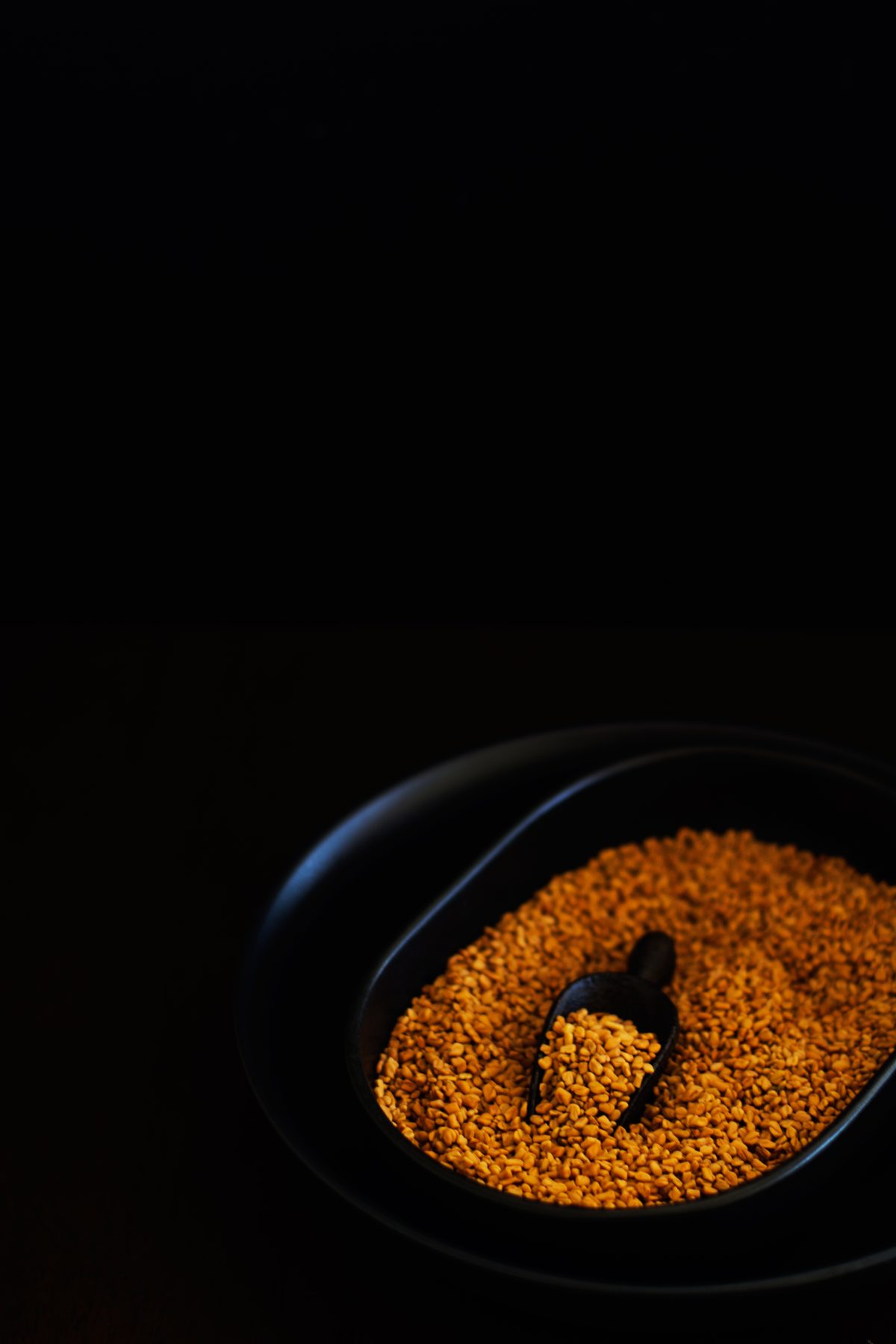 And even before the thought entered my head, my girlfriend had decided that I must share it on my blog. Love it when people get so excited about my work and want to share unique and amazing recipes with me for the blog. Deeply indebted for having friends who are always willing to share their knowledge.

This is a traditional dish from India, commonly prepared in some parts of North India. I haven't seen anything like this from the southern part of India or from any other part of the world; please correct me if I am wrong.

Now the reason why fenugreek seeds are generally used sparingly is because of its mildly bitter taste. But when I tasted this dish, it was hardly bitter….just a mild aftertaste if you eat the stir fry on its own and almost none if paired with rotis.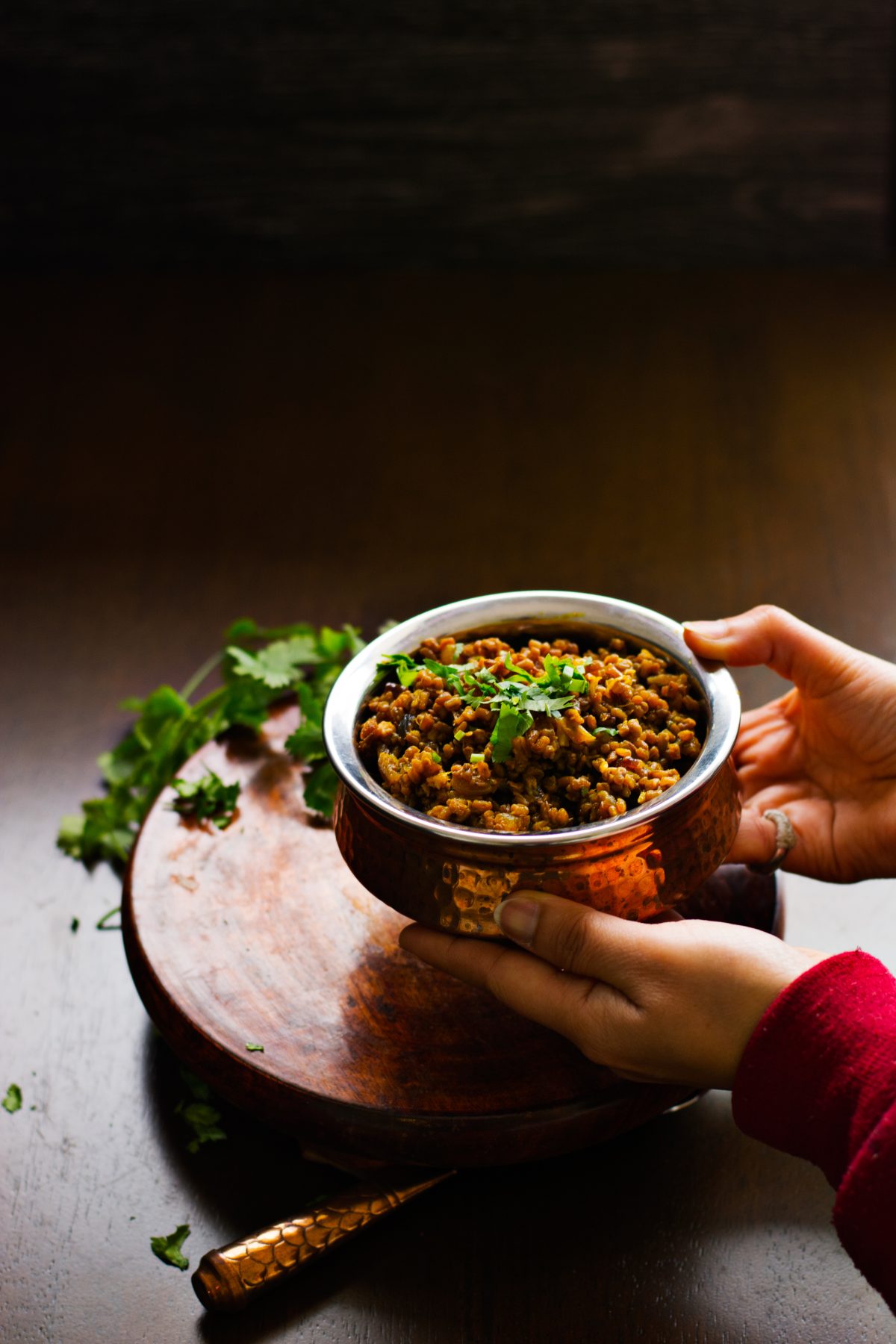 And my friend told me that's because the fenugreek seeds are first boiled in a particular manner, washed thoroughly and then used for the stir fry. The recipe is an extremely simple one and the only care to be taken is in the cooking and washing of the seeds which I have outlined below.

So please do give it a try, it's a really unique and interesting way to consume fenugreek seeds.

(Thanks a lot to my friend, Alka who not only taught me how to make this dish but also came home the day I was making it to ensure it turns out perfect. Also my hand model for the day!)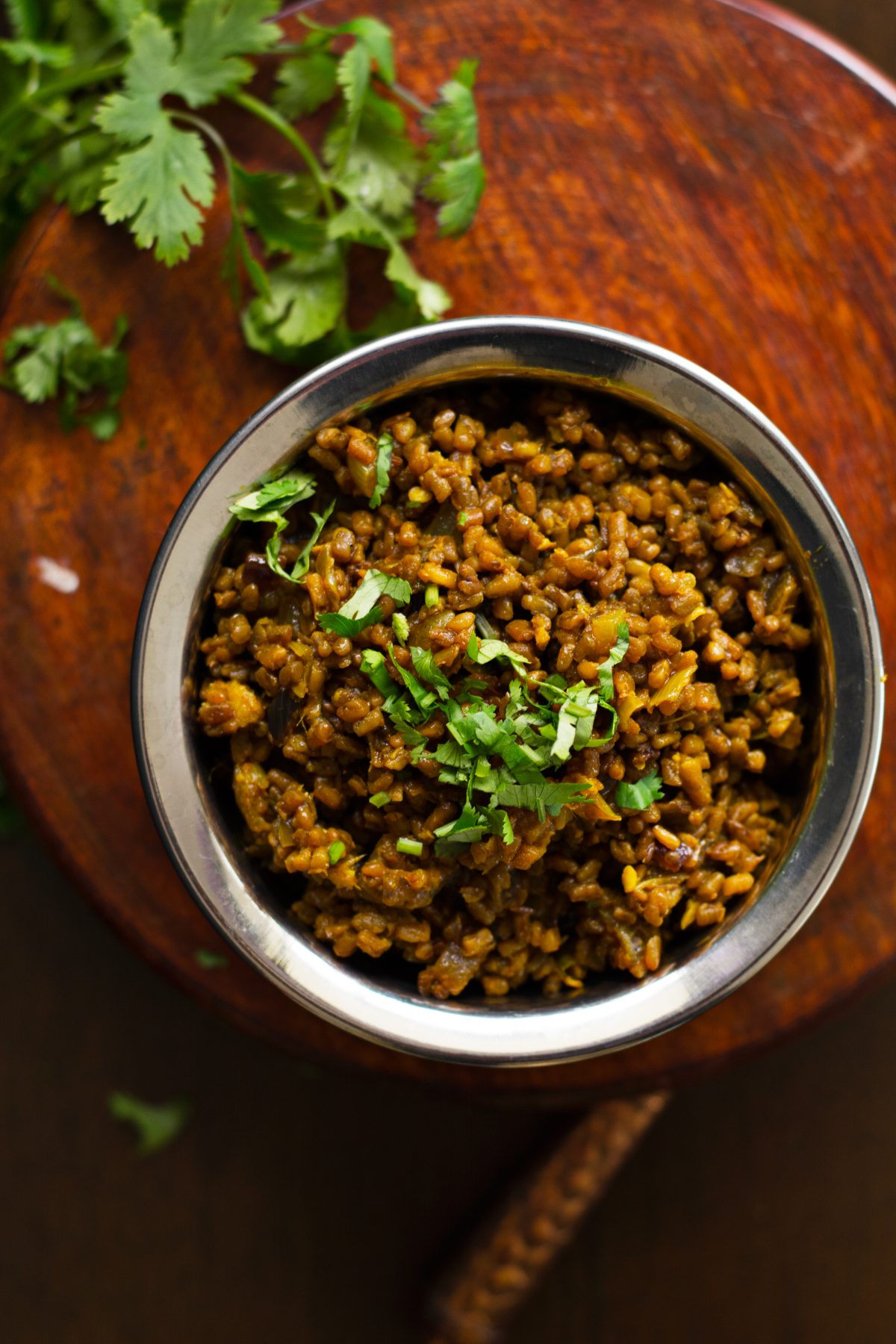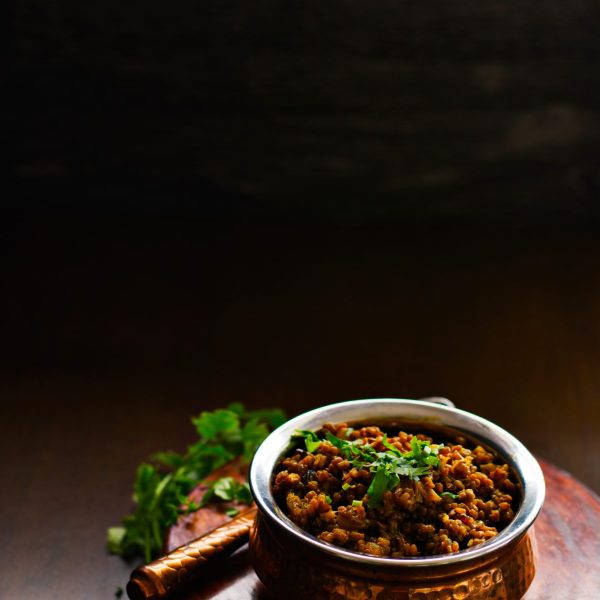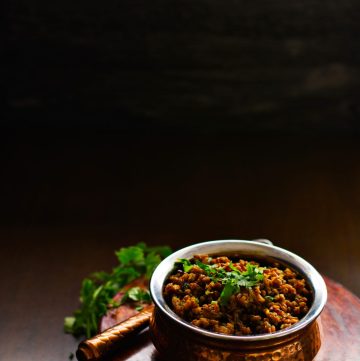 Print Recipe
Methi Dana ki Sabzi
Ingredients
½

cup

fenugreek seeds/methi

1

small red onion; finely chopped

1

tsp

ginger; grated

1

tsp

garlic; grated

1

green chilli; chopped

½

tsp

cumin seeds

A pinch of hing/asafoetida

¼

tsp

turmeric powder

½

tsp

red chilli powder

½

tsp

coriander powder

¼

tsp

garam masala

Salt

to season

2-3

tbsp

vegetable oil

Coriander leaves; chopped for garnish
Instructions
Pour 5 cups of water into a saucepan and place over low to medium heat.

When the water has become slightly warm, measure out the fenugreek seeds using a spoon or measuring cup and add to the water (do not touch the seeds with your hand or wash it before adding)

Bring to boil and then simmer till the seeds are cooked. If you want to check if the seeds are cooked, use a spoon to remove a few from the water and discard after checking. The fenugreek seeds will plump up lightly and the water also turns dark while cooking. The seeds are cooked when it has become soft but still has a bite to it (it might still taste slightly bitter at this stage).

Once cooked, place the saucepan with the seeds in it under a trickle of running water. Do not disturb or touch by hand. You can see that the water begins to run clear after some time. When the water runs completely clear, strain into a colander and keep aside.

To prepare the dish, heat oil in a pan and add the cumin seeds. As it begins to splutter, add the asafoetida followed by the chopped onions. Sauté for a minute and then add the chillies, garlic and ginger. Sauté till the onions are lightly browned.

Add the turmeric, red chilli, coriander powder and garam masala. Mix well and tip in the fenugreek seeds. Season with salt and cook till the extra moisture from the seeds have dried out.

Garnish with coriander leaves.

Keep the dish for at least 30 minutes before having it.
Notes
As I mentioned, the only care that needs to be taken is not to touch the seeds by hand at any point till the dish is done. A lot of dishes on the internet using the fenugreek seeds are prepared by soaking the seeds overnight, wash and then use for cooking. I tried out this method too but found that though the seeds do not taste bitter after soaking, it does develop a bitter taste once cooked.