I know, that's a long title!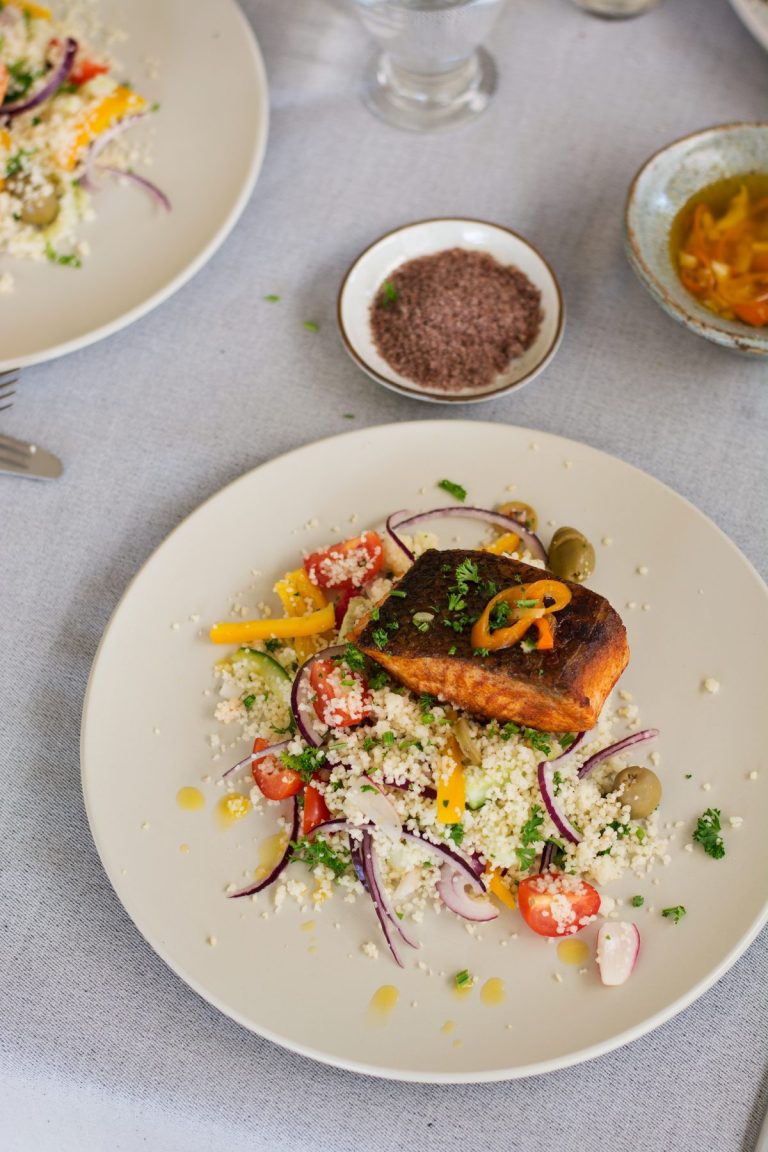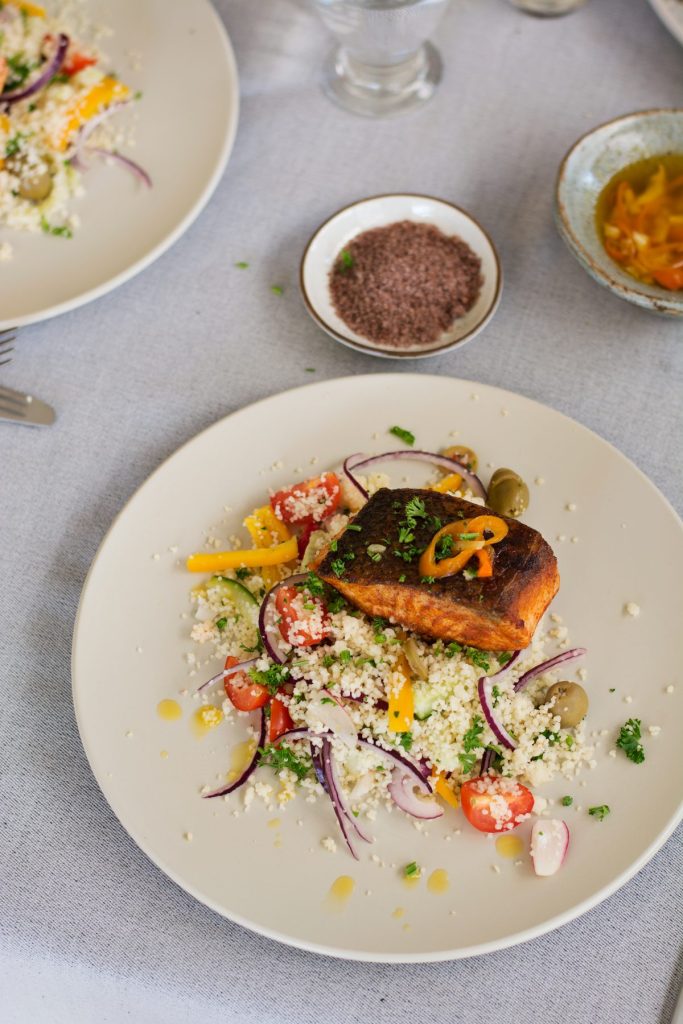 It's really hard to name a dish that is an amalgamation of so many different ideas, so I decided to just state what it is rather than a coin a word or phrase. But you must agree; it does read like a dish out of a fancy restaurant menu.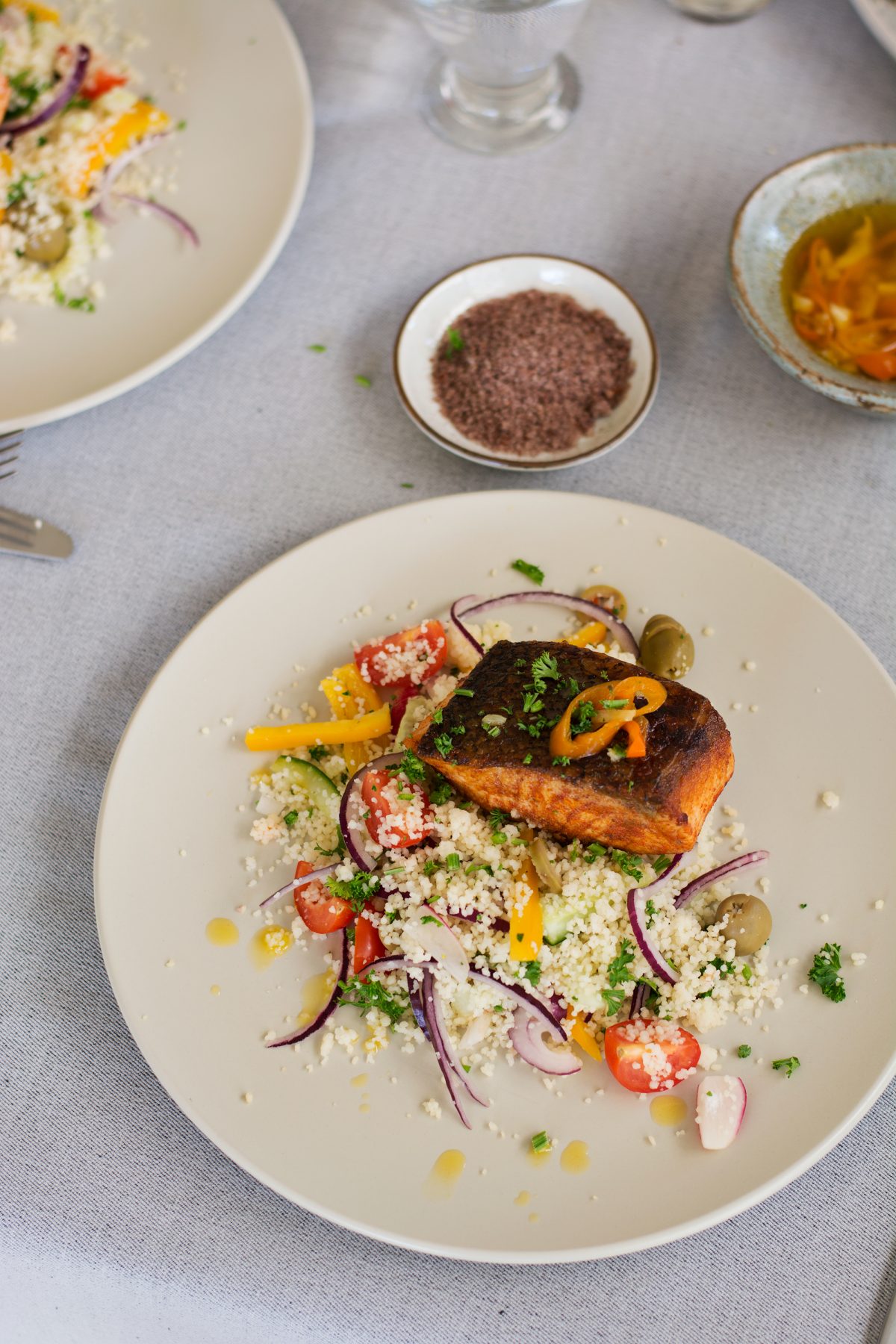 I love to visit and browse around artisan food stores, especially those that stock small batches of ingredients or products by local food producers. One such amazing place I discovered last year was Craft & Co. I was invited to their annual Christmas Market, which was an amazing experience as I got to learn about so many unique handcraft food products and also have a chit chat with their makers.

Now this can be a highly inspiring experience, something you will not get when you buy a product off a supermarket shelf. When you have a chat with these food producers, you will be amazed at the passion they have for their products. Sometimes it's just one product; for eg: a lady might be selling jam but then that would be a recipe that she has perfected over many years, completely handmade and bottled. She would use the best quality ingredients when in season and make small batches. And make it again next year when the particular fruit is back in season. That's how food used to be generations ago…..local and what's available in season.

While there were so many products on display, I was quite drawn to Red Rock Olives. Excellent quality olives and olive oils but what really caught my attention was the 'olive salt'. Now I had never heard of an olive salt till then and I was so intrigued by how it would taste.

The lady at the counter (sorry dear, I forgot your name though I remember your beautiful smile) sensed my interest and encouraged me to try some. She asked me to dip a sourdough piece first in olive oil and then a bit of salt before tasting. It was quite different to anything I had tasted before; at first, you get the hit of salt which then gives way to the tangy familiar taste of olives. It's subtle but it's there….

So I bought two bottles of Red Rock olive salts, the ordinary olive salt and the chilli infused one. The ordinary one was part of a giveaway I did last Christmas and the chilli infused one, I kept for my personal needs.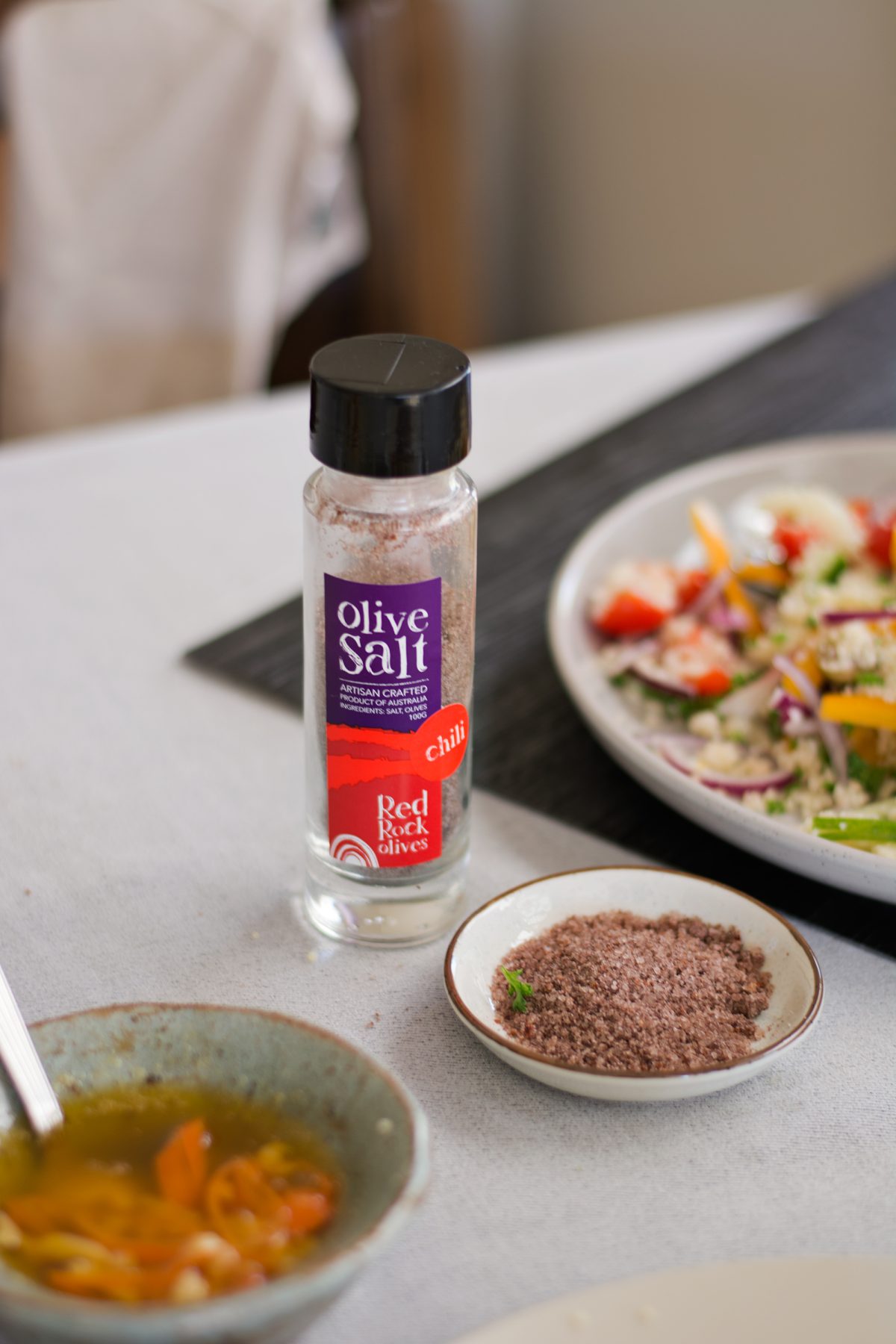 Even though I have used it so many times before, I somehow never managed to do a recipe for the blog. And since it's a product I really enjoyed using, I thought of sharing it with you guys. This post is not sponsored, just me telling all of you about this amazing product. And if you are visiting the Grampians, do visit Red Rock; I have heard it is a stunning place.

Today's recipe is actually a super simple one in spite of the long name. I used salmon fillets and marinated it with some of the olive salt, sweet paprika, olive oil and then pan fried it. The couscous salad is again a no brainer, but a delicious one since it works as a salad and side. Great option for lunch boxes!

The butter sauce is not strictly necessary but I wanted to add more flavour. Again, extremely easy….

The whole dish comes together in under an hour, and works perfectly as a midweek dinner.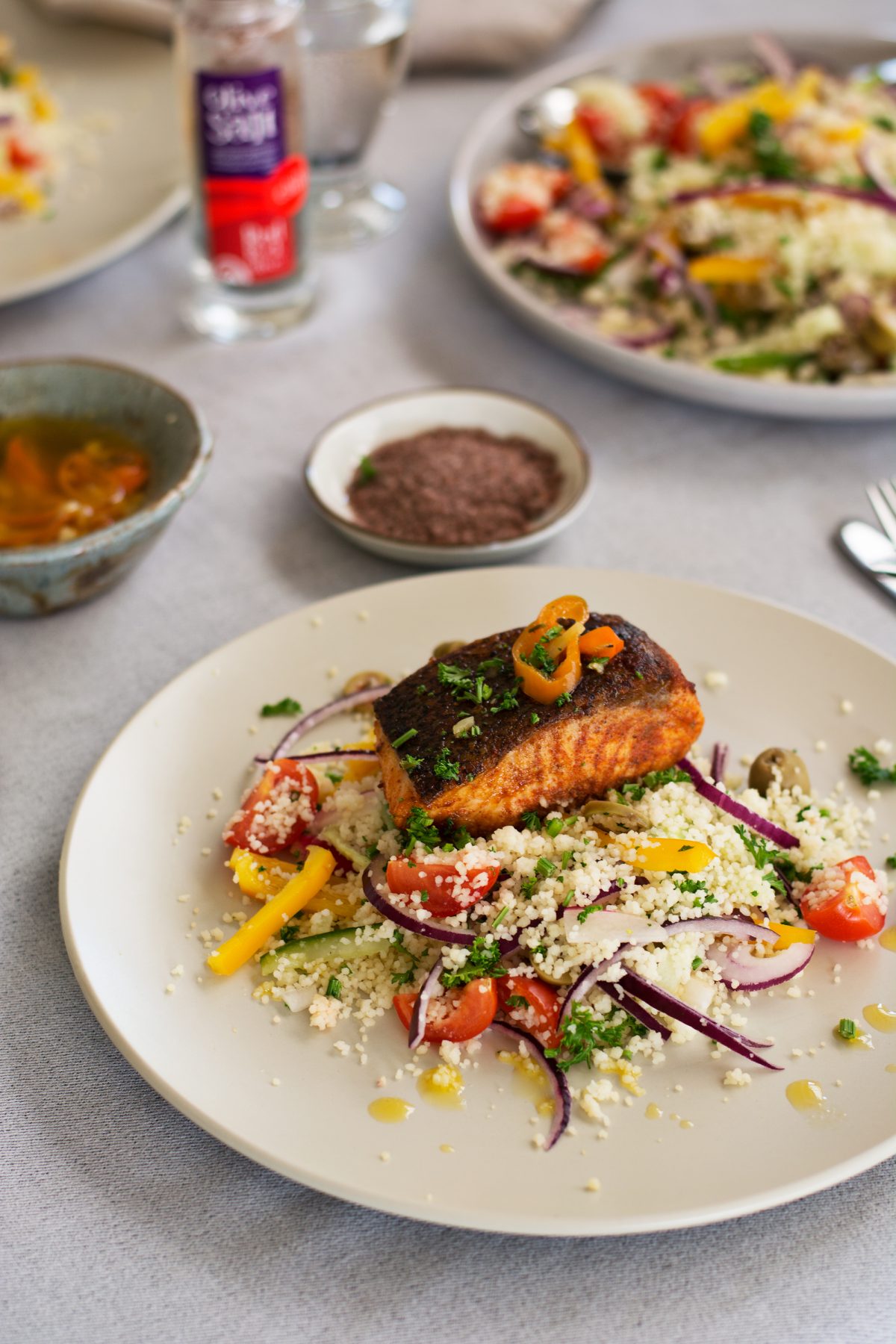 Note – The olive salts (and other olive products) can be purchased from the Red Rock website. And of those who cannot get their hands on this, you can still make this dish by using any sort of marinade or dry rub for the salmon.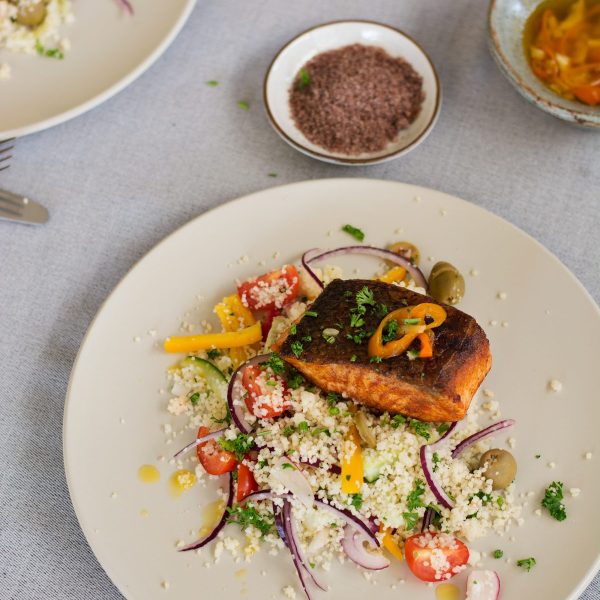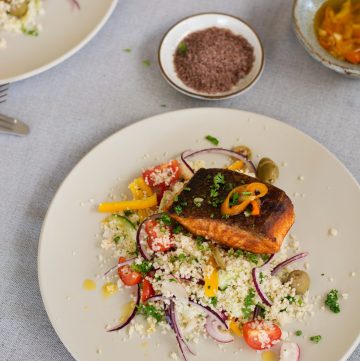 Print Recipe
Pan fried Salmon, Garlic Butter Sauce, Couscous Salad
Ingredients
For the salmon:
6

salmon fillets

with skin

1 ½

tsp

Red Rock olive salt

1

tsp

sweet paprika

2

tbsp

olive oil
For the butter sauce:
4

tbsp

unsalted butter

2

garlic cloves; finely chopped

½

large red chilli

less heat variety
For the couscous salad:
1

cup

cooked couscous

1

medium red onion; sliced

6

cherry tomatoes; halved

6

baby radish; sliced

1

small Lebanese cucumber; sliced

A handful of green olives; chopped

1

medium yellow bell pepper; sliced

A handful of capers

½

cup

fresh parsley; finely chopped

Juice of ½ lemon

Salt; to season

Freshly cracked black pepper; to season
Instructions
Salmon:
Make sure that all the fish bones are removed, wash and pat dry.

Add the olive salt, paprika and olive oil to the salmon; rub well all over and allow to marinate for at least 30 minutes.

Heat a pan and pan fry the salmon fillets in batches. Since you have already added oil to the marinade, extra oil is not needed but you can add more depending on the type of pan you are using. Also fry skin side first to get really crispy skin.
Butter sauce:
Add the butter, garlic cloves and chillies to a cold pan and place on low heat. Let the flavours infuse into the butter slowly so make sure it's on the lowest heat.

Remove when the butter starts to take on a light brown colour.
Couscous salad:
Prepare the couscous as per packet instructions or you can follow this method which works for me every single time.

For 1 cup couscous, use 1 ½ cups water. Bring the water to boil, season lightly with salt and add a drizzle of olive oil. When the water starts to boil, add the couscous, mix well and take off heat. Keep covered for 5 minutes. Open the lid and gently fluff the couscous using a fork. Transfer to a flat plate or container to cool the couscous faster or the ambient heat can overcook.

Once cooled, add all the veggies to the couscous and refrigerate till it's time to serve.

Just before serving, add the lemon juice, parsley; season with salt and pepper.

Toss well.

To serve, spoon a portion of the salad on the plate, place a salmon fillet and drizzle with a little butter sauce on top. Tuck in!