A delicious Chicken Meatball Salad with loads of fresh vegetables and herbs; an excellent healthy lunchbox recipe.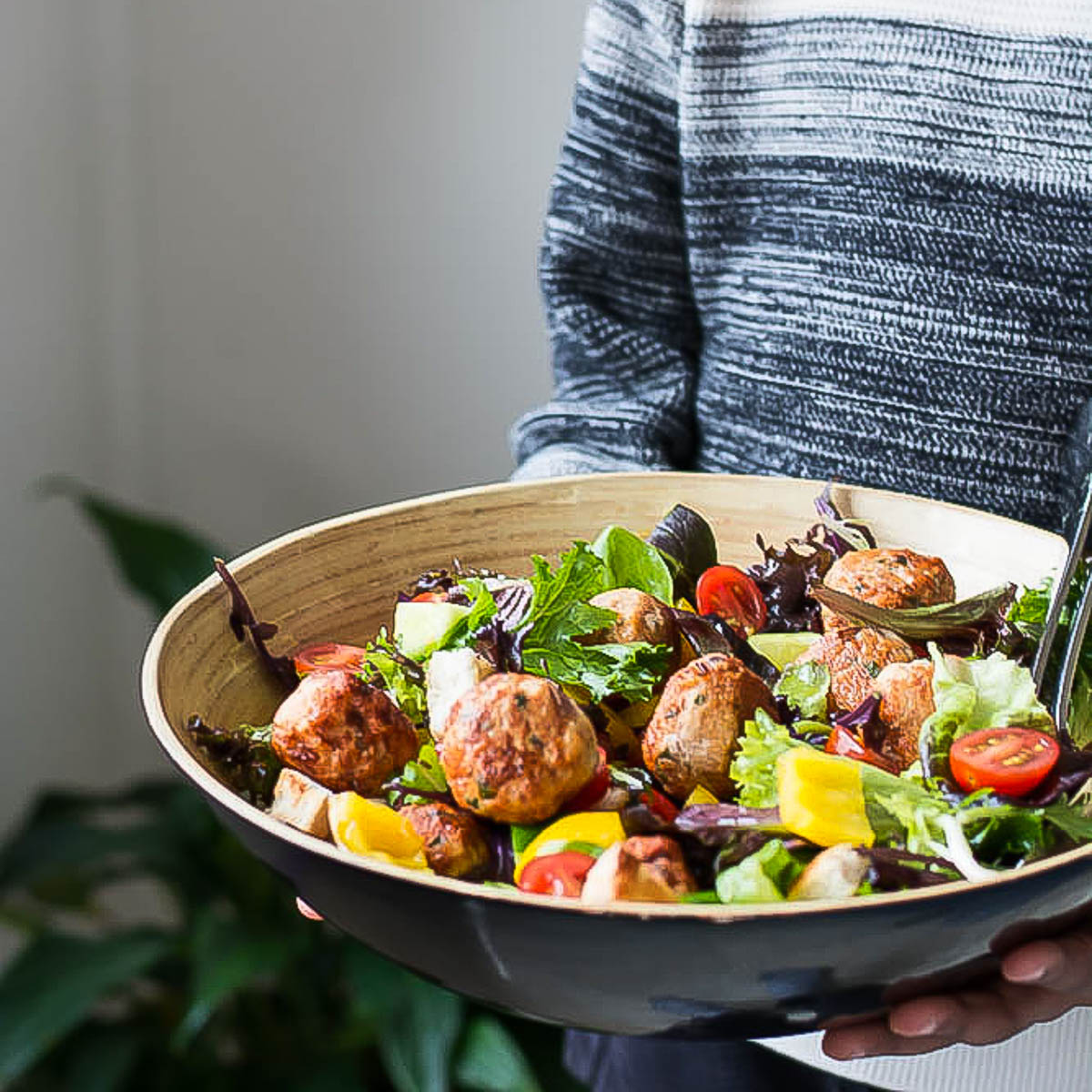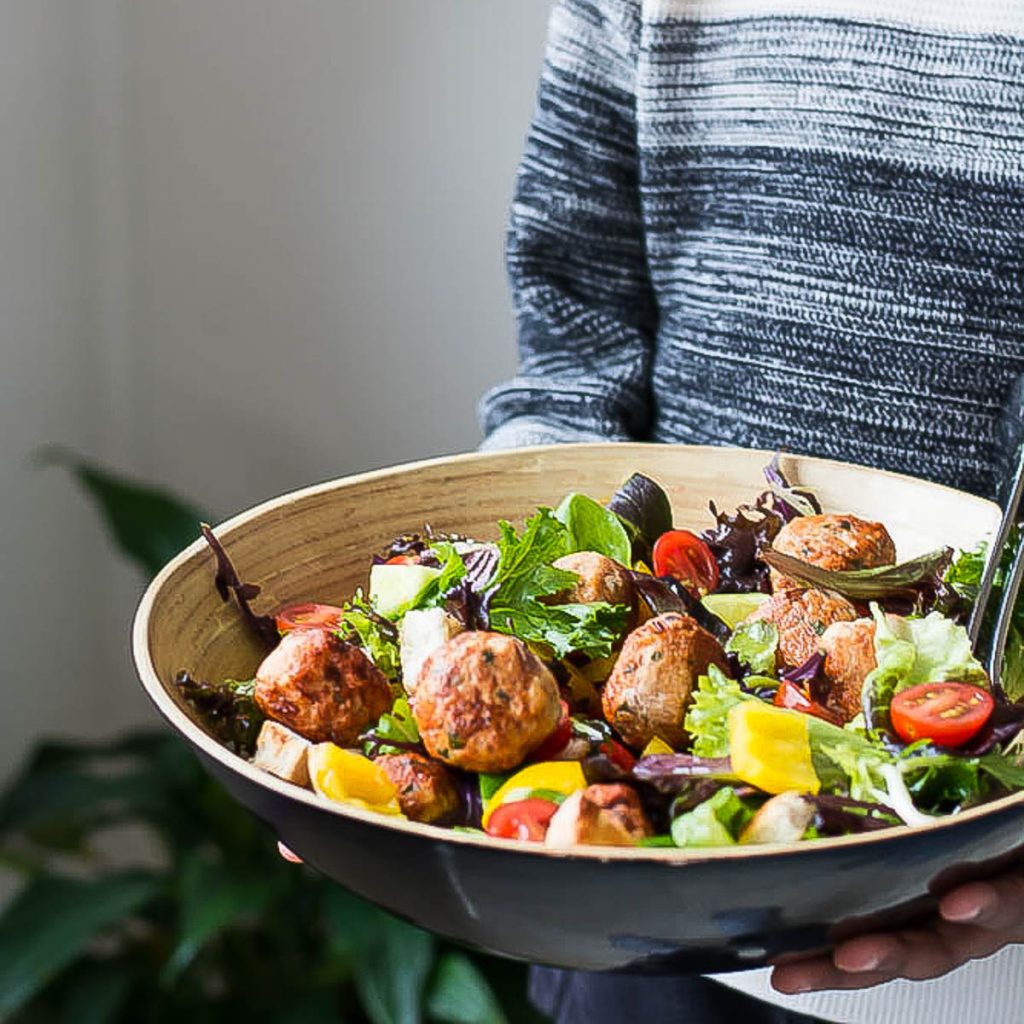 Do you cook with your children?

Not the once in a while 'school holiday' cooking but do you involve your kids in your everyday cooking and food related activities?

From a very early age, I made sure that I got Adi interested in food and cooking. Initially it began with taking him to the market where I taught him to identify the different fruits and vegetables. I would encourage him to touch and feel the produce or ask him to pick out some for our shopping basket. In fact, Adi learnt the different colours and his initial 1, 2,3s…. at our local vegetable shop.

As he grew older and learnt to read and write, I made sure he was with me for most of our weekly grocery shopping trips. He learnt more about the different fruits and vegetables, also learning how to pick out fresh produce but at the same time, I encouraged him to pick out wobbly and misshapen ones that are still fresh indirectly teaching him about food wastage.

And now he is my favourite shopping partner. Not just with the veggies but he is also quite well versed at picking out most ingredients at the supermarket, choosing the deli meat every week for his lunch box etc…

I have also consciously involved Adi in household chores from cleaning, arranging his room and toys, helping me out in the kitchen etc… Initially he wouldn't be interested but now he sees it as a responsibility and he understands that he needs to do his share too.

Now there are so many advantages to this but above all, I wanted him to develop two important life skills – learning to cook so that he is not dependent on anyone for his needs and also helping him understand that the kitchen, cooking, cleaning etc… is not just a woman's job.

I wouldn't claim to be a perfect mom (that phrase doesn't exist!), but consciously incorporating certain rules or principles has made him a largely responsible and flexible child. It has been hard and there were plenty of times when I lost patience especially because I started very early on, when he was about 2 years of age. But I had the belief that it was the right path which will show results after a few years. And it did…

Adi is 9 years old now, a happy boy who enjoys food and not a fussy eater at all. He enjoys doing his chores, has a flexible disposition, responsible and accountable; all those years of gently steering him from behind seems to have had a positive effect so far.

I am not writing this to brag; every child is unique and has both strengths and weaknesses. Adi has his share too. But I write this for the many young parents who struggle either due to lack of knowledge or think that they have time to rectify certain things when the child is older. And food always seems to be an issue, especially getting the child to make healthy food choices as he grows up.

You have to start really young with children that it almost becomes a way of life for them because it's so hard to change ways later. And we most definitely can't raise our kids like our parents did because the needs of this generation are way different. Agree there are some traditional values that remain same but largely our lifestyles have changed which means our parenting must too.

Today, we are making one of Adi's favourite salads – a Chicken Meatball Salad.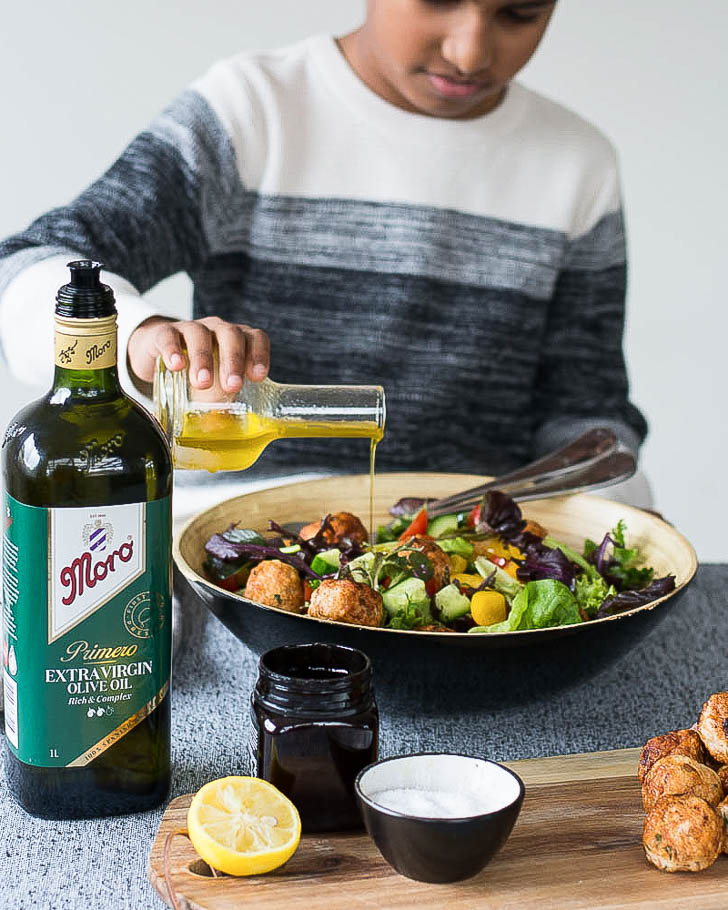 As I already mentioned, it's easy to get him to eat veggies and salads are a regular feature at our dinner table. But once in a while, we make this chicken meatball salad which doubles up as his school snack the next day.

Whenever we make this salad, Adi's job is to help me roll out the meatballs and also preparing the dressing (he loves the shake shake part) and finally tossing it all up.

The meatballs are simple and are great as a snack. So I always double up the quantities and freeze some to have as an after school snack later in the week. And with meatballs, you can do so much….add it to pastas, a curry base or sandwiches.

This chicken meatball salad is a beautiful medley of our favourite veggies and herbs. Use what's in your refrigerator or the combinations that your children like to eat.
Another favourite salad that Adi loves to help me prepare is this delicious fire roasted Capsicum, Tomato and Mozzarella salad.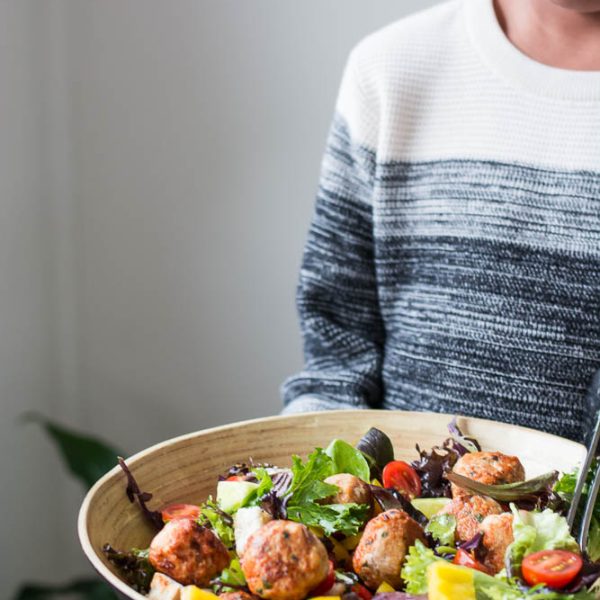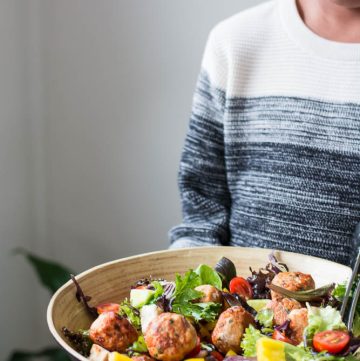 Print Recipe
Chicken Meatball Salad
Ingredients
For the meatballs:
500

gms chicken mince

1

slice

white bread

soaked in ¼ cup milk

2

sprigs rosemary

1

tbsp

fresh parsley; finely chopped

1

tsp

sweet paprika

1

tsp

lemon zest

Salt

to season

Black pepper

to season

Vegetable oil; for shallow frying the meatballs
For the salad:
Salad greens

½

punnet cherry tomatoes; halved

1

Lebanese cucumber; diced

1

yellow bell pepper; diced

A handful of olives

3

bread slices; to make croutons

1/2

cup

Extra virgin olive oil; for dressing

Regular olive oil; for shallow frying the meatballs

Lemon juice

Salt

to season
Instructions
Squeeze out the excess milk from the bread and tear into smaller pieces.

Add this to a large bowl along with the chicken mince, rosemary, parsley, paprika, lemon zest, salt and pepper. Mix well to combine and shape the mixture into even sized meatballs. Keep aside and allow to rest while you assemble the ingredients for the salad.

In a large salad bowl, assemble the salad leaves and veggies.

To prepare the dressing, add the olive oil to a small jar with a tight lid. Add the juice of ½ lemon and a pinch of salt. Shake vigorously to get an emulsion; taste and add more lemon juice if necessary.

Heat olive oil in a large pan and shallow fry the meatballs in batches.

Add the meatballs to the salad; pour the dressing and toss together to combine.

Serve immediately.