It's been one of those crazy weeks where nothing goes to plan. There's no particular rhyme or reason but I couldn't stick to a routine most of the days which makes me feel overwhelmed and uninspired. And its work that often gets affected and when I mean work, it's often food, cooking and the associated bits and bobs.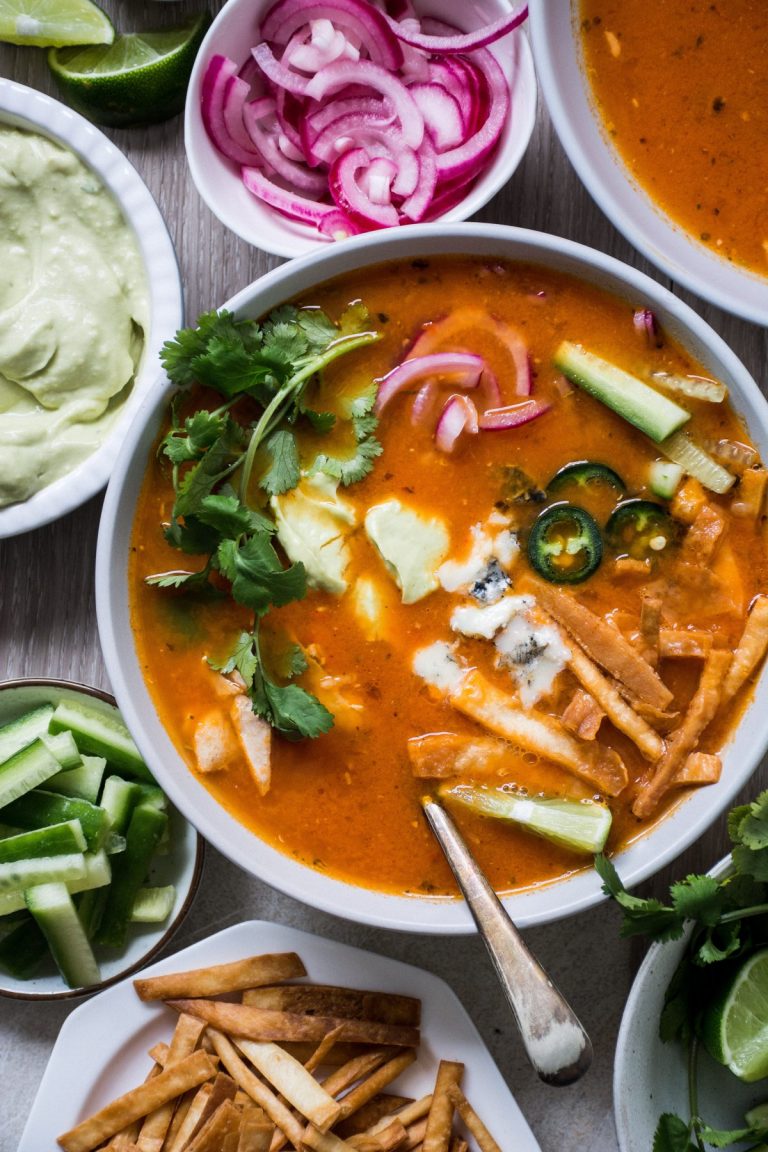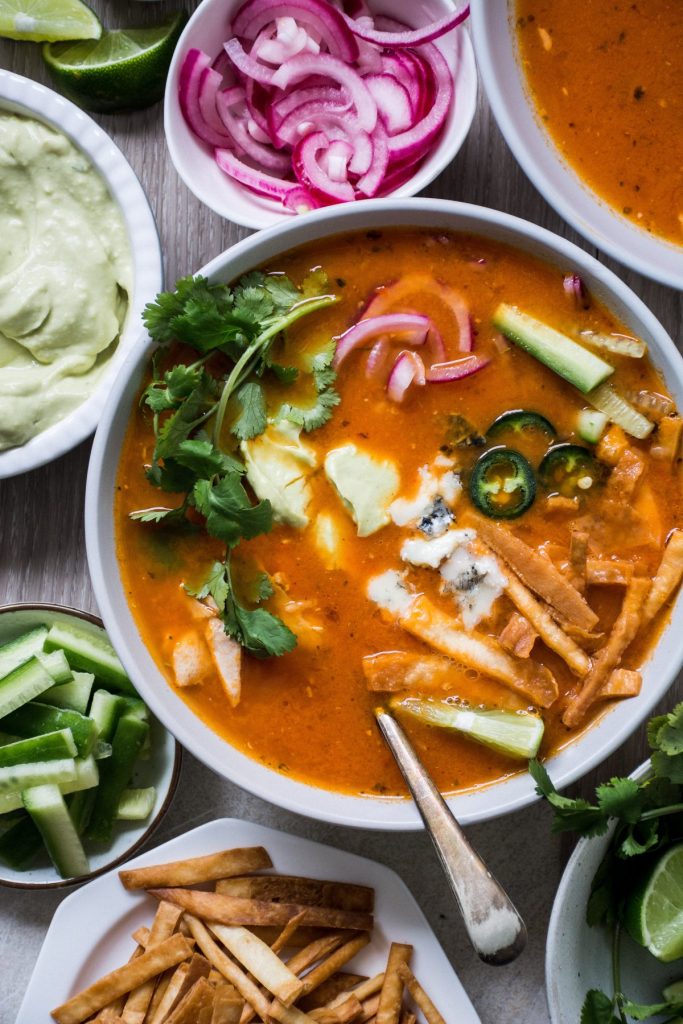 I am not one of those people who say, 'the kitchen is my happy place; when I am upset or stressed I go into my kitchen and cook to make me feel good again.' Nope, that's not me at all. I simply can't cook or to be honest, detest getting into the kitchen when I am down. When I am feeling low, I can mess up even the most basic of dishes. Most people don't believe me when I say it but that's the real honest truth. I can burn water if I am not in the right frame of mind.

Today's recipe was actually prepared last week. It was developed for a client but all of us loved it so much that I decided to post it here too. Especially since it fits the bill as a winter warmer dish.

The Mexican hot pot is one of those dishes that require a bit of prep but then the whole dish comes together in no time at all. It's warm, comforting, hearty, delicious and perfect for sharing. And it makes the perfect weeknight meal or weekend indulgence.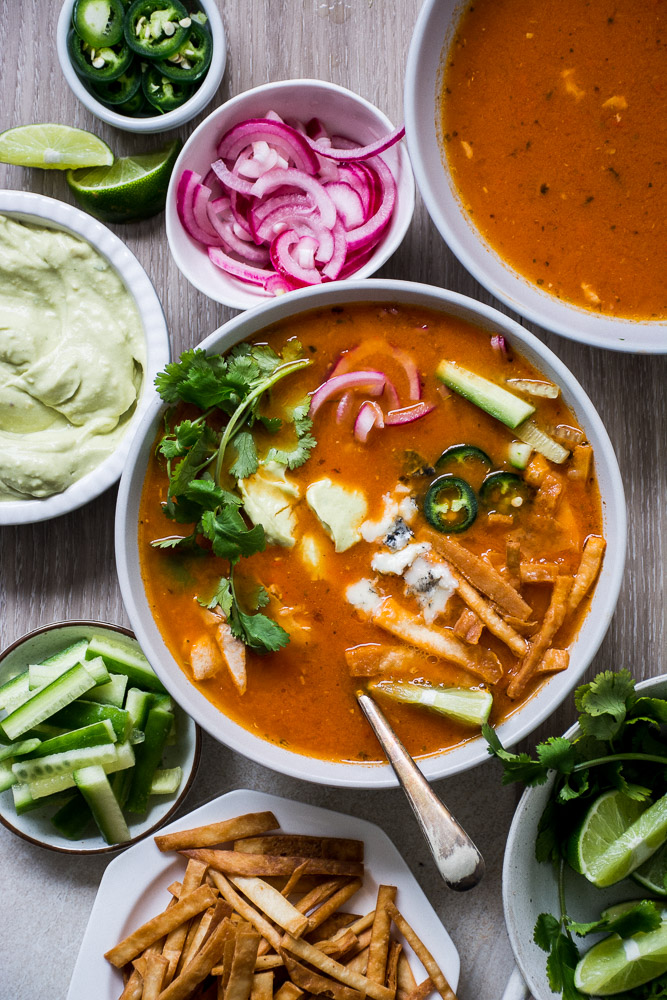 This hot pot is all about the broth that has been infused with Mexican flavours. I used chicken as the protein, but it can easily be substituted with any other meat, fish or even vegetables of your choice. To maximize the flavour of the broth, the onions, tomatoes and bell peppers were roasted and then blitzed. Roasting helps to intensify and draw out flavours, a step that's totally worth it.

Rice is optional, but I wanted this Mexican hot pot to be a complete meal so rice was part of the bowl. A totally customizable dish, it is best served as different components like the broth with chicken, rice, coriander, lime, avocado crema, tortilla strips, pickled onions, jalapenos etc…. Allow everyone to assemble their own bowls, building up the flavours to their preference.

And before we get onto the recipe, here are some of our all time Mexican favourites;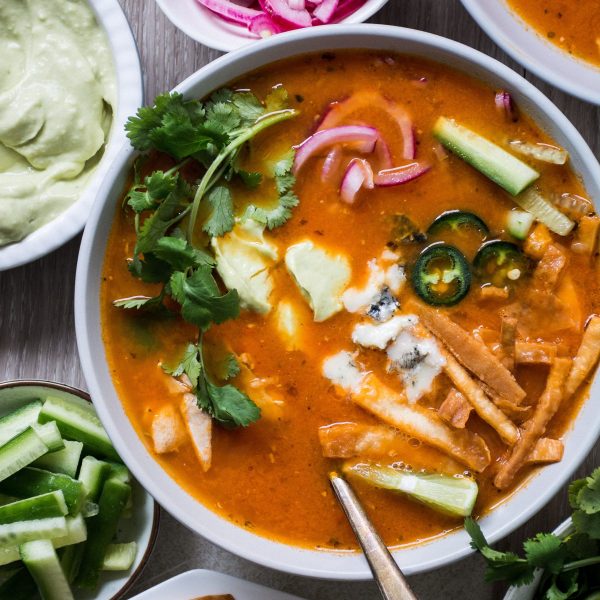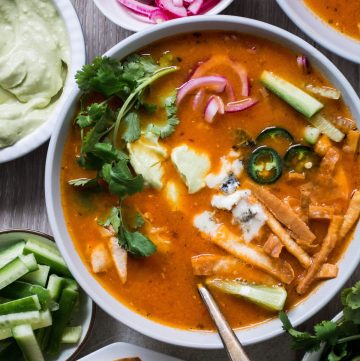 Print Recipe
Mexican Hot Pot
Ingredients
For the hot pot:
1

large Spanish onion; diced

1

large red tomato; diced

2

fresh jalapeno; sliced

1

large red bell pepper; diced

2

garlic cloves; peel on

2

tbsp

olive oil

400

ml

crushed tomatoes

2

litre chicken stock

Salt

to season

1

tsp

smoked paprika

½

tsp

cumin powder

1

tsp

dried oregano

4

chicken thighs

boneless; finely sliced
Avocado Crema:
1

ripe avocado

½

cup

plain yoghurt

1

small garlic clove; grated

Juice of ½ lemon

Salt

to season
Toppings: (adapt to individual preferences)
Steamed white rice

Pickled red onions

Fresh jalapenos; finely sliced

Fresh coriander leaves

Lime wedges

Lebanese cucumber; cut into long strips

Fried tortilla strips

cut 1-2 tortillas lengthwise using a scissors and fry in oil till crisp
Instructions
Preheat the oven to 200°C.

In a roasting/baking tray, add the diced onions, bell pepper, tomatoes, jalapeno and garlic. Drizzle with olive oil, season with salt and mix well to coat. Roast in the oven for 35-40 minutes till the veggies are lightly roasted and soft. Remove and cool lightly.

Remove the peel of the garlic and add all the roasted veggies to a blender. Add the crushed tomatoes and blend well.

In a large stock, add the blended mixture along with chicken stock. Then add the paprika, cumin and oregano. Taste and season with salt if necessary. Bring to boil and then simmer covered for 15 minutes.

Add the chicken pieces and cook on high heat till the chicken is tender and cooked through. This should take only about 5 minutes as the chicken pieces are finely sliced.

Meanwhile prepare all the toppings.

To make the avocado crema, blend the avocado, yoghurt, garlic, salt and lemon juice till you get a smooth consistency. (Makes an excellent dip with nachos or any other crisps).

To serve, lay out the chicken broth, toppings and avocado cream. Let each person assemble their bowl based on preferences.