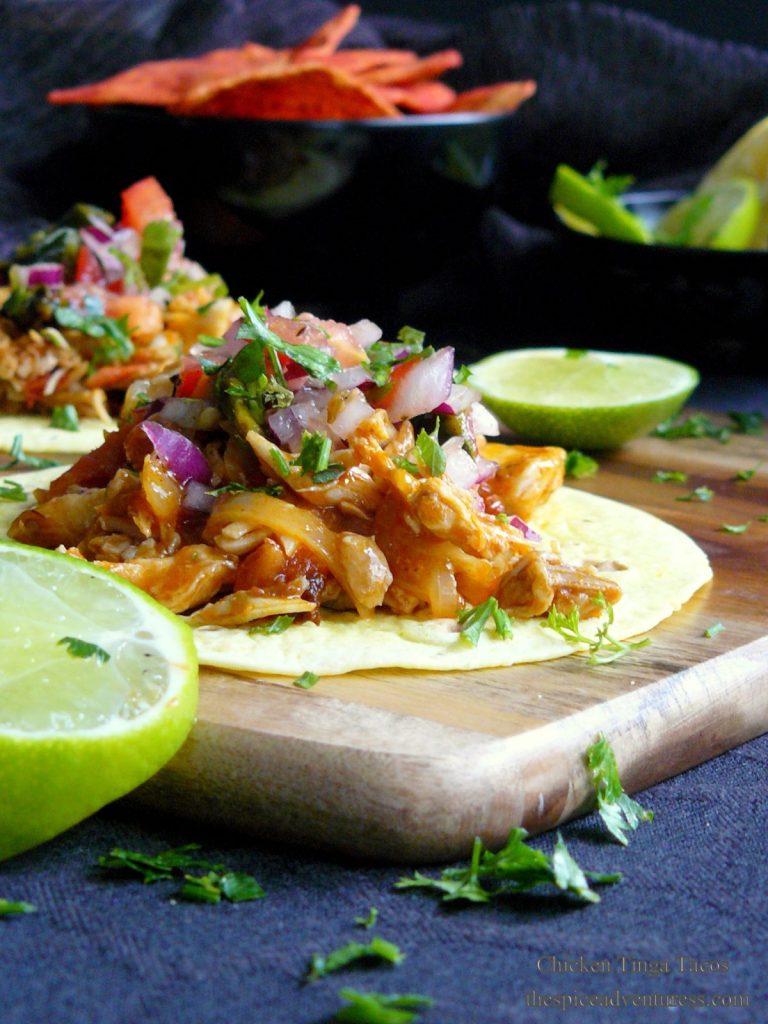 Any time is taco time!

Yes, I can eat tacos at any given time of the day, right from breakfast to dinner. I find these little parcels an explosion of flavour and texture. Keep it simple or get creative and gourmet, but tacos are delightfully delicious, full of oomph and a food that makes me smile from within.

Today, we have Chicken Tinga Tacos with a Roasted Poblano Salsa.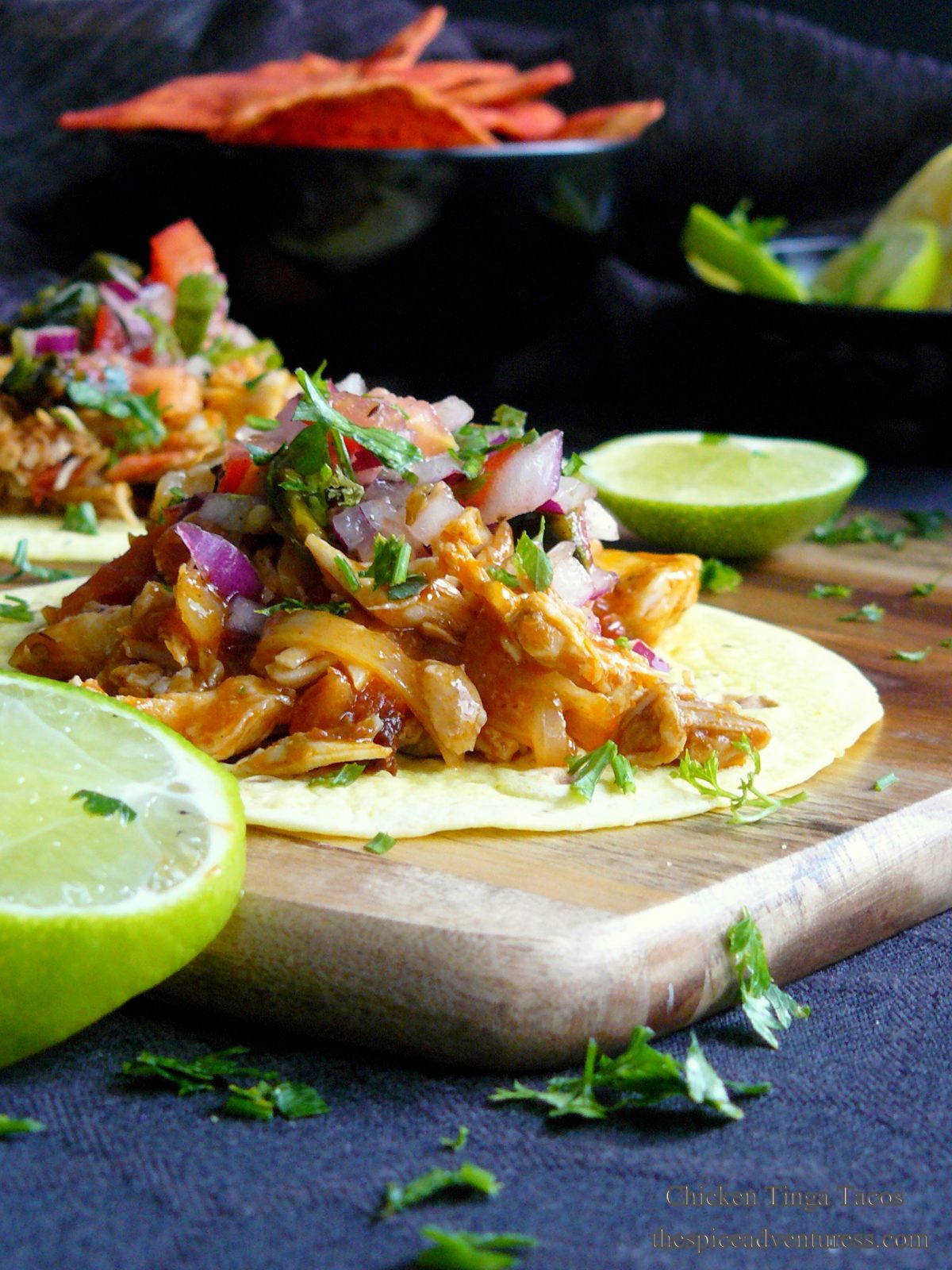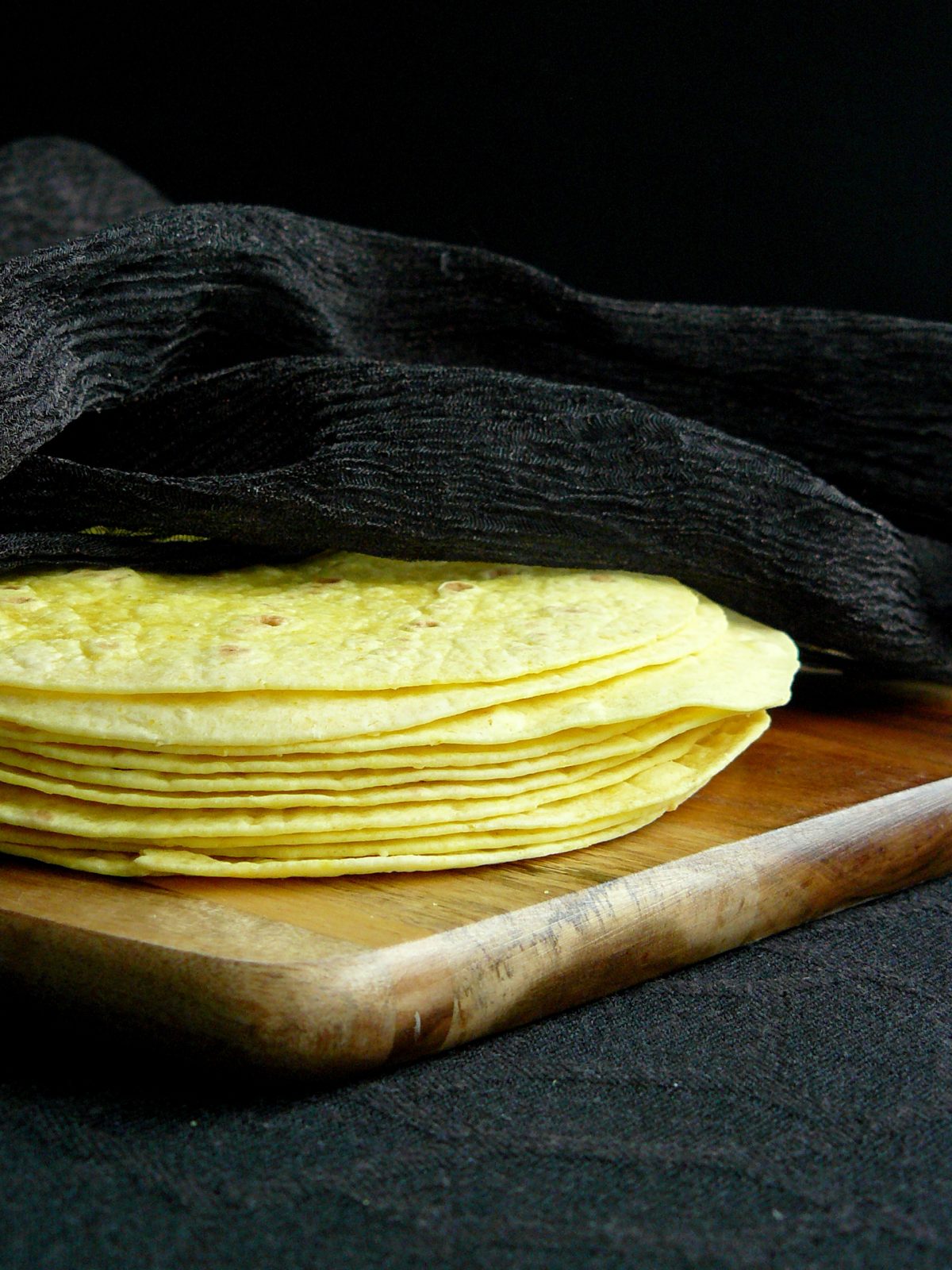 Tinga comes from the Mexican state of Puebla and is a simple dish that is famous and common across the country. I have used chicken today but this works well with pork and beef. Tinga is generally prepared as a filling for tacos, empanadas, tlacoyos and also as a topping for tostadas.

The signature ingredient responsible for the flavour profile of the tinga is the chipotle peppers. I used chipotle in adobo sauce but you can use just the peppers too. Chipotle adds not just heat but a complex and rich smoky depth to this chicken tinga.

Extremely simple to make, the tinga is an extremely versatile dish that you could use in so many ways. I even made a lunch box subway with this topped with some pickled jalapenos and mayo…..deliciousness!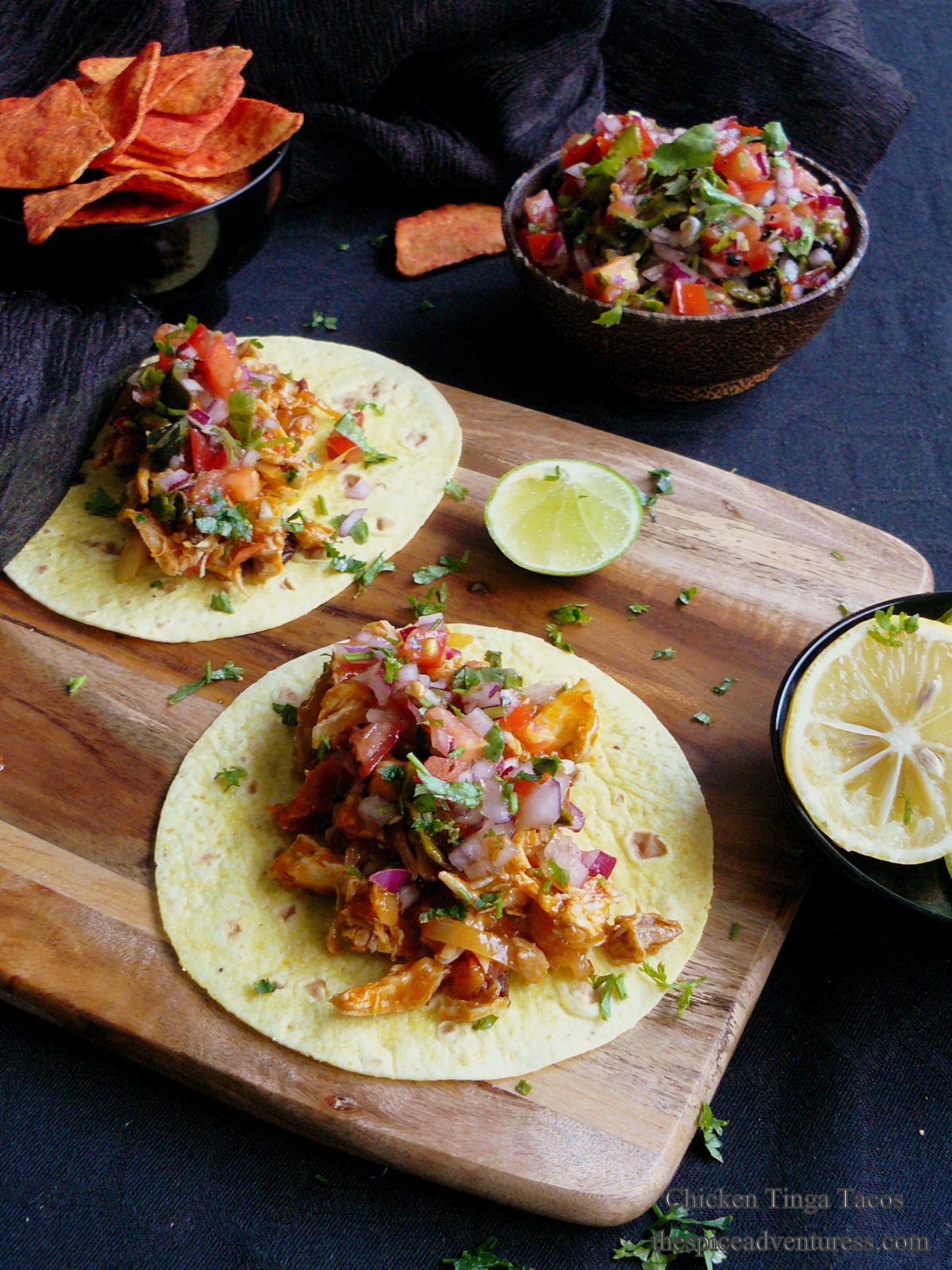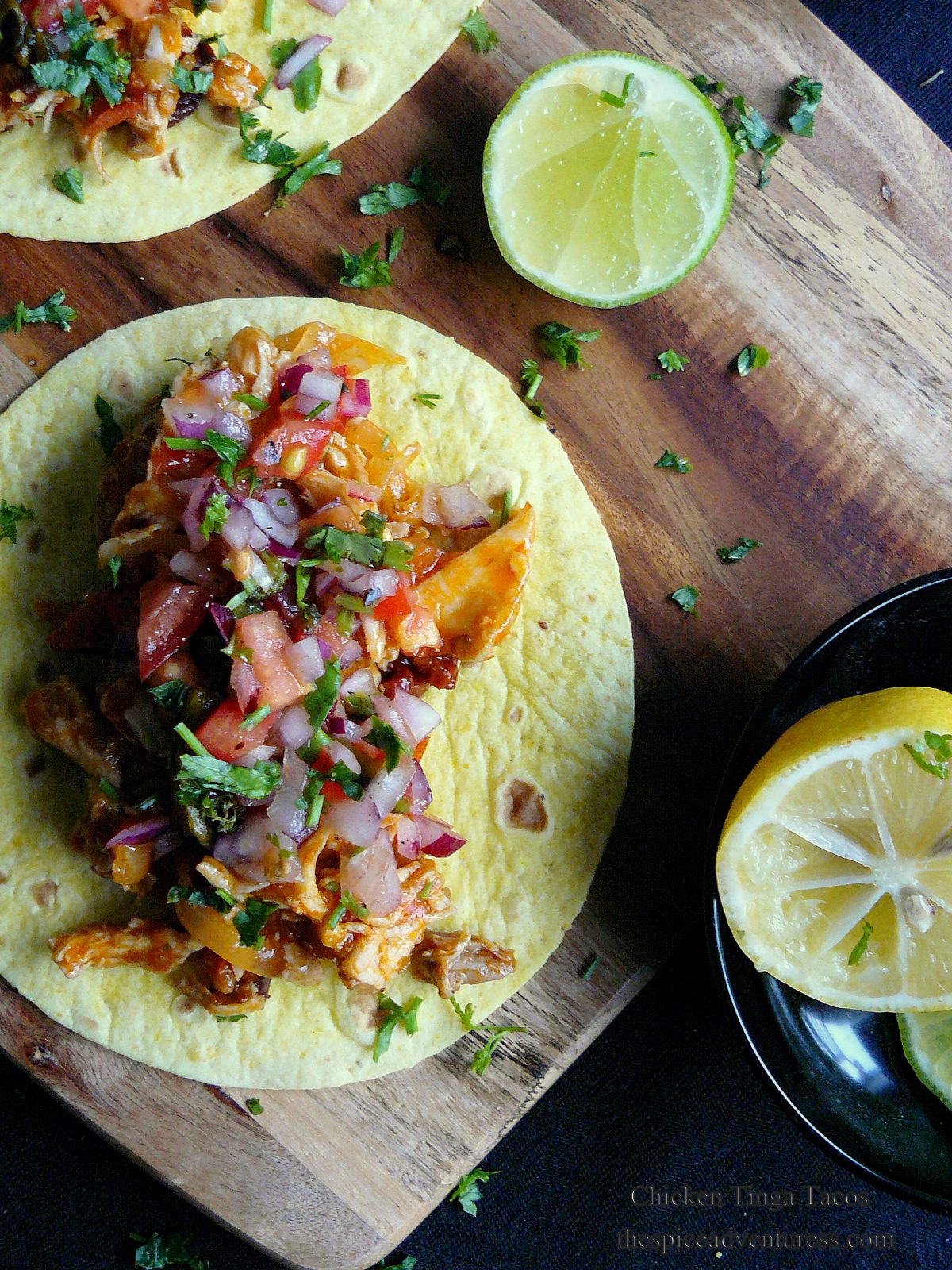 And of course, no taco is complete without a salsa. Couldn't go past the poblanos at the local market without grabbing a bunch, and these found a way into my salsa. Again, I wanted to add a hint of smokiness along with the heat so roasted the poblanos to complement the freshness of the other ingredients.

So there you have it – my Mexican fiesta with chicken tinga tacos topped with a roasted Poblano salsa, deliciously cocooned in mini corn tortillas.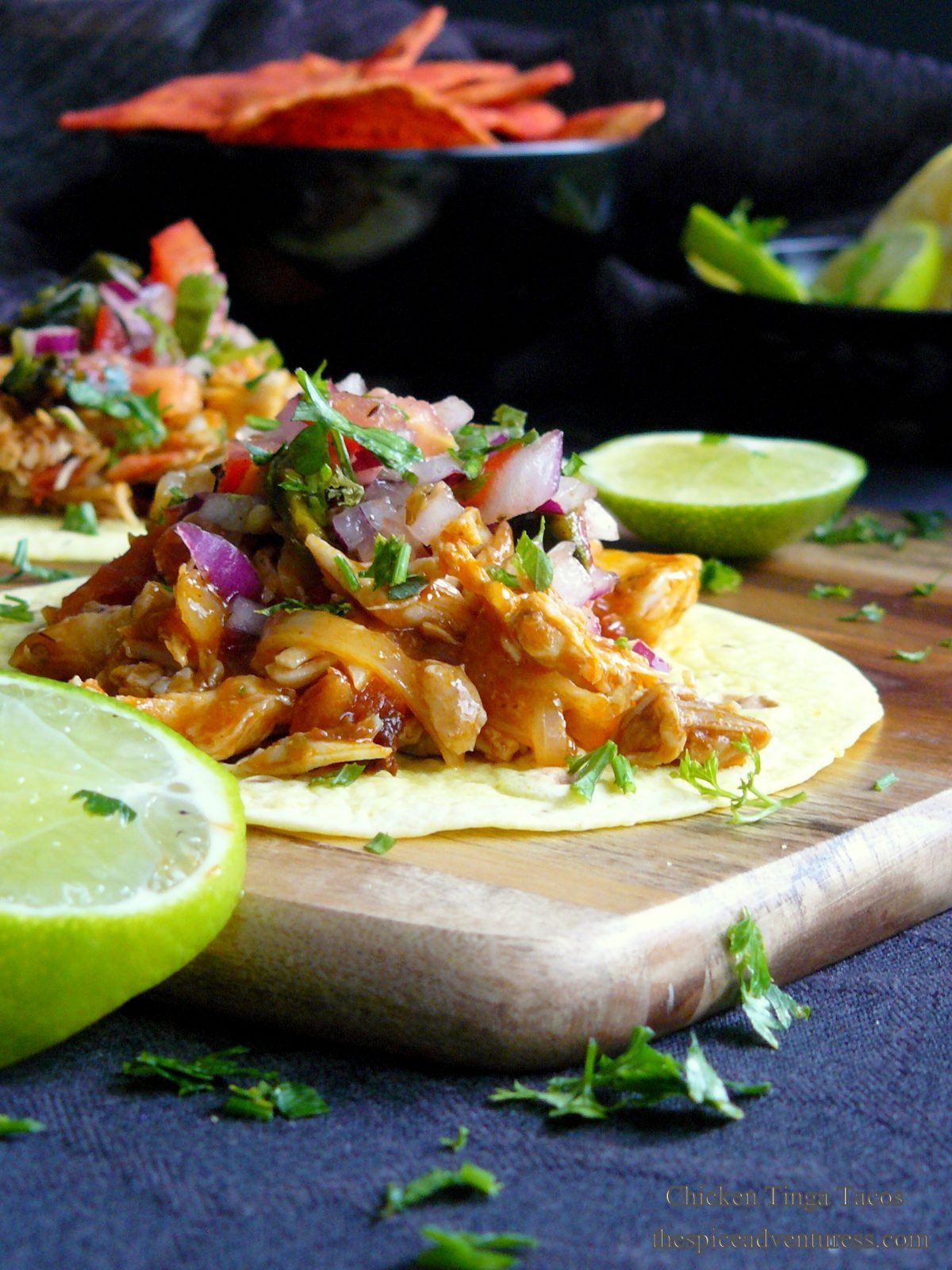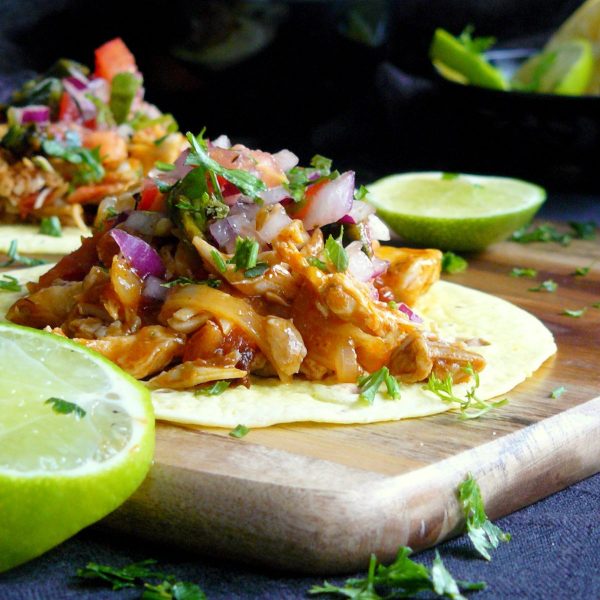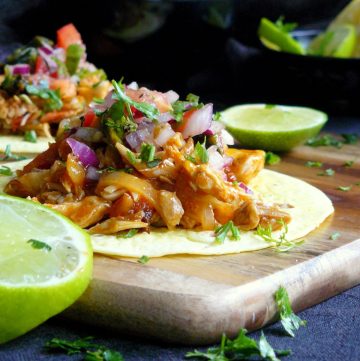 Print Recipe
Chicken Tinga Tacos with Roasted Poblano Salsa
Ingredients
For the chicken tinga:
500

gms chicken; cooked and shredded

2

tbsp

vegetable oil

1

medium onion

finely sliced

2

large garlic cloves

finely chopped

2

tbsp

fresh parsley

finely chopped

3

large red tomato

finely chopped

2-3

chipotle peppers in adobo sauce

adjust to your heat preferences; chopped

Salt

to season

Black pepper

to season
For the salsa:
2

poblano peppers

1

large red onion

finely chopped

2

ripe red tomatoes

finely chopped

2

tbsp

fresh coriander leaves

finely chopped

1

lemon

Salt

to season
Others:
1

packet of mini corn tortillas

Lemon wedges
Instructions
For the tinga:
Cook the chicken with a bit of salt, shred and keep aside.

In a large pan, heat oil and add the sliced onions. Soften for about 2 minutes and then add the garlic.

Cook for about 2 minutes or till fragrant and then add the tomatoes and parsley. Lower heat and cook till the tomatoes have begun to release their juices and turn slightly mushy.

If the tomatoes you use do not release enough juice, add a few tbsps of water.

Next add the chicken and chipotle peppers; season with salt and pepper. Cook for about 8 to 10 minutes till the sauce has reduced and the mixture comes together.
For the salsa:
Roast the Poblano peppers till the outside skin has charred well; I did this on a stovetop but you can use the oven too. Cool lightly and remove the skin, pith and seeds. Chop the flesh and add to a bowl.

To the same bowl, add chopped onions, tomatoes and fresh coriander; mix well to combine.

Squeeze lemon juice and season with salt.
Notes
Leftover rotisserie chicken works well for a tinga.
If you can't find Poblano peppers, use any other type of peppers. Bell peppers/capsicum also work great though this wont' give any heat.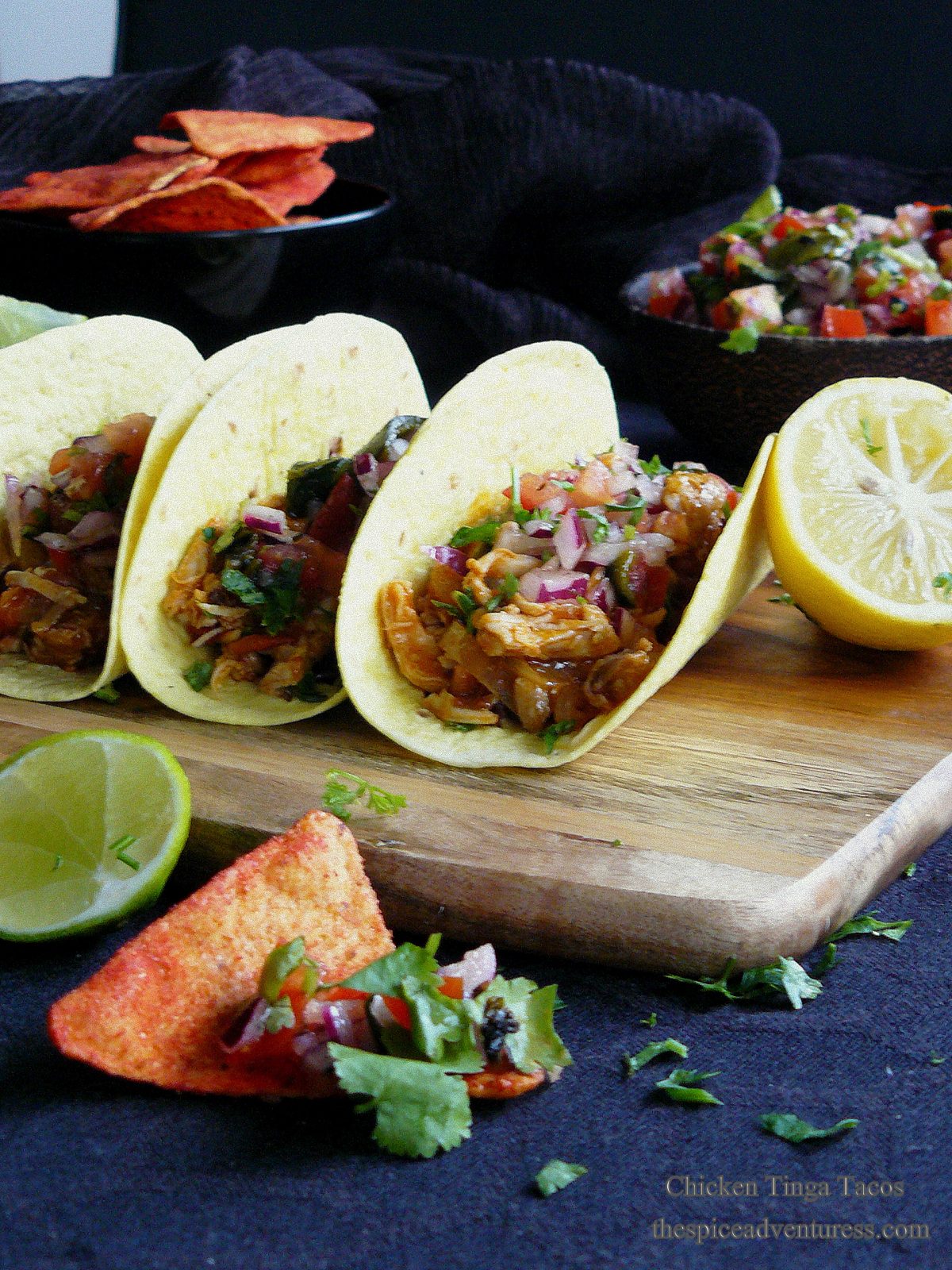 Tacos are meant to be a communal meal. Individual plates have no place here; so bring out all the components of the meal to the table and get your family around. Let each one create their own tacos and enjoy amidst plenty of fun and laughter!