Mutton Roganjosh, a Kashmiri nonvegetarian curry that has become a staunch favourite worldwide. A rich and flavourful dish with complex flavours from a unique blend of spices and aromatics. Enjoy it with Indian breads or with this Kerala style ghee rice which is my favourite combination.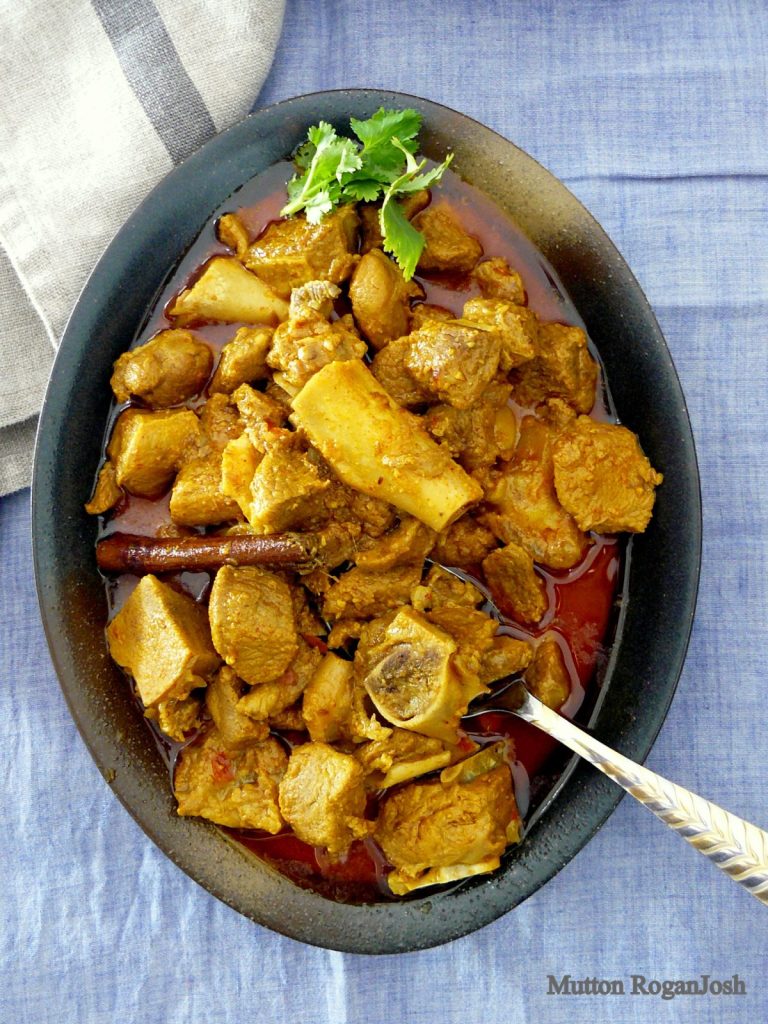 The best thing about having friends from different regions of the world is that you do not need to rely on Google or random cookbooks especially if you are interested in learning and cooking traditional dishes.

It's not just about the recipe of a traditional dish, for me….the history is as important as the dish itself. Understanding the reasoning behind a dish, the culture, the practices, the importance of ingredients that go into the dish, the way it is consumed; all of this is what completes the experience of cooking a traditional dish for me.

And that is exactly what I achieved with today's dish – Mutton Roganjosh.

Mutton Roganjosh is a dish that originated in Kashmir, India but it has become a curry that has spread like wildfire across the world. It was also one of the dishes that surprised and disappointed me when I sampled Indian food in Australia.
I really don't mind tweaking a recipe to suit individual tastes or incorporate local ingredients but taking away from the real character of a dish and its inherent flavours is not something I approve of especially if it's a traditional one like mutton roganjosh.

So what do you do? Find yourself a Kashmiri foodie friend who will hunt down the most authentic mutton roganjosh recipe, straight from the roots. A big thanks to you dear, you know who you are.

Now let me come to the 'disappointed' bit I was talking about….the variations of roganjosh that I have eaten in the Indian restaurants here are nothing like the real thing. It is as far removed from the original in terms of ingredients, textures and flavours.

Mutton roganjosh is one of the main dishes that forms a part of the Wazwan which is the name given for a traditional multi course meal in Muslim Kashmiri cuisine. This is a meal which is taken very seriously and is a source of pride especially for the waz or the cook (you train for years to become a waz and is most often an occupation that is handed down generations, father to son). It represents the ultimate banquet in the Kashmiri Muslim society and no important occasion is complete without it. And my dear friend has got me this recipe from a waz, himself.
Kashmiri mutton roganjosh is not a very spicy dish; in fact it has very less heat but plenty of flavour from the clever use of spices and aromatics. Kashmiri chilli powder is used in this and for those who don't know….the kashmiri chilli powder adds a deep red colour to the dish without much heat when compared to the regular Indian red chilli powder which is less on colour and more on heat. It also has smoky undertones, a bit like paprika.

So if you are a curry fanatic and would like to taste the real roganjosh, let's get cracking…….