School holidays are here again. And for me, that means to take a semi-break; to slow down a bit on the work front and do only the absolute necessary stuff and not take up any demanding projects.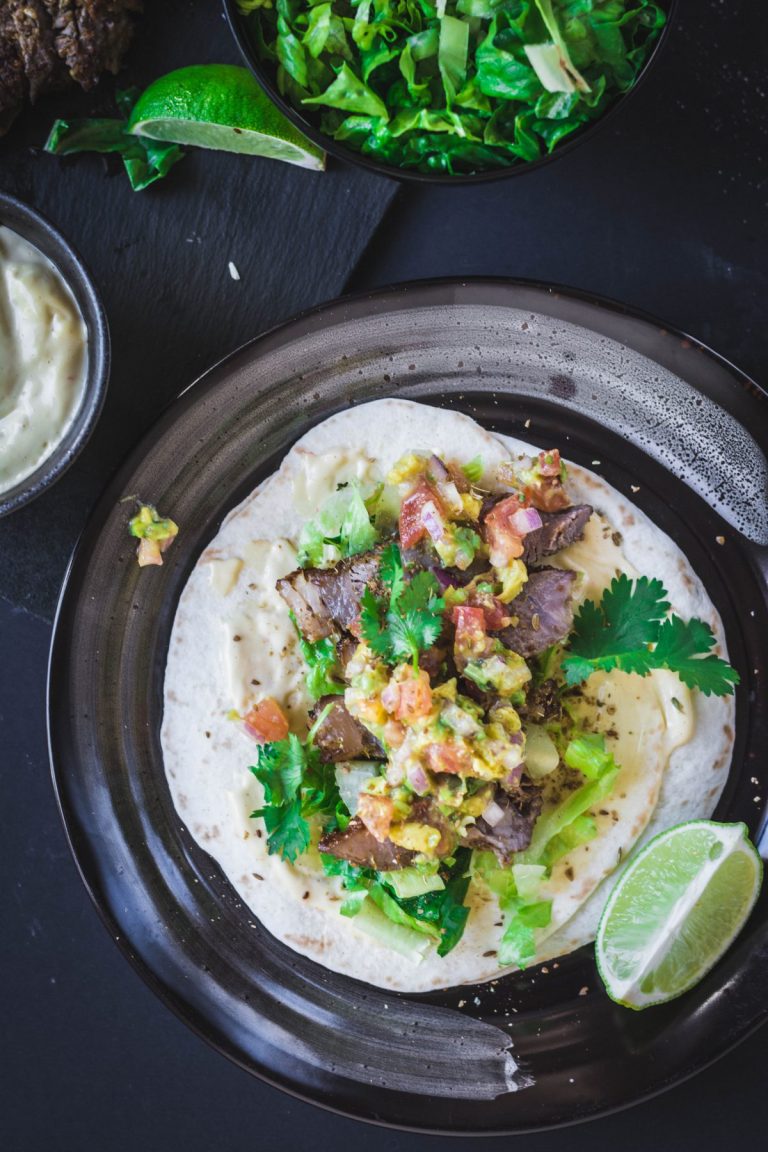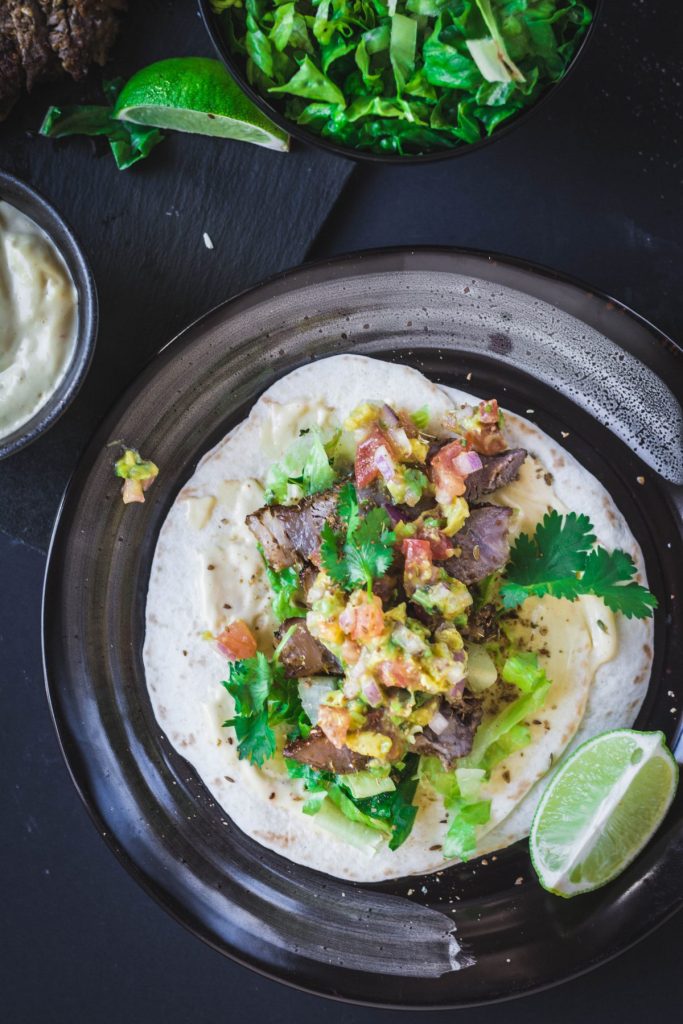 Even with menu planning, the focus is on easy to put together dishes that would free up time to spend with Adi and also take him to different holiday activities. How are you spending the school holidays? Do let me know in the comments below if you have any exciting activities or holiday trips planned…

When it comes to easy to put together meals, tacos always make it to the list. There are a zillion options and with a bit of prep, you have an amazing meal for the whole family to sit down and enjoy together.

Today, I am making these delicious Beef steak tortillas along with homemade avocado salsa and chilli mayonnaise.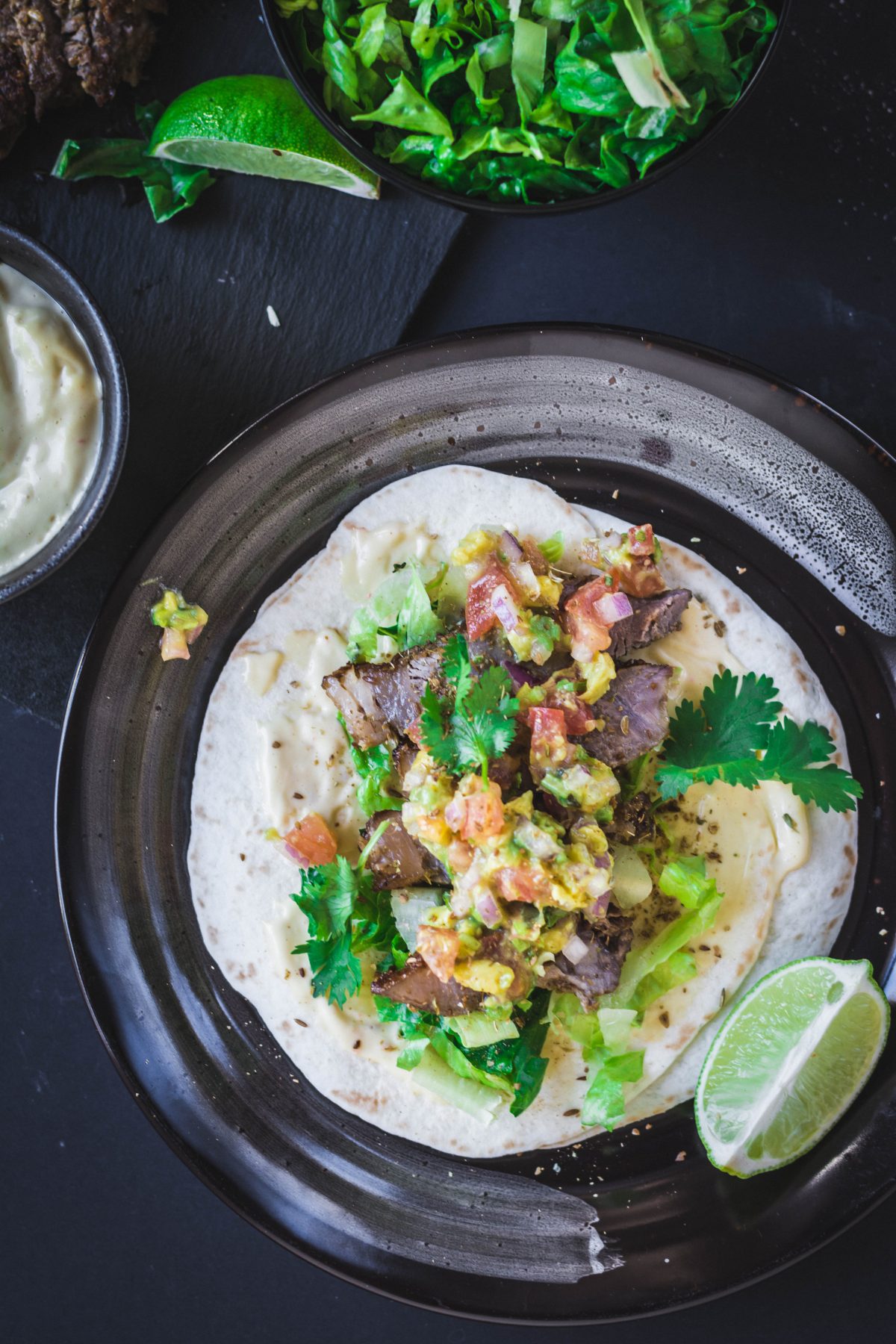 The best thing about using a good quality porterhouse steak is the fact that it is not just delicious, but cooks really fast. While I generally like to cook my steak medium rare, I have gone for well done this time since Adi was having it too and he prefers it so. But well done does not have to mean dry; if you sear both sides of the steak on a grill pan and then finish off in the oven, then you get a really juicy well done steak. And always allow to rest before slicing.

And for that extra flavour, a simple spice rub was used for the steaks which really add to the deliciousness.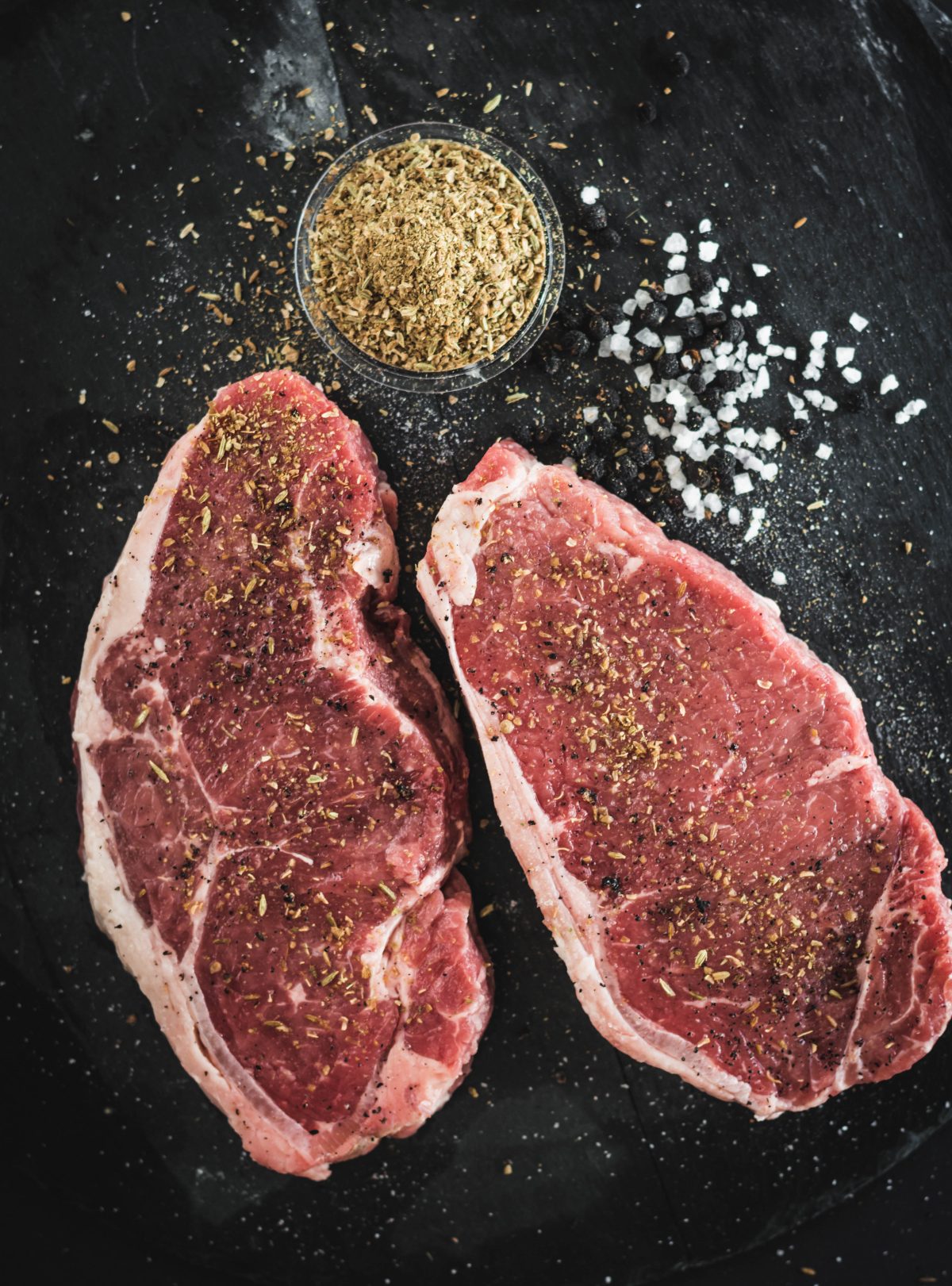 Usually for our tacos, we go with a guacamole or avocado crema and a separate salsa (like this mango salsa when mangoes are in season or a spicy Poblano salsa). But this time, made the process simpler with an avocado salsa. I used a nearly ripe avocado; the creaminess of the avo coats all the other ingredients when tossed through which gives the satisfaction and deliciousness of both a guacamole and salsa rolled into one.

Finally coming to the mayonnaise, if you have ever tried homemade mayo or aioli, you will never want to eat the store bought ones again. Agreed buying it is convenient and provides a better shelf life, but there are always a long ingredient list of substances that is not the best for your body. While it might seem difficult initially, making a mayonnaise at home is easy and once you get the hang of it, you will be more than happy to make a weekly batch.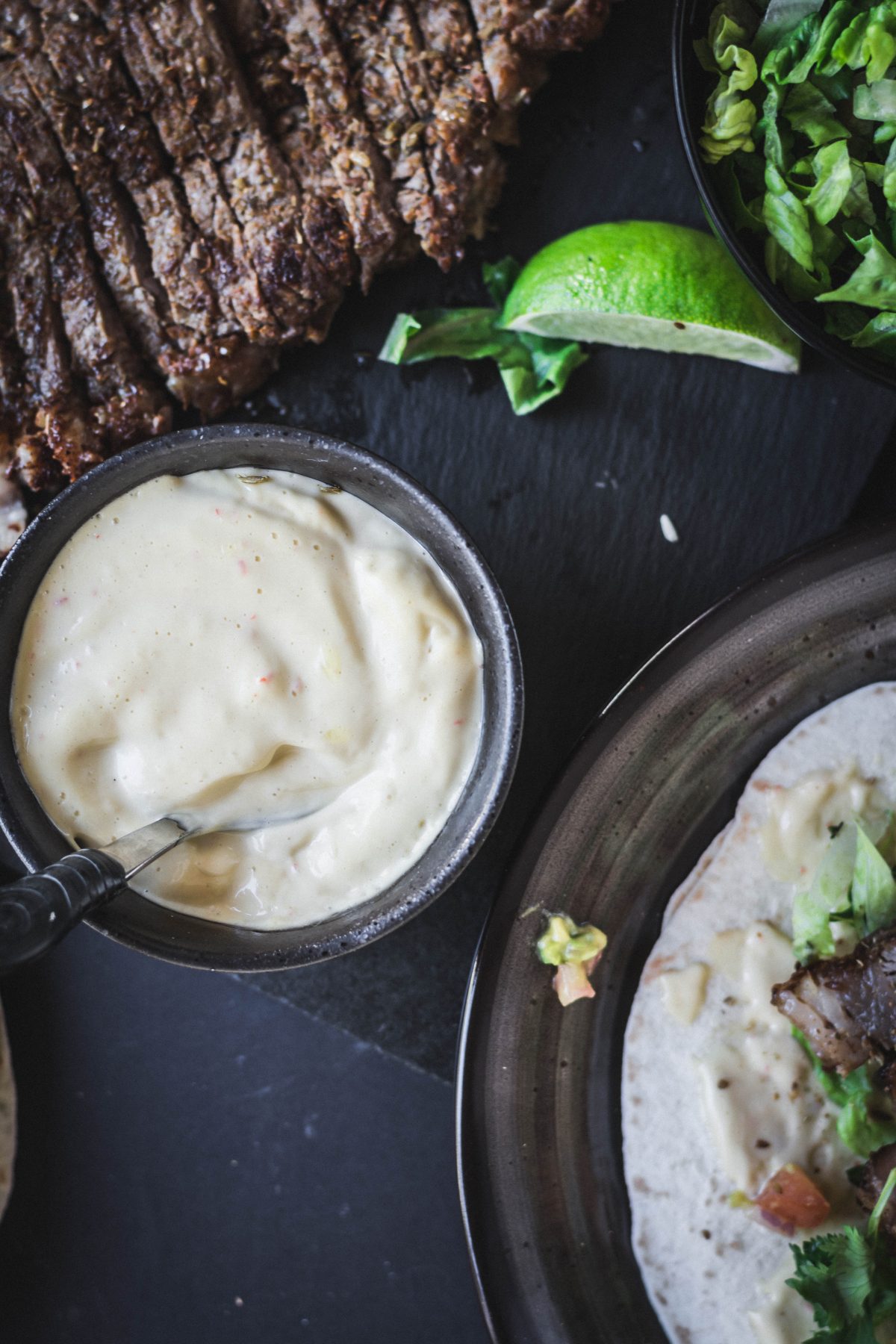 So let's get cooking these delicious beef steak tortillas with avocado salsa and chilli mayo….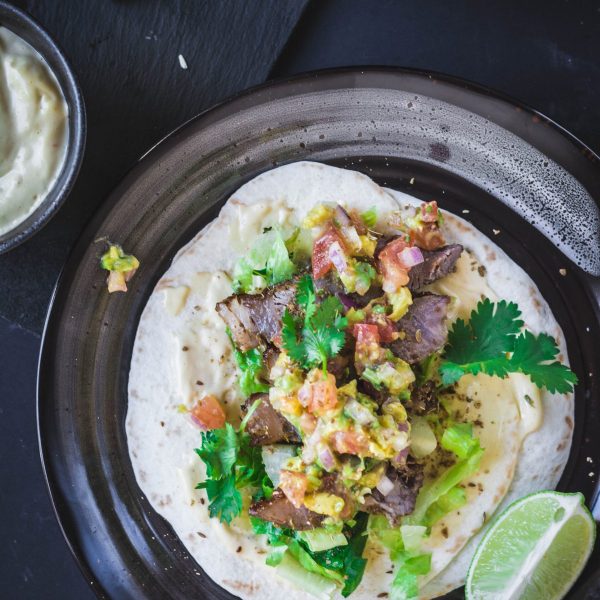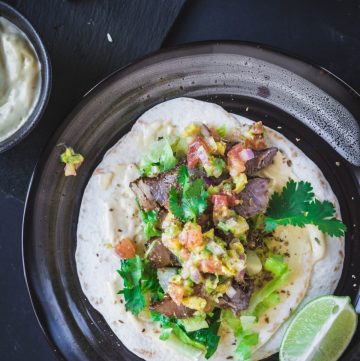 Print Recipe
Beef Steak Tortillas, Avocado Salsa, Chilli Mayonnaise
Ingredients
2

large Porterhouse steaks

Salt

to season

Olive oil; for grilling

1

packet mini tortillas

Fresh coriander leaves; to serve

Lime wedges; to serve

Shredded lettuce; to serve
Spice rub:
1

tbsp

coriander seeds

1

tbsp

cumin seeds

1

tsp

fennel seeds

2

tsp

dried Italian herbs

Olive oil
Avocado Salsa:
I semi ripe avocado; diced

1

red onion; finely chopped

1 to

mato; finely chopped

Lime juice

as required

Salt

to season

1

tsp

pickled jalapenos; finely chopped

1

tbsp

coriander leaves; finely chopped
Chilli Mayonnaise:
1

egg yolk

Salt

to season

1

bird's eye chilli

add more according to preferences

1

small garlic clove

1

lime

Vegetable oil
Instructions
To prepare the spice rub, dry roast the coriander, cumin and fennel seeds on low heat till aromatic. Cool and blend to a coarse powder. Mix the dried Italian herbs and enough olive oil to make a coarse paste.

Place the steaks on a plate, season with salt and rub the spice paste on both sides. Allow to marinate for at least 30 minutes before grilling.

To prepare the chilli mayo, grind the garlic, chilli and a pinch of salt using a mortar and pestle. Add the egg yolk and the juice of half a lime to a processor and blend till smooth. Slowly add the oil in a thin trickle, processing at the same time till the thick, emulsified consistency of the mayo is achieved. Add the chilli paste, season with more salt and lime juice if necessary and process for a few more seconds. Remove to a bowl and refrigerate till use.

To make the salsa, add all the ingredients to a bowl and toss well.

To grill the steaks, oil and heat the grill pan to smoking hot and place the steaks. Cook on both sides for 2-3 minutes depending on the thickness for medium rare. (For a well done yet tender steak, preheat the oven to 180°C before grilling. Grill for 2 minutes on either side and then finish off cooking in the oven for another 2-3 minutes). Rest for 5 minutes before slicing and serving.

Lightly warm the tortillas and place all the components on a serving

To assemble a taco, spread some chilli mayo on a tortilla, add some lettuce followed by steak pieces. Top with avocado salsa, coriander leaves, sprinkle a pinch of the spice rub followed by a generous squeeze of lime.
Notes
Reserve some of the spice rub before making the paste to sprinkle over the final tacos.