Warm your bellies with this flavour packed Chicken Wonton Soup. Additional points if you make the wontons from scratch like I did but store bought wontons or dumplings are just as delicious. An absolute winter comfort!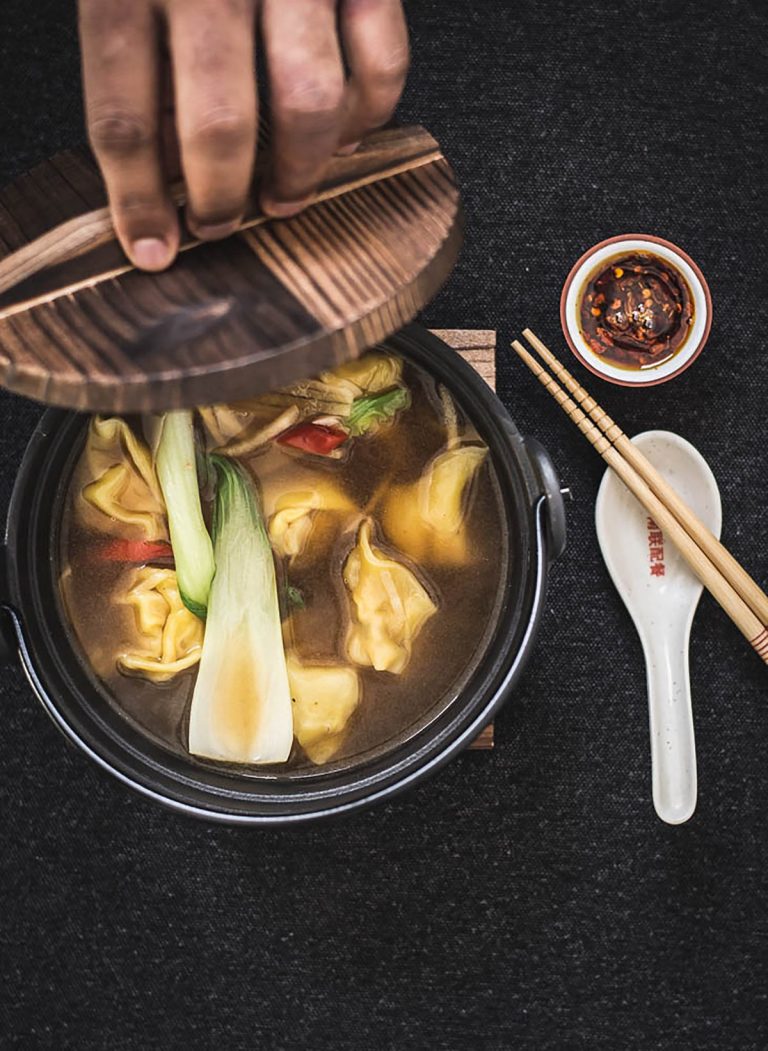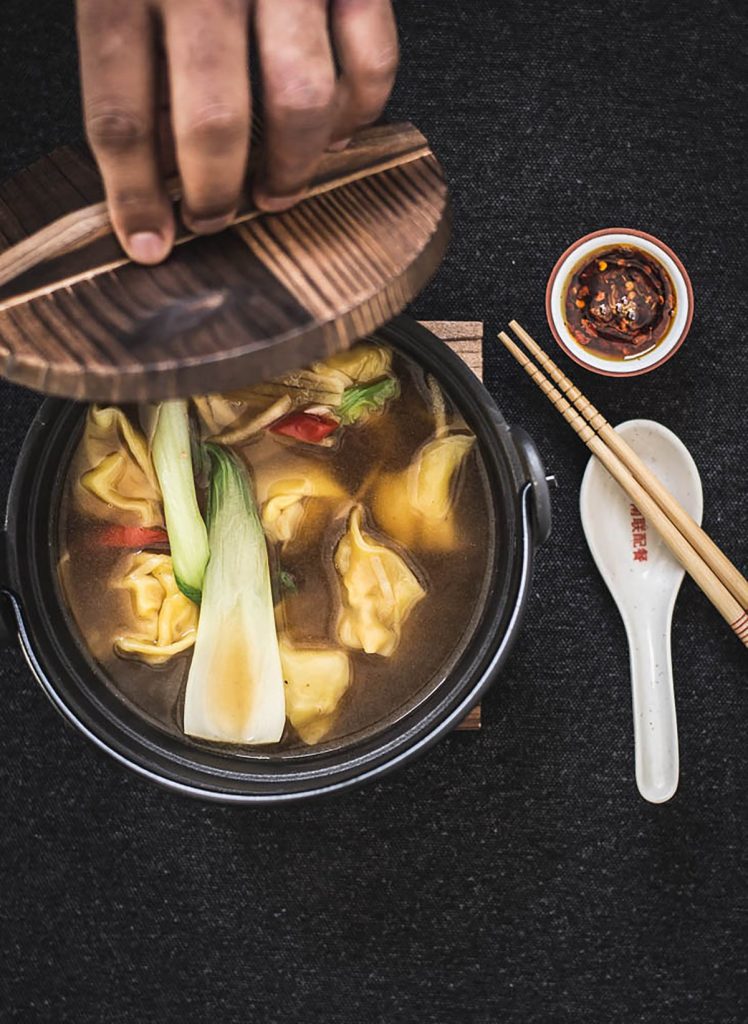 Anthony Bourdain is no more.

Never in my wildest imagination did I think that this is the way I would pay tribute to him on my blog. I have always wanted to write about Bourdain, his books, travels, shows and the stories of food cultures that he bought into our lives. But somehow I never put those thoughts to paper and now this….

It's been an incredibly hard one to digest.

I have never been so profoundly distressed about someone's death, especially someone who has not been a part of my personal or real life. He was not family or a friend, just a celebrity I watched on TV, so I couldn't even fathom why I experienced that numbing ache, that overwhelming sense of sadness that sits heavy in my chest everytime I think of it.

But the truth is that he was one of those rare souls who had touched my life (and I realise so many others too) at a much deeper level.

Yes, Bourdain was all about the food, travel and culture. At least that's how I identified with his books and shows initially. All the more, because I have always been an advocate for food…without borders, a belief or philosophy on which my blog has been founded too.

But as I got to read and watch him more, I realised that I connect with him so deeply because of our inherent restless, angry souls. His journey has been so different to mine yet somewhere I felt a sense of 'this guy gets what I feel' most of the time.

A restlessness to explore the world through food…..he did it through his travels; I do it through this blog. And sometimes that passion can be a burden too, because you are often misunderstood. I remember reading somewhere that most of his friends couldn't get his relentless need to talk about food and cultures which made conversations difficult at times. And that's a feeling I totally relate to; people around who simply can't get my passion or think I am not doing anything worthwhile with my life.

There's been much discussion about mental health, depression etc…. in the online world after his death but I am not going to talk about it. Not because I don't think it's important; because today I want to remember him again only for his love for travel and respect for food and cultures.

And I know these few lines can never completely convey the respect I have for Bourdain's work….

Let's get back to today's recipe – Chicken Wonton Soup.

Dumplings, dimsims, wontons…we are just crazy about these at home. Steamed, pan fried, deep fried, we love it in all forms. But one of my personal favourites especially during winter is the Chicken Wonton Soup.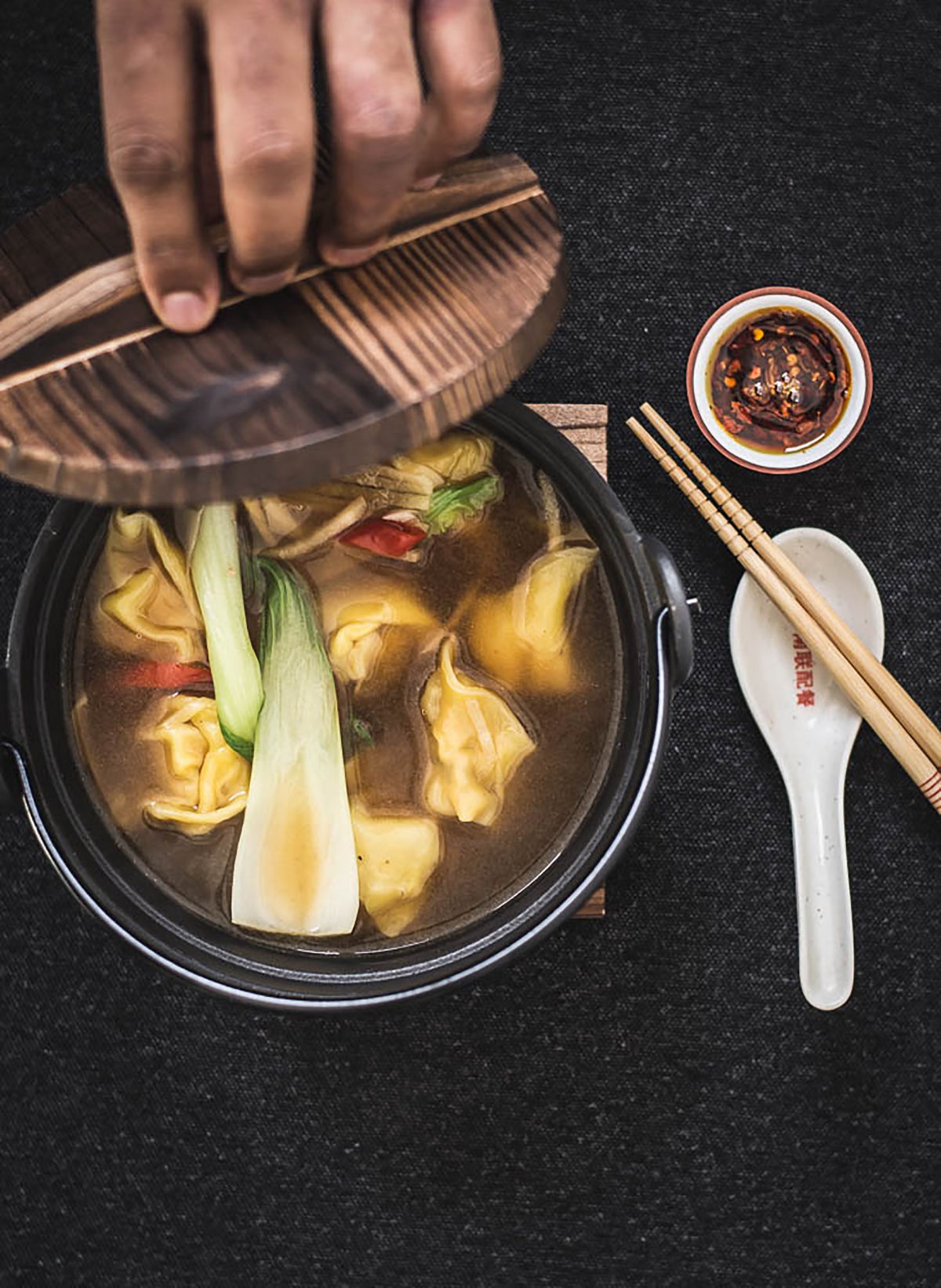 I order it a lot while eating out at Asian restaurants but this time, I wanted to make it at home. I am not a pro when it comes to shaping wontons so I just followed this video which was really informative.

Not a complicated recipe at all but a tad bit time consuming making the wontons. But it was totally worth it as I made enough to freeze for another comforting weeknight dinner.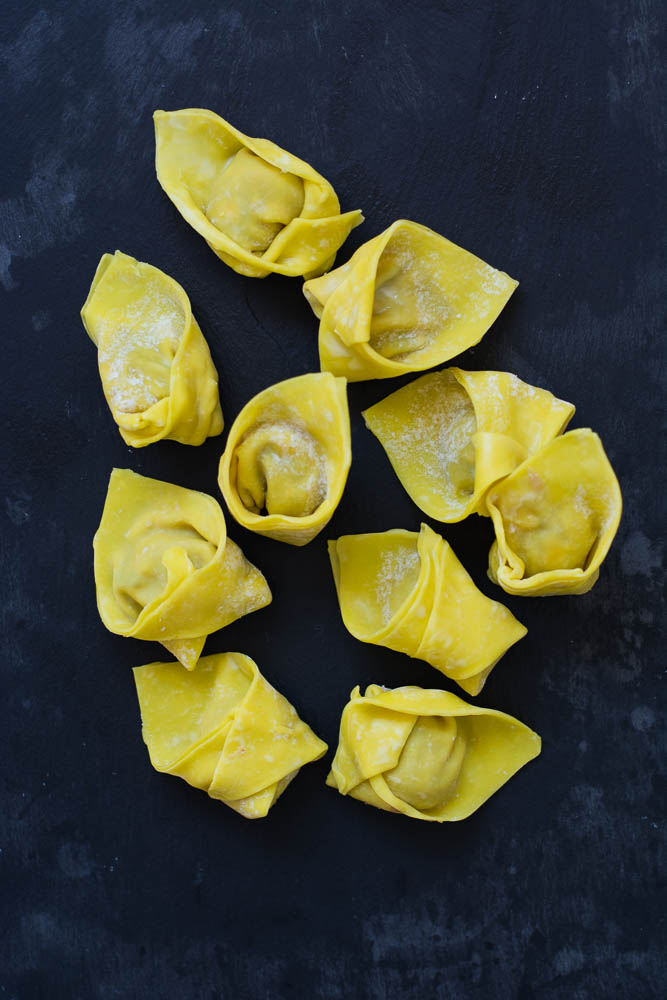 The broth is light and simple but really flavourful and the only way to get that is to use a really good quality stock, store bought or homemade. I added the long red chillies (less heat), plenty of garlic and ginger along with soy and sesame oil to get a well balanced and moreish broth. I could just drink this broth all day long…..

This chicken wonton soup is like a hug in a bowl. It only takes minutes to prepare the broth and the wontons are boiled in the broth itself. I also added some bok choy at the end to finish off. You can add mushrooms, radish or any vegetables/greens of your choice. I wanted it to be all about the wontons, hence kept it simple.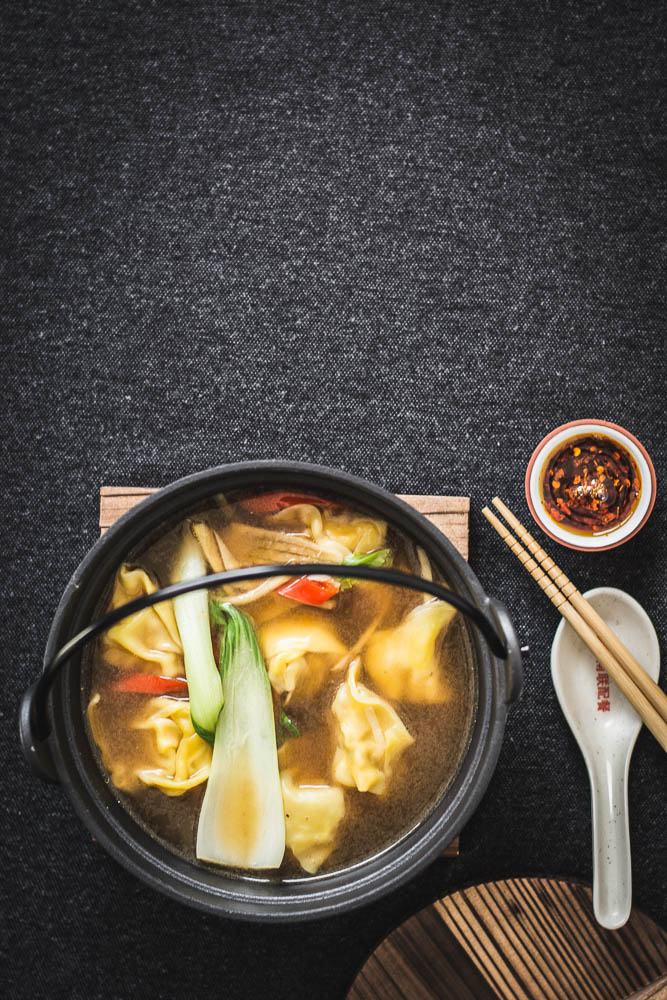 Recipe adapted from Fix Feast Flair
Here are some of my family's favourite soups…..
Tomato Soup with Garlic Butter Croutons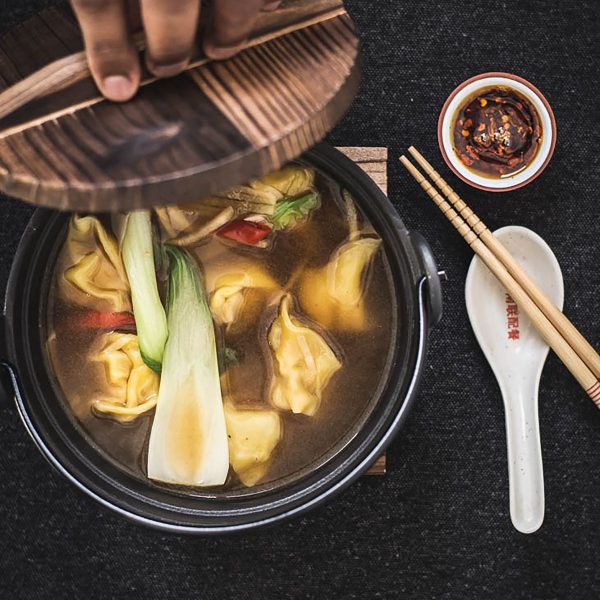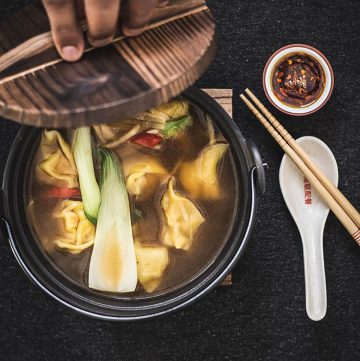 Print Recipe
Chicken Wonton Soup
Ingredients
For the wontons:
50

Wonton wrappers

500

gms chicken mince

2

spring onions

only bulb; finely chopped

2

large garlic cloves; grated

1 ½

tbsp

hoisin sauce

½

tbsp

oyster sauce

1

tbsp

sriracha

½

tsp

black pepper powder

Salt

to season
For the broth:
1

litre chicken stock

1

large red chilli

less heat variety

5 -6

ginger slices

2

garlic cloves; finely sliced

2

tbsp

soy sauce

½

tsp

sesame oil

½

tbsp

rice wine vinegar

1

bunch bok choy

ends trimmed and leaves separated
Instructions
In a mixing bowl, add the chicken mince, onions, garlic, hoisin, oyster, sriracha, pepper and salt. Mix well to combine and keep aside for 15 minutes.

For making the wontons, check out this video. I made the tortellini shaped ones since it was the easiest and most preferred one for me. To create this, place about 1 ½ tsp chicken mixture in the centre of a wonton wrapper. Wet the tip of your finger in a small bowl of water and run along the edges of one half of the wrapper. Fold the wet edges over to the dry edges to get a triangle shape and press to seal. Next tuck in the two edges towards each other to get the tortellini shape.

Prepare all the wontons and keep stored in an airtight container. The wontons can dry out fast so place in the container as you make each one.

To make the soup broth, add the stock to a large pan. Next add the chillies, sliced ginger, garlic, soy sauce, sesame oil and rice wine vinegar. Taste and adjust seasonings as necessary. Bring to boil and add the required number of wontons. Cook for 4 minutes; then add the bok choy and cook for one more minute.

Serve immediately.
Notes
The broth is best made fresh, but if you intend to store it, then remove the ginger slices before doing so or it could turn slightly bitter on sitting.