A Christmas feast for two!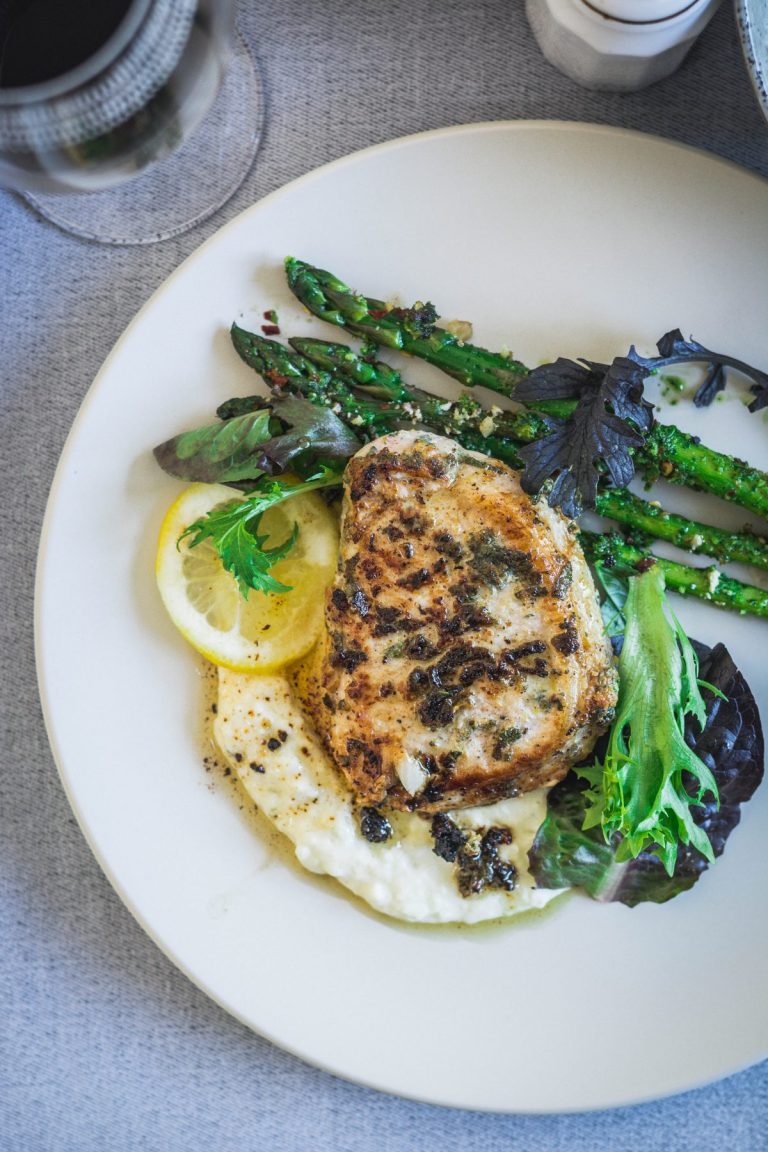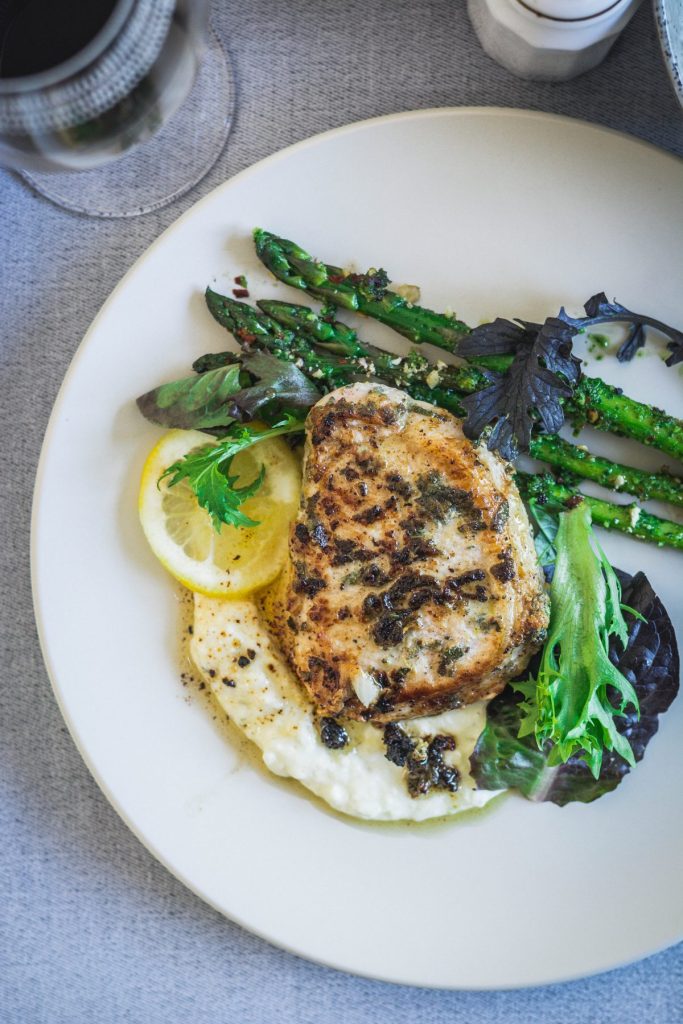 Or three, as in our case…..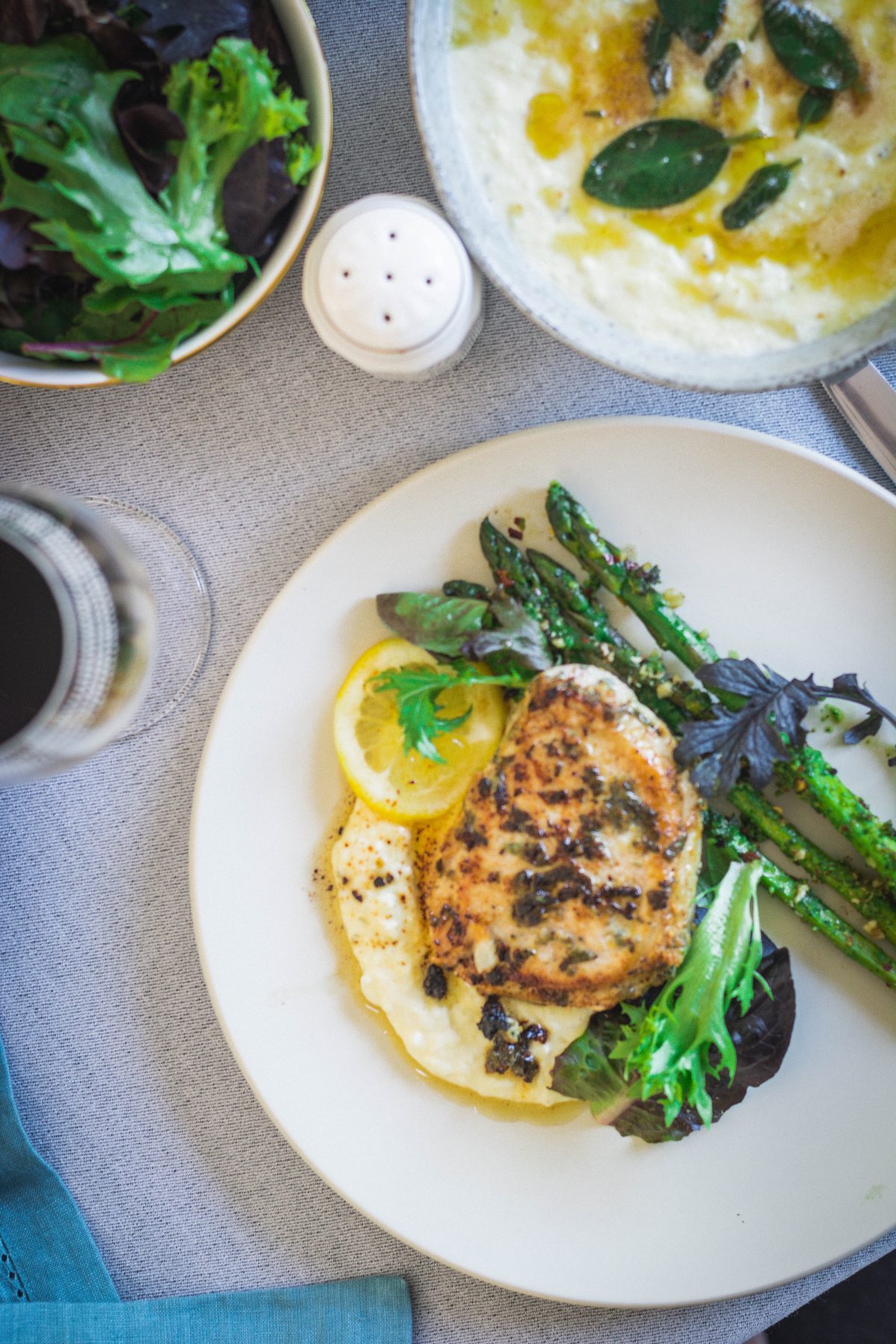 It's not always possible to prepare a huge feast especially if you are a small family and want to spend the day just with yourselves, by choice or circumstance. And today's dish is just perfect for that; it's indulgent yet easy to put together with limited portions that you are saved the headache of addressing leftovers.

Back in India, Christmas was always with the extended family and that meant a large feast that the whole family would pitch in to prepare. But when we moved to Melbourne, we hardly knew anyone and the first two years, spent Christmas just by ourselves. Well I am not complaining at all because we love our company; the three of us together can make any meal festive.

But I always felt challenged about the menu.

While I would desire to roast a whole turkey or chicken or perhaps a leg of lamb roast, the thought of eating leftovers day in and day out already made me shy away from the idea. And that's when I started to put together meals like this that had the classic elements yet portioned for our family's needs.

I have also used sage extensively in today's recipe as my herb garden is doing well this summer and I have a lot of sage growing currently.

Sage has a warm, musky and earthy essence, which makes it perfect to be paired with cured meats, veal, pork, lamb etc…. It also has many medicinal properties, the best of which is its antioxidant capacity. Grows easily in pots especially during the warmer months, sage is definitely a great herb to grow in your garden.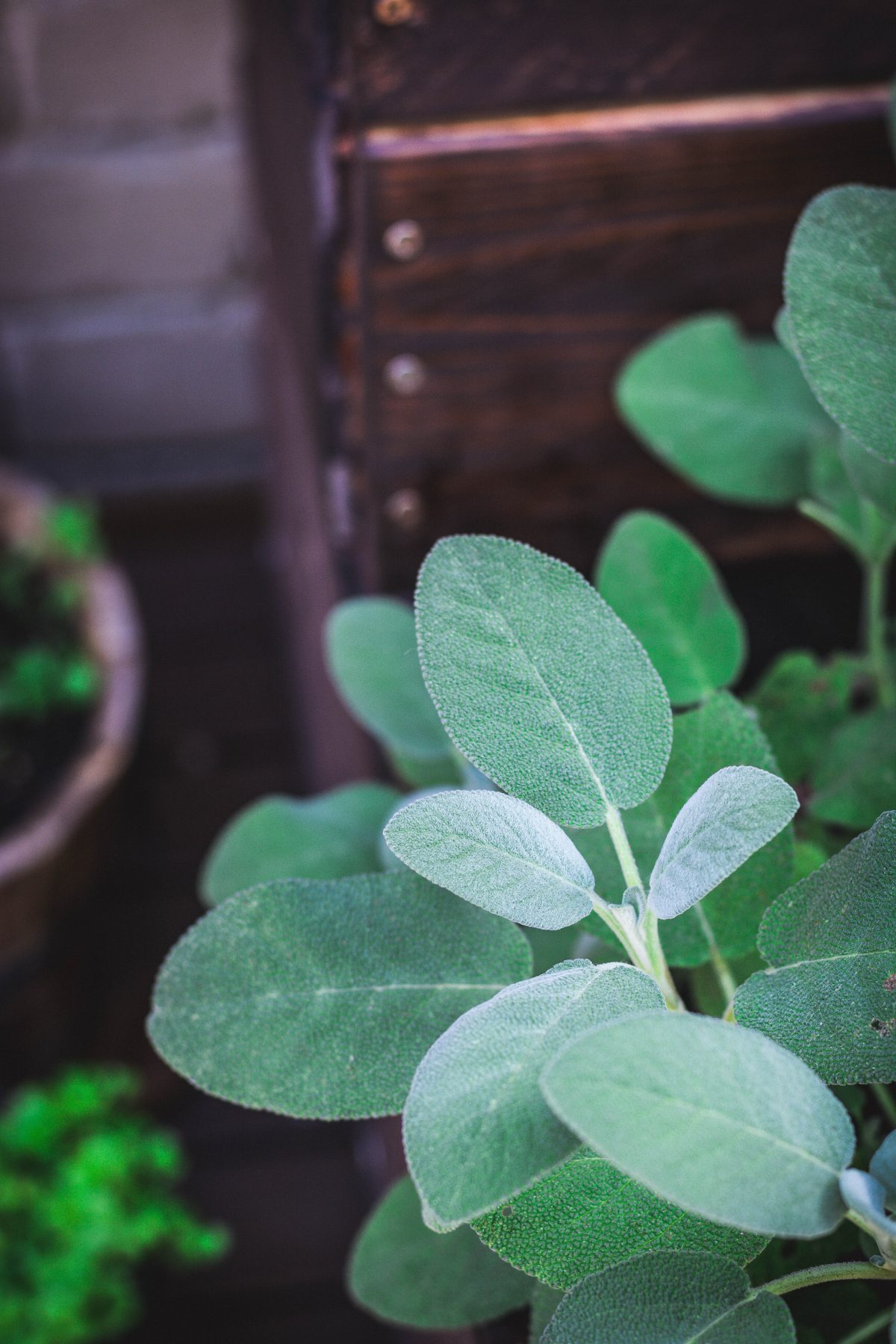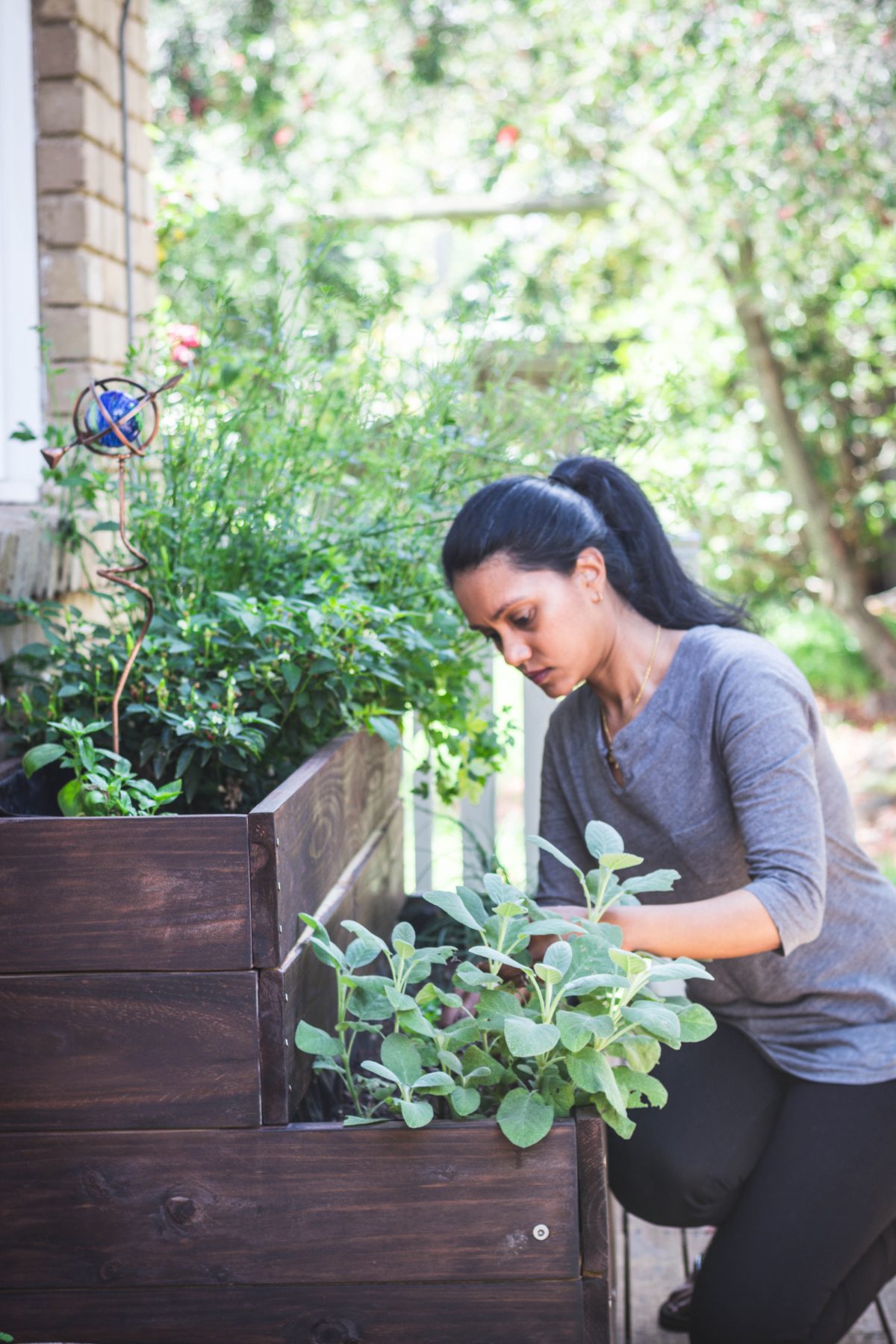 In today's recipe, I have used sage as part of the marinade to flavour the pork fillets and also added it to the burnt butter for the mashed potatoes.

There are so many different styles of making mashed potatoes but this one adapted from Half Baked Harvest's blog uses crème fraiche and sage brown butter. I loved the flavour that crème fraiche imparted to the potatoes, creamy and slightly tangy and not as heavy as using regular cream. And that final addition of brown butter made these mashed potatoes so luxurious and decadent.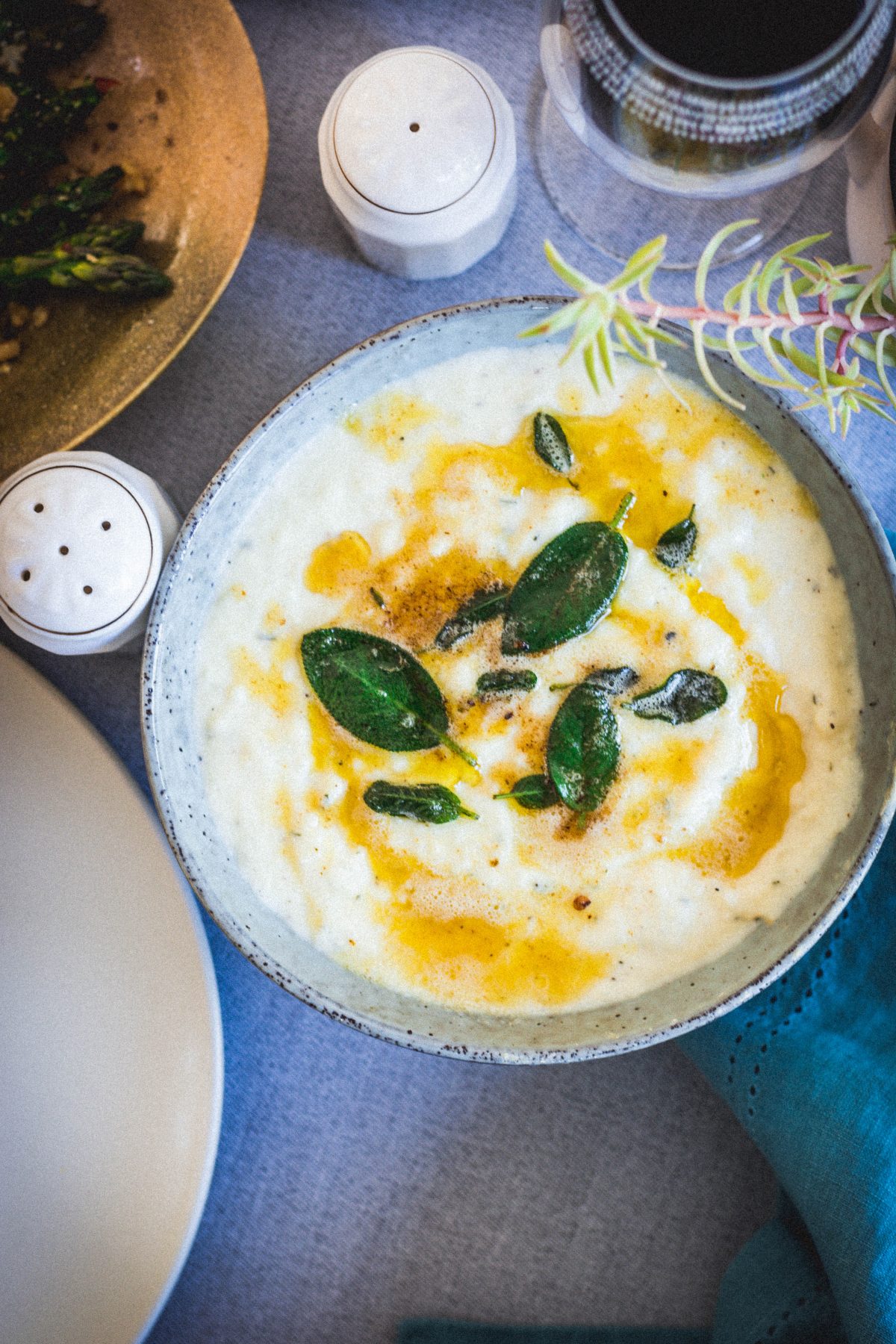 One of our favourite vegetable sides is grilled asparagus and this time, I decided to grill and then toss it through some parsley pesto that I had in the freezer. Finished off with crushed walnuts and it turned out to be one of the most delicious sides ever.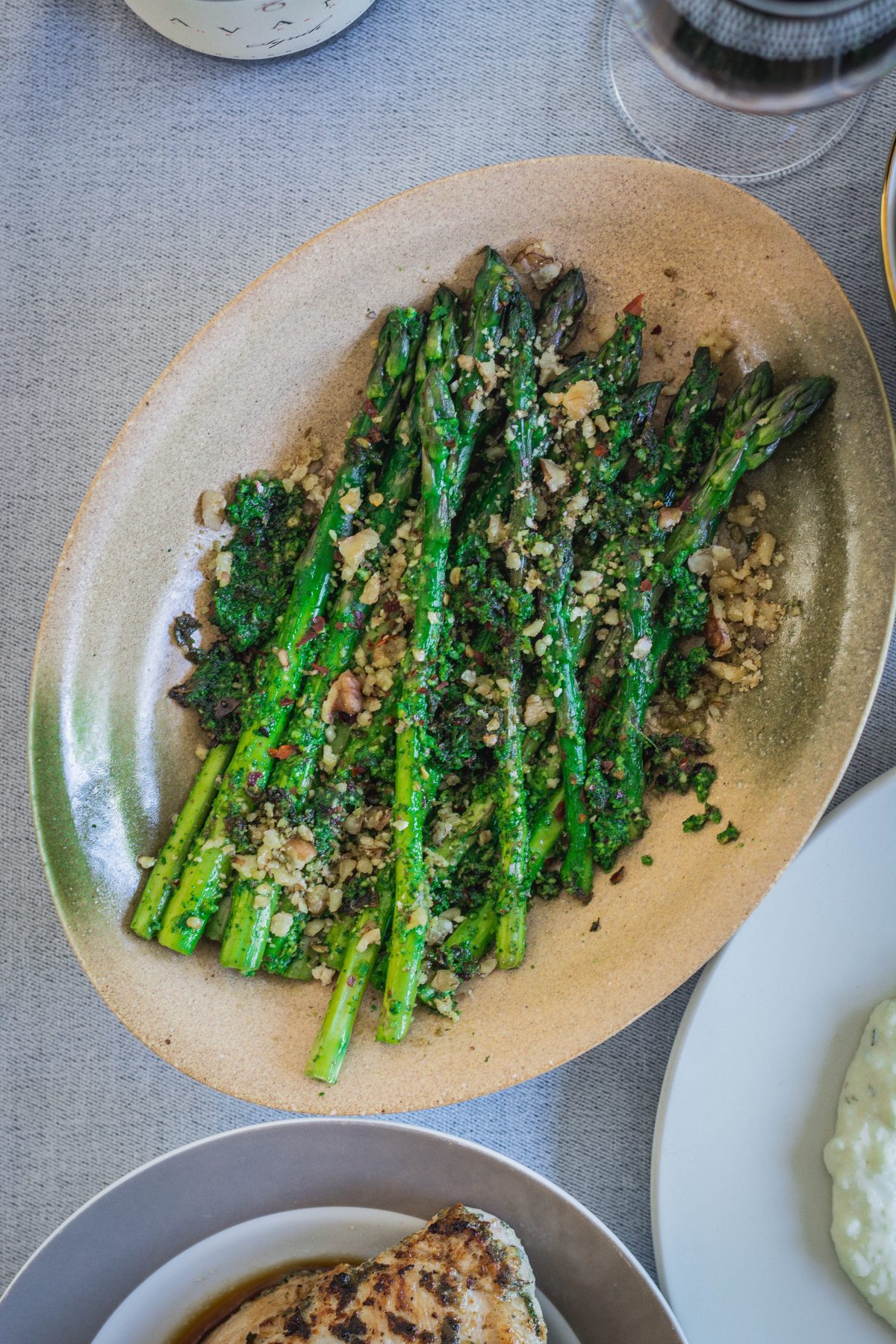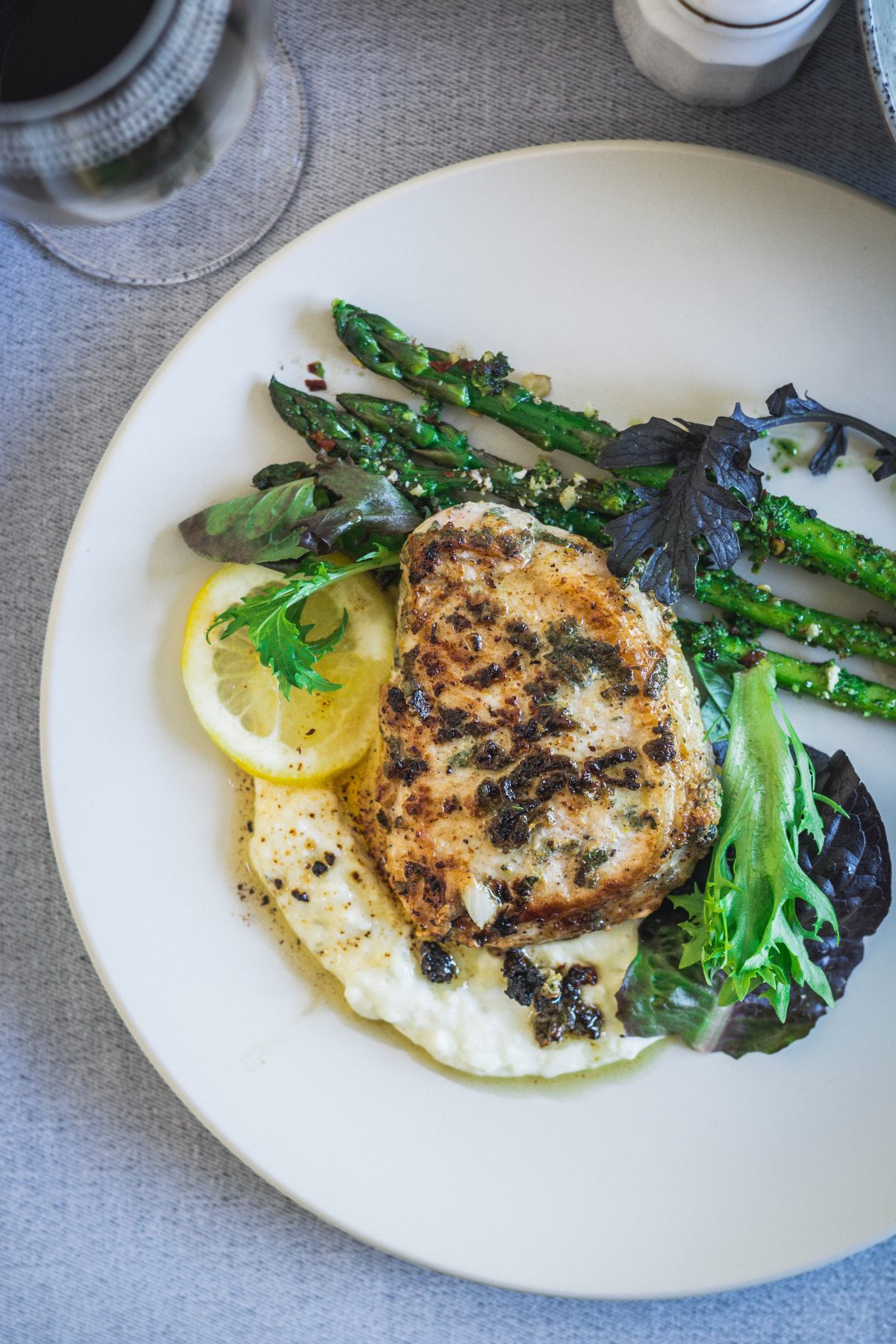 I guess that's enough explanation; let's get on with the recipes for Pork fillets (with sage, lemon and garlic), Mashed potatoes (with sage, brown butter) and Grilled Asparagus (with parsley pesto)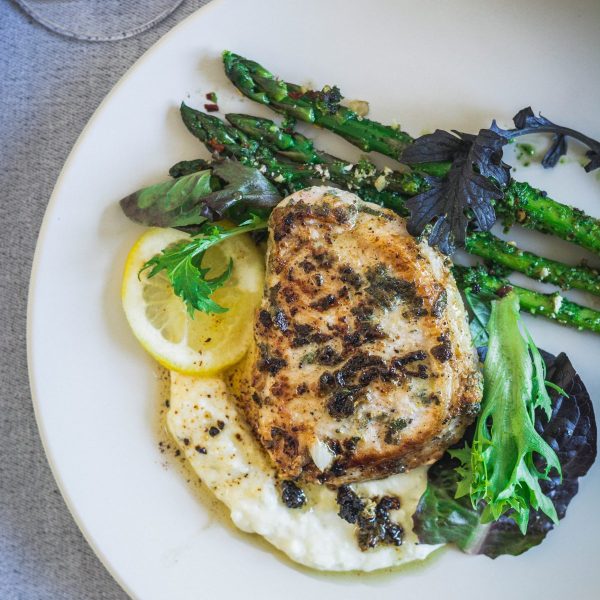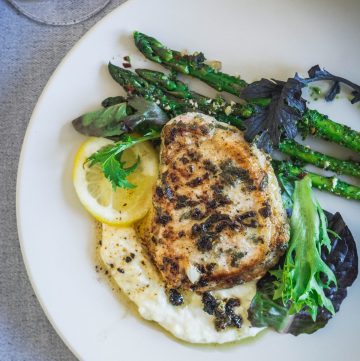 Print Recipe
Pork fillets, Mashed Potatoes, Asparagus, Parsley Pesto
Ingredients
Pork fillets:
1

large pork fillet; cut into 2 cm medallions

10

large sage leaves; finely chopped

2

medium garlic cloves; grated

1

lemon; juice and zest

2

tbsp

olive oil + extra for grilling

Salt

to season

Freshly crushed black pepper; to season
Mashed potatoes:
800

gms potatoes

choose a variety suitable for mashing; peeled and cubed

2

medium garlic cloves

1

cup

whole milk

1

cup

crème fraiche

5

tbsp

unsalted butter

Salt

to season

Freshly crushed black pepper; to season

6-7

fresh sage leaves
Grilled Asparagus:
2

bunches asparagus; ends trimmed

1 ½

tbsp

parsley pesto

Chilli flakes

Salt

to season

Olive oil

for grilling

A handful of walnuts; crushed
Instructions
Pork fillets:
In a glass bowl, mix the sage, garlic, juice and zest of 1 lemon, olive oil, salt and pepper. Mix and marinate the pork fillets for at least 30 minutes before grilling.

Heat a pan (I used a cast iron pan but you can use a stove top or bbq grill for the same) and add olive oil. When the pan's smoking hot, place the pork fillets (reduce heat to medium) and cook for 4-5 minutes on one side before turning. Cook for another 1-2 minutes and remove. Rest for 5 minutes before serving. Take care not to crowd the pan and cook in batches.
Mashed Potatoes:
Cook the potatoes and garlic in salted boiling water till the potatoes are cooked well and tender enough to mash.

Drain and add the potatoes back to the pan. Mash and keep aside.

In another pan, melt butter and add the sage leaves. Cook the butter on low heat constantly stirring till the butter has taken on the golden brown hue. Keep aside.

Return the mashed potatoes to heat and add the milk and crème fraiche. Stir through and mash well to combine. Season with salt and pepper. Once you have got the desired consistency (add more milk if necessary), add half of the brown butter with sage and mix through.

Remove to a serving bowl and pour the remaining brown butter with sage on top.
Grilled Asparagus:
Brush the grill pan with olive oil and heat till smoking hot.

Grill the asparagus for a minute and remove to a bowl.

Add the parsley pesto and season with salt if necessary. Toss well.

Serve with a sprinkle of chilli flakes and crushed walnuts on top.
Notes
To make the parsley pesto, simply substitute basil with parsley. But if you would like to have a recipe for the same, please comment below.