When I started the 'monthly favourites' series, it was to share other aspects of my life apart from food like travel, lifestyle, fashion etc….. along with articles, blog posts, recipes from other sources that have inspired me.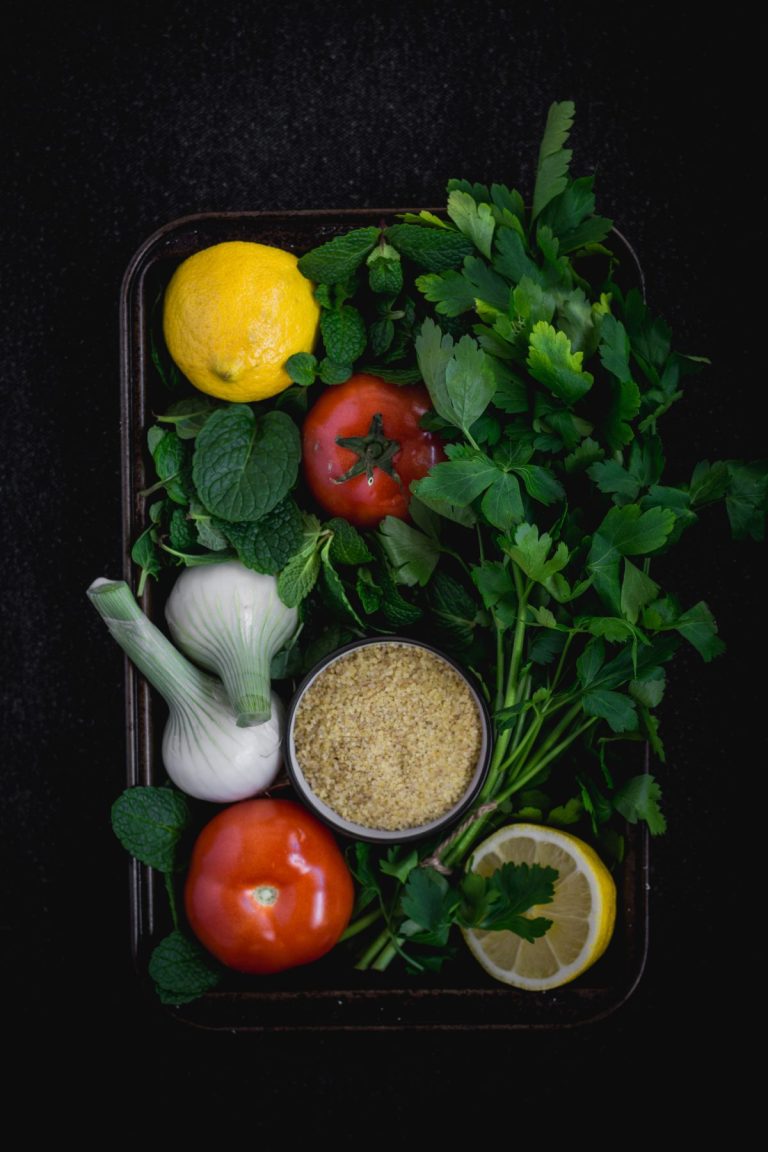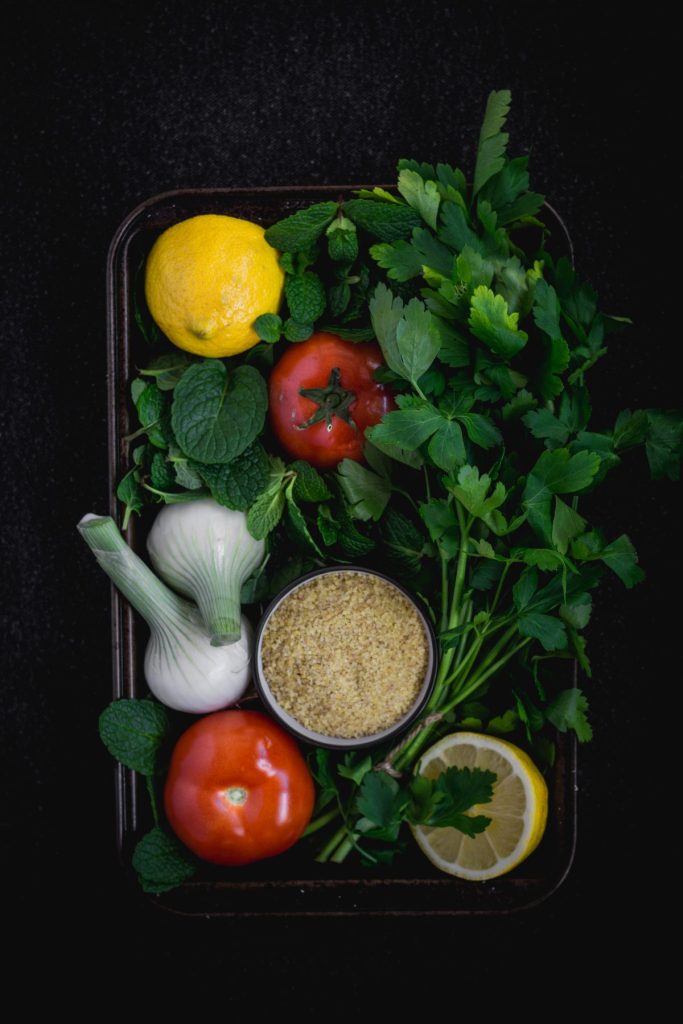 But with the lockdown, there's really not much to talk about and I really do not want to talk about the pandemic and everything else that seems to be wrong with the world. We all hear enough depressing news each single day and I don't want this space to be the same too.
So I have decided that till the situation changes, I shall continue my monthly favourites series with a recipe itself. Not a complicated dish, but simple easy ones that do not need a long explanation.
And with that we get to today's dish – the Tabbouleh!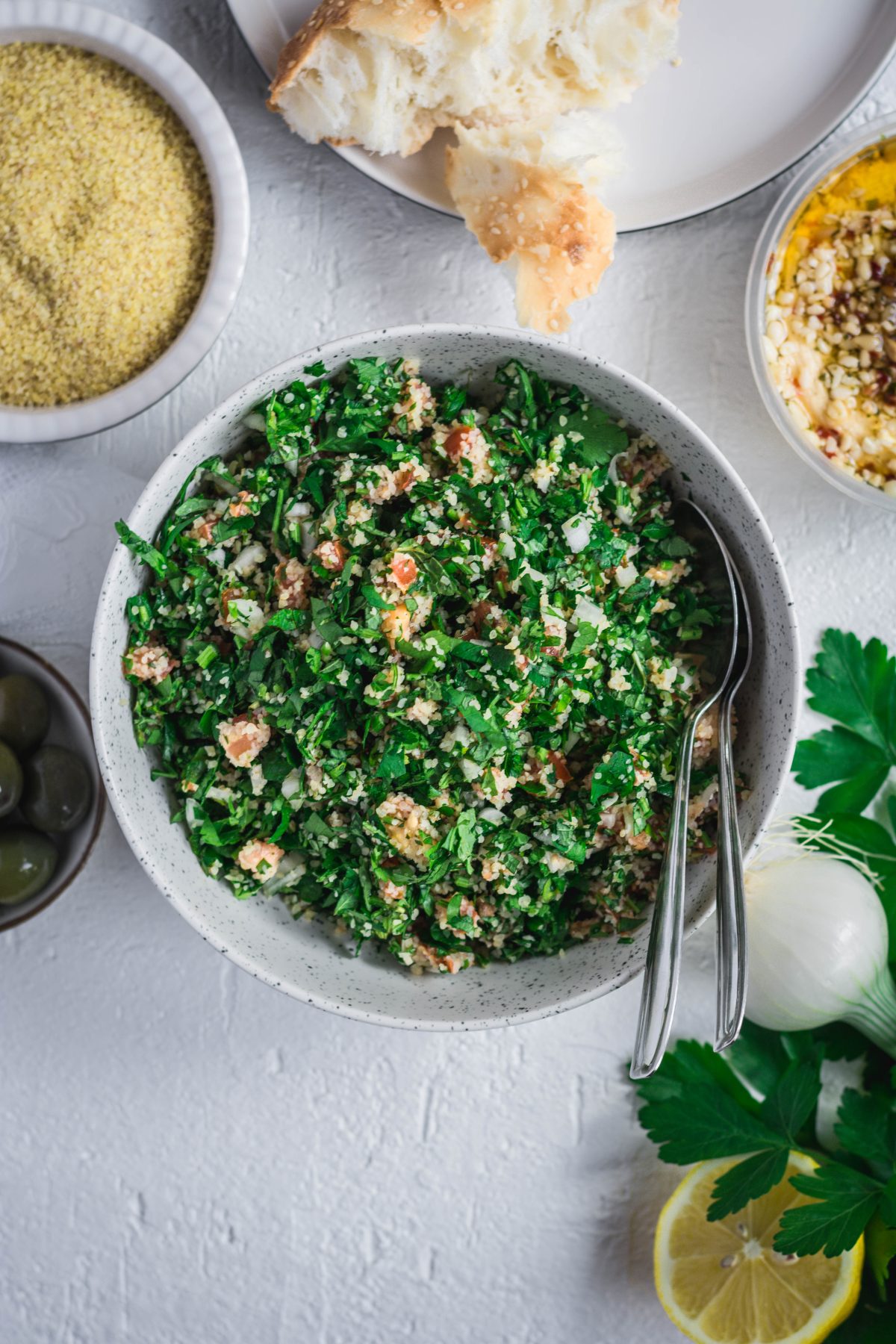 Tabbouleh is a celebration of green herbs, especially parsley that is often relegated as a garnish to most dishes. But in a tabbouleh, the flat leafed parsley takes left, right and centre stage.
Tabbouleh is a Levantine dish, hence you will find it on the cuisine of a few different countries today, but it's most commonly known as a Lebanese salad. There are a few variations of this dish between regions though the main identity of the salad remains same.
Apart from the parsley and other greens like mint and green onion, another key ingredient of the tabbouleh is bulghur/bulgur. It is essentially parboiled, cracked wheat (not to be confused with regular cracked wheat). Bulghur is available as fine and coarse varieties; in my opinion, it's best to use fine bulghur in a tabbouleh because it provides the right texture yet does not outshine the flavours from the other ingredients.
Also the fine bulghur does not need to be precooked; in fact it's allowed to rehydrate in the juices from the diced tomatoes and lemon.
The greens must be finely chopped (almost minced) for a tabbouleh. Ensure that all the greens are washed well, drained and dry before chopping or the final mixture will be too wet. I prefer chopping with a knife rather than a processor as the former has more control to get the perfect texture.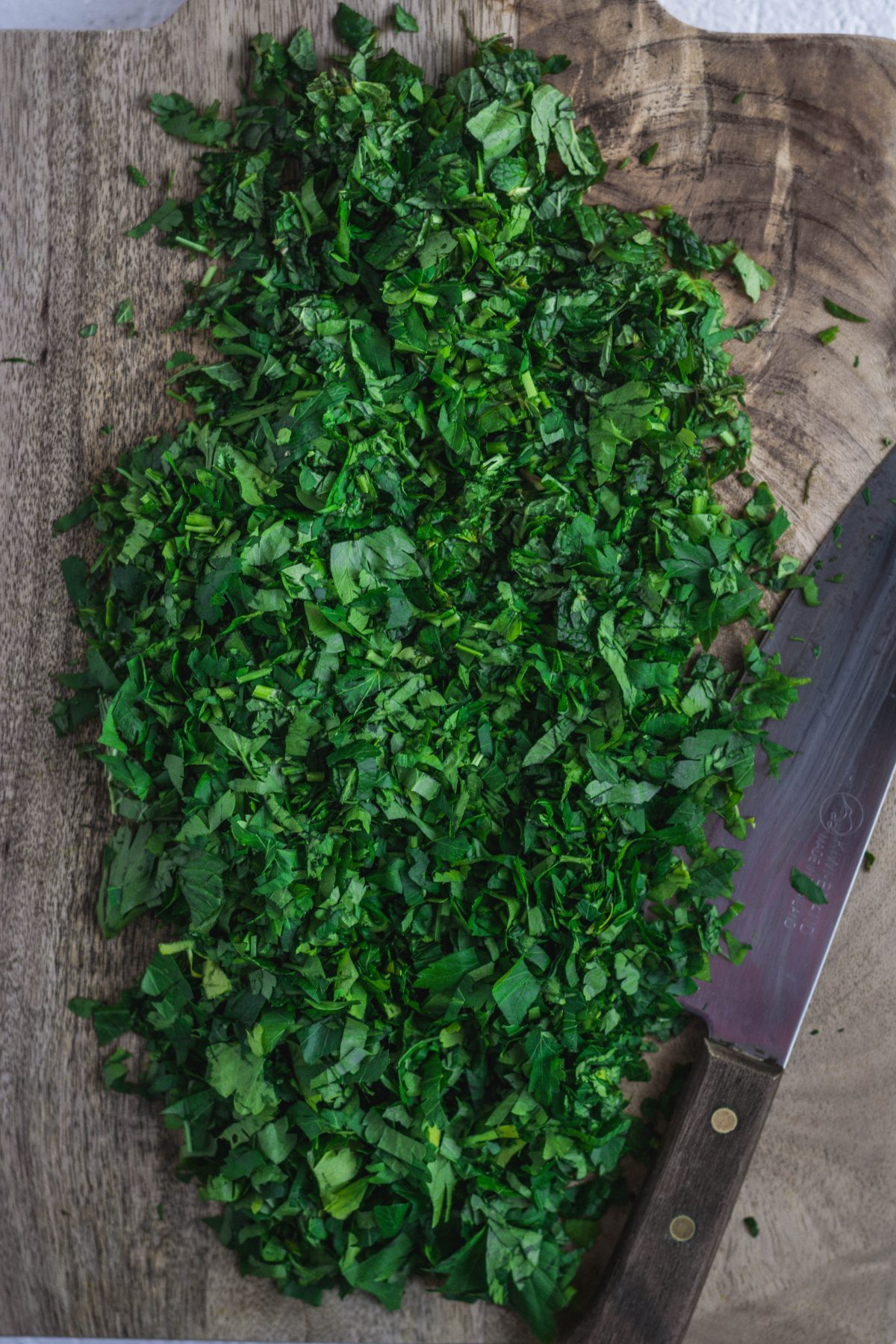 Tabbouleh is an extremely easy, nutritious salad to make which pairs well with so many dishes. It can be a side to your Middle Eastern meal with koftas, kebabs, pita bread, hummus and the works or it can be a lunch salad topped with a protein of your choice. It makes a fulfilling breakfast too, try adding a fried egg and toasted bread to the side.
Measurements or rather ratios are important when making a tabbouleh. You can scale up or down the quantity based on my recipe but ensure that the ratio of each ingredient is maintained to get a delicious bowl of this super green salad.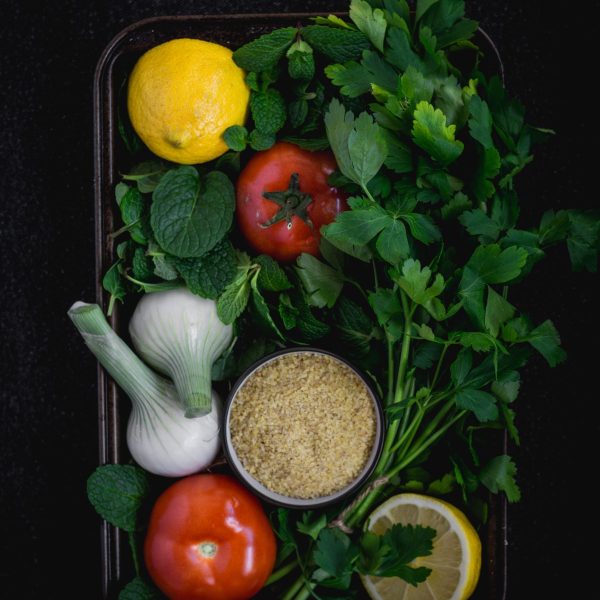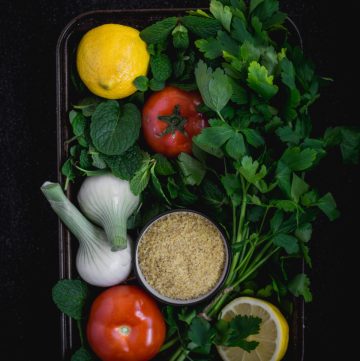 Print Recipe
Tabbouleh
Ingredients
½

cup

fine bulgur

1 ½

cup

ripe

red tomatoes; finely chopped with juices (roughly 2 large ones)

Juice of 1 large lemon

2

cups

fresh flat leaf parsley; finely chopped

at least 2 large bunches

1

cup

fresh mint leaves; finely chopped

¾

cup

green onions; I used both the green and white part

3-4

tbsp

extra virgin olive oil

Salt

to season

Freshly milled black pepper; to season
Instructions
Add the chopped tomatoes along with the juices and half of the lemon juice to a glass bowl.

Add the fine bulgur to this and mix well.

Keep covered for at least 15 minutes.

Finely chop (almost minced) the parsley, mint leaves and green onions.

After 15 minutes, mix through the tomato bulghur mixture and add all the chopped greens.

Add the olive oil and season with salt and pepper.

Taste and add more lemon juice if necessary.

Keep for 10 minutes before serving as the bulgur continues to rehydrate and also allows flavours to develop.
Notes
The measurement of the greens are after chopping (i.e. 2 cups of parsley indicates 2 cups of chopped parsley)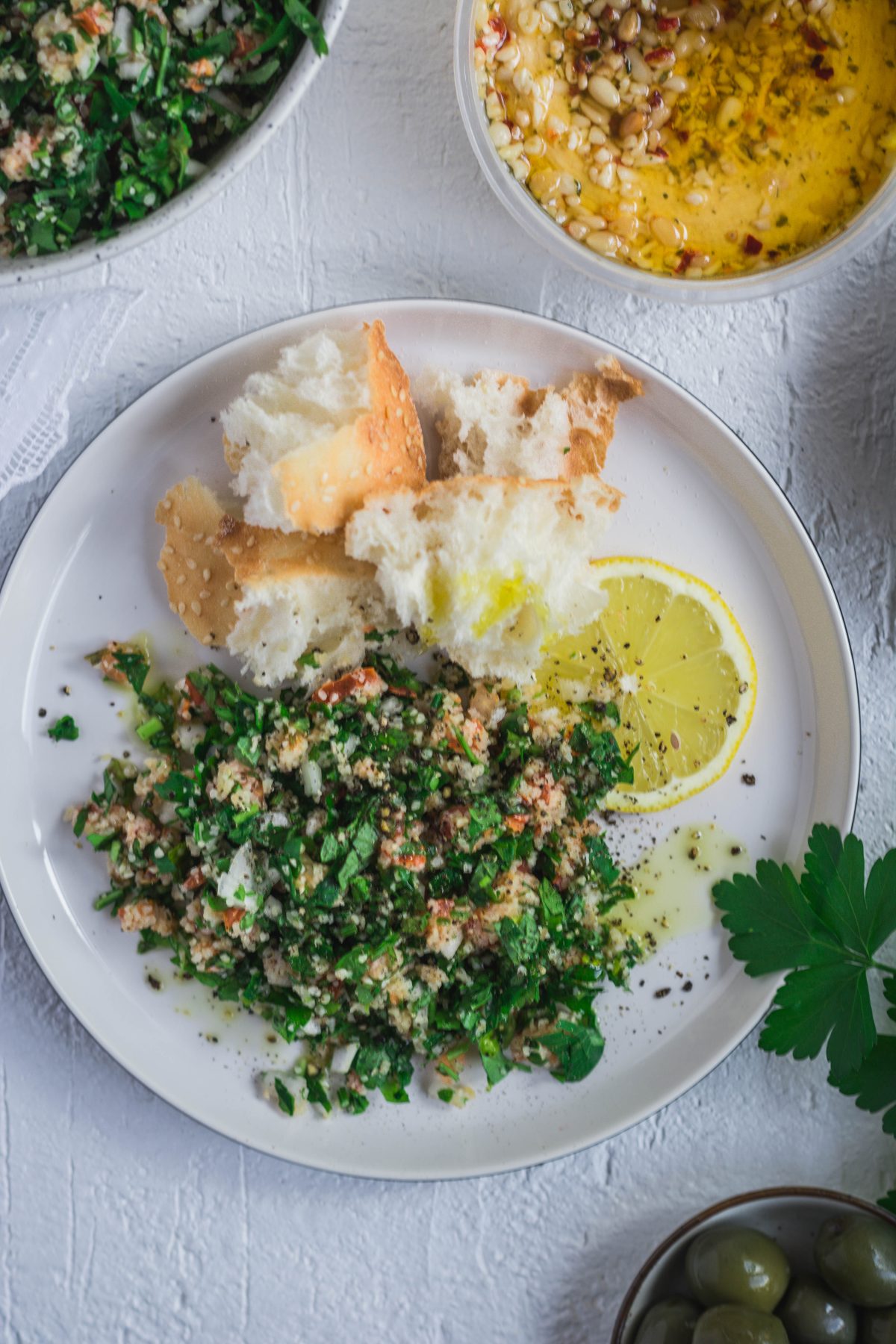 Let's get on to other favourites for the month…
Saving this tomato dip when we can harvest our summer tomatoes
Garden foccacia! The latest online food trend….
These grilled peppers with burrata and breadcrumbs look fabulous!
Absolutely drooling over these zucchini blossom fritters
A vegan Rigatoni recipe which looks just as delicious as the traditional meat version.
It's true that most of us think of Adobo as a non-vegetarian dish. But it can turned into a delicious vegetarian one too!
One of my favourite photography accounts on Instagram….especially her travel and lifestyle photography