I have always been passionate about supporting local Australian businesses, especially from the food and beverage industry. But since this pandemic started, there has been a renewed interest to discover more local brands which never makes it to our supermarket shelves.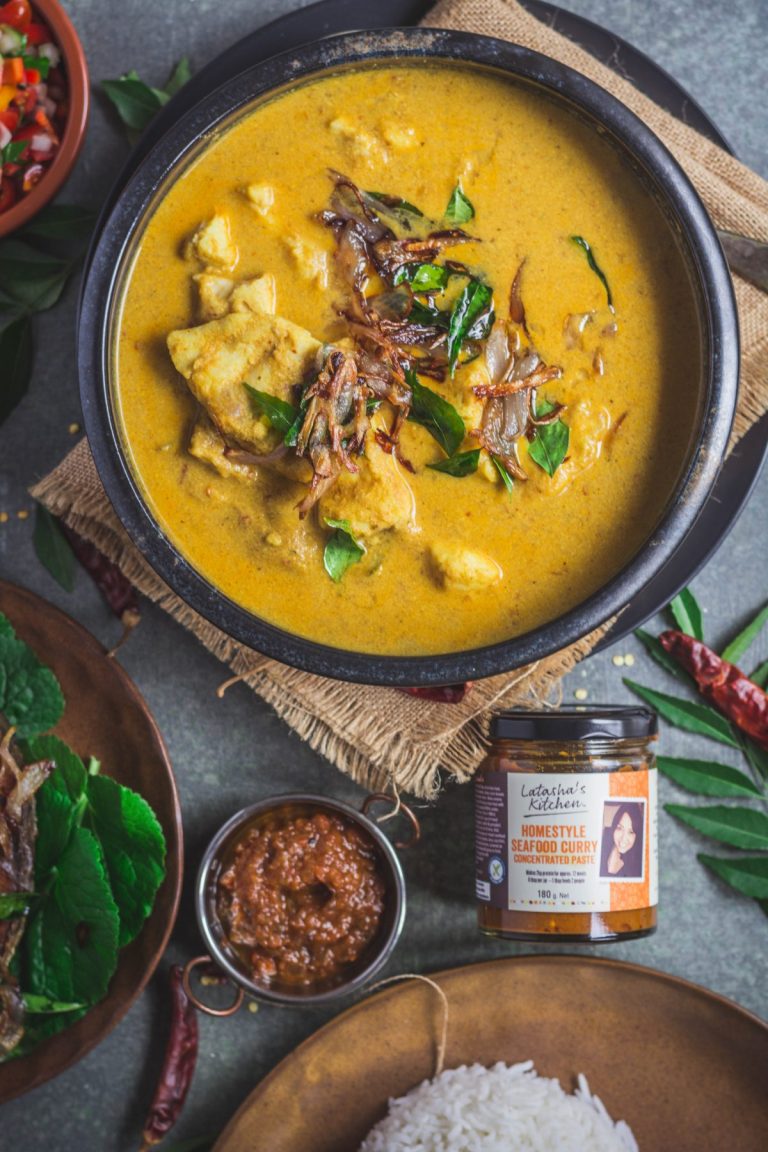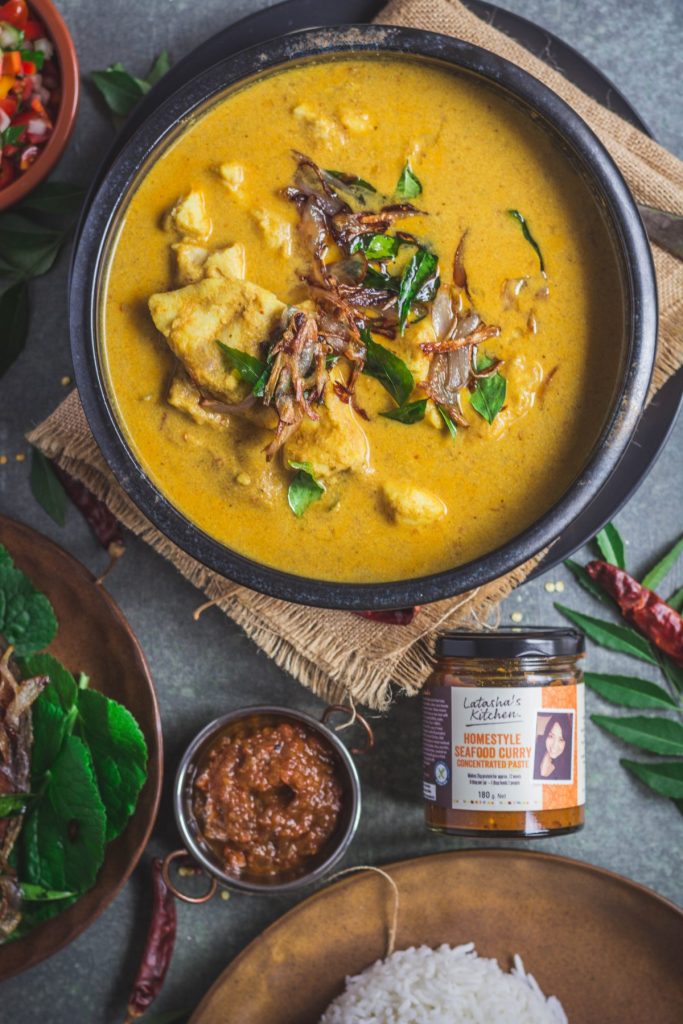 That's how my paths crossed with Latasha's Kitchen.
Latasha's Kitchen has such an incredible range of products – simmer sauces, Indian curry pastes, South East Asian curry concentrates, relishes, chutneys, oil and vinegar dressings, spice mixes, FODMAP simmer sauce etc…..
All their products are crafted and made in Australia using local fresh ingredients and imported dried herbs and spices.
I was pleasantly surprised to learn more about Latasha's background (after whom the brand has been named). She was born and brought up in Malaysia to parents who originally hailed from Kerala, South India and her late husband was of Malaysian-Srilankan descent. And this rich heritage has strongly influenced her cooking and thereby her range of products.
Latasha takes great pride in her small batch production process which means that she and her team are in complete charge of creating each product from scratch. In her words;
"I am an Australian producer using a locally-based small-batch commercial kitchen to help me produce my products to my original formulation. This is what I believe in. So nothing soothes my soul more than supporting other Australian growers, producers and other businesses. I firmly and passionately believe in this. Which is why although I can make my products for a fraction of the price I pay overseas or with lower-grade ingredients, I will never consider taking that option."
It is this passion and attention to quality that you can experience when you open a bottle of Latasha's Kitchen products. You can read more about the production process on their website.
As part of this collaboration, Latasha sent me a pack of her award winning products to re-create some of my favourite recipes at home. This included;
The Seafood Curry Paste concentrate is a spicy, tangy tamarind packed affair that's absolutely flavourful and fragrant. It is my theory that you can judge the quality of a spice paste from its smell and Latasha's Kitchen seafood curry paste is a winner. It is so fragrant and aromatic, so alive and fresh unlike the stale ones that you find on most supermarket shelves.
I had a zillion ideas buzzing around in my head when I tasted this seafood curry paste, but I decided to keep it simple and make a delicious Keralan style fish curry. This fish curry is one of the simplest and easiest curries that you can whip up. Even for those who find cooking Indian food or curries daunting, this one's gonna be a breeze, I promise.
The unique thing about this fish curry is that instead of using coconut milk, ground coconut paste is used to flavour and thicken the gravy. Now you might wonder if that makes a difference; it sure does….while both versions have coconut, the overall flavours and texture are quite different.
Any type of fish can be used for this curry like snapper, Spanish mackerel, rockling, barramundi etc…. It's also amazing with prawns and lobster. I have used Australian rockling; it's a beautiful firm white fish that's perfect for curries and cooks in no time at all.
Most of Latasha's Kitchen sauces and curry pastes are very versatile and can be used in so many different ways. And just to showcase this, I used the other products to create a fabulous Indian dinner for my family.
So here's the final spread;
Steamed rice
Keralan fish curry – with Homestyle Seafood curry paste
Pan fried Spanish mackerel – marinated with Homestyle Seafood curry paste
Chutney potatoes – with Green coriander sauce
Mixed veggie salad – dressed with Caramelised apple cider vinegar
Zingy tomato chutney
Latasha's Kitchen products are not just for those who are looking to save time cooking but for anyone who wants to create delicious food every day. So check out their range on the website and place in your order today.
And let's get onto making this coconut-y delicious and tangy Keralan fish curry;
Keralan Fish Curry
Ingredients:
650gms rockling fillets; cut into curry sized pieces
1 ½ cup grated coconut (fresh or frozen)
1 large Australian shallot (use 3 if using smaller Asian shallots)
2 sprigs curry leaves
4 heaped tbsp Latasha's kitchen home style seafood curry paste
3 cups water
Salt, to season
To temper
2 tbsp coconut oil
2 Australian shallots (4-5 if using smaller Asian variant); finely sliced
2 sprigs curry leaves
Method:
Wash the fillets, cut into large curry sized pieces and keep aside.
Blend the grated coconut, shallot and half of the curry leaves into a fine paste.
Place a heavy bottom pan (earthenware or terracotta pan is great too) on high heat, add the coconut paste, seafood curry paste, remaining curry leaves and water. Mix well and bring to boil.
Once boiling, add the fish pieces and season with salt. Mix gently and cook covered on high heat for 3 minutes. Then reduce heat and continue to cook till the fish is done.
Meanwhile in another pan, heat coconut oil and add the sliced shallots. Fry till it turns light brown and then add the curry leaves. Continue to fry till the shallots are almost brown, but not burnt.
Add the shallots to the fish curry (do not mix) and remove from heat. Keep covered for atleast 15 minutes before serving. Mix gently just before serving.
Pan fried Spanish Mackerel – This does not really need a recipe. The Spanish mackerel steaks were marinated with Latasha's Kitchen Homestyle seafood curry paste. Allow to sit for 30 minutes for flavours to infuse and then pan fry in vegetable oil. Garnish with fried curry leaves and chopped coriander leaves.
Chutney Potatoes – Heat oil in a pan and crackle mustard seeds followed by cumin seeds. Add diced potatoes, turmeric powder and season with salt, Fry the potatoes on medium heat till almost done. Finally add a few tbsp of Latasha's Kitchen Green coriander sauce; mix well to combine. Garnish with coriander leaves.
Disclaimer – This is a sponsored collaboration in association with Latasha's Kitchen. But the recipes, photographs, musings, opinions are entirely mine.