Thakkali Kozhi or Tomato Chicken Masala is a simple but delicious dish from the Chettinadu region. Like the name suggests, it is essentially chicken pieces cooked with aromatics, spices and tomato puree as the key ingredient.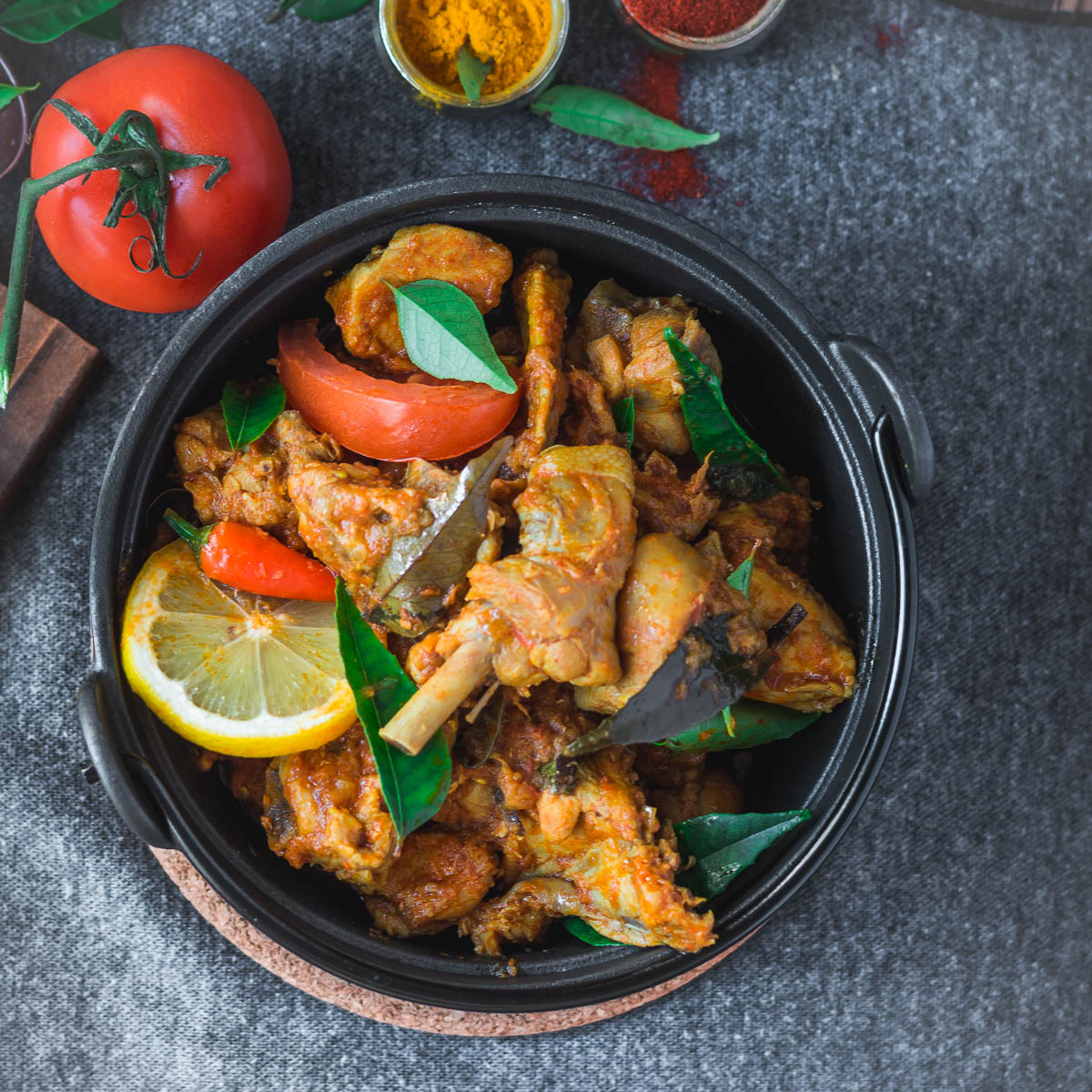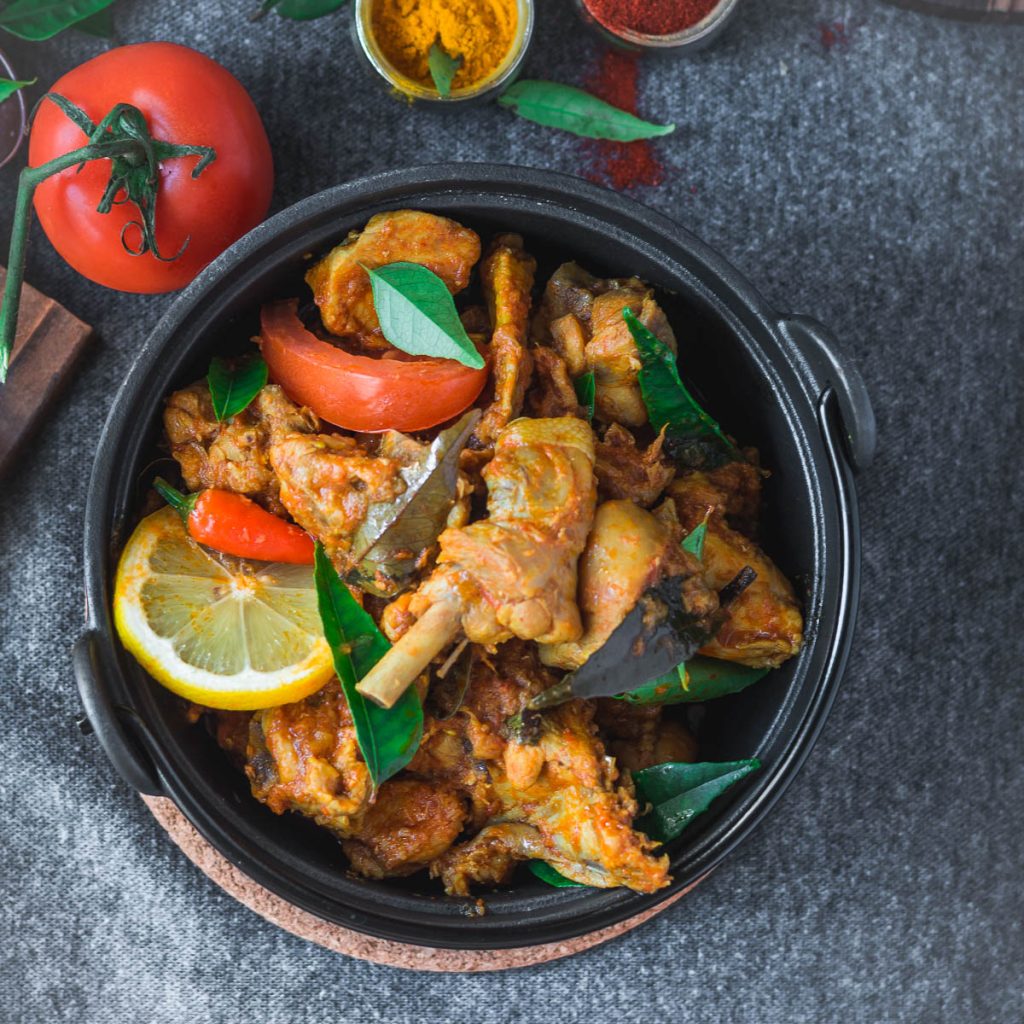 One of my favourite dishes from the Chettinadu cuisine!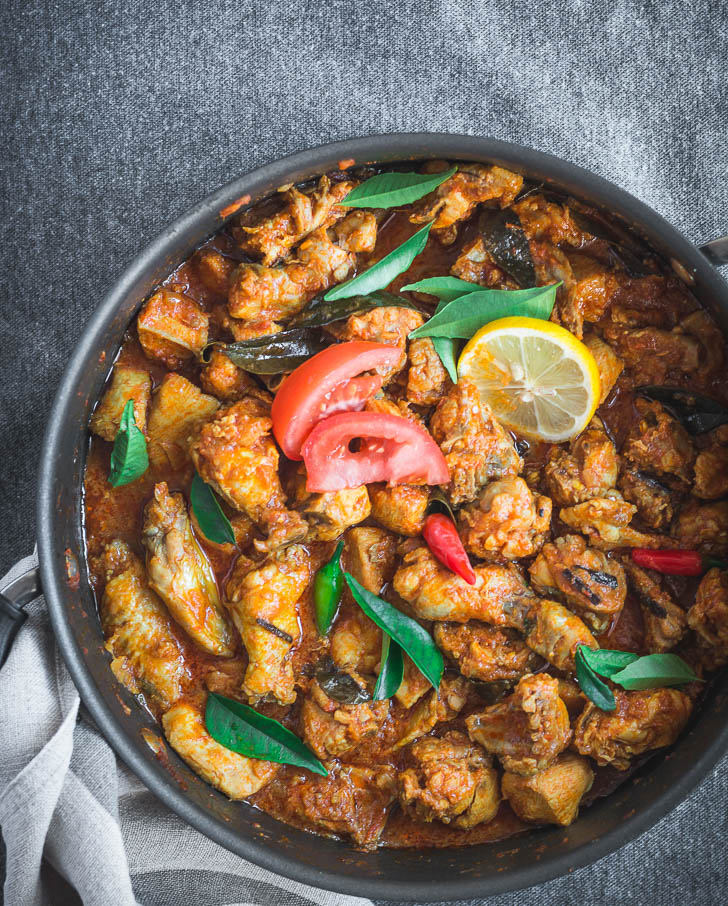 Is blogging dead?
This has become a topic of conversation among many bloggers and digital content creators. In the wake of a video content boom especially on social media, has the relevance and importance of the written word become redundant?
My answer's a resounding 'no' even though many others would disagree.
Because the written word lasts….
Especially when it comes to food blogging, I think the traditional blogs are still the strongest. Not only is there so much content variety, but I also find it to be the easiest source of information when I am looking for a particular recipe, idea or information about a cuisine.
The short 10 or 20 second videos are definitely entertaining but not informative at all, atleast for me.
But what really ticks me off is the control that social media companies have over our content, in any form. No matter how hard we work to create good content, we have become mere puppets in their hands.
Some days feel really defeating when I look at the insights/numbers on my posts. The number of likes or followers is not a validation for me or my work but as a professional content creator, I am dependent on these for sponsorships and collaborations. And I definitely wouldn't pay for false numbers!
It's the validation of my readers and subscribers that have got me going all these years. The comments and the DMs that you send me after trying out a dish from here and enjoying it with your family and friends…that's my biggest support. And that hasn't changed a bit over the years.
And for that single reason, my blogging journey will continue forever….
So, let's get back to today's recipe…. a lipsmacking fingerlickin' Chettinadu style Tomato Chicken Masala.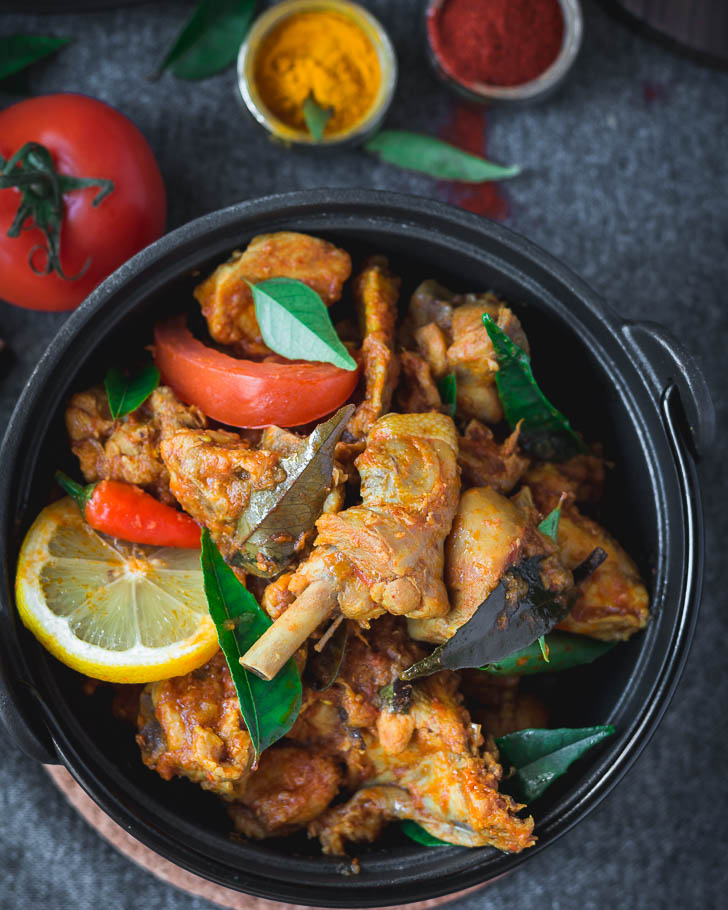 This recipe reminded me of this super simple Tomato Chilli Chicken that my mom used to make often. If you haven't checked that out yet, be sure to as it's a lifesaver for busy workday dinners.
Traditionally, Chettinadu Thakkali Kozhi is a spicy dish but in this version, I have toned down the heat level without compromising on the taste at all. But if you do enjoy the flavour and heat, feel free to play around with the quantity of red chilli powder.
This dish is a play of balance between the red chilli and tomato. So like I already mentioned, you can vary the amount of chilli powder but you need to adjust the tomato puree quantity to keep that balance of heat, sweet and tangy in check.
Pair with chappathis or with rice, this Chettinadu style Tomato Chicken Masala is fingerlickin' delicious. A recipe you will want to try over and over again for sure.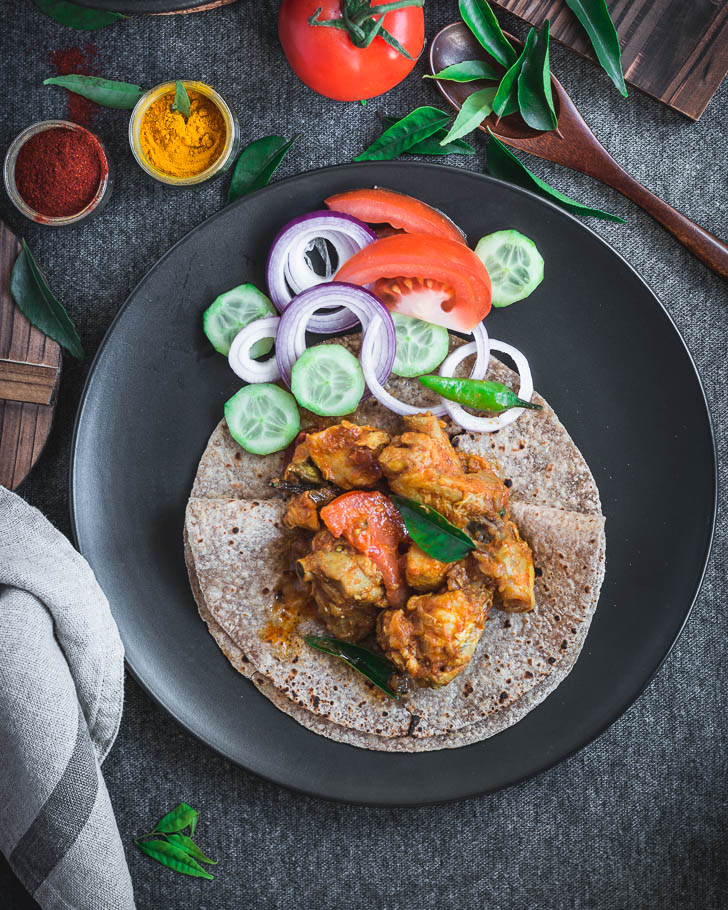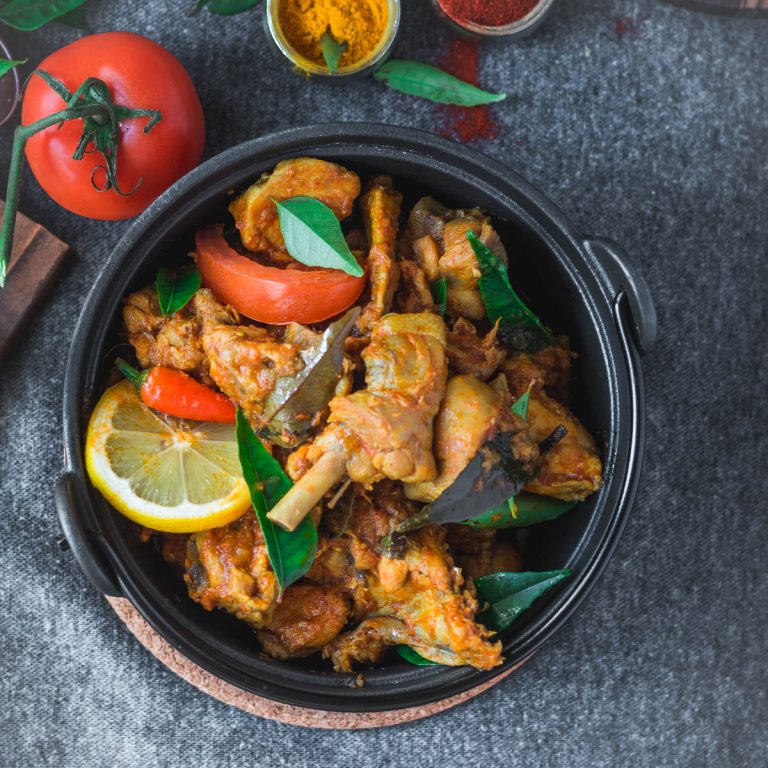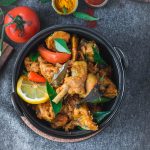 Print Recipe
Tomato Chicken Masala (Chettinadu Thakkali Kozhi)
A delicious mildly spiced chicken dish from the Chettinadu region.
Ingredients
1

kg

chicken

skinless, with bones

3-

inch

piece cinnamon

6

green cardamoms

2

onions; finely chopped

¾

tsp

turmeric powder

2

tsp

red chilli powder

refer notes

1

tsp

freshly grated garlic

1

tsp

freshly grated ginger

1 ½

cup

fresh tomato puree

Salt

to season

4-5

tbsp

vegetable oil
Instructions
Heat oil in a kadai/heavy bottom wok; add cinnamon and cardamom and cook on low heat till the cardamoms have plumped up (take care not to burn).

Next add the onions and sauté for 1-2 minutes till translucent.

Then add the grated ginger and garlic; continue to sauté for another 4-5 minutes on low to medium heat. Next add the turmeric and chilli powder; mix well and cook on low heat for another 2-3 minutes.

Next add the tomato puree, season with salt and continue to cook till the oil separates from the masala.

Add the chicken pieces and mix well so that the masala coats the chicken. Add ¾ cup water, season with salt and mix again.

Cover and cook till the chicken is tender and juicy, stirring occasionally so that the masala does not stick to the bottom of the kadai. The final consistency is that of a thick gravy coating the chicken.

Check seasoning and transfer to a bowl. Keep for 10 minutes before serving.
Notes
• In Chettinadu cuisine, the red chilli powder used is often made from goondu milagai or round dry red chillies. This chilli powder is mild when compared to that made from other types of dry chillies so adjust quantities if you are using the more heat variety.