My association with Tamil Nadu started from my undergraduate years, then the postgraduate years and finally culminated in a life long journey, having married a Tamilian. The cuisine of this state is highly varied just like its rich history and culture. Apart from the idli/dosa/sambhar trio, the next popular dish of the region has to be its variety rice prepartions. Tomato rice, sambar rice, coriander rice, tamarind rice, lemon rice….the list is endless!
My favourite among all these is the coconut rice (blame it on my Mallu roots!). The rich, creamy texture of the grated coconut mixed with rice and tempered with spices is heavenly and I love to eat this dish like a true non-vegetarian – with chicken curry. But for vegetarians, the classic combination is fried potatoes.
Coconut rice is a simple dish which can be done in seconds and works well with leftover rice. Easy, delicious and highly affordable!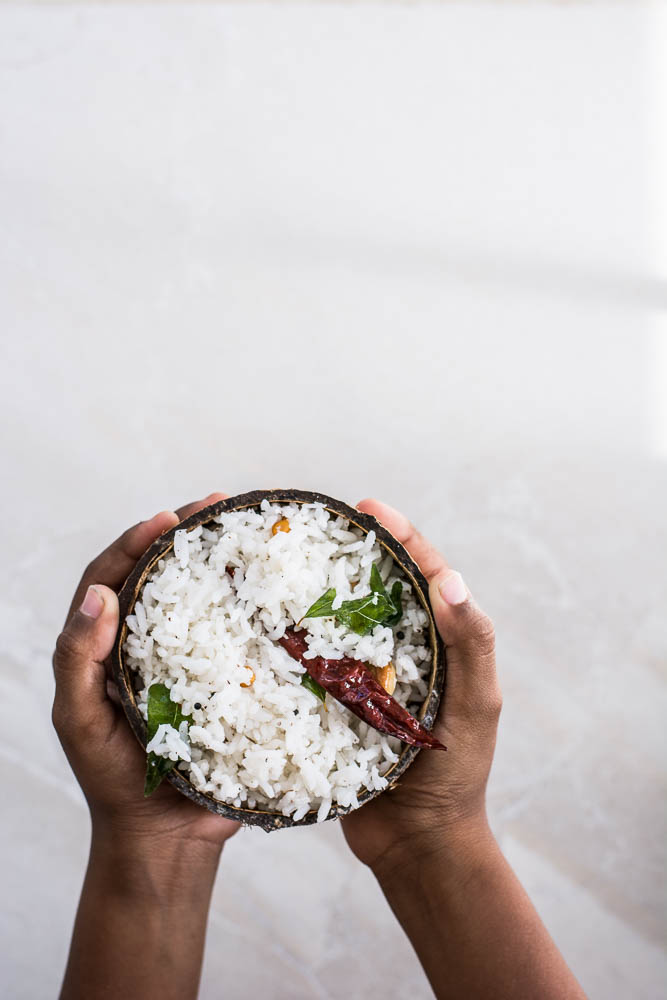 Ingredients:
1. Rice – 2 cups, cooked
2. Mustard seeds – ½ tsp
3. Split urad dal/Vigna mungo/white lentil – 1 tsp
4. Chana dal/Bengal gram – ½ tsp
5. Dry red chilli – 2-3
6. Curry leaves – a handful
7. Hing/asafetida – a pinch
8. Coconut – scraped or grated, ½ cup
9. Oil – 1 tbsp
10. Ghee – 1 tsp
11. salt – to season
Method:
• In a large kadai, heat oil and ghee.
• Add all the ingredients except coconut and rice and mix well.
• Next, add the scraped coconut and sauté for a minute till the rawness goes. Do not overcook or allow the coconut change colour. Season with salt if necessary.
• Turn to low heat and add the cooked rice; mix well without breaking the rice.