Stuffed Chilli Peppers or Bharvan Mirch as traditionally known in India, is a delicious snack/appetizer and one of my top choices while entertaining at home. The chilli peppers are stuffed with potatoes and spices, then lightly fried. Serve with a drizzle of yoghurt!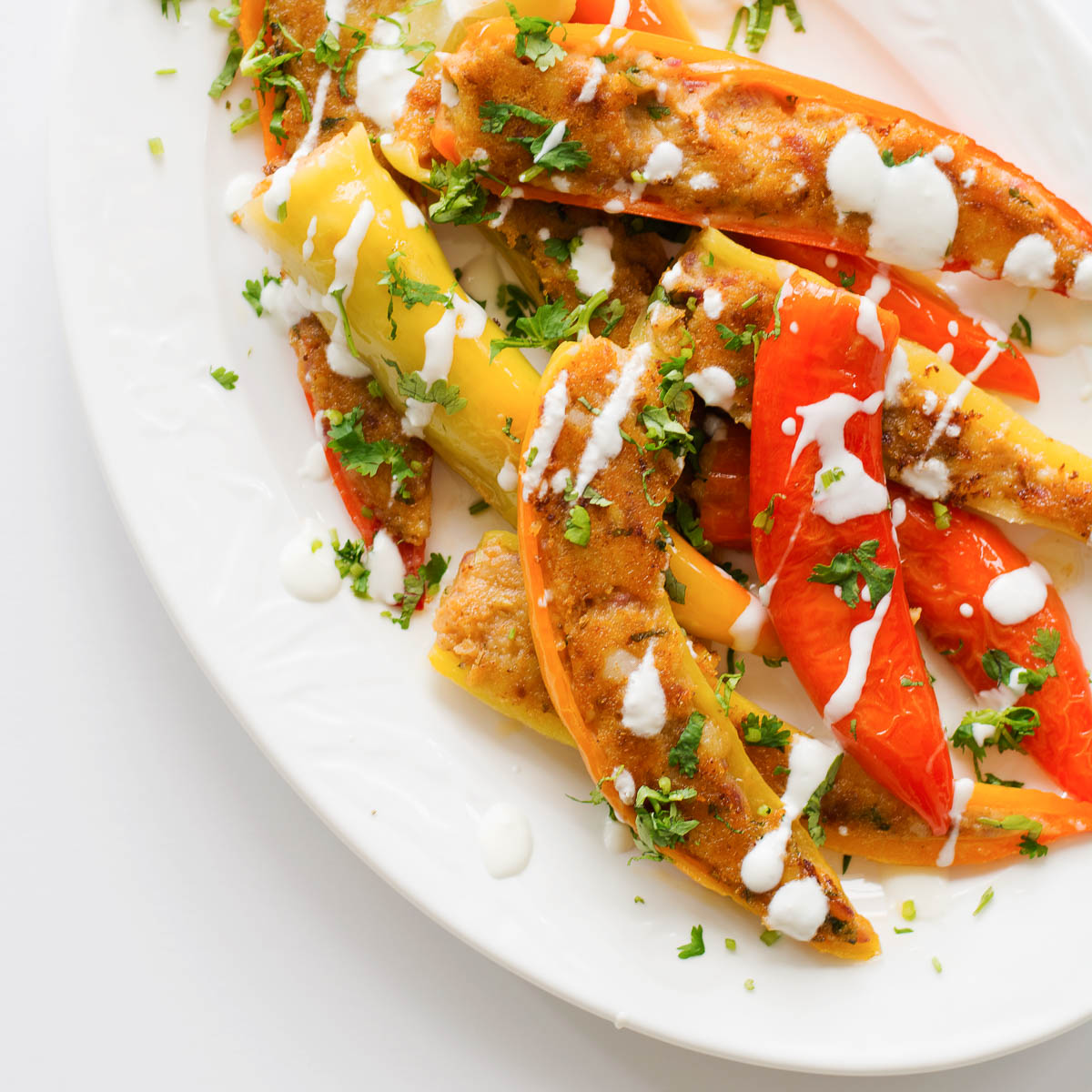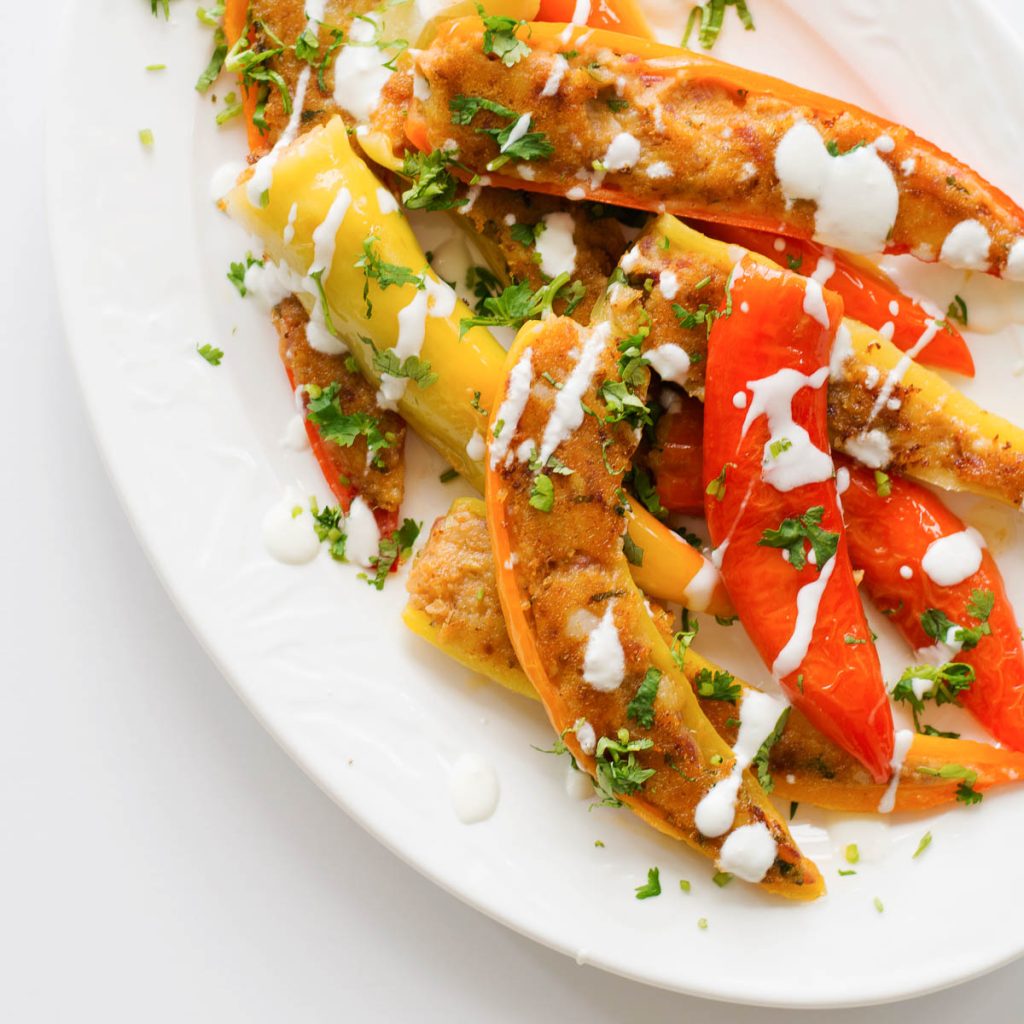 I was under the impression that stuffed peppers are native to Indian cuisine but was fascinated to find out that this dish has many avatars and is popular in several different global cuisines.

In India, it goes by the name Bharvan Mirch and can be both vegetarian and non-vegetarians depending on the stuffing. In Spanish cuisine, this dish is known as pimientos rellenos and is famous especially in Basque country.
The Greeks call it Yemista where the pepper is hollowed out and baked with a stuffing of rice and herbs. Mexican cuisine knows this by the name Chile renello; jalapeno peppers are also commonly used in Mexico with a filling of meat, cheese and spices.
The Dolma or Dolmeh of Meditteranean/Middle Eastern cuisine is known to the outside world as stuffed grape leaves but peppers and tomatoes are also used. The list is endless and you will be able to find a recipe for stuffed peppers literally from every part of the world.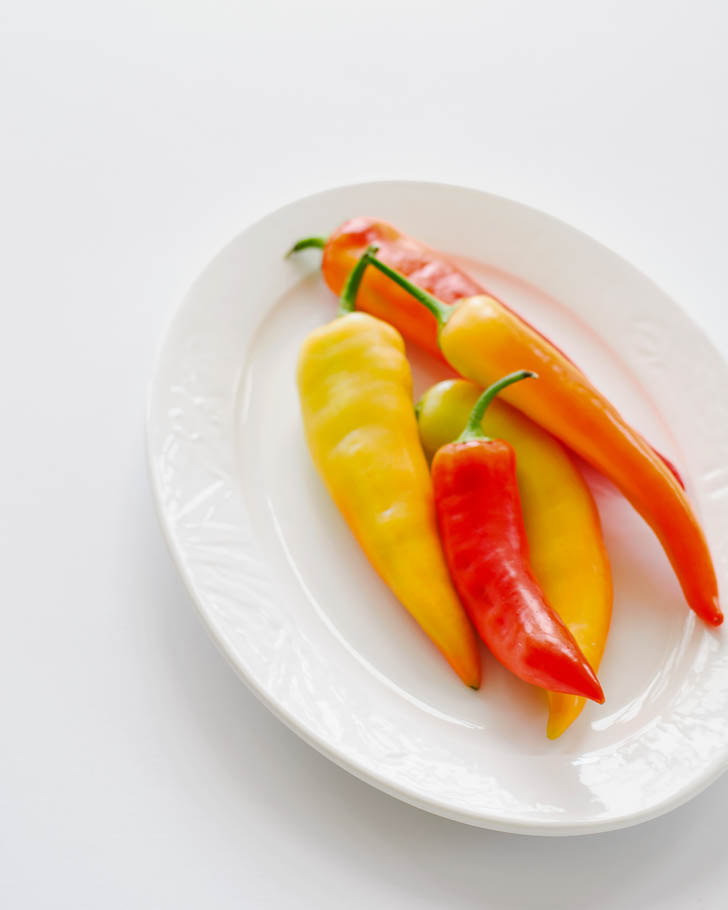 I have of course, done an Indian version adapted from a recipe by 'Chef and her Kitchen'. The flavours in this Stuffed Chilli Peppers are classic Indian with a myriad of spices including amchur (raw mango powder) and ajwain (carrom seeds) which helps to lift all the flavours binding the stuffing together. And every bite into the firm yet succulent peppers results in a burst of spicy goodness.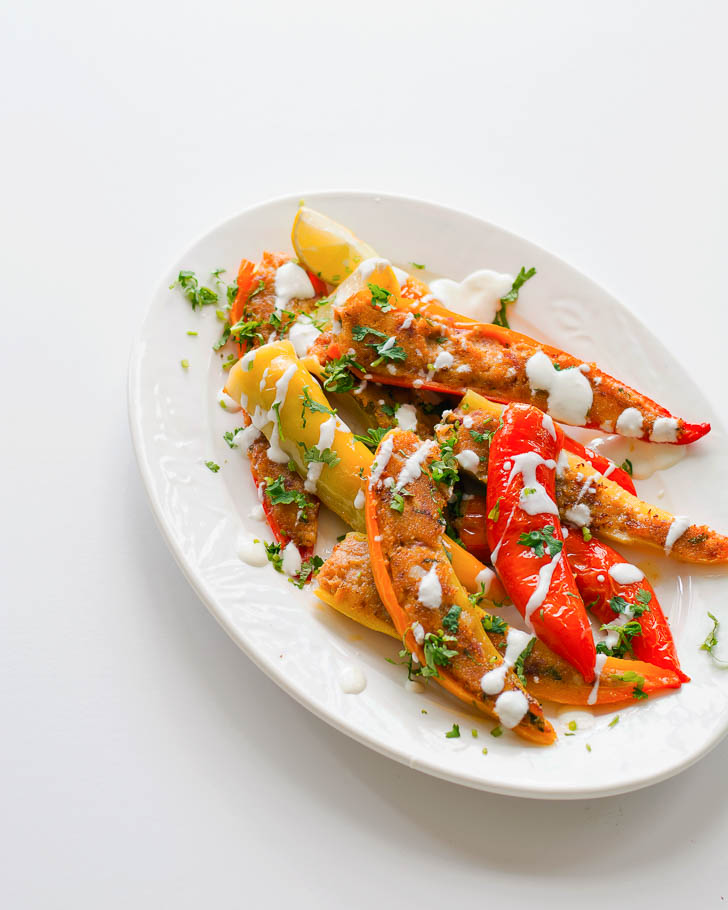 Have you tried these delicious Channa tikkis/Chickpea patties? Perfect for entertaining especially when you have vegetarian friends over.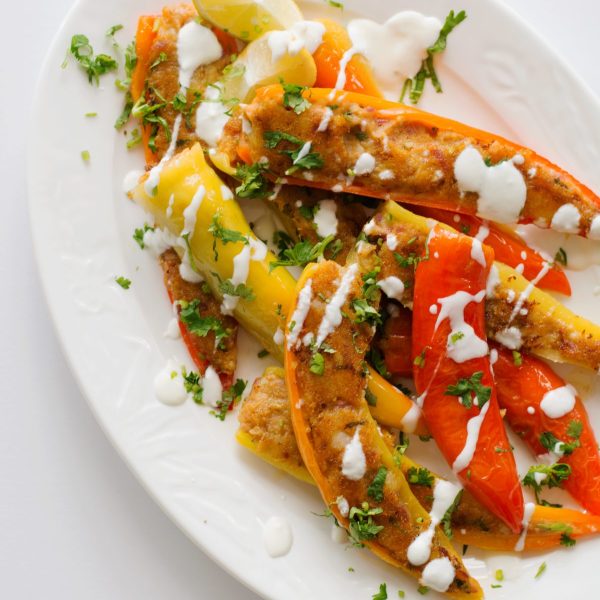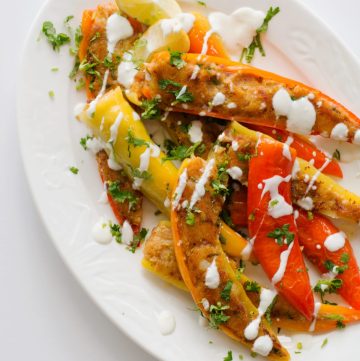 Print Recipe
Stuffed Chilli Peppers
Ingredients
Assorted sweet chilli peppers – 6

Potatoes – 2 large

boiled and mashed coarsely

Gram

flour/besan – 2 tbsp

Onion – 1

finely chopped

Coriander leaves – ½ cup

finely chopped

Red chilli powder – ½ tsp

Garam masala – ¼ tsp

Coriander powder – ½ tsp

Amchur/dry mango powder – ½ tsp

Lemon juice – 1 tsp

Fennel/saunf powder – ¼ tsp

Cumin/jeera powder – ¼ tsp

Ajwain/carrom seeds – ½ tsp

Asafetida/hing – a pinch

Vegetable oil – for shallow frying

Salt – to taste
Instructions
Wash and slit the chillies and remove the veins and seeds inside.

Bring water to a boil with some salt and add the green chillies and blanch for a minute and drain. If you are not sure of how spicy the chilli pepper is, then blanching is a good way to reduce some heat without losing the flavour. This step also helps the peppers to absorb less oil while shallow frying.

Boil the potatoes, peel skin, mash coarsely and keep aside.

Dry roast saunf in a pan and pound it in a mortar pestle to get a coarse powder.

In the same pan, dry roast besan/gram flour until the raw smell goes away and gives its aroma and cool it completely.

Heat a tsp of oil in the same pan and add onions, sauté for a minute to soften. Remove and keep aside. This step is optional but lends extra flavour to the dish.

In a bowl, mix the onions, mashed potato, roasted besan, salt, spices, chopped coriander, lemon juice and mix thoroughly.

Fill the chillies with this mixture tightly; it really takes lot of stuffing inside. Wet your hands and press on top of the stuffed mixture, you can even sprinkle few drops of oil on the top of the stuffing in the pepper. This helps in holding the mixture tight without spilling it when frying/roasting it.

Heat the oil in a tawa and crackle jeera and ajwain and add a pinch of hing. Place these stuffed chillies with the stuffing facing down (always shallow fry the stuffed side first). Let it roast on low flame until it is fried, it takes 6-8 mins approximately, close it with lid while roasting. Now turn and roast on the other side for 3-4 mins.

Garnish with a dash of yoghurt and coriander leaves.