Mor kachiyathu is a mildly spiced, creamy buttermilk curry that's delicious when had with steamed rice or rice gruel. A simple, quick, light and extremely healthy preparation…..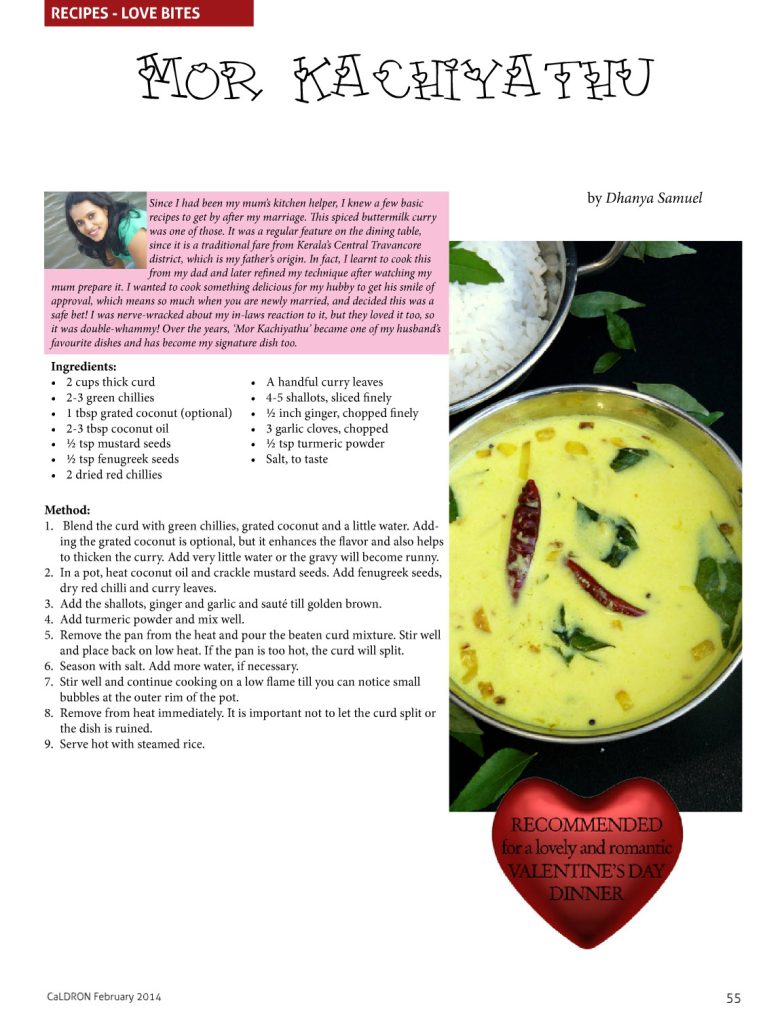 Mor Kachiyathu is a part of the daily diet in most Central Travancore (districts of Alleppey, Kottayam and Pathanamthitta, Kerala) households.
I first learnt how to prepare this dish from my dad (he knows to make only 3 dishes which he learnt from my mum purely for survival reasons; all of which he taught me) though it was much refined watching my mum cook it. Every time someone appreciates my cooking skills, he takes the credit saying that he taught me how to cook!!
Now there's another reason to make this dish all the more special and memorable. Recently Chef at Large, a Facebook food group posted an opportunity to click and put up the recipe of the first dish that you prepared for your spouse/partner/boyfriend; the selected entries will get a chance to be featured in CALDRON – their online food and wine magazine.

This humble mor kachiyathu was my entry, which was selected among many others to be featured in the Feb issue of the magazine. An extremely proud moment for me – on cloud nine. Yay!
For those who are new to CALDRON, it is a premier online food and wine magazine. At par with many international food magazines, there are plenty of recipes to try out, information about new food joints, restaurants around the country, interviews with celebrated chefs and snippets of food news from around the globe. Kudos CAL – one step towards making India a global food destination!