It is quite interesting to trace the origin and journey of a dish. Not only can you learn a lot of historical tidbits, you also get to appreciate the evolutionary process and how each region adapts and changes the original dish or technique to suit their tastes, climate, availability of ingredients and lifestyle.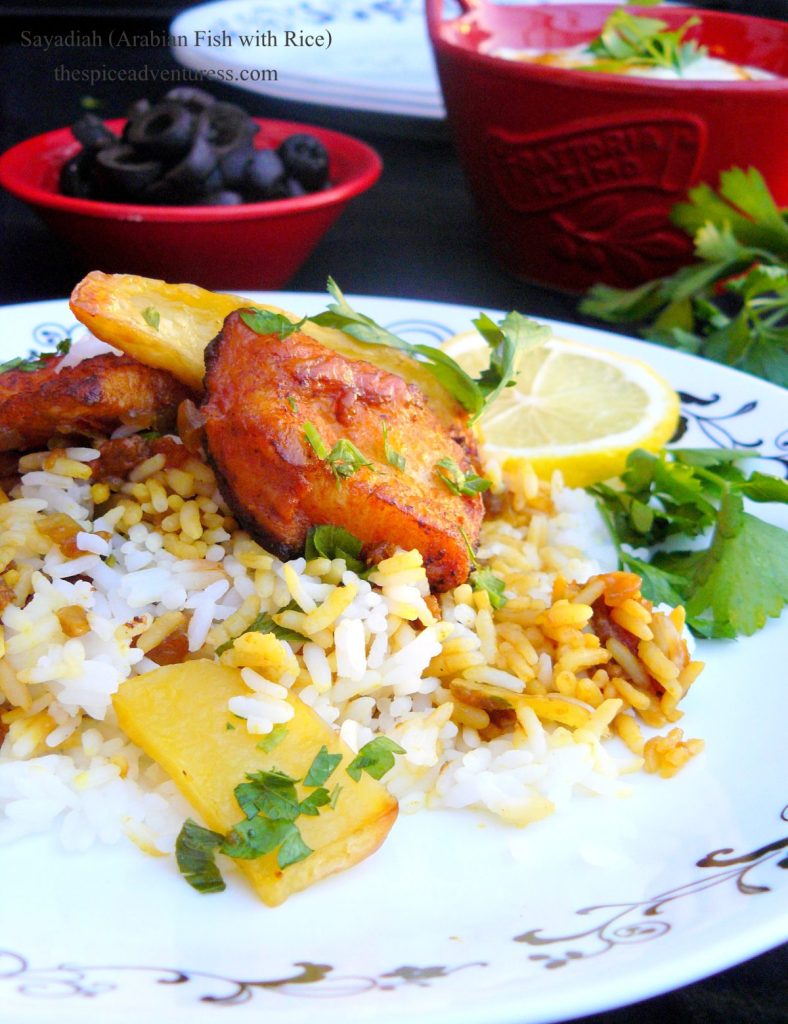 The name of today's dish is 'Sayadiah' or in simpler terms, fish with rice. This is an Arabian dish, especially common along the coastal regions of Yemen. A variation of this dish can be found in Lebanese cuisine where the fish is grilled or fried and then layered with yellow saffron rice.

The first thought that would enter any Indian's mind after reading this recipe is that, 'this sounds very much like our biryani, but much simpler.' And now that thought's totally justified because; a) biryani is a Persian/Arabian dish and b) the Indian biryani is a 'spicier and masalified' version of the original biryani.
This is a layered rice dish similar to the pukki type of Indian biryanis like the Malabar biryani. The fish is marinated in harissa paste and then shallow fried. Harissa is a commonly used Middle Eastern spice paste which is easily available these days but if you cannot find it, replace it with a marinade made from red chilli powder, turmeric powder, olive oil and salt. Kushna or the sauce is a classic made from onions, tomatoes and spices. Cook the rice separately and finally layer and bring together the whole dish.

What I liked most about this dish is that it is very simple to prepare, requires very few ingredients and is not loaded with spices. Flavourful yet subtle, Sayadiah can be a perfect weeknight meal or when you have guests over. The dish showcases the Middle Eastern flavours and the fish is the hero of the dish so make sure you get the freshest produce possible. Any type of fish would suit this preparation but the best would be varieties with firm flesh and can be filleted easily.

Recipe Courtesy – Traditional Arabic Cooking