Before I start off about this delicious, fragrant rice dish, I have a serious bit of news for all my readers. Due to copyright and legal issues, I am forced to change the name of my blog. It has been an emotional past one week ever since it was bought to my notice that my blog name resembles a company which has trademarked the term 'skinny chef'. And so, I am left with no choice but go for a complete name change.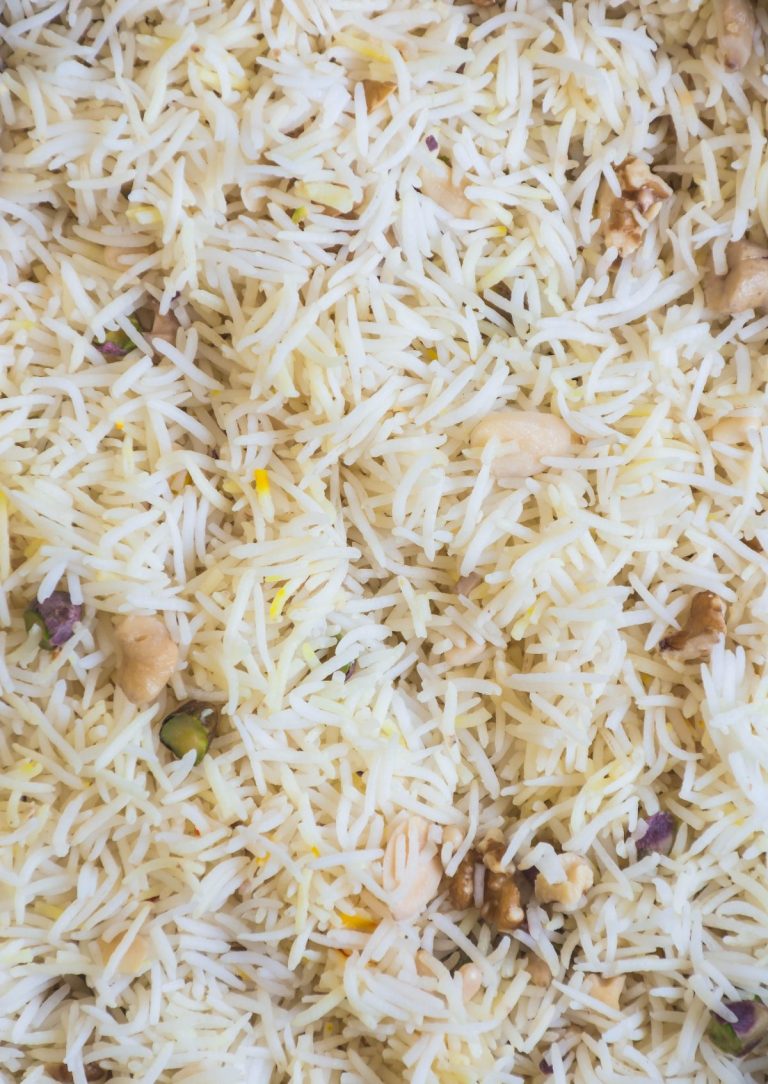 After a lot of brainstorming, I have shortlisted a couple of names and will soon be deciding on one. But this is going to be really difficult; it is almost as if I am having an identity crisis wondering if it is going to affect all the hard work I have put in the last one year. But then I think – my readers are here for the food, the recipes; not because of my blog's name. And this thought gives me a lot of confidence to go ahead with this task. Please do let me know all of your thoughts on this; every opinion would count and mean a lot to me.
So, don't be surprised to see a new blog name popping on your screen soon; it's still me!
Ok, let's talk of happy things now like today's dish – Arabian rice with nuts and saffron.
A rich, decadent rice dish but an extremely simple one to make which makes it a beautiful way to break your Ramadan fast (if you are following it) and embrace Iftar. Roz ma mucasarat is a traditional Arabian rice dish which dates back several centuries as nuts were used in cooking long before agriculture cultivation took off. This is a rice dish that is usually prepared during celebrations, special days and weddings but I could eat it just about every day.
You can use just one type of nut but the indulgence of this dish comes from using a medley of nuts like I did. A pinch of saffron ties in the flavours adding a hint of sweetness to lift off the nutty flavours. A truly beautiful rice preparation which goes well with just about anything – be it a well spiced curry, roasted meats or all by itself.
Recipe courtesy – Traditional Arabic Cooking – Miriam Al Hashimi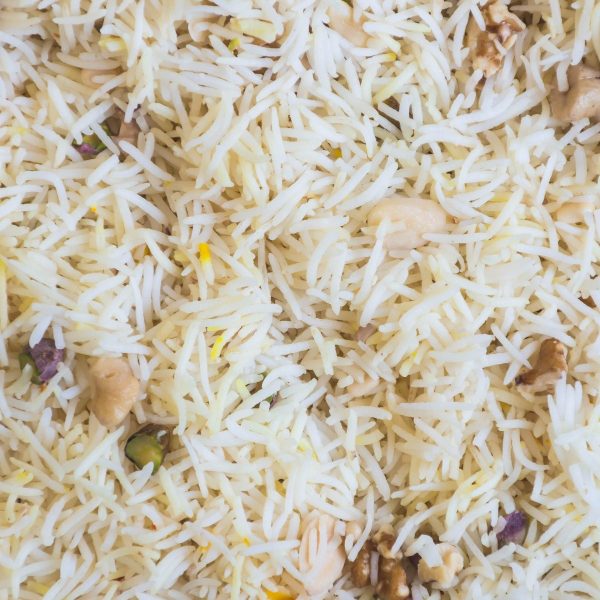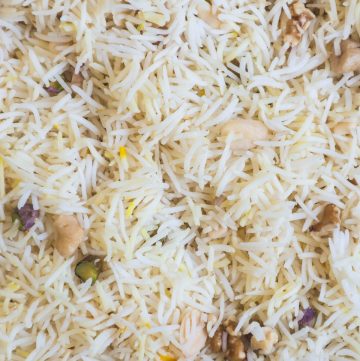 Print Recipe
Arabian Rice with Nuts and Saffron
Ingredients
3

cups

approx 750gm premium basmati rice

¼

cup

Almond flakes

whole almonds can also be used

¼

cup

Cashewnuts

¼

cup

Walnuts

¼

cup

Pine nuts

¼

cup

Pistachio kernels

Saffron; a pinch dissolved in ½ cup warm milk

Salt; to season

2

tbsp

pure ghee
Instructions
Wash the rice 3-4 times with plenty of water. Soak the rice for at least 15 minutes prior to cooking. For 3 cups rice, boil 8 cups of water, season with salt and add the rice. Cook on high heat till the rice is 3/4ths done. Switch off flame and keep covered for 2 minutes. Drain into a colander and keep aside for non-sticky, fluffy rice. Basmati rice cooks really fast so keep a close eye.

While the rice is cooking, blanch the almonds and pistachios to remove the skin easily. (Blanching the pistachios in salted water helps to retain the green colour of the nut). Chop all the nuts roughly.

Once the rice has drained well, heat ghee in a pan and add all the nuts in together. Saute on low to medium heat for 2-3 minutes taking care not to burn the nuts.

Add the saffron soaked in milk and cook on low heat for another minute. Add the rice and mix well to combine. Since the rice is cooked with salt, you wouldn't really need extra salt, but do taste and season more if required.

Serve hot with accompaniment of choice.