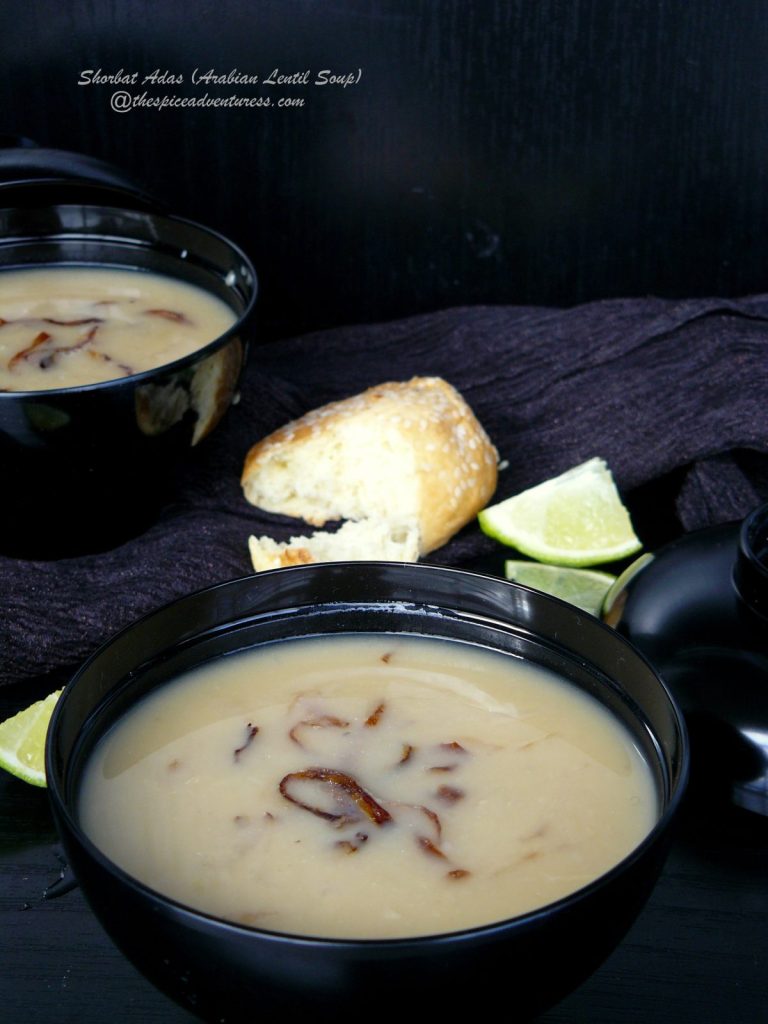 The past week was a busy, hectic and demanding one with the new blog and other writing commitments. I also went into a 'cooking overdrive' trying out and experimenting with different types of dishes and cuisines. And the result - thoroughly burned out by Friday, desperately needing a weekend break from the kitchen.
All I wanted to do was put my feet up with my favourite book and a glass of wine. Cooking was the last thing on my mind and I could see the 'poor us' look on my son's and hubby's face. With winter attacking us in full force (Melbourne witnessed one of the harshest winter with temperatures dropping sub-zero last week), going out to dinner was not the best idea either. Only the 'takeaway God' could help us!
We live in a highly multicultural suburb and there are plenty of eateries and restaurants specializing in all kinds of cuisines. But it is a pity that most of these do not offer home delivery and if they do, the minimum price is set so high which makes the whole process way too expensive. Fast food seems to be the only affordable choice here and honestly, I am tired of the burgers, pizzas and pastas.
Well, the takeaway turned out to be pizzas as always but to lift my spirits; I decided to have a long chat with one of my girlfriends who reside in Mumbai (India). My bestie is a chronic takeaway eater; she spends half of her life inside the Mumbai local travelling to and fro from work and cooking is the last thing on her mind when she reaches home. As I started to complain to her, she asked me if there aren't any online food delivery systems like Foodpanda out here.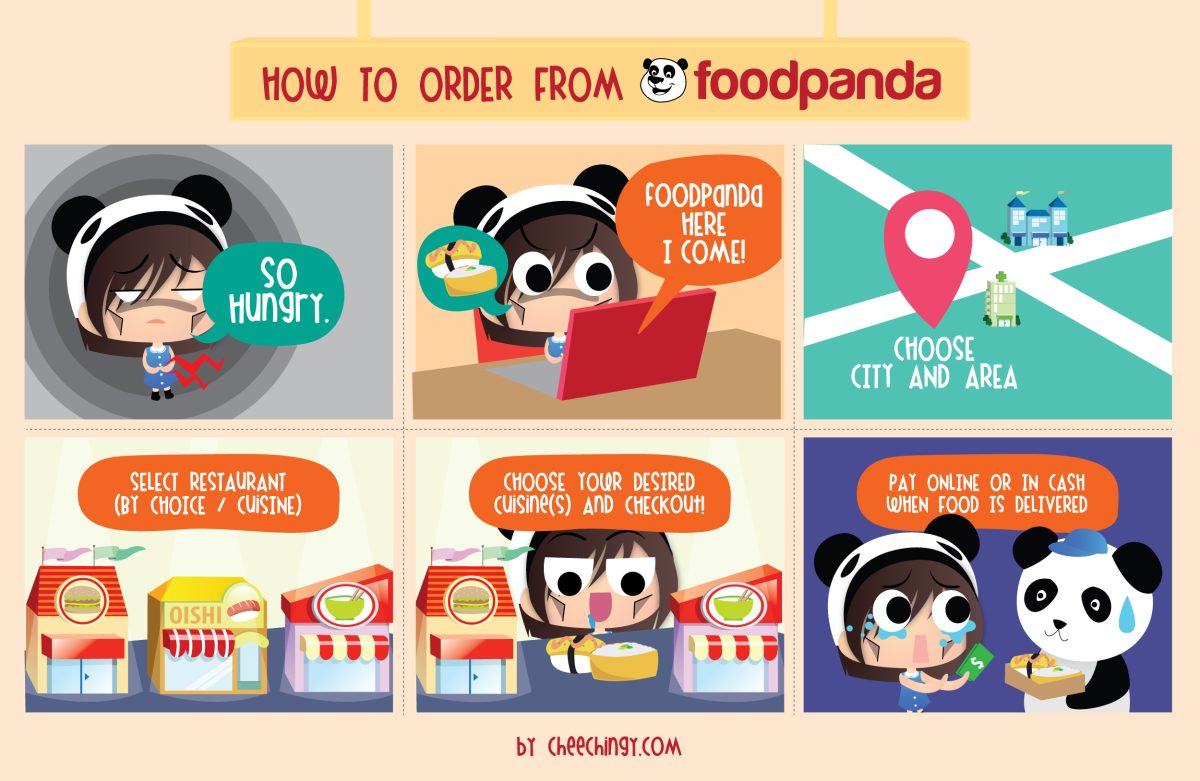 Naturally, this piqued my interest and after some Google hopping, I realized that this online food delivery system operates in more than 40 countries with a large presence in India as well. Pity, they haven't entered the Australian market or I am sure, I will be one of their first customers. My friend said she loved the fact that the site also offers a 'cash on delivery' option as she is not too keen about online payments. And of course, the discounts and offers only add more appeal making takeaways an affordable option. Foodpanda operates in many Indian cities including Mumbai, so do visit the site to find out if your city is covered. And if you are using a smartphone, you can even download an app for the same.


Is this post going on and on? Guess so….ok, let's jump over quickly to today's dish.
Shorbat Adas or Arabian lentil soup is a dish very close to my heart because it is from my childhood. While living in Dubai, one of our favourite takeaway joint (see, I go off to takeaways again!) was Al Usman restaurant; they sold the most ah'mazing tikkas and kebabs. But my favourite was this sweet and sour simple lentil soup.
I have searched this recipe for years; I had no clue of its name or ingredients except for the taste of this soup which I had cherished forever in my taste buds' memory. And now, I have found it.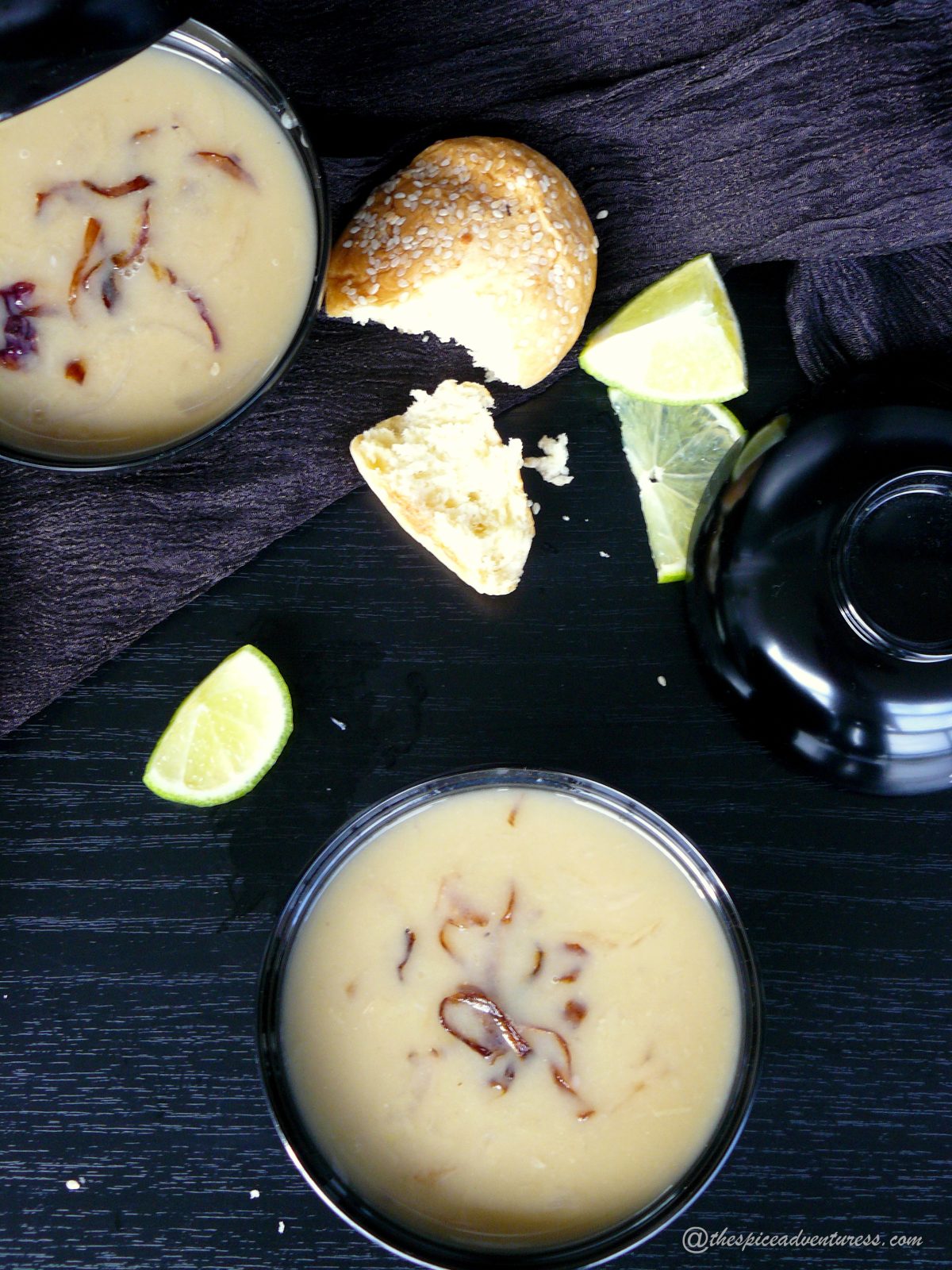 Shorbat adas is very famous across Middle East and is often served free of cost. There are several different variations; some add pieces of leftover lamb or use meat stock for added flavour. In Morocco, you can find a thicker version using only red lentils and lamb. Here, I have used homemade chicken stock to add that extra body of flavour but you can keep it vegetarian by using vegetable stock or just water.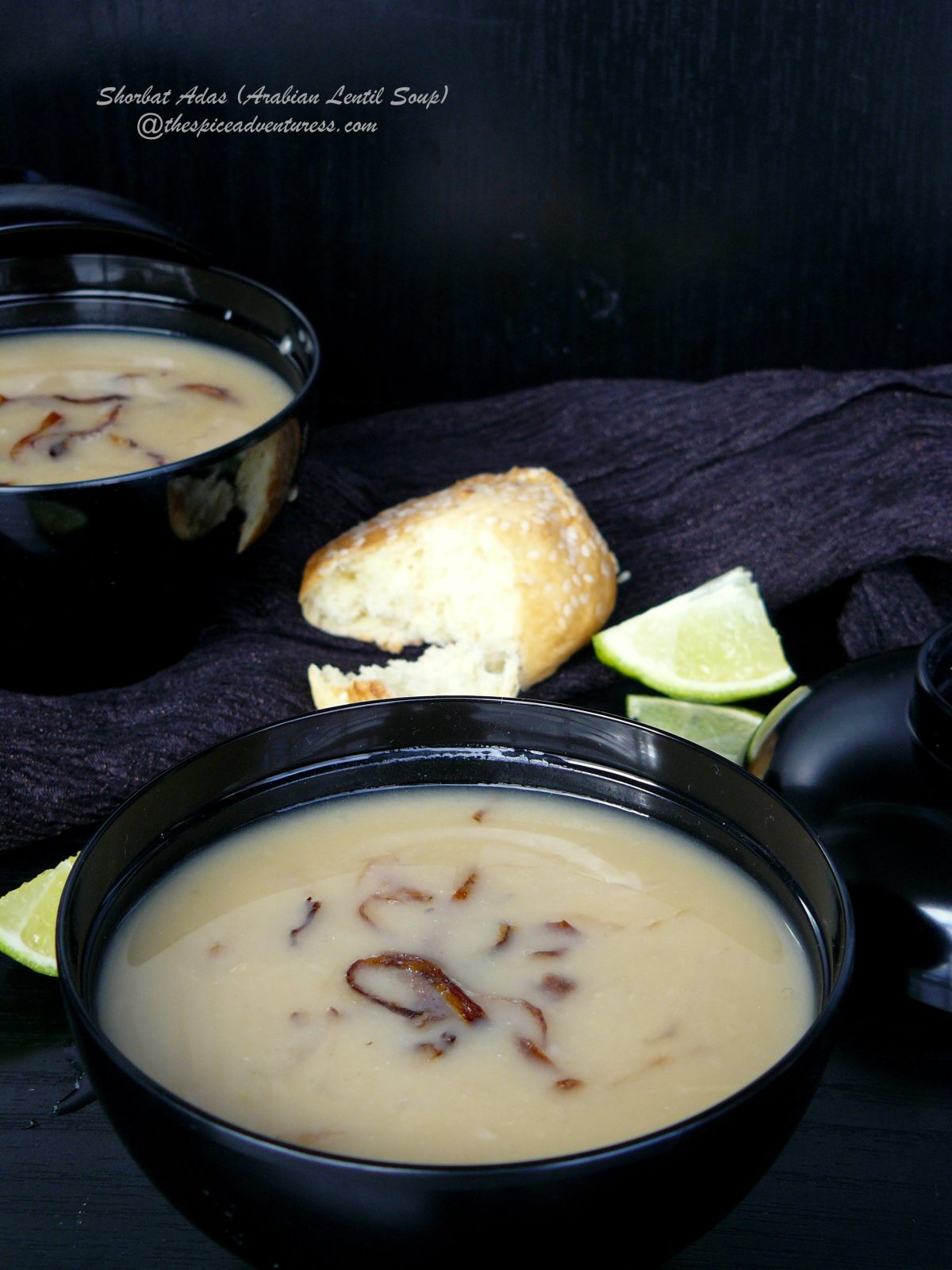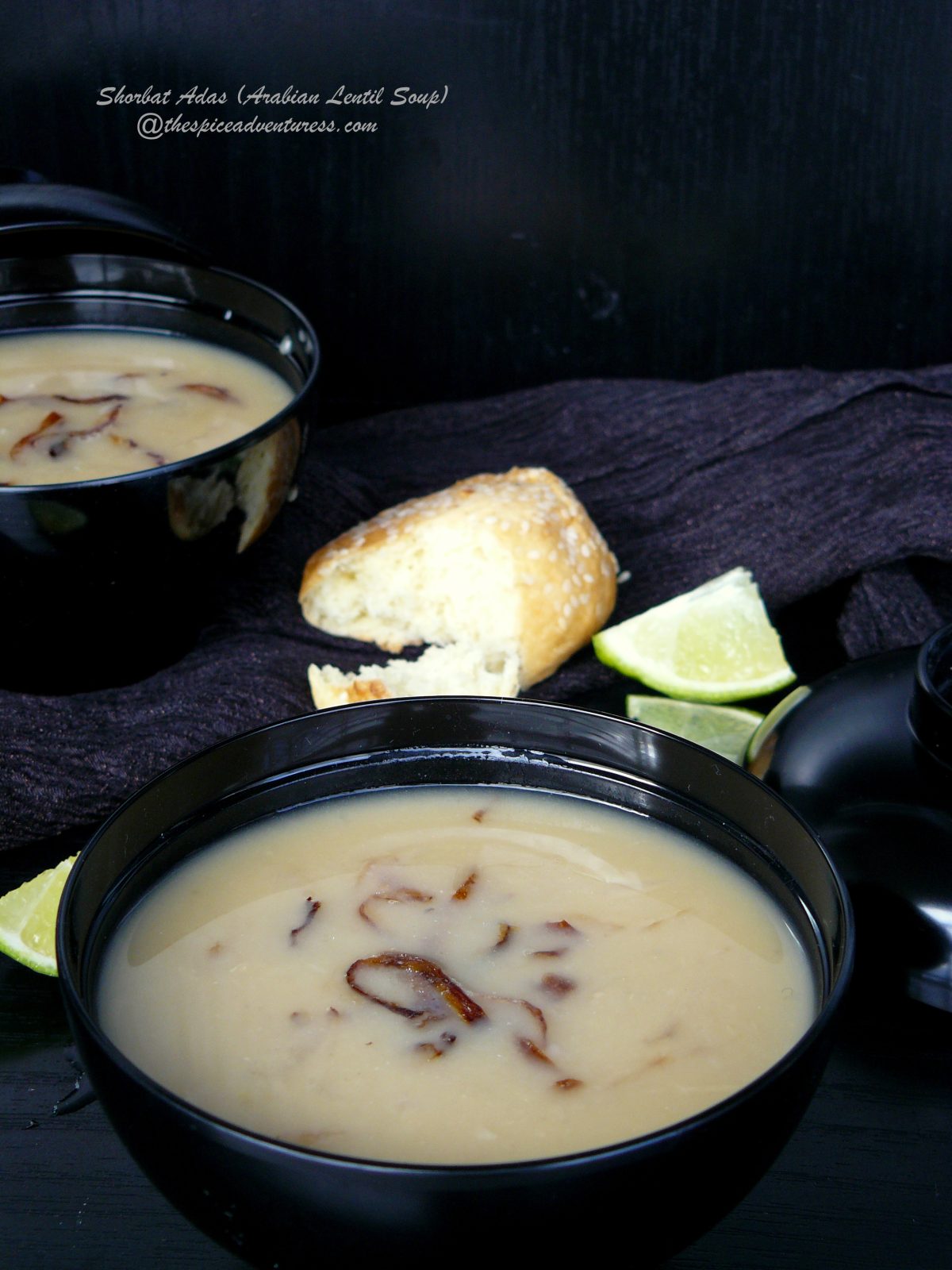 The sour tanginess of the citrus paves way for the sweet smokiness of the caramelized onions ending with the robust simplicity of cumin spiced lentils. In culinary heaven!
Recipe Courtesy - Traditional Arabic Cooking by Miriam Al Hashimi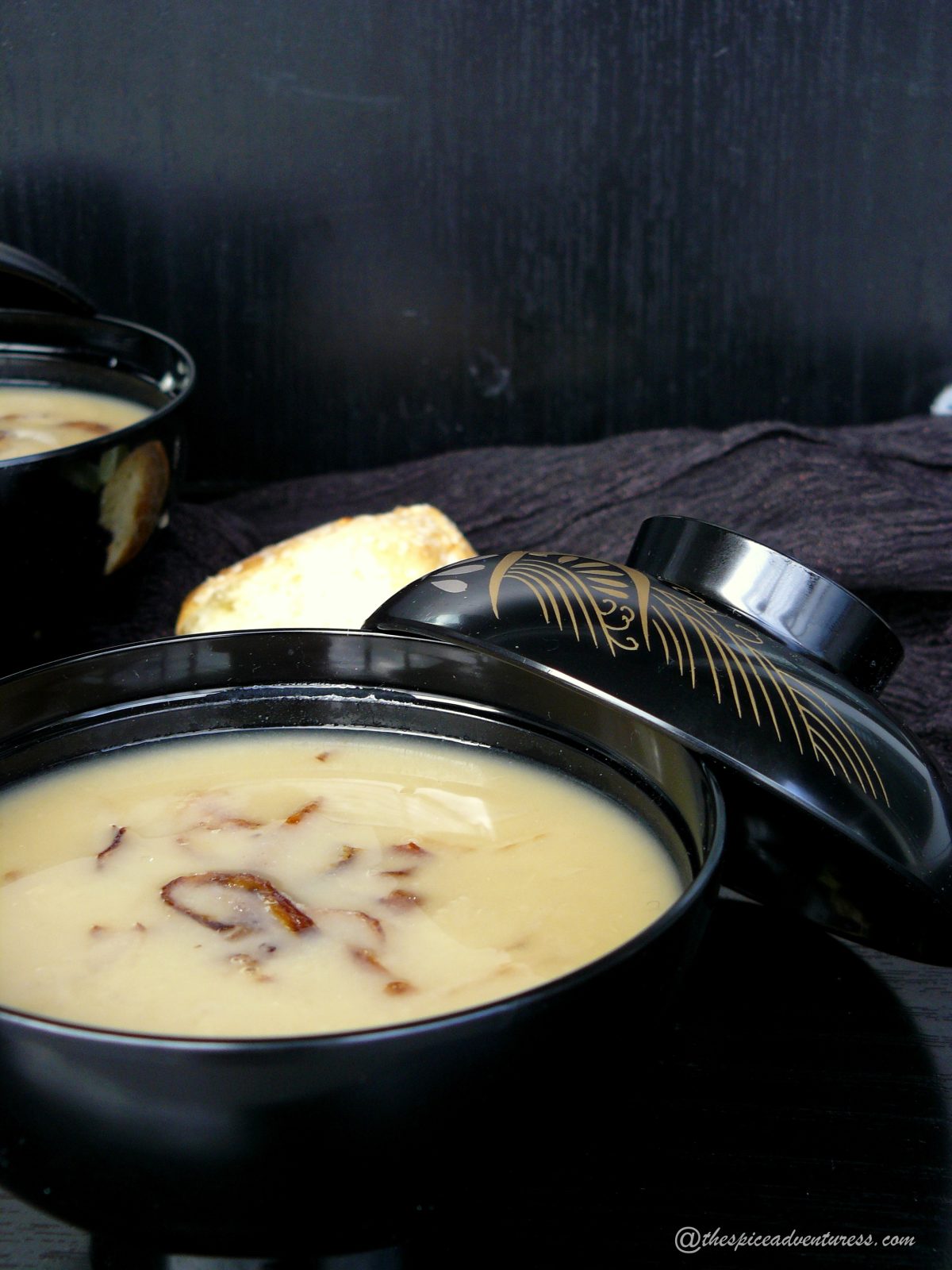 Ingredients:
1. 250gm lentils (soup mix), you can use just one type of lentils also
2. 2 red onion, sliced finely
3. ½ tsp roasted ground cumin
4. 2 tbsp lemon juice (variable)
5. vegetable oil, to fry the onions
6. salt, to season
7. freshly milled black pepper, to season
8. 1 cup homemade chicken stock
9. water
Method:
1. Soak the lentils for at least an hour (it really helps to cook the lentils faster) and cook till mushy.
2. Meanwhile, sauté and caramelize half the onions and keep aside. Fry the remaining half onions till crispy brown but not burnt.
3. Once the lentils get cooked, mash well and add the caramelized onions, ground cumin, chicken stock and cook on low heat for another 10 minutes. Season with salt and pepper. The consistency of this soup is quite runny but you can add less stock/water and thicken it up.
4. Remove from heat and add lemon juice. Add one tsp, taste and keep adding till the right balance of sour, salty and sweet has been achieved. I like the tang and used about 2 tbsp but it might vary according to your taste preferences.
5. Garnish with crispy fried onions.
6. Serve hot with bread.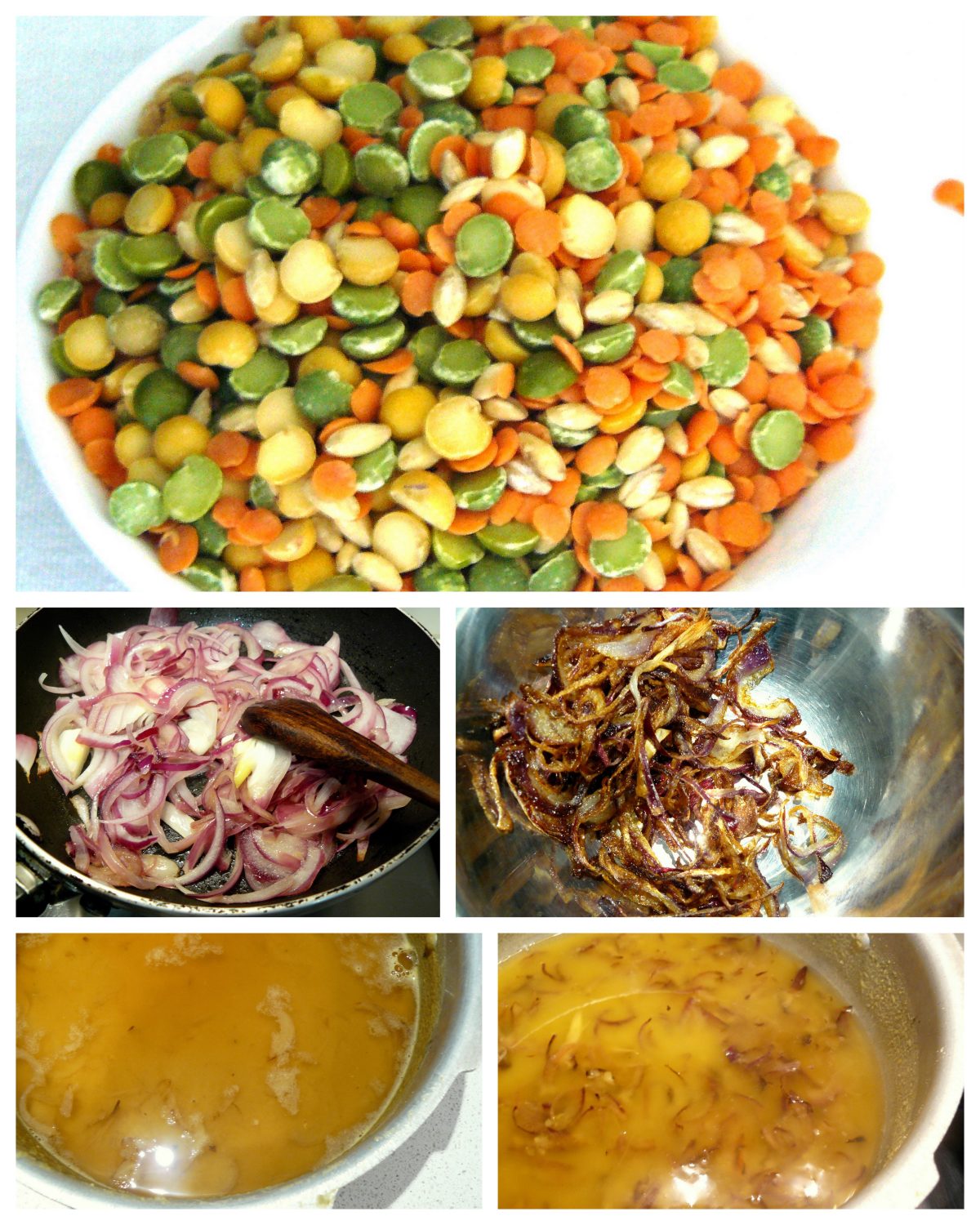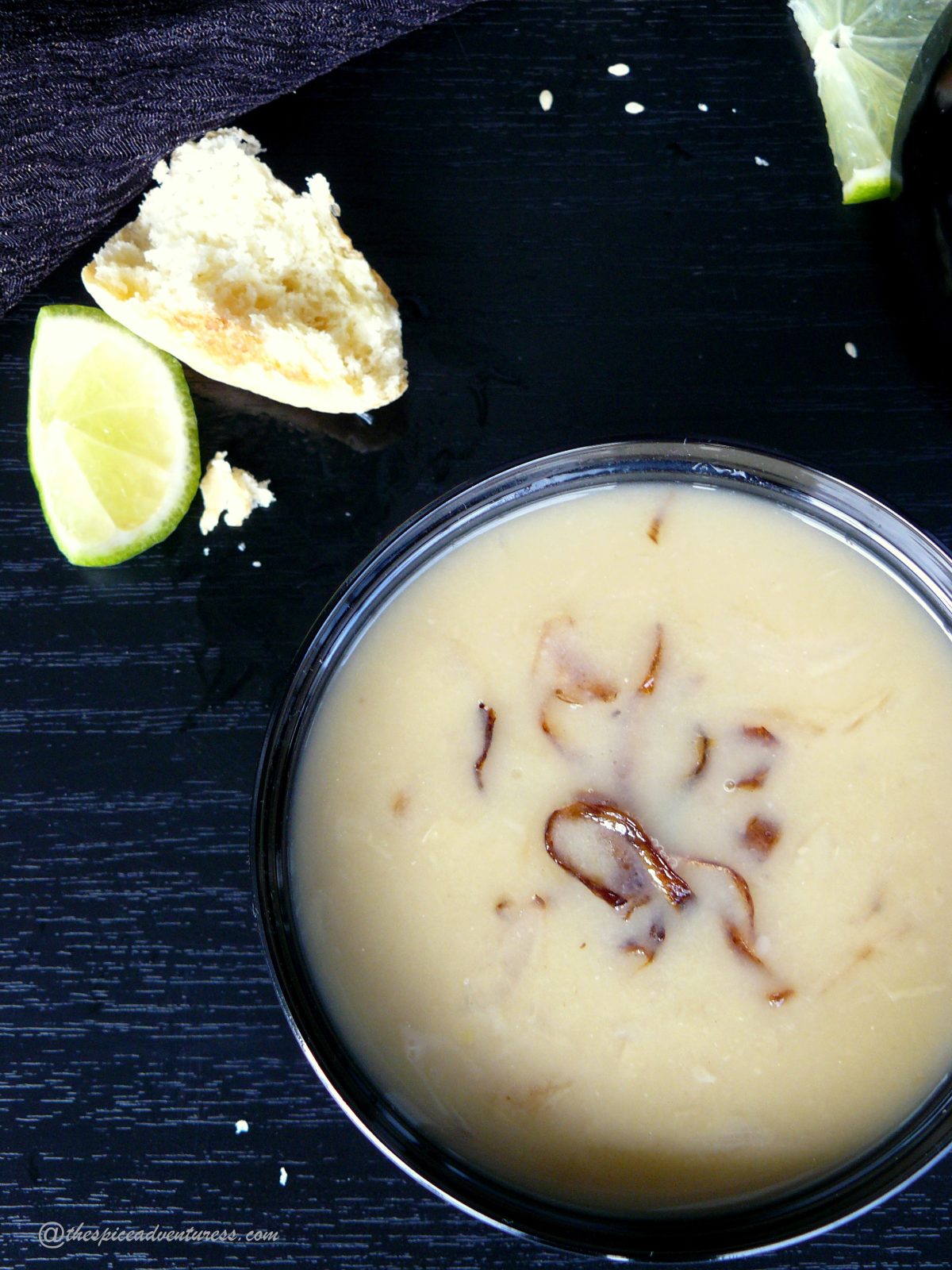 I served this simple yet flavourful soup in my new Akasuzki bowls which I won in a giveaway hosted by Nami of justonecookbook (the blog to be if you are interested in Japanese cuisine). Yes, it is a Japanese brand and sells beautiful Japanese products but I have used it for my Arabian lentil soup. It's a small world, isn't it!