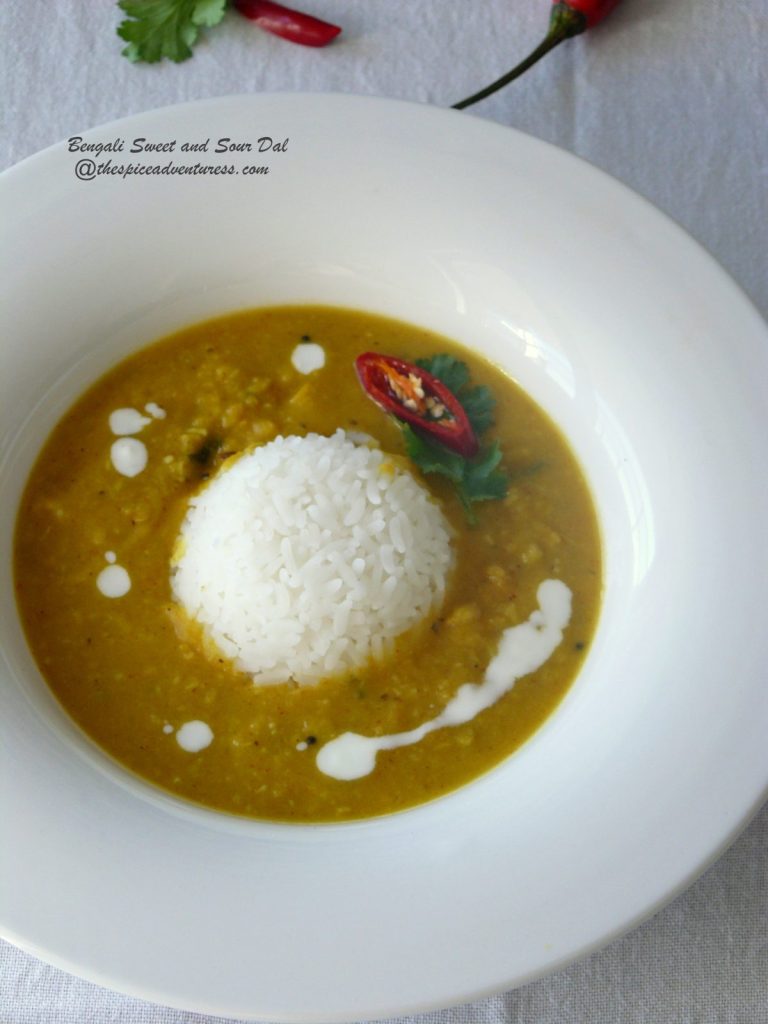 'Why I write' is a blog hop event that was created to build blogger camaraderie and also enable you to bring out your creative best. I was invited to this event by the very enterprising Nova Morgan of Locavore Intentions. Now if you are intrigued by the term 'locavore', do stop by at her page; I am leaving it to the expert!
Why do I write?
I write, because it is the best way to express myself. I might seem to be socially outgoing but I am quite a 'private person' with my thoughts. Writing helps me to bring out the deepest thoughts instead of letting it build up inside. It makes me a happier and more positive person because I know how unsaid thoughts often take a negative tangent and before long, it gets out of control leading to depression, anxiety and a host of other problems.
I write, because I am a creative person. I am creative in all aspects of my life, be it writing, food, home décor or even raising my child. A dash of colour, a pinch of spice, a splattering of words….it keeps me happy and content.
What am I working on?
I am working on drawing inspiration from all things around me and then reflect it on my cooking. I want to better myself at photography, learn new cooking techniques, come up with new spice blends and cook with new ingredients.
How does my writing differ from others?
I believe my biggest quality to be 'honesty and genuineness' and for this very reason, my writing would be different from others. I believe that I am unique and a part of God's plan just like every other soul on earth and no two people can write the same.
How does my writing process work?
I do not have a set process in place. I write at all times of the day, anywhere and everywhere. When the mood is right, I am either in front of the comp or with a pen and paper in hand jotting down my thoughts.
Blog Hopping….
And now it's time to pass on the baton and I have two very capable hands;
The Adam and Eve of cooking aka Jofy and Satish Abraham of Foodie Adam and Cookie Eve.
This beautiful couple celebrates food, writing and photography and hence the perfect duo to pass on this baton.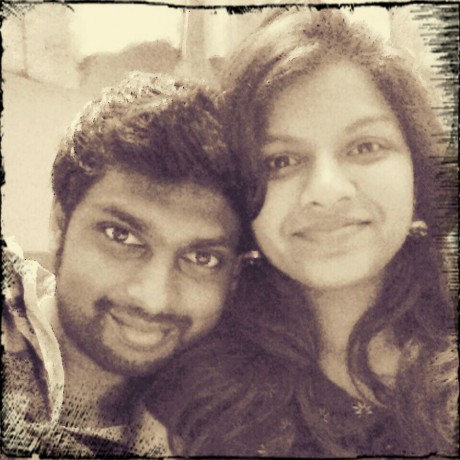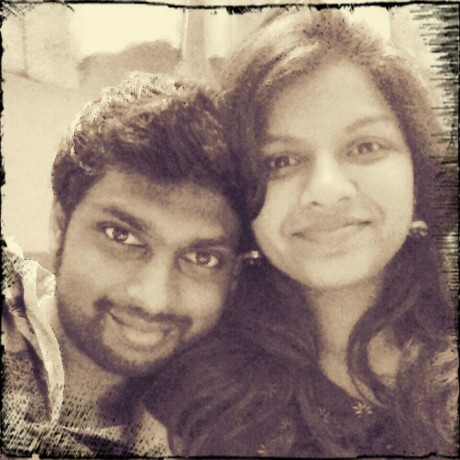 A mum, freelance writer and blogger, Amrita Mukherjee of Amrita Speaks was a journalist and has a rich writing experience. She is just the perfect person for this blog hop event.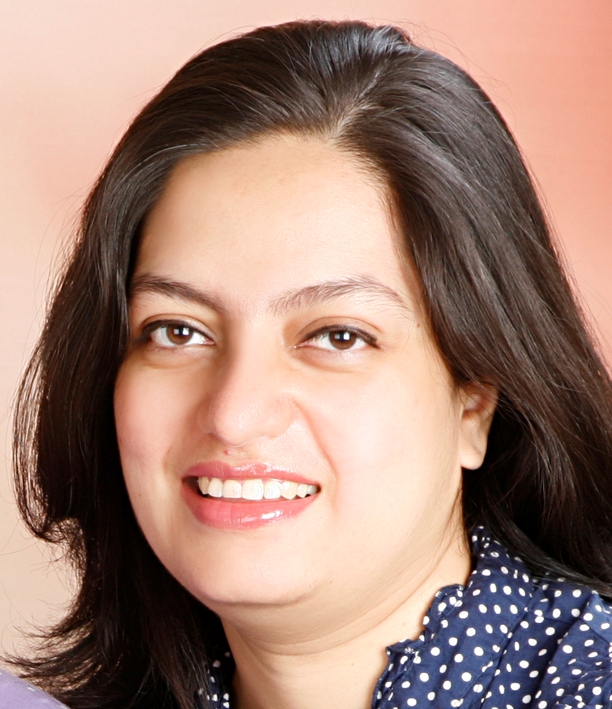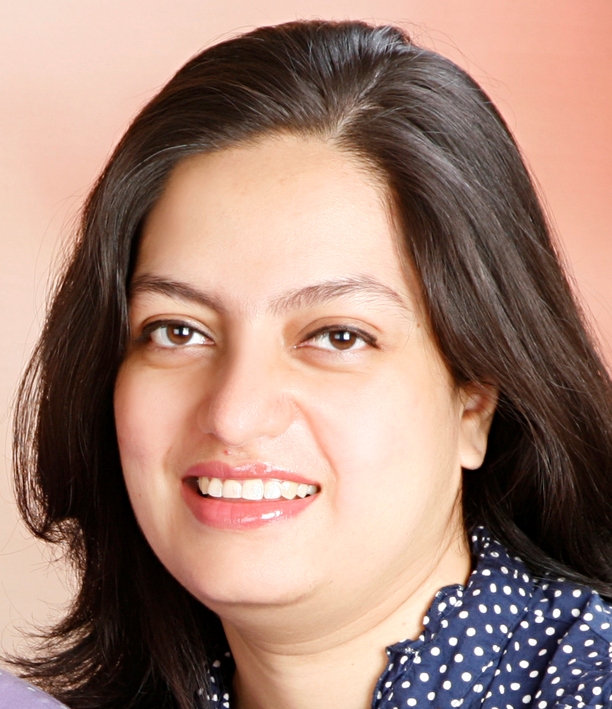 Today's dish: Bengali Sweet and Sour Dal (Sweet and Sour Bengal Gram/Lentil Stew)

And after that long read, we are finally here for today's dish.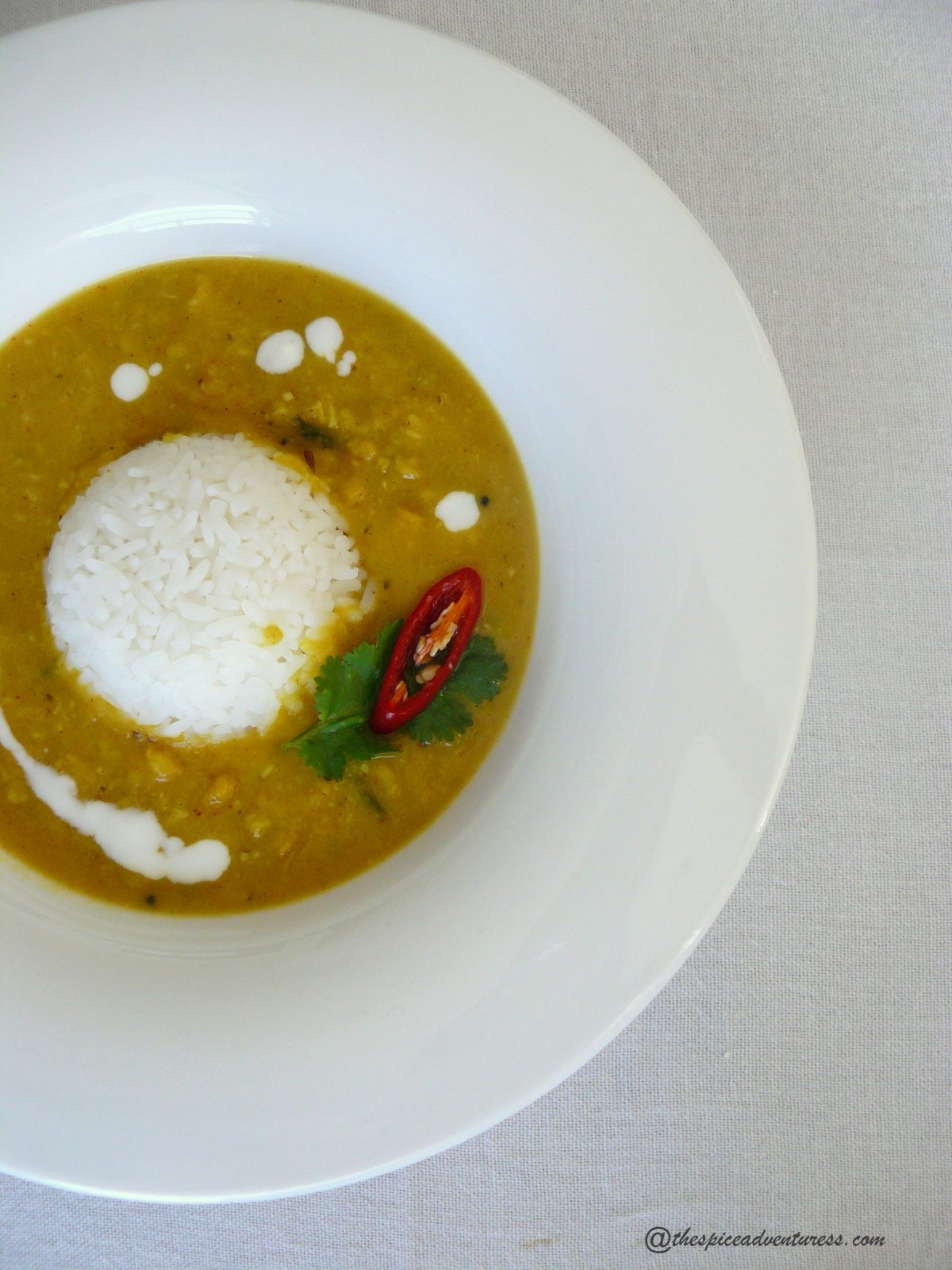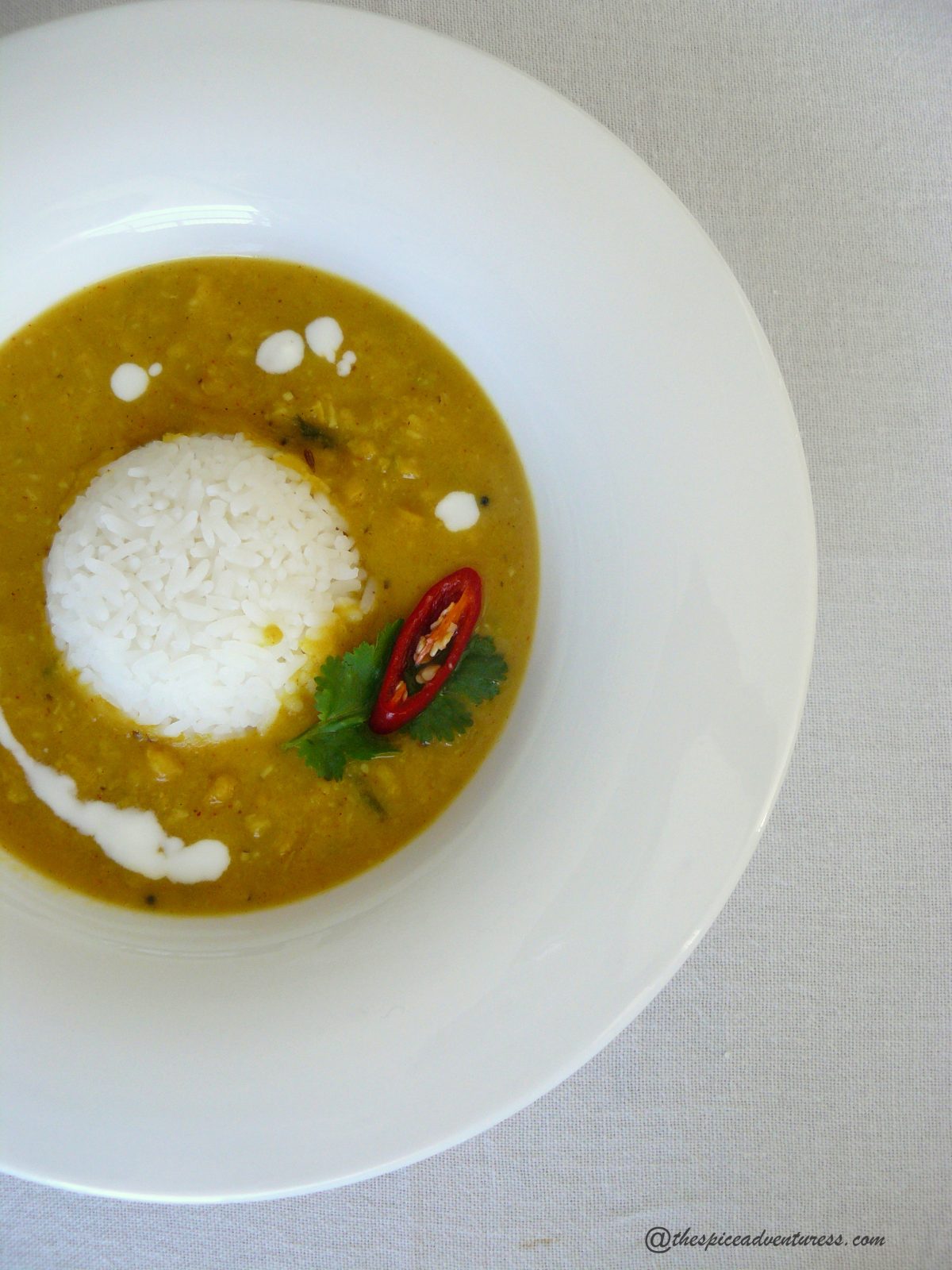 This dal preparation is adapted from the famous vegetarian cookbook, India-the Vegetarian Table by Yamuna Devi. Split Bengal gram is the lentil used for this preparation which is sweet, sour and mildly spiced.
The aroma that wafts from the spices and aromatics is heavenly; a dash of brown sugar sweetens the lentils and the addition of yoghurt makes it sour and tangy. And the addition of coconut lifts the flavours of this lentil stew making it a rich, hearty and comforting dish.
Have it as a soup or with a bowl of steamed white rice (and now a beautiful Bengali babe tells me that they usually have this with puri or laccha parathas), this dal preparation is one to be enjoyed and cherished.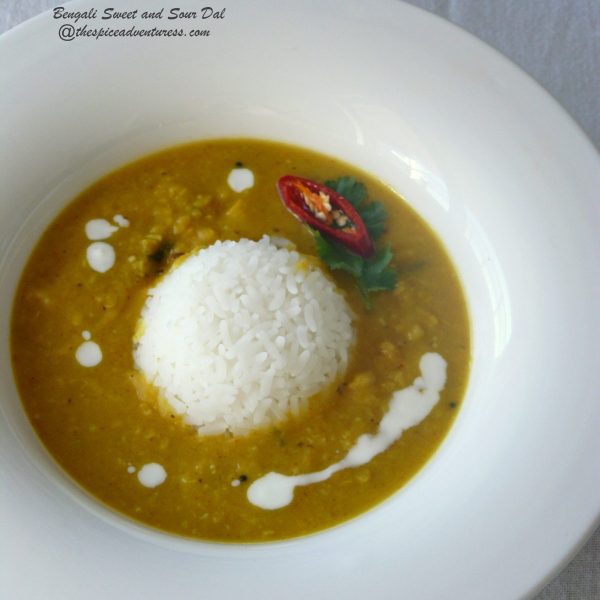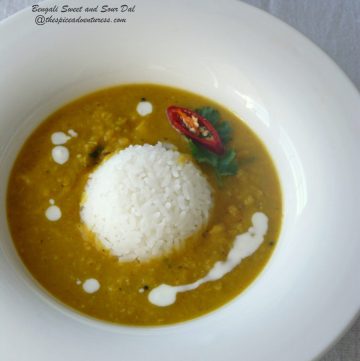 Print Recipe
Bengali Sweet and Sour Dal
Ingredients
Split chana dal/Bengal gram – 2 cups

Turmeric powder – ½ tsp

Ground ginger – ¼ tsp

Red chilli powder – ½ tsp

Ghee – 2 tbsp

Brown mustard seeds – ½ tbsp

Cumin seeds/jeera – 1 tsp

Hing/asafoetida – ¼ tsp

Brown sugar – 3 tbsp

Fresh grated coconut – 3 tbsp

Zest and juice of 1 medium-sized lemon

Salt

to season

¼

cup

yoghurt

Fresh coriander/cilantro leaves – ½ cup

finely chopped
Instructions
Wash and soak the lentils for at least 2 hours. Cook with turmeric powder, ground ginger, red chilli powder, 1 tsp ghee and salt till soft and mushy.

Heat ghee in a small pan and add mustard seeds and cumin seeds. As it beings to splutter, reduce heat and add sugar and asafoetida. Stir for 15 seconds and add to the mashed dal.

Place the dal on medium heat and add coconut, zest and juice of 1 lemon and season with salt if necessary. Bring to boil and then simmer on low heat for 10 minutes. Taste to see if you have got the right balance of spice, sweet and sour or adjust seasonings accordingly.

Remove from heat and garnish with yoghurt and coriander leaves.

Serve hot with steamed rice.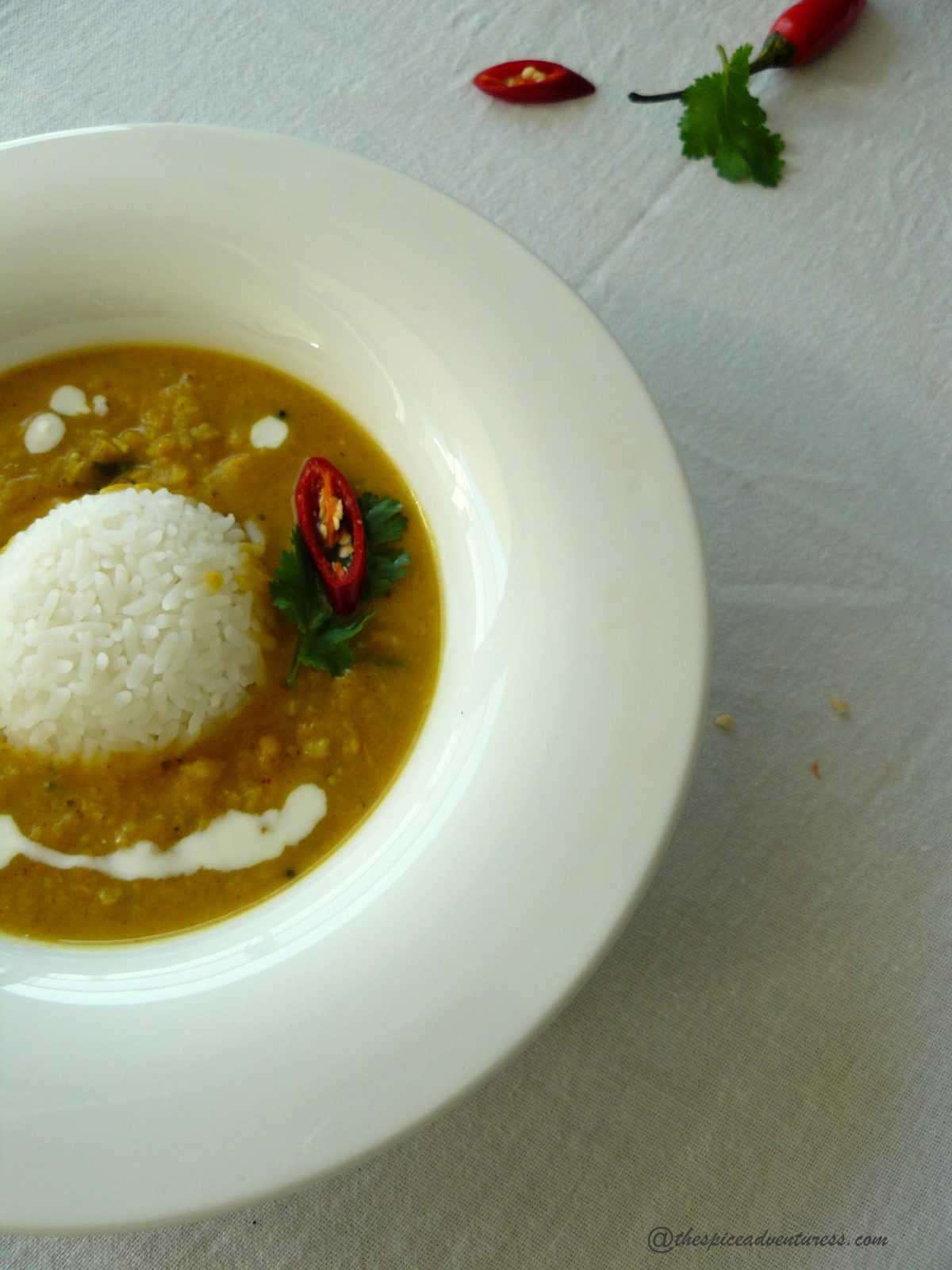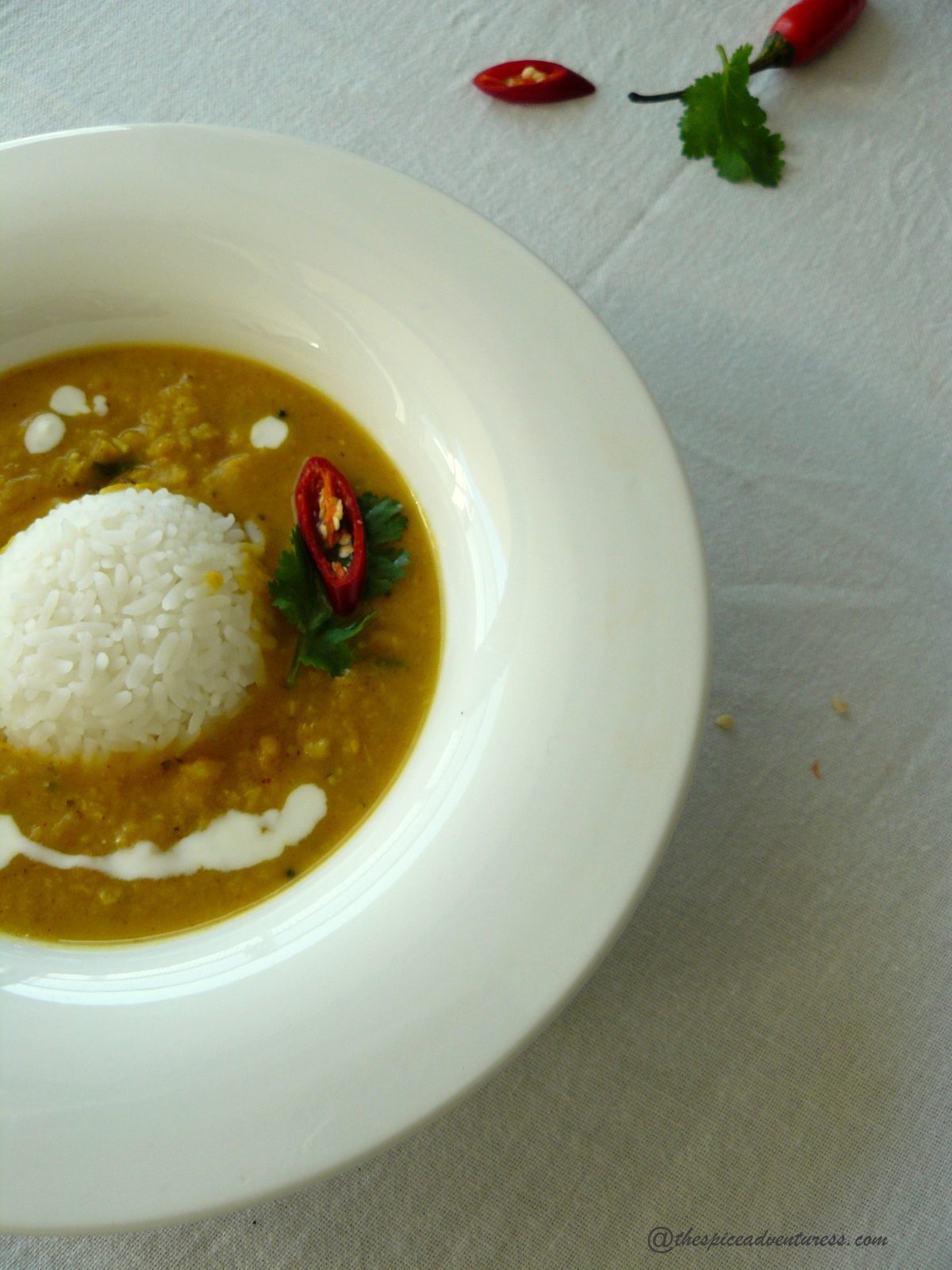 If you are a few extra seconds to spare, do hop over to my Facebook page and show a bit of 'like' love.