Pickles are, perhaps, the most revered condiment in Indian cuisine. An age-old technique which began as a means to preserve excess food, today pickles hold a very important part of our cuisine.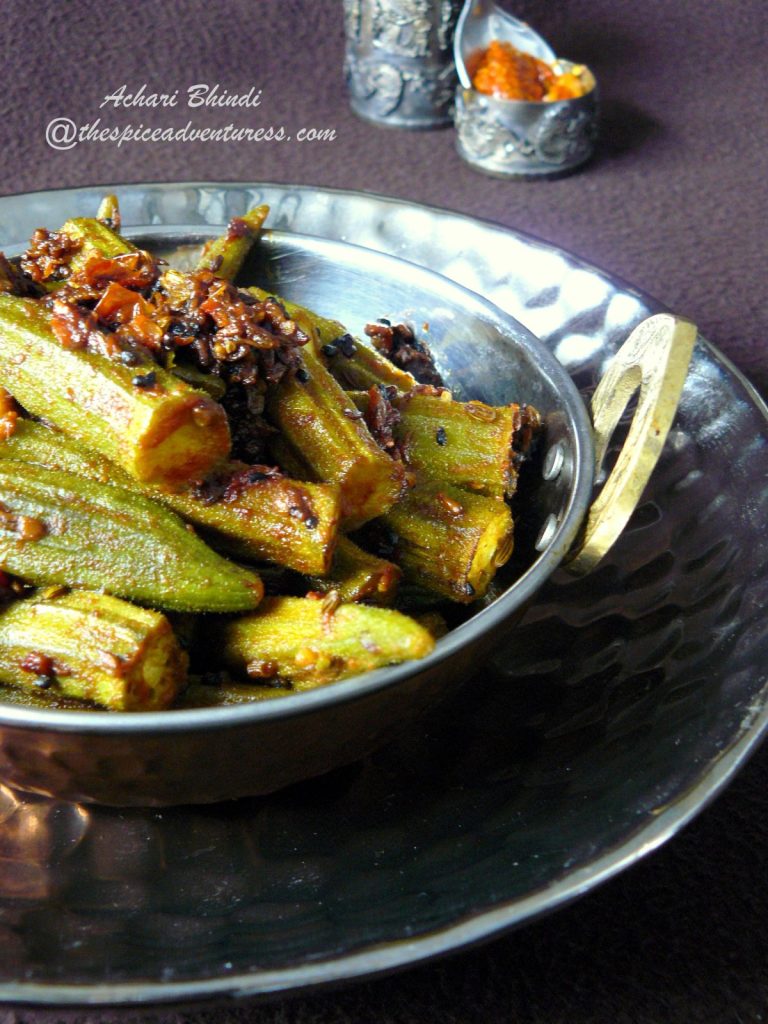 There is a ginormous variety of pickles in Indian cuisine today and every household seems to have a favourite one too. Unlike other regions of the world, the Indian pickles are slightly different in that a large variety of spices are used to maximize the flavour. All kinds of ingredients are used to prepare the pickles – vegetables, fruits, seafood, meat, the list is endless….
Today's recipe is not that of a traditional pickle but uses the delicious spicy, tangy, chatpata (for lack of a better word!) masala incorporated in the pickle. Using the pickle masala as a base for the dish is such a genius idea as the flavours incorporated in this masala is not just tasty but extremely well-balanced. Saves a whole lot of time; it is as if you are using a pre-packaged masala where you throw all the ingredients into a pan and the dish is done.
You can use any type of pickle masala for Achari Bhindi. I like the spicy, tangy ones so used the masala from mixed vegetable pickle. The idea of using pickle masala can be extended to just about any ingredient including seafood and meats.
So, here's a recipe for Achari Bhindi – the medley of aromatics and spices and the nuttiness of the mustard oil coats the shallow fried okra beautifully. A winner dish!