My first experience of Russian cuisine was aboard an Aeroflot flight. We were on holiday in India and missed our return flight back to Dubai. Since there were no available tickets for the next few days on a direct flight, we decided to take an indirect route – from Kerala to Mali Island and from Mali to Dubai via an Aeroflot tourist flight.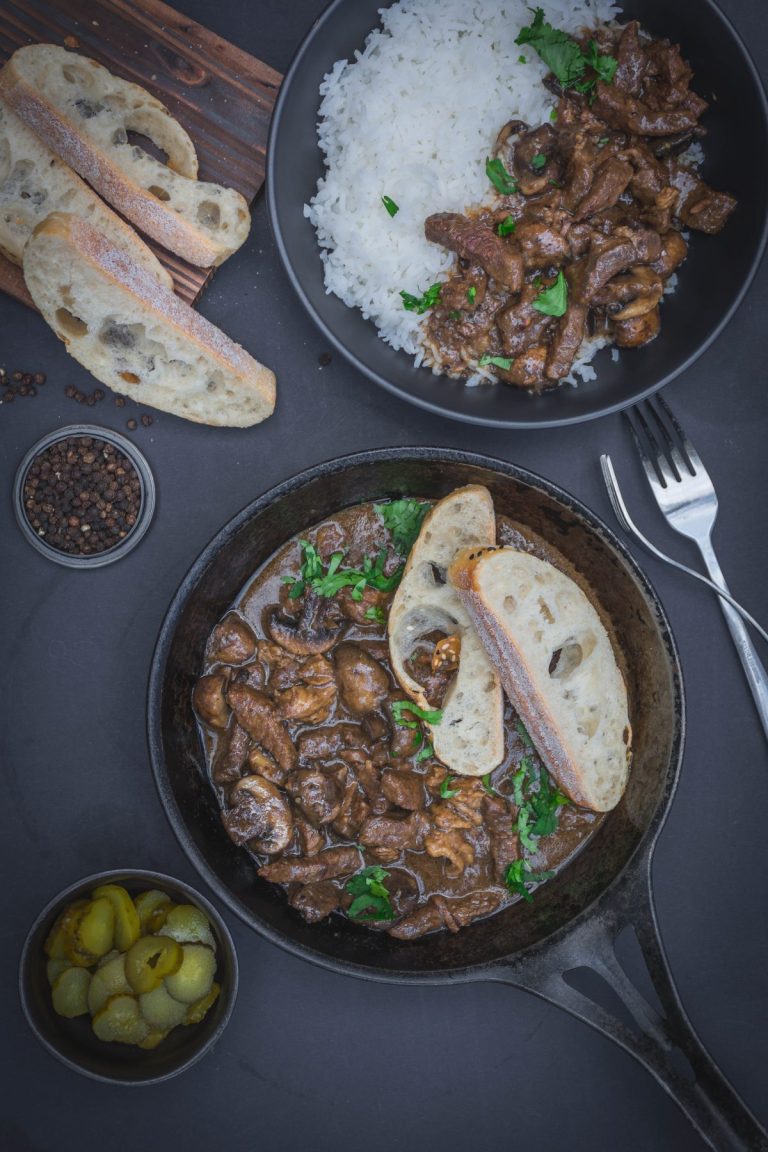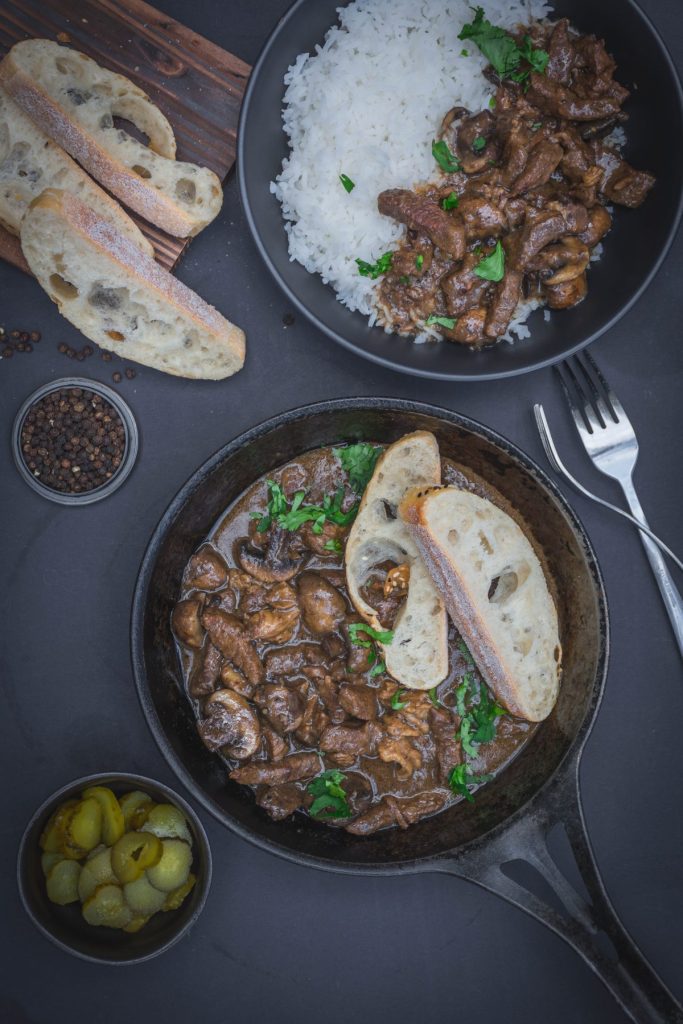 The roundabout journey was nothing short of an adventure for me, then a gawky 13 year old. All through the journey, I fantasized of all kinds of adventures happening to us courtesy the innumerable Nancy Drew books I had devoured by then. Well, there weren't any major adventures except for the ones in my head and to cut a long journey short, let me get to the part of the Russian food.
Aboard the Aeroflot flight, amidst a bunch of Russian tourists (who could not stop raving about my mum's silk sari), I had my first taste of Russian cuisine; more precisely, Beef Stroganoff. And my opinion…..yuck! It's so bland. Little did I know at that age, that airlines food anyway tastes bland irrespective of the cuisine.
Fast forward many many years later, I started seriously learning and experimenting with foreign cuisines especially ones I had pushed away earlier. And the first name that came to mind was Russian and the beef stroganoff. I realized that the abundant usage of spices had influenced my taste buds so much that I was ready to believe that food which did not use many spices was bland. But then, I tried stroganoff a couple of times in a few restaurants in Madras and I was pleasantly surprised with the amount of flavour in it minus any heavy spices.
Australia produces the best beef in the world; there is so much flavour in the meat itself that makes it perfect for this beef stroganoff recipe. A traditional Russian dish that has seen many variations over the years, beef stroganoff has an interesting history as told by Tanya on her blog (she is of Russian heritage).
So, here's beef stroganoff – a classic Russian dish; tender pieces of beef and rustic brown mushrooms coated in a rich, earthy gravy flavoured with cream and spiced with freshly milled black pepper.
Recipe Courtesy – Adapted from a recipe by Samantha Jones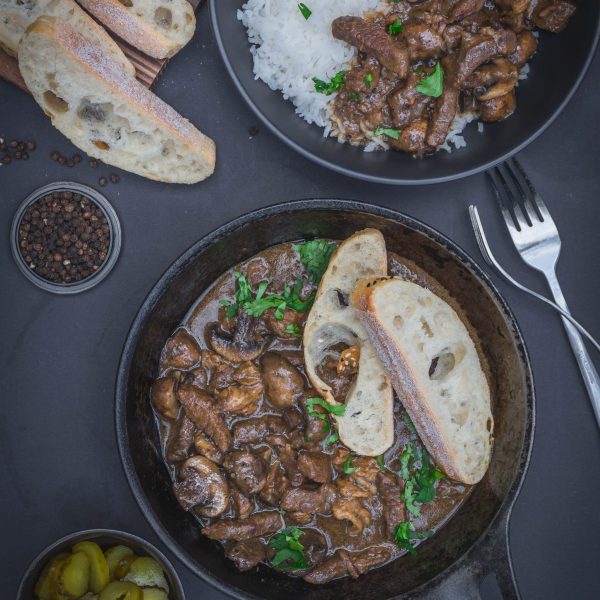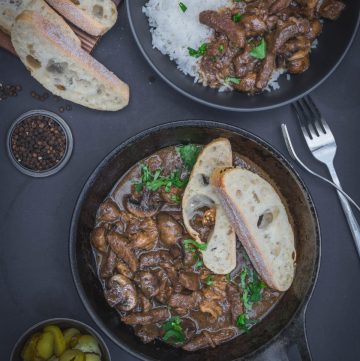 Print Recipe
Beef Stroganoff
Ingredients
4

tbsp

olive oil

1

onion

halved and thinly sliced

250

g

brown mushrooms

halved

½

cup

plain flour

700

g

beef chuck; cut into thin strips

1

cup

homemade stock

2

tbsp

Worcestershire sauce

2

tbsp

light sour cream

Salt

to season

Freshly milled black pepper

I used a generous amount as stroganoff loves black pepper
Instructions
Heat 2 tbsp of oil in a large non-stick pan over a high heat.

Meanwhile, mix flour, salt and pepper in a bowl and lightly coat the beef strips in the flour.

Sear the beef strips in two batches and keep aside.

Add 1 tbsp oil to the same pan, add the mushrooms cooking for 4 minutes or until tender, and set aside.

Add 1 tbsp oil to the same pan, add onion and cook for 3 minutes.

Return the beef pieces to the pan and add in stock and Worcestershire sauce; bring to boil.

Reduce to low heat and allow to simmer till the beef has cooked well and the sauce has thickened enough. Check in between and add more stock if necessary.

Add the mushrooms and season with salt and pepper.

Remove from heat and stir through sour cream.

Serve hot with steamed white rice.
The tweeting bug seems to have bitten me too. If you are on twitter, drop in and say hello @thespiceadventuress