Cooking is a form of self-discovery for me. Every time I prepare a dish, even if it is something that I have made innumerable number of times, I try to find a piece of me within the dish, a memory, a friend, a conversation, anything that allows me to form a personal bond with the food I am making.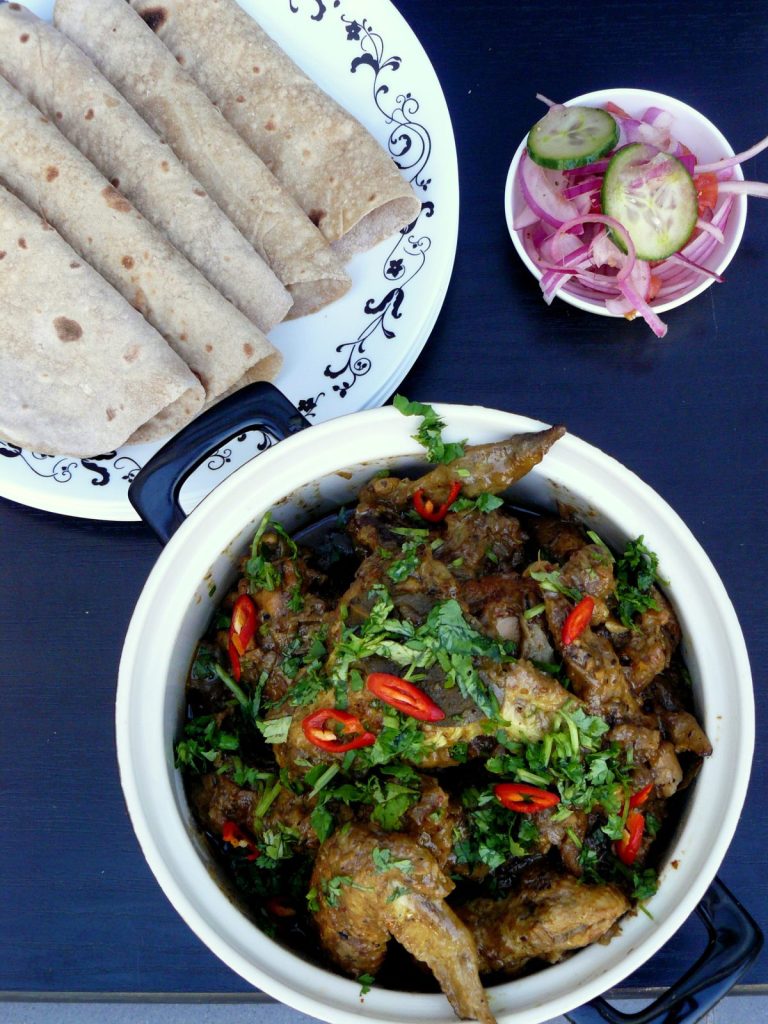 Over time, this is how I realized that cooking or food is not just a passion I have, it allows me to explore my personality in deeper ways than I thought possible. It allows me to reflect on the goods and bads in me, people and relationships in my life etc… It allows me to cherish what I have and gives me the strength to let go of the negatives. In short, food allows me to experience and understand 'the real me'.

Ever since the inception of this blog, food has become more than just cooking and eating. It has fuelled my love for travel. Today, I take time to research, read and understand the history behind a dish, the region that a particular food comes from, the cultural practices of the land where the dish originated, the farmers who bring us the food…..in short; I seek the story behind each dish or recipe.

It is the same with today's dish…Bhuna Murgh.
The term 'Bhuna' refers to a cooking technique in which a medley of spices are roasted and gently fried in oil along with the protein or vegetable and then cooked in its own juices. Traditionally, the technique was used for preparing meats but today, it has extended to all kinds of ingredients. The slow frying of the spices brings out the oils which flavours the whole dish.

There is a small town called Bhuna in the state of Haryana (North India) but not sure if the dish could have originated there. If any of you know more on this, do write and let me know.

Often a dry dish, it is traditionally prepared in metal pans with lots of stirring involved which really draws out the flavour from the spices. My version is a slightly quicker one more suitable to present day households. I used the Indian pressure cooker to flash cook the chicken till 70% done and then opened it and cooked on slow heat for the gravy to thicken up and coat the pieces well. Alternately, you can use the slow cooking method alone.
Instead of boneless chicken pieces, I have used chicken wings for this recipe – a cut that is so much more affordable and has a lot more flavour in my opinion.

So here's the recipe for Bhuna Murgh – chicken wings marinated in a medley of flavourful spices and then cooked in its own juices with a bit of tangy yoghurt and plenty of aromatics; rich, dark and delicious!

Recipe adapted from Bong Kitchens