The excessive use of technology in today's world especially in our children's lives….there has been much debate about this topic already. Apart from the scientific research studies, our everyday life and relationships stand testimony to the destructive nature of excessive technology use. Still most of us refuse to accept it or do anything about it.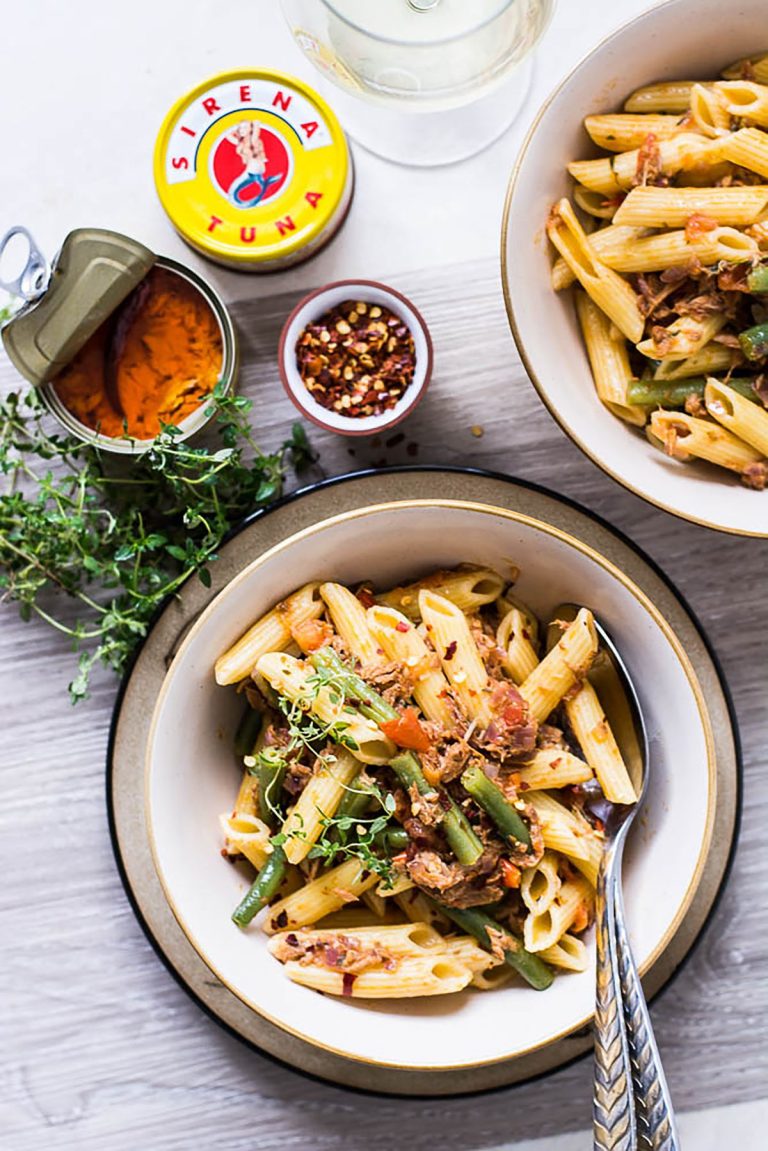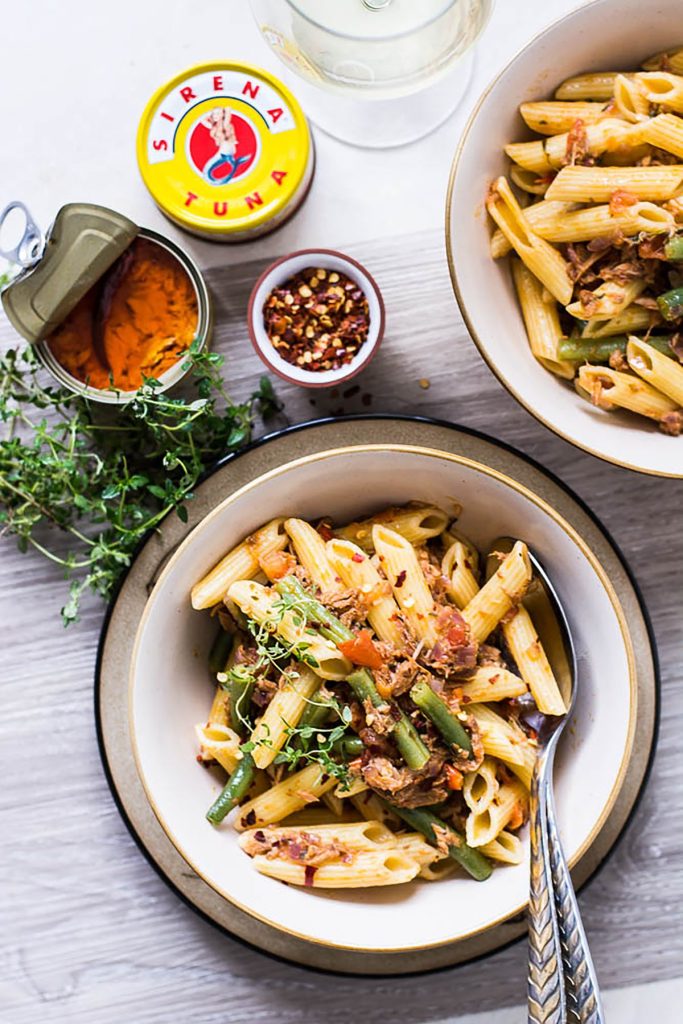 I have entered into much debate, sometimes heated ones, with other parents regarding this, desperately trying to get the point across that you need to spend more time with your children than thrust a gadget into their hands so that we are not disturbed at the end of a tiring day's work.
Believe me, I have nothing against technology; my whole career depends on it. In its own space, it is extremely useful and I cannot think of a life without it. My child knows enough about gadgets and technology to fit into this society in spite of not being a 'glued to the iphone/ipad' child.
Recently, I came across an article by Renee Robinson which captured the essence of what I have wanted to say to each parent. Renee has written it beautifully in the form of a letter to her sons on why she says 'no to electronics'. Do take a moment to read this article as no one could have said it better than her.
Today's recipe is a pasta dish – one that my boy loves to eat. It's an easy, one-pot meal packed with delicious flavour and perfect for weekday dinners. Today's working parents struggle to eat right on weekdays and this tuna fusilli helps you dish out a great meal within minutes leaving you less stressed out with more time to spend with your loved ones.
Adapted from a Curtis Stone recipe, this pasta dish is all about the tuna. The rich, meaty flavour of tuna goes well with pasta, throw in some veggies and you have a balanced dish on hand. I have used the Sirena tuna (in chilli oil) but you can use just about any good quality, sustainable canned tuna brand or even fresh tuna if you have some on hand. Using the flavoured chilli oil tuna means an extra dash of flavour and Sirena has lots of interesting flavour combinations to choose from.
Try and get your hand on fresh thyme if possible instead of the dried ones; the flavour is lighter and more refreshing. So, here's the way to prepare this delicious pasta dish with crushed tomatoes, green beans and flavoured with fresh thyme and chilli flakes. The perfect one-pot comfort meal!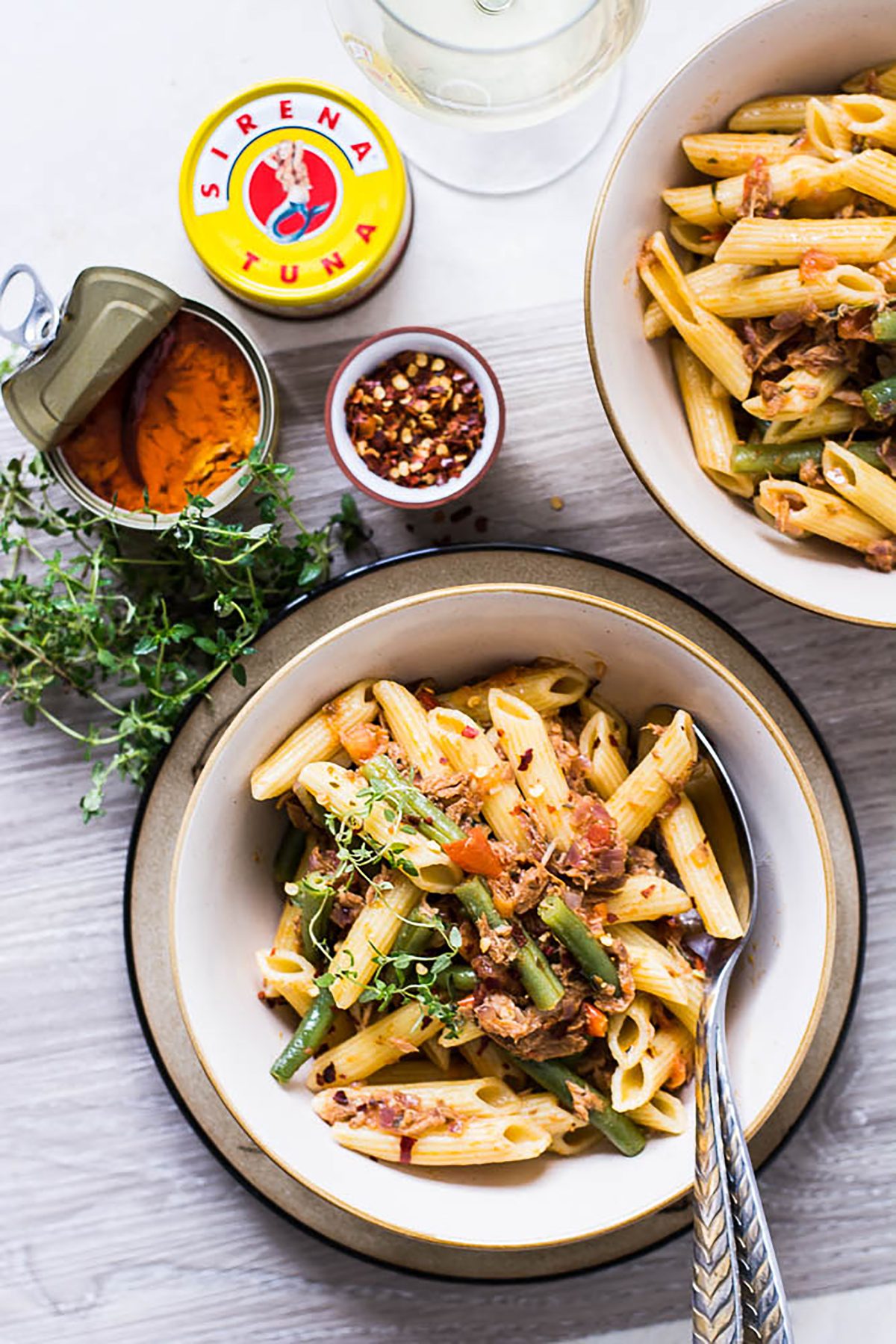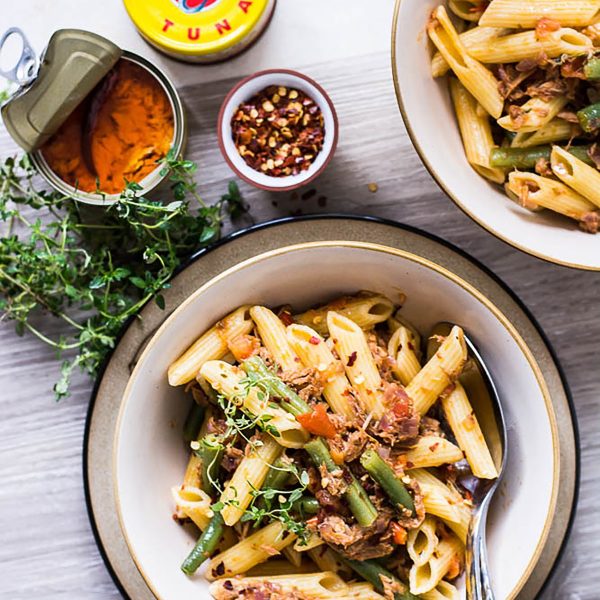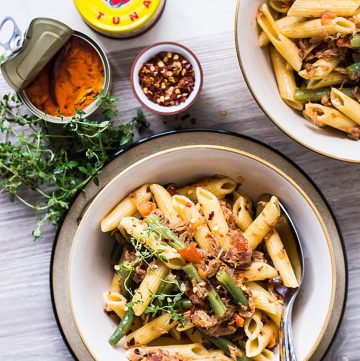 Print Recipe
Penne with Tuna
Ingredients
200

gm fresh green beans

trimmed, cut crossways into 5cm-long pieces

500

gm dried penne

½

cup

olive oil

1

medium onion

finely chopped

4

cloves

garlic

finely chopped

2

large

ripe, red tomatoes, chopped finely

4

large sprigs of fresh thyme

leaves removed

1

tsp

dried chilli flakes

2

x 150gm canned tuna

I used Italian style Sirena tuna in chilli oil (but any type would do

Salt

to season

Freshly milled black pepper

to season
Instructions
Blanch the green beans in salted water and keep aside.

Cook the pasta in boiling water according to packet directions. Drain and keep aside, reserving 1 cup water.

Heat oil in a large pan and add onion and garlic, cook for 1 min or until softened. Add tomatoes, thyme and chilli flakes and cook for 3 mins, or till the tomatoes have softened and turned mushy. Season to taste with freshly ground black pepper and salt.

Add the beans and canned tuna (with the chilli) to the tomato mixture. Lightly break up the tuna if necessary with the ladle and mix well to combine.

Then add pasta and the reserved pasta water; toss well to combine. Season with salt and pepper.

Serve hot.
If you love pasta dishes, click here for more inspiration!