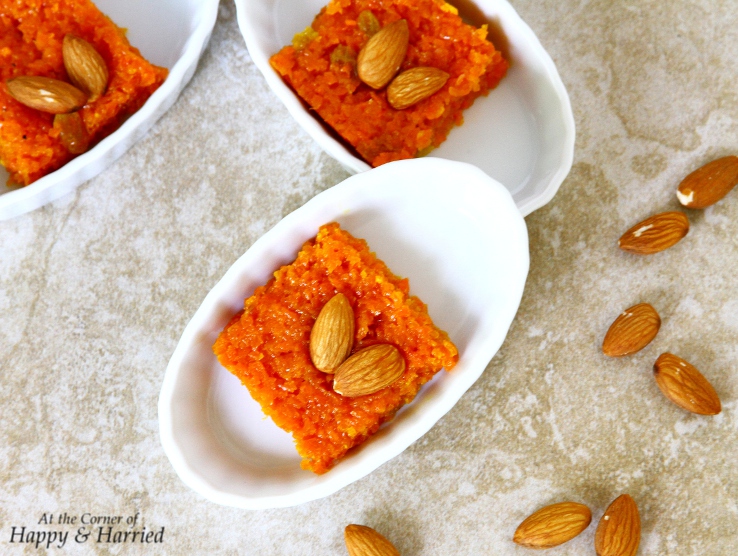 This month, so far, has been a whirlwind one filled with so many happenings and events, both personal and professional. Usually the guest post goes up in the first week of every month but I have not been able to do the same till today.

My guest blogger for this month is Anjana and her space is At the Corner of Happy and Harried. Anjana's was one of the first blogs I followed when I started out; her simplicity, clean but colourful photography and amazing recipes drew me to her blog. I am so happy that she was keen on taking up my request and has bought us this gorgeous looking Carrot Barfi.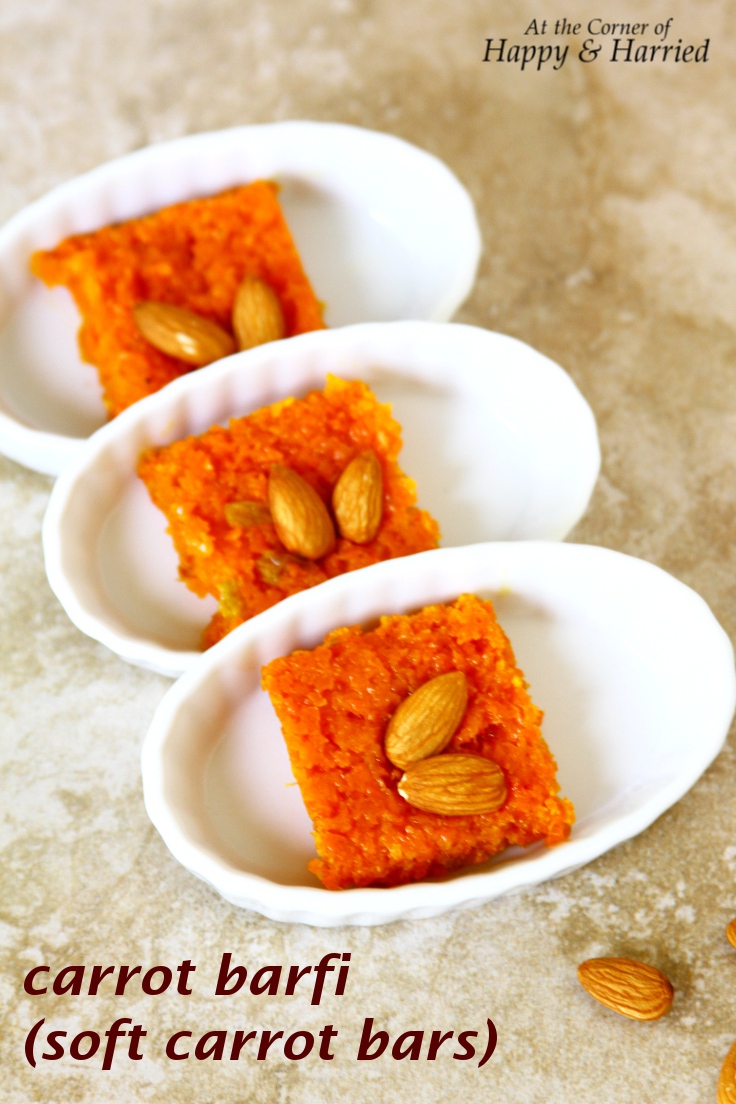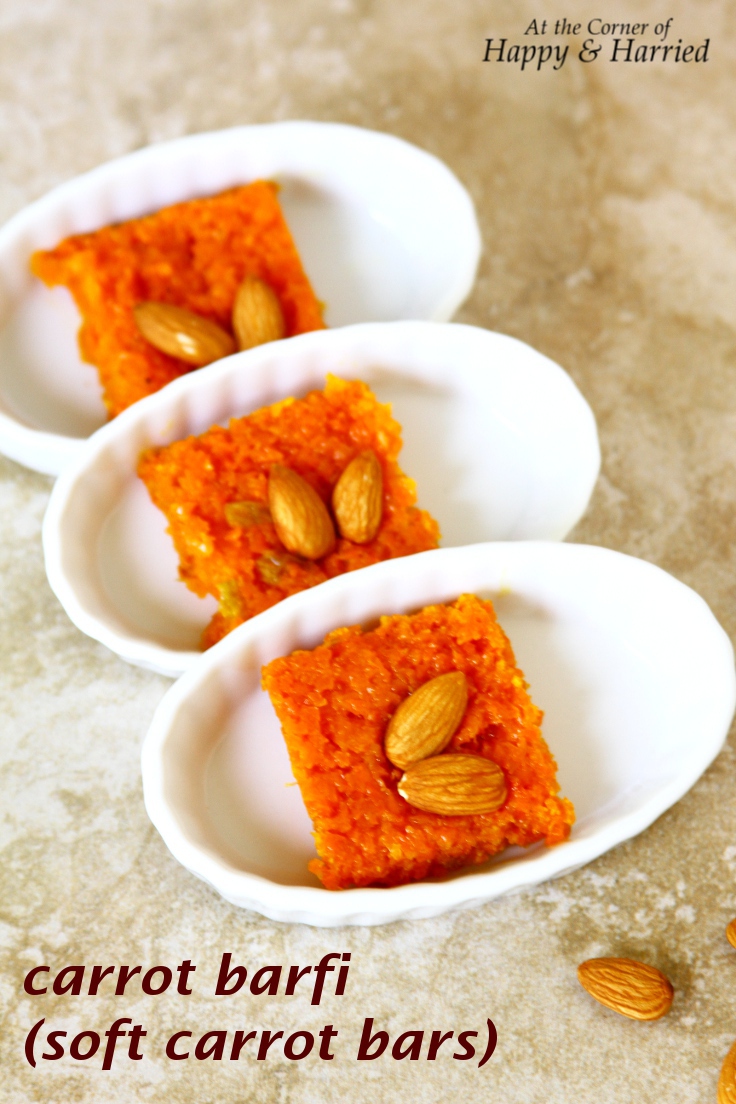 All that I am going to do now is enjoy this delicious Barfi and I guess you must also be doing the same.
In Anjana's words….

I am sharing a quick and delicious sweet treat using carrots. It is extremely common in Indian cuisine to use sweet vegetables in desserts. Carrots, beets and pumpkins end up being made into halwa, kheer or barfi. Somehow, using vegetables in desserts makes it feel less indulgent, right?!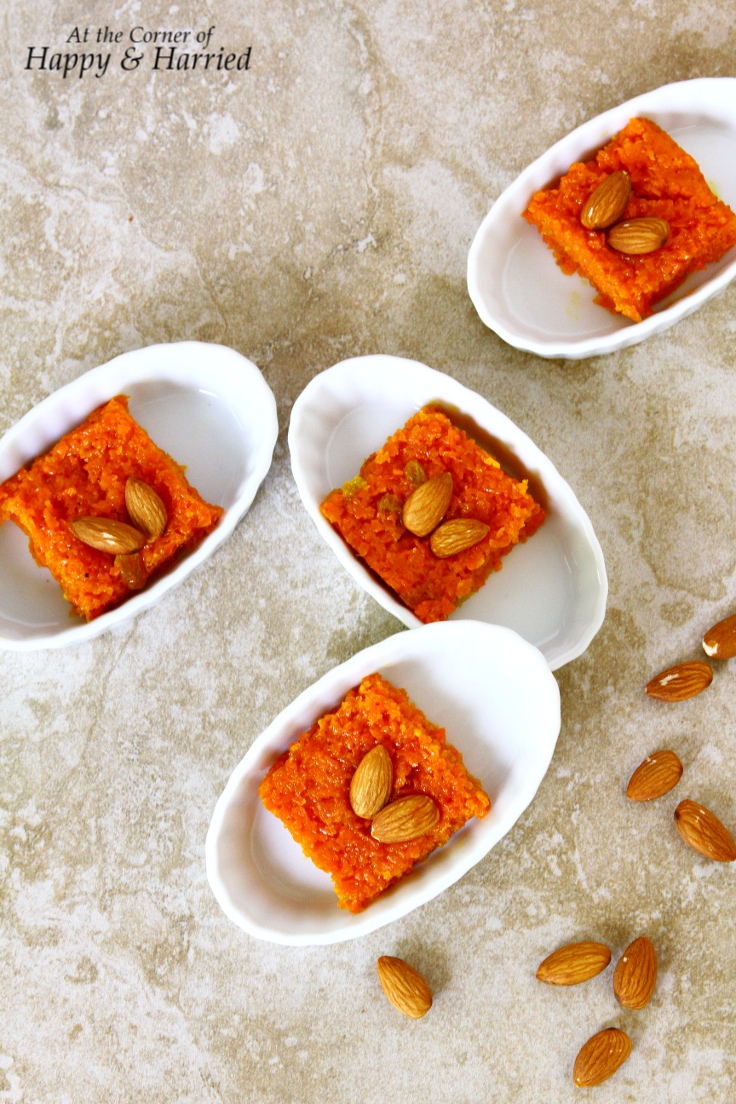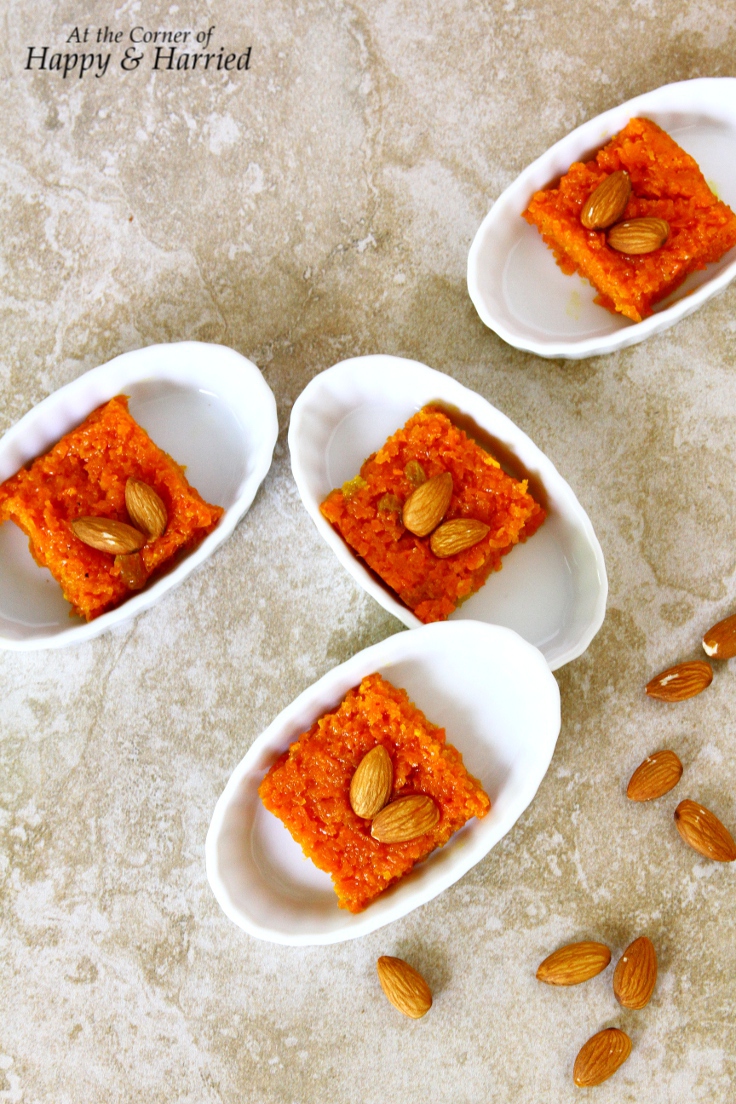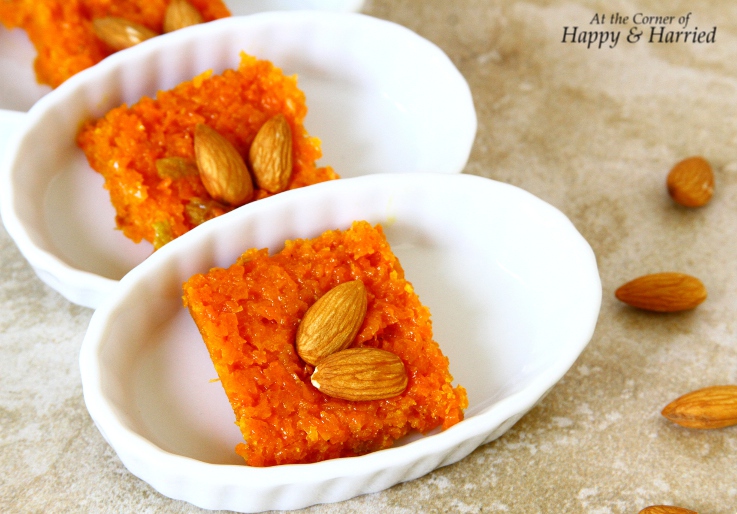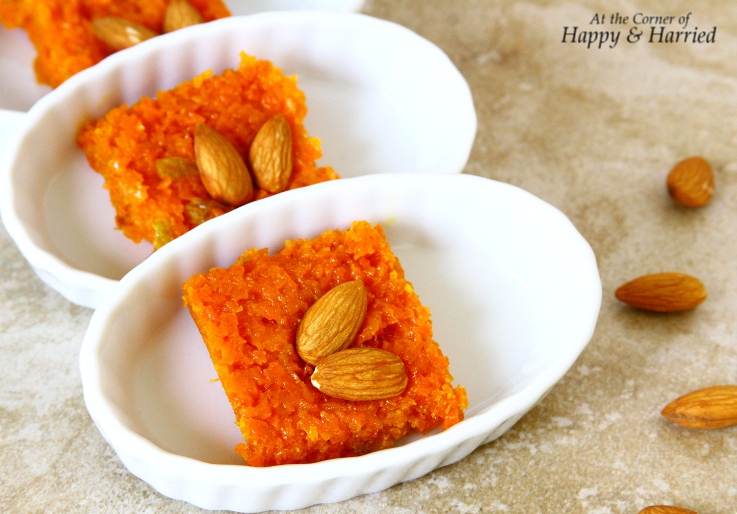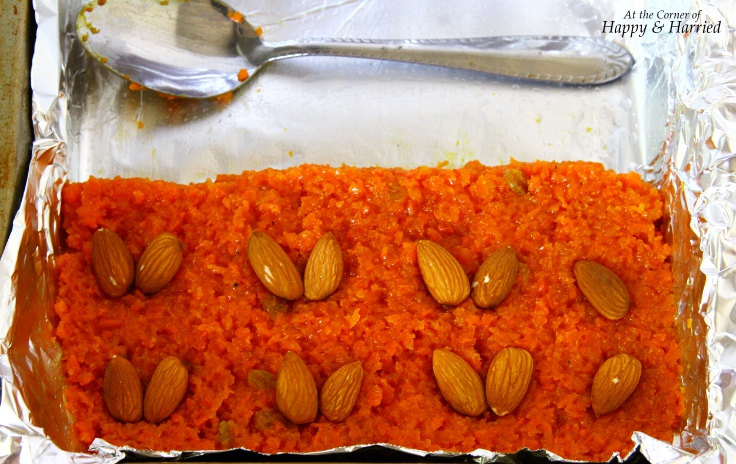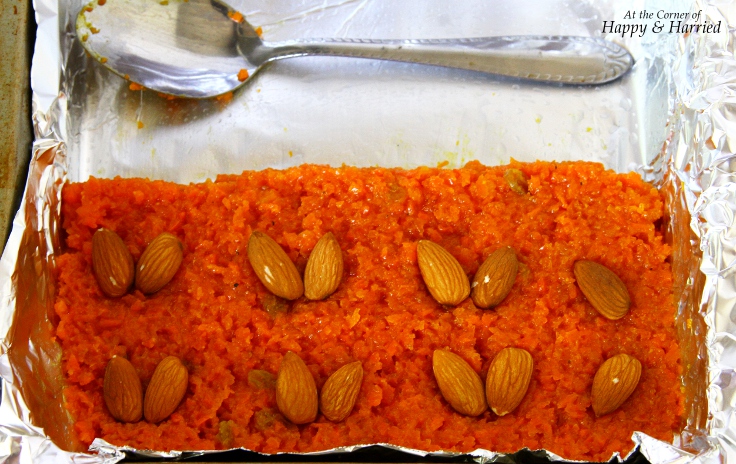 This is a very quick recipe and can be made with very little ingredients. If you've read my blog, you would know I am all about easy recipes. The carrots give it a lovely natural orange colour, making it extremely attractive to adults and kids alike.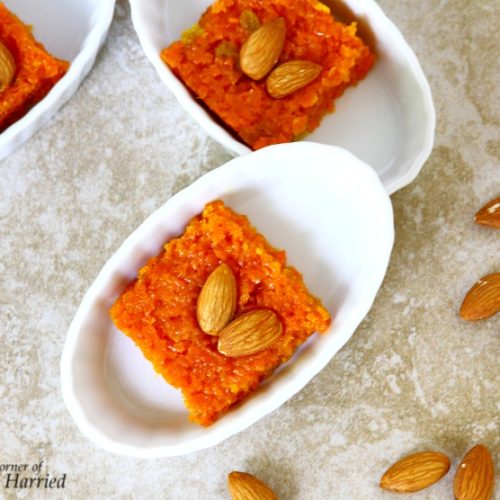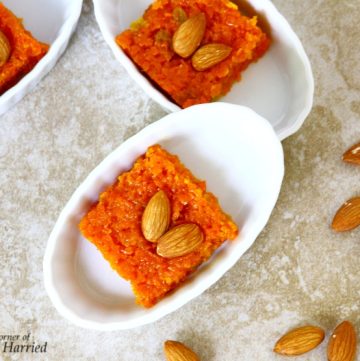 Print Recipe
Carrot Barfi
Servings:
8
barfi squares
Ingredients
Ghee – 3 tbsp

Carrots – 2 – 2 ½ cup

grated or chopped finely

Milk – 1 cup

Cardamom powder – ½ tsp

Sugar – around ½ cup

or as per taste

Salt – a pinch

Golden raisins – 2-3 tbsp

optional

Toasted almonds or cashew nuts – for garnish
Instructions
Heat ghee in a large pan. Add the grated/chopped carrots and sauté on medium heat for 4-5 minutes.

Now add milk, cardamom powder and ¼ cup sugar and cook the carrots further.

When most of the liquid evaporates, taste and add more sugar, golden raisins and a pinch of salt. I ended up using slightly less than ½ cup of sugar as I like the barfi to have the natural sweetness of carrots.

The sugar will introduce some more liquid. Stir constantly and cook it further till fairly dry. The barfi is done when the mixture leaves the sides of the pan and starts to come together. It will also have a lovely sheen to it.

Remove from heat and spread the barfi onto a greased plate/flat dish and flatten to 1/2 inch thickness. Top with toasted almonds or cashew nuts. Cool slightly in pan and refrigerate till set.

Cut into squares using a greased knife and serve. The barfi will be set, but with a soft, melt-in-the-mouth consistency. Refrigerate any leftovers in a closed container.
Notes
• I have cooked the carrots in milk as this makes the barfi creamier. If you are vegan, use vegan butter instead of ghee, and water or milk substitutes instead of regular milk.
• For an even easier recipe, use sweetened condensed milk instead of milk and sugar.
• Use beetroot instead of carrots to make beetroot barfi. Beets may need more milk as it takes longer to cook.
• The recipe can be easily scaled up for a large party or gathering.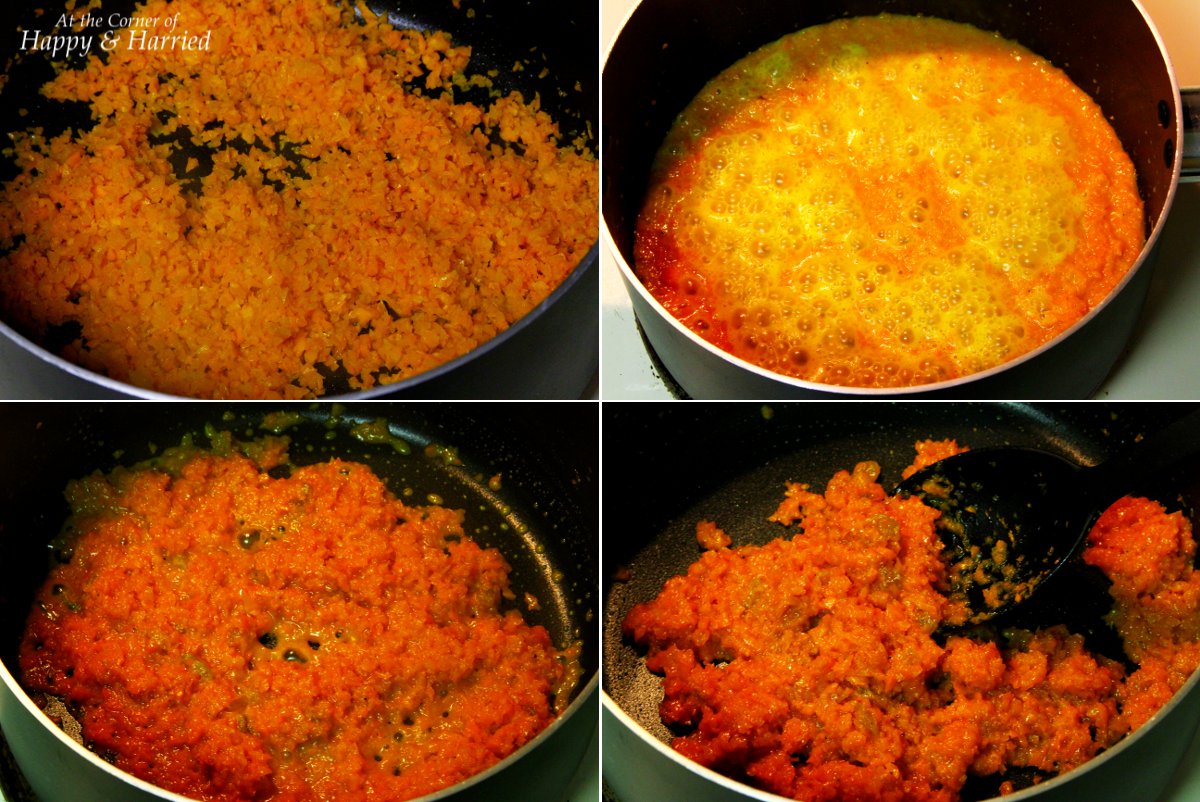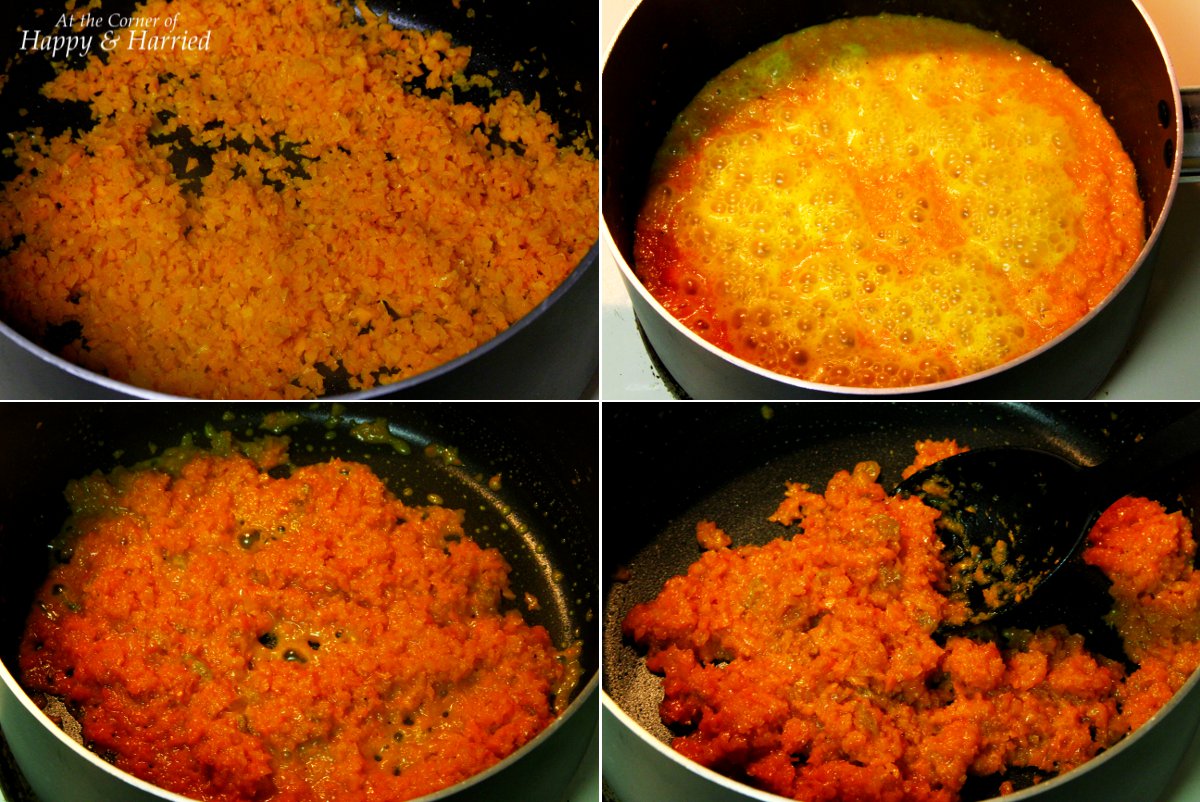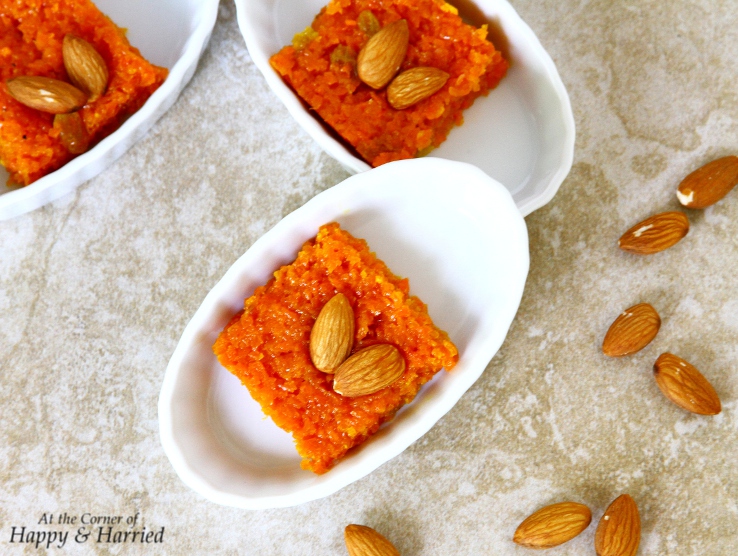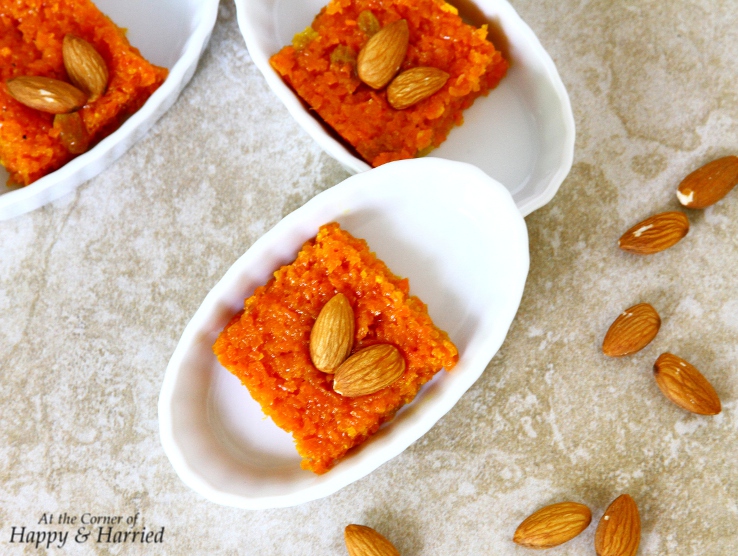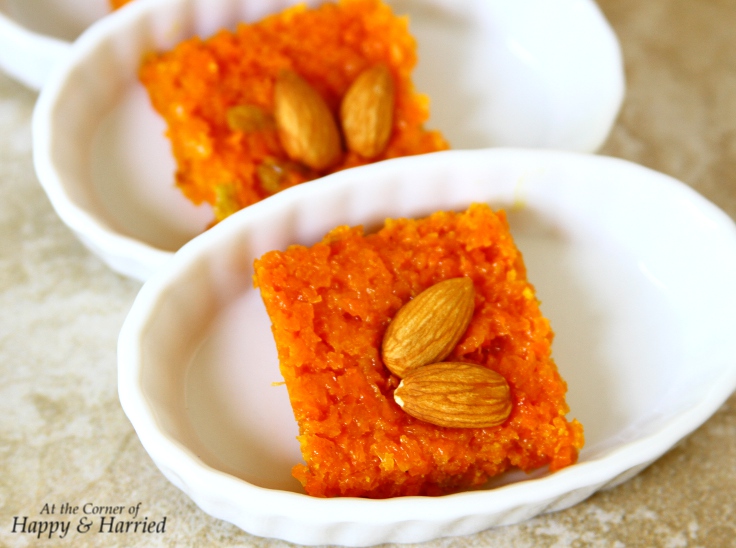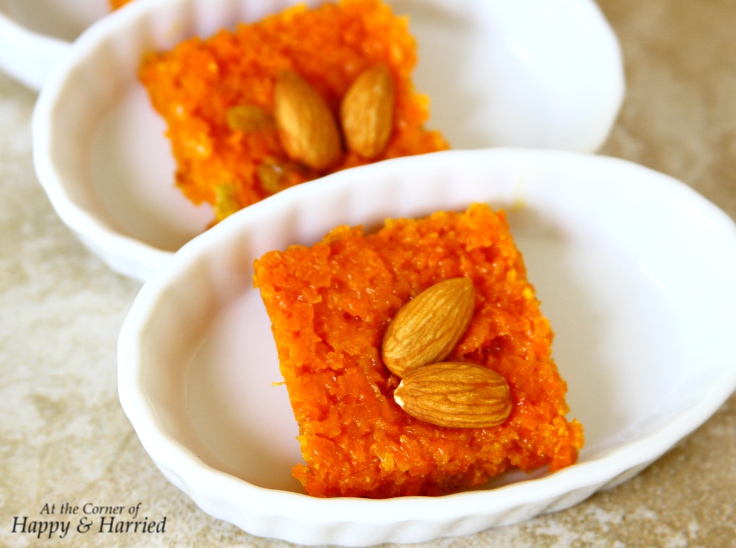 I hope you guys enjoy this quick, delicious and fairly healthy dessert. It is fancy enough for special occasions and quick enough to be made on a busy and regular weekday.