This month, so far, has been a whirlwind one filled with so many happenings and events, both personal and professional. Usually the guest post goes up in the first week of every month but I have not been able to do the same till today.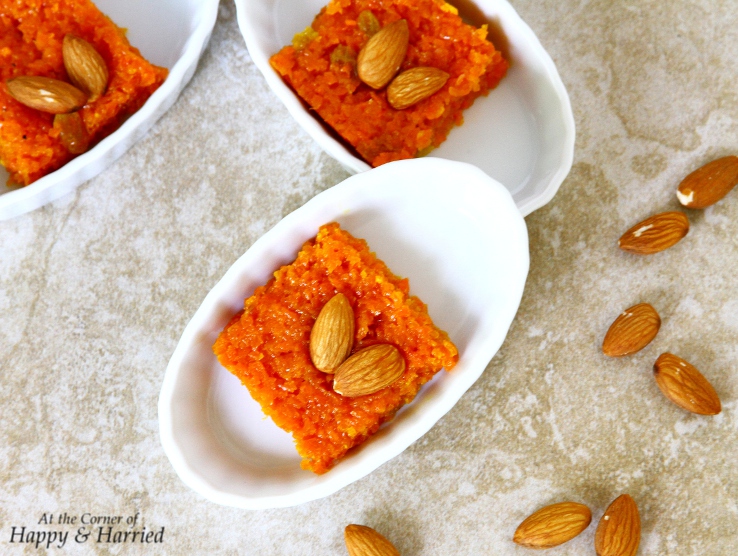 My guest blogger for this month is Anjana and her space is At the Corner of Happy and Harried. Anjana's was one of the first blogs I followed when I started out; her simplicity, clean but colourful photography and amazing recipes drew me to her blog. I am so happy that she was keen on taking up my request and has bought us this gorgeous looking Carrot Barfi.
All that I am going to do now is enjoy this delicious Barfi and I guess you must also be doing the same.
In Anjana's words….

I am sharing a quick and delicious sweet treat using carrots. It is extremely common in Indian cuisine to use sweet vegetables in desserts. Carrots, beets and pumpkins end up being made into halwa, kheer or barfi. Somehow, using vegetables in desserts makes it feel less indulgent, right?!
This is a very quick recipe and can be made with very little ingredients. If you've read my blog, you would know I am all about easy recipes. The carrots give it a lovely natural orange colour, making it extremely attractive to adults and kids alike.

I hope you guys enjoy this quick, delicious and fairly healthy dessert. It is fancy enough for special occasions and quick enough to be made on a busy and regular weekday.