Curry leaves have always been an integral part of Indian cuisine, especially in the cuisines of Southern India. Though the world is slowly waking up to the benefits of this herb, it still remains underutilized and practically unknown in many other parts of the world.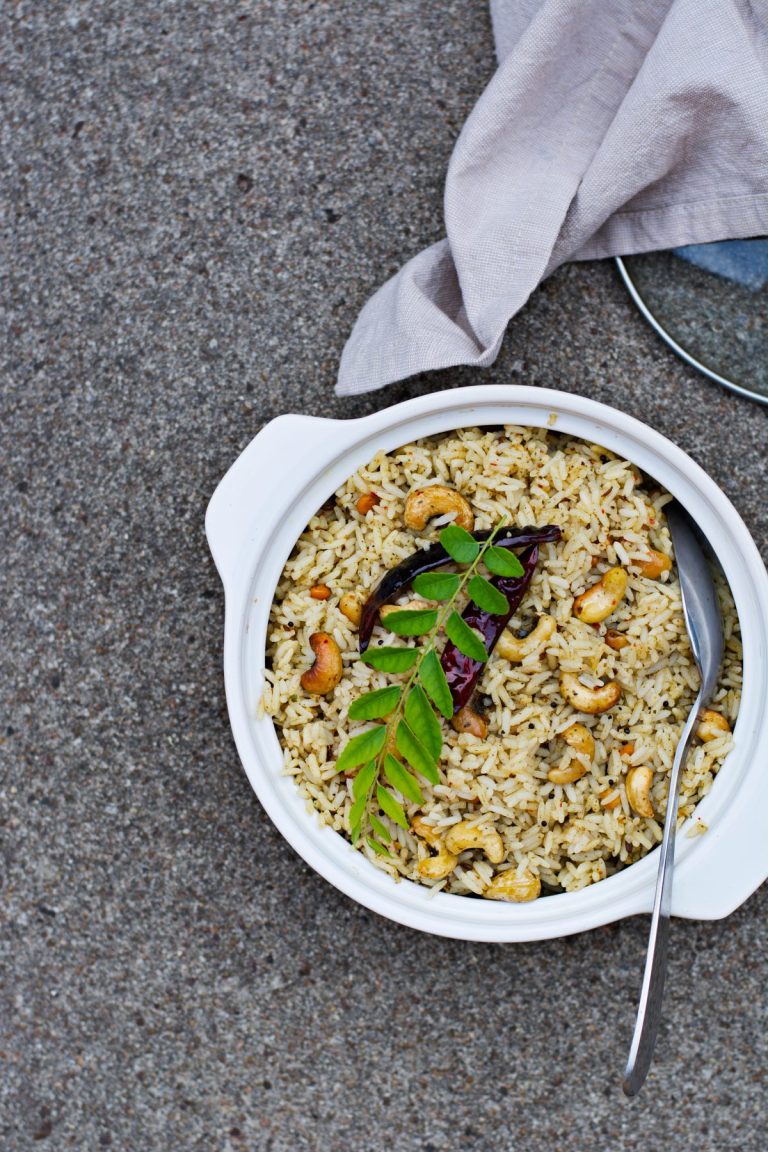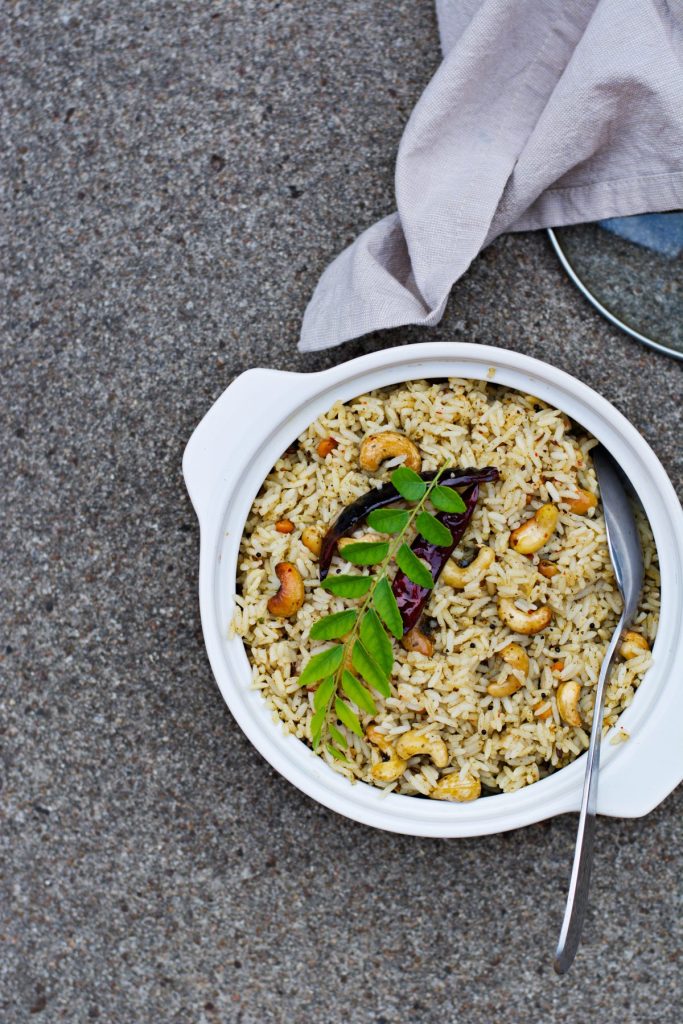 Highly aromatic, curry leaves are also referred to as 'sweet neem leaves' as these are not bitter unlike the ordinary neem leaves. It is a much valued medicinal herb in Ayurveda and is believed to have anti-diabetic and cholesterol-lowering properties.
Since curry leaves do not stay fresh for a long time in the refrigerator, many people tend to use it in the dried and powdered form but these are less aromatic than the fresh leaves. In Indian and Sri Lankan cuisine, these leaves are usually added to hot oil to release the oils and impart flavour to the dish.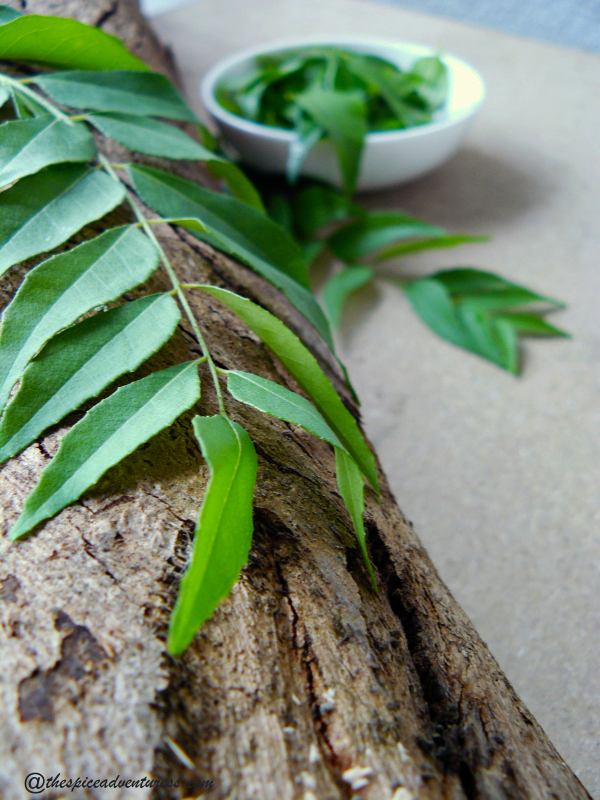 Now I am a huge fan of curry leaves, not just because it is such an inherent part of Indian cooking but also because I like the flavour these leaves impart to the whole dish. In the past few months I have been playing around with these leaves in my kitchen trying to use it in different ways especially in my style of fusion cooking. While I was researching on the Web and learning more about curry leaves, I came across this traditional rice dish which is quite popular in a few South Indian states. Now there cannot be a better way to showcase the flavour of these leaves than this dish and I couldn't resist trying out the recipe myself.
South Indian curry leaf rice or Karu vepillai sadam (as it is traditionally known) – pungent, aromatic and mildly spiced from the roasted curry leaves, red chillies, peppercorns, fenugreek, coriander and asafoetida.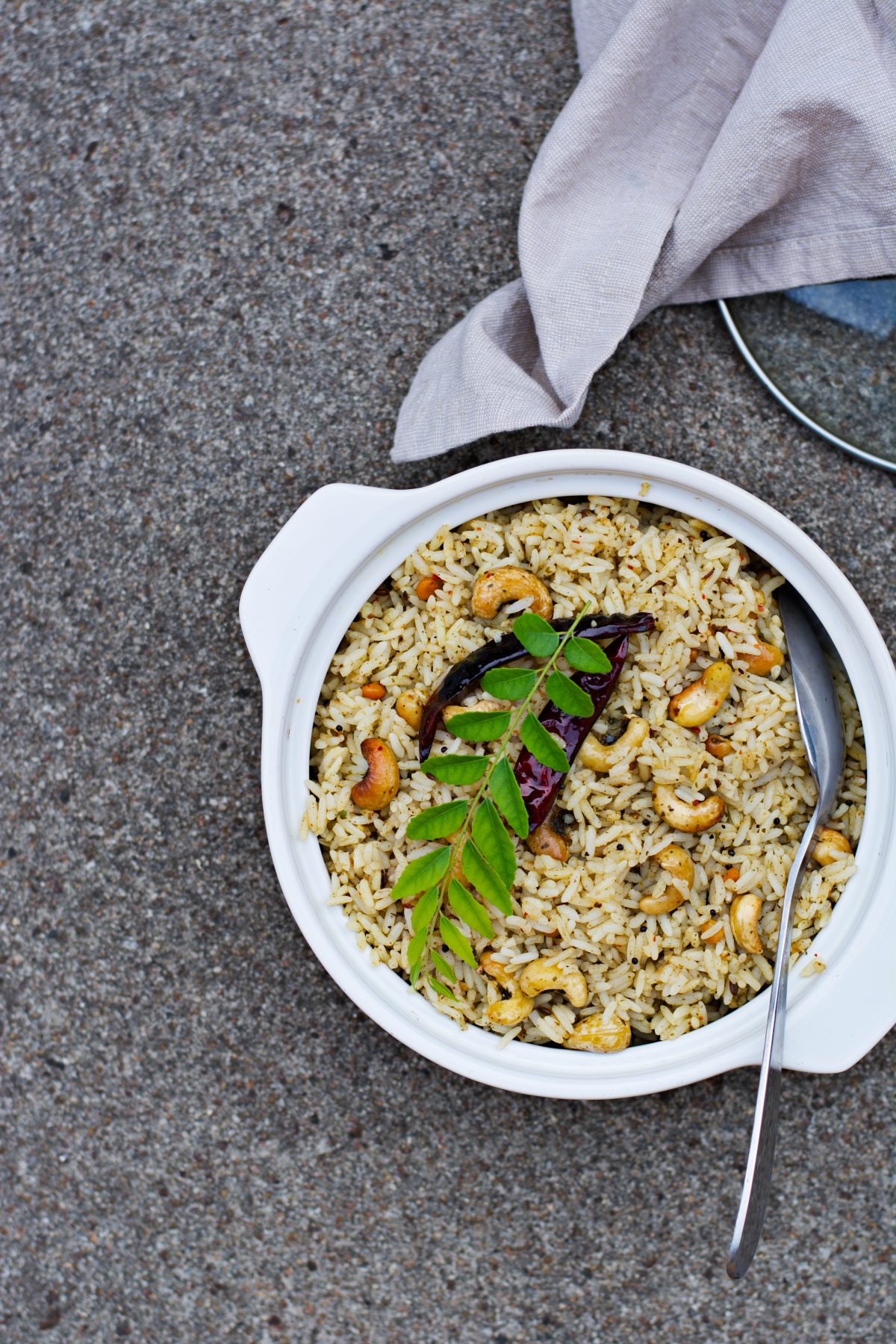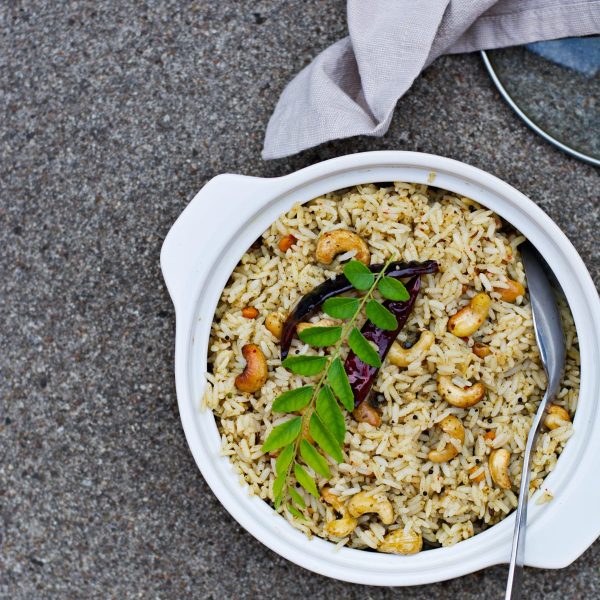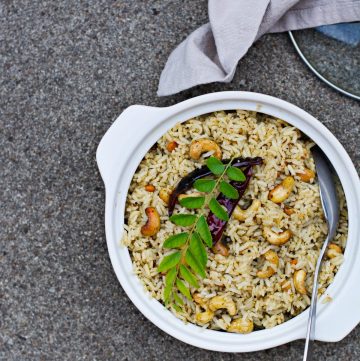 Print Recipe
South Indian Curry Leaf Rice
Ingredients
4

cups

white rice; washed and soaked

½

tsp

mustard seeds

½

tsp

urad dal

vigna mungo/dehusked black gram

½

tsp

chana dal

split bengal gram

½

tsp

cumin/jeera seeds

2

red whole dry chillies for tempering

½

tsp

turmeric powder

Cashew nuts roasted for garnishing/peanuts also may be added

Salt to taste

2

tbsp

sesame oil

this oil makes a great difference to the taste

1

tbsp

vegetable oil
For the curry leaf spice blend:
1 ½

cups

washed curry leaves firmly packed

8

whole dry red chillies

1

tsp

pepper corns

1

tsp

coriander seeds

1

tsp

fenugreek seeds

Tamarind

size of a small marble

Asafoetida/hing powder
Instructions
Cook the rice in salted water till just done, drain and keep aside. It's important not to get the rice mushy or overcooked.

Heat 1 tbsp vegetable oil and roast the curry leaves till dry and lightly crisped up; remember to do this on low heat or the leaves will burn.

Cool the leaves and grind with the rest of the ingredients under spice blend. It might get a little pasty due to the tamarind; just add a few drops of water which will help bring all the ingredients together.

In a wok or large pan, heat sesame oil, crackle the mustard seeds and then add the lentils, dry red chilli, cumin, cashewnuts and turmeric. Add the ground curry leaf spice blend and mix well for a minute. (If you prefer less heat, add only half of the curry leaf spice mixture).

Add the cooled rice and stir through till well mixed.

Serve hot with raita/yoghurt dip.