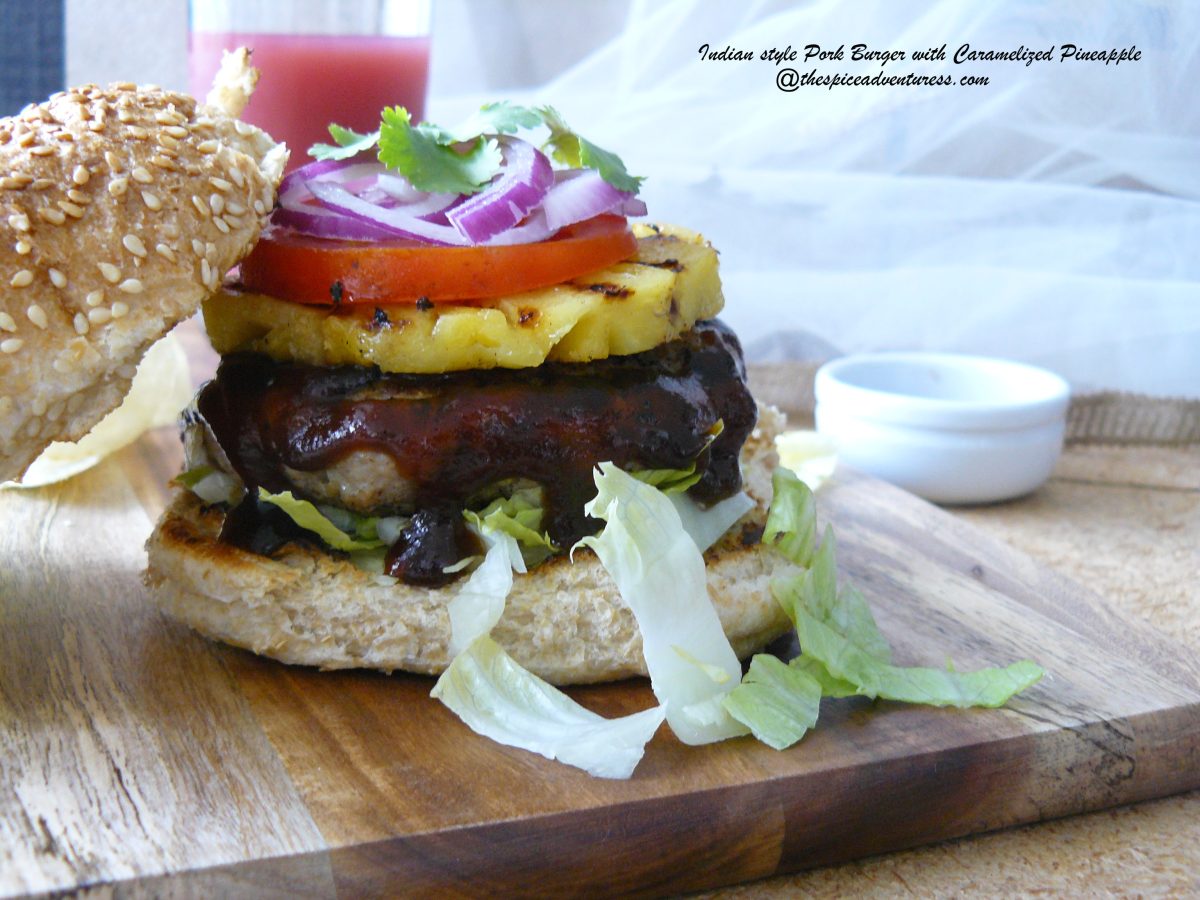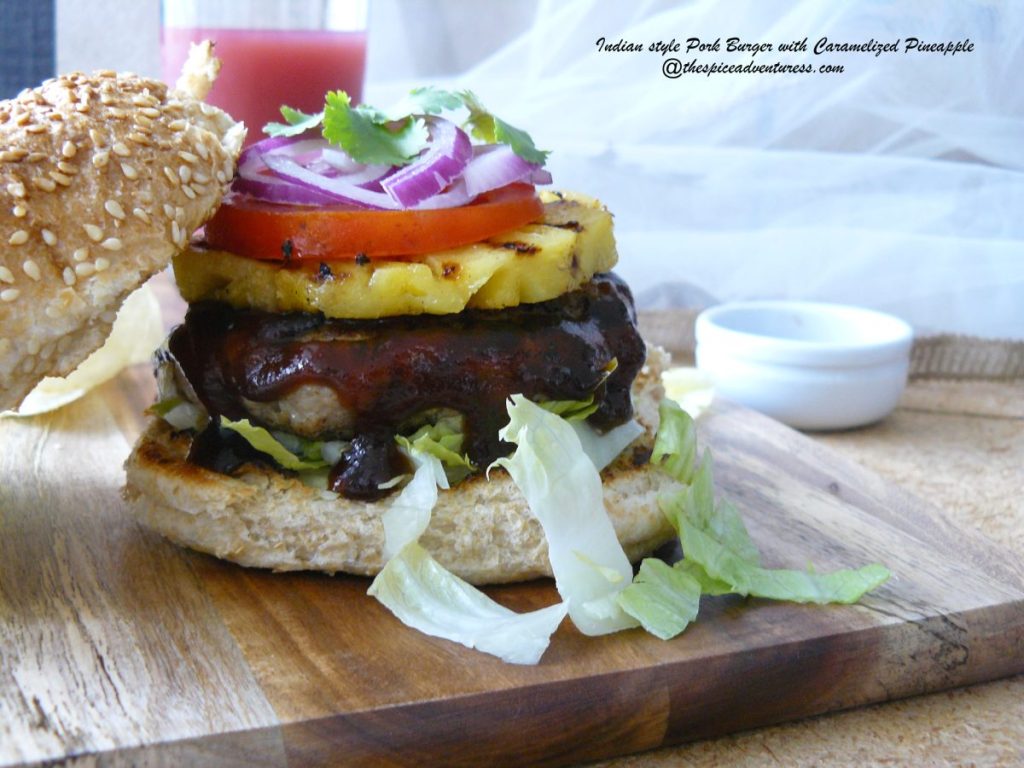 I cannot contain the excitement any longer, so let's announce the winner before we get to today's recipe.

I decided to go old-school for the draw, not trusting any software to pick my winner. So all the names got written down onto individual chits and then the most important job of picking the winner – gave it to my son to do the honours; oh my, wasn't he excited!

And yes, we have a winner and it is…………..Sarah Moss. Congratulations Sarah, hope you enjoy cooking from this book as much as I did picking it for you. And please do inbox me so that I can send it over to you at the earliest.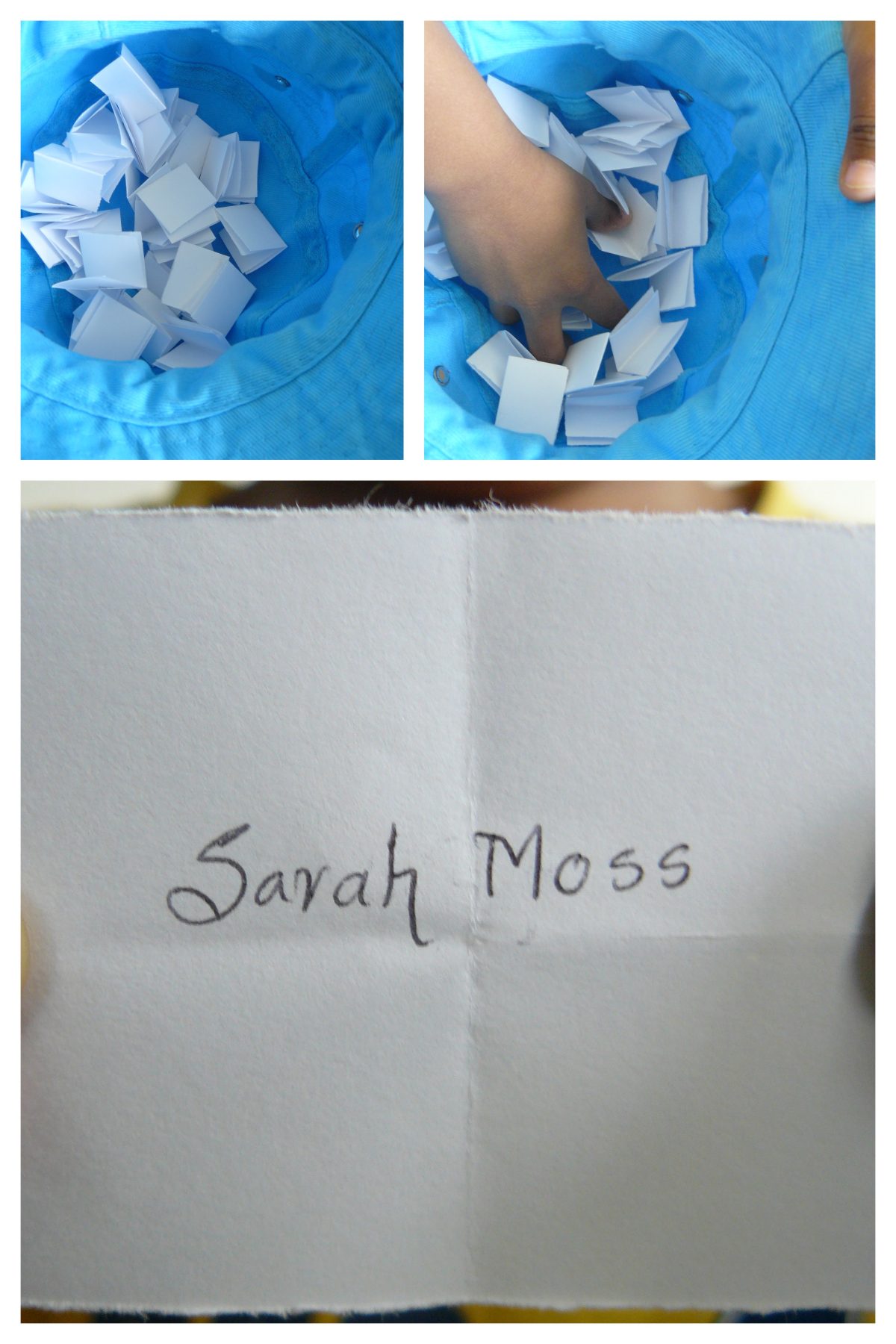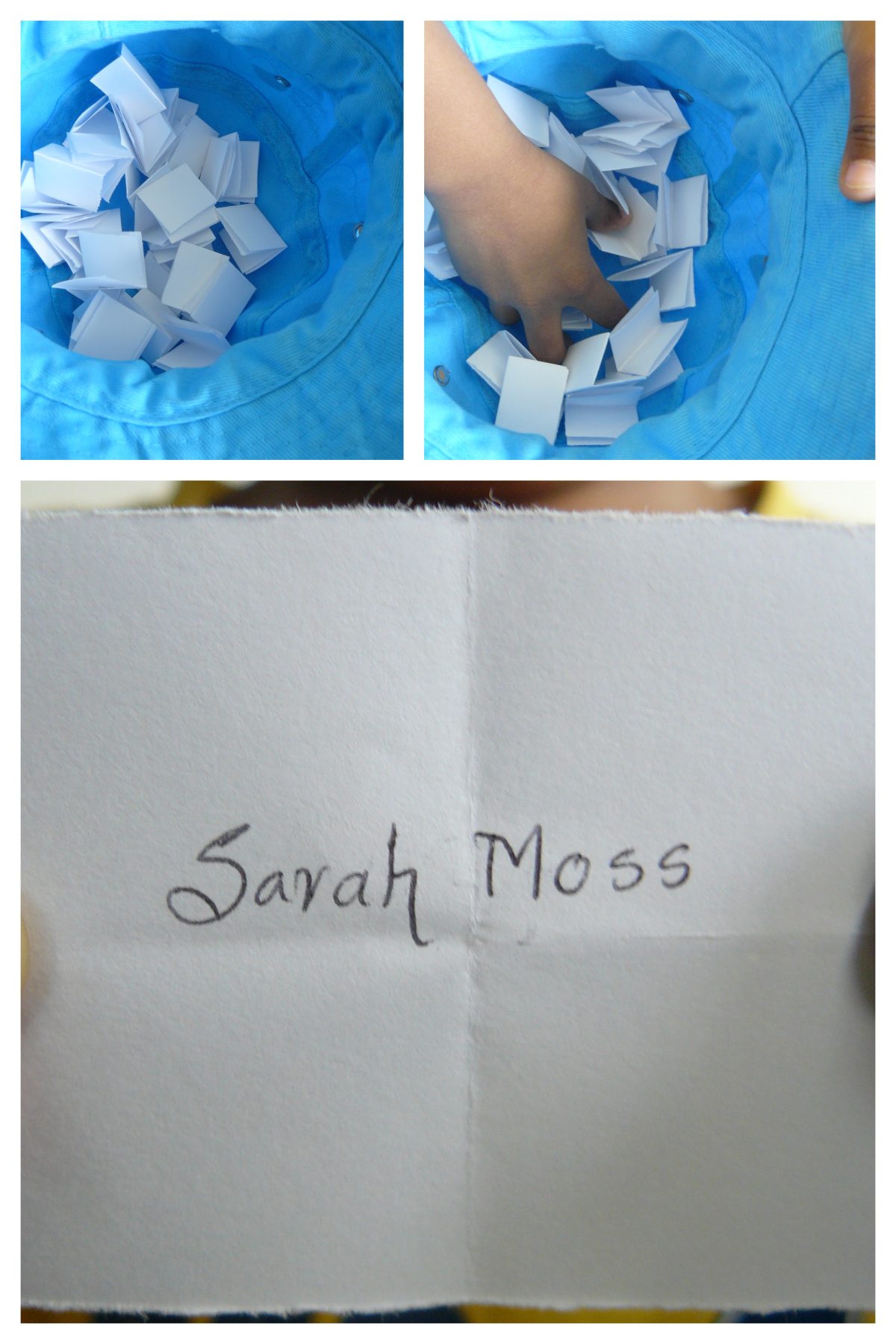 Now, I am equally excited about today's recipe too…..it is a hearty, indulgent pork burger with an Indian twist.

Pork and pineapple is a classic combination, a match made in heaven. And just to spice things up a bit, I added some familiar Indian flavours to the burger.

The secret to a delicious, succulent, juicy burger lies in mainly in the quality of meat. Instead of going for a store-bought mince, it is best to get good cuts of meat from your local butcher and ask him to mince it up for you. This way, you get to choose how much fat goes into the mince. For this, I chose the pork shoulder and the ratio of fat to meat in the mince was 1:4.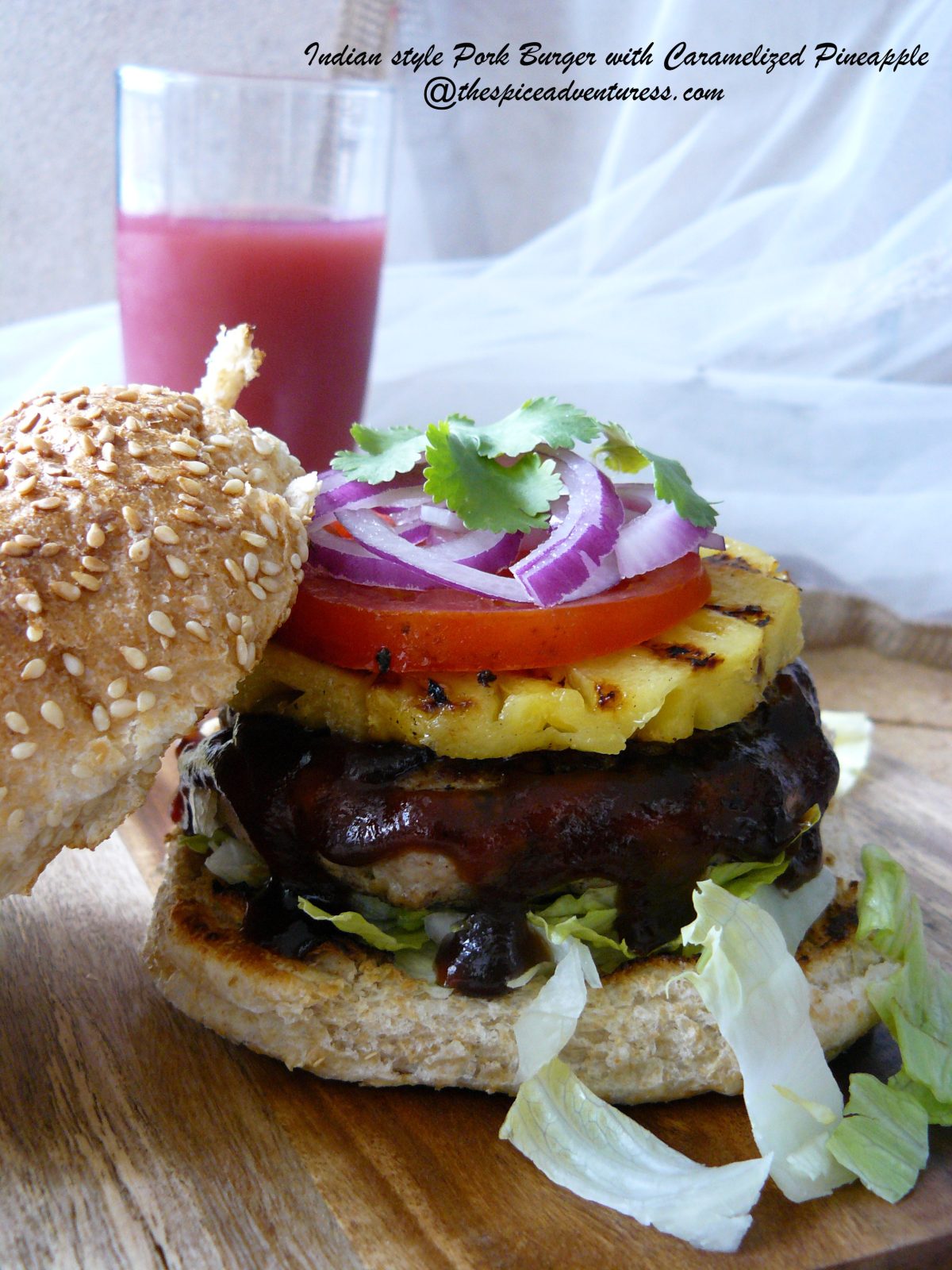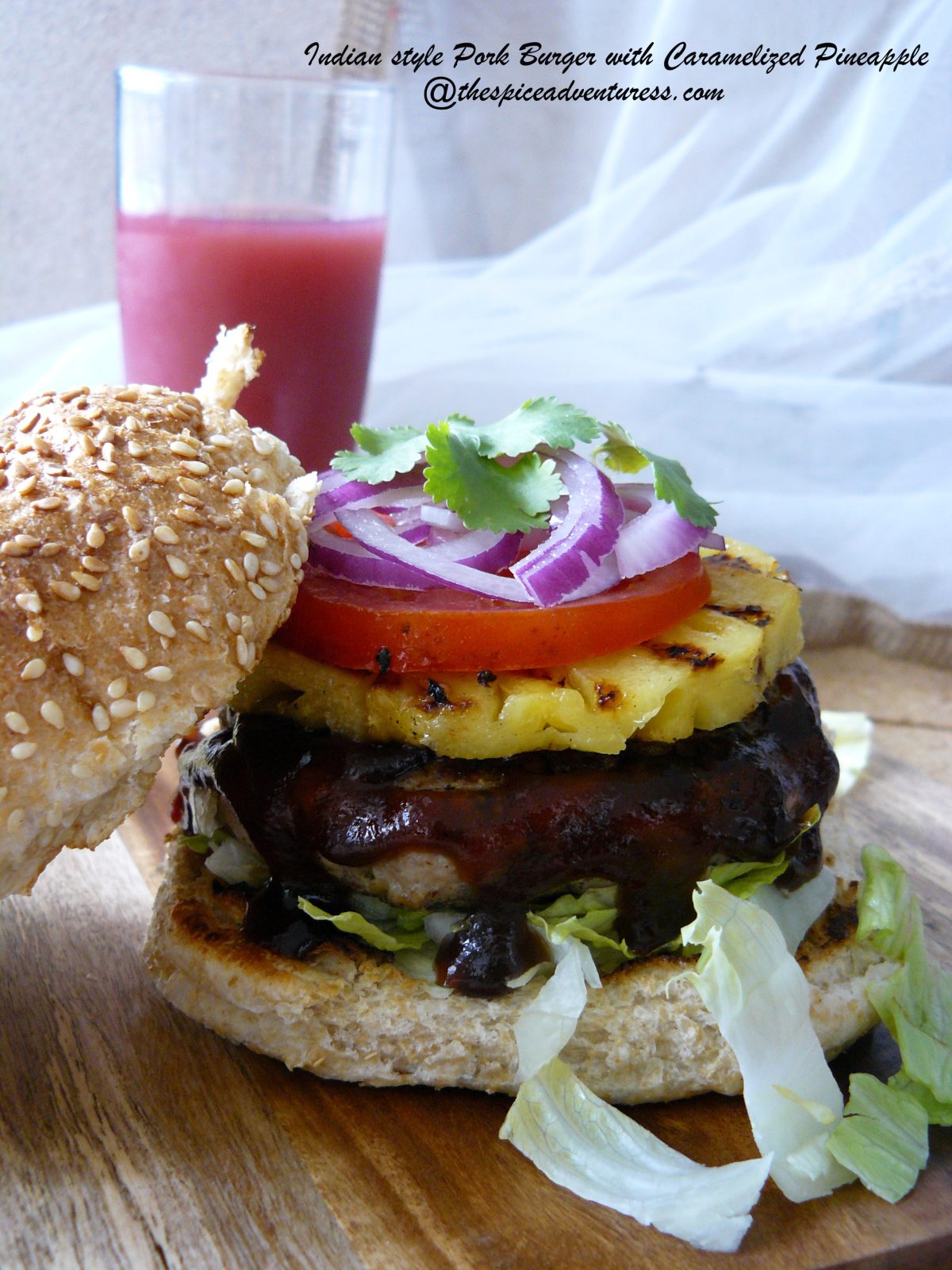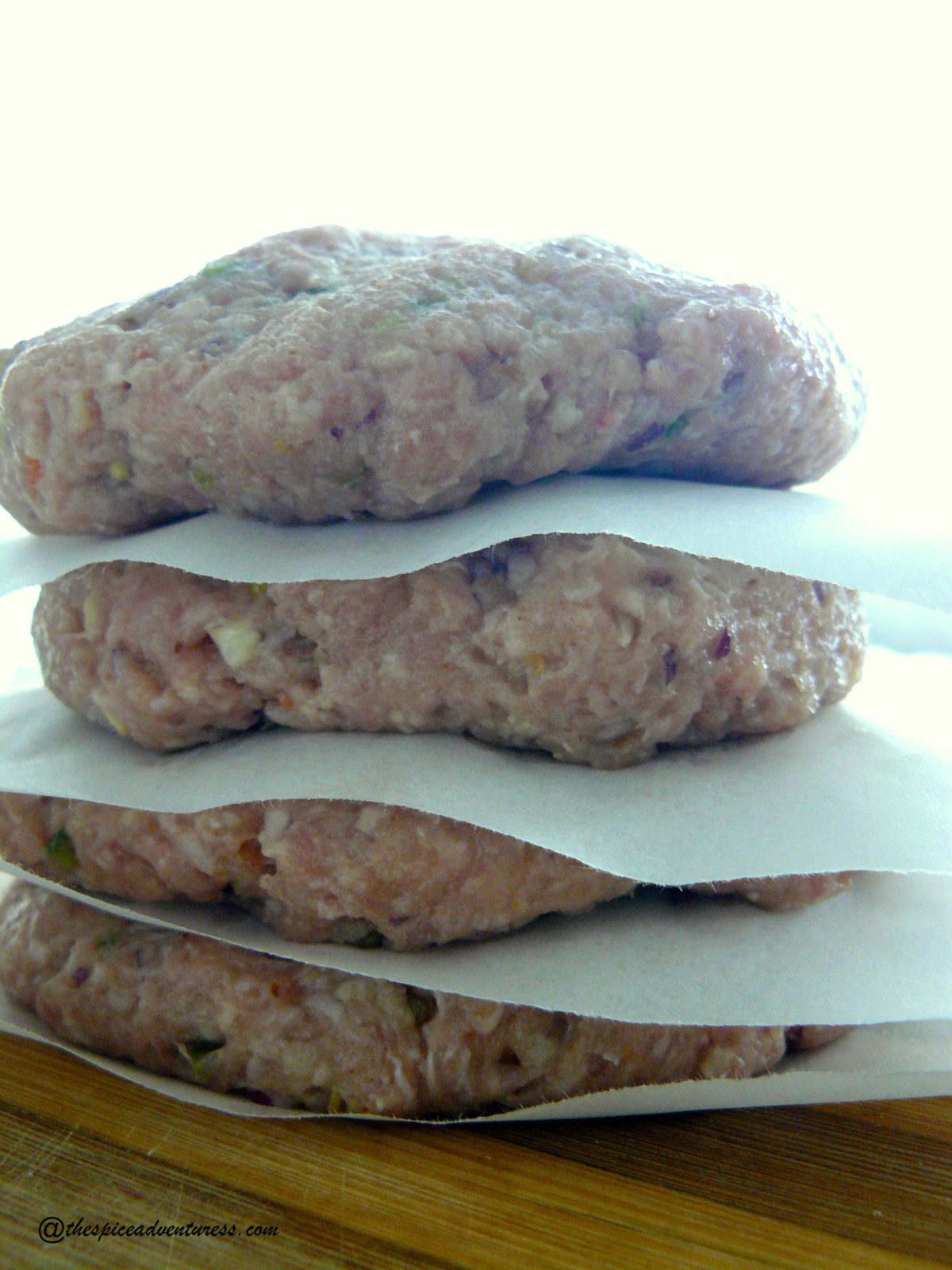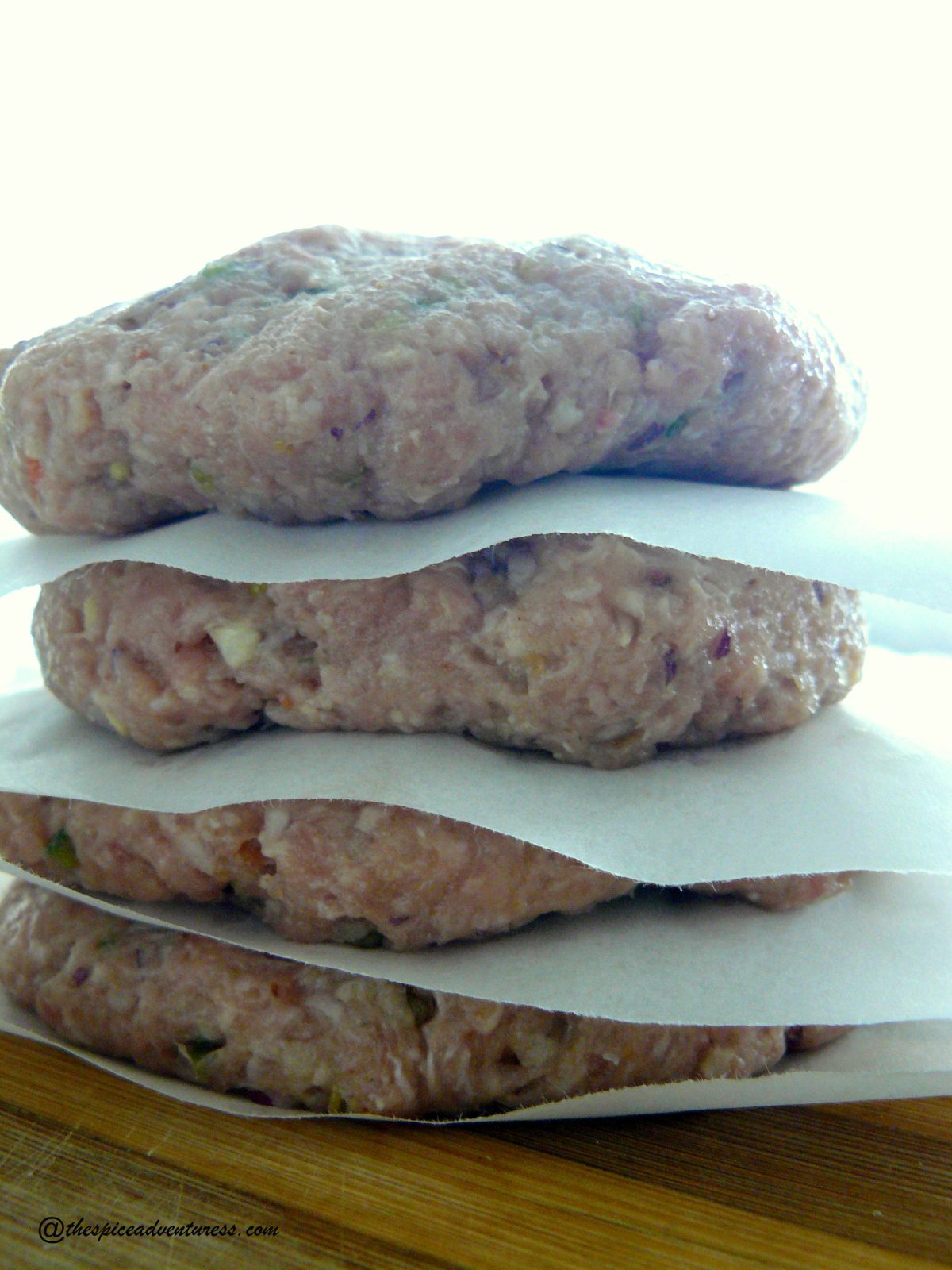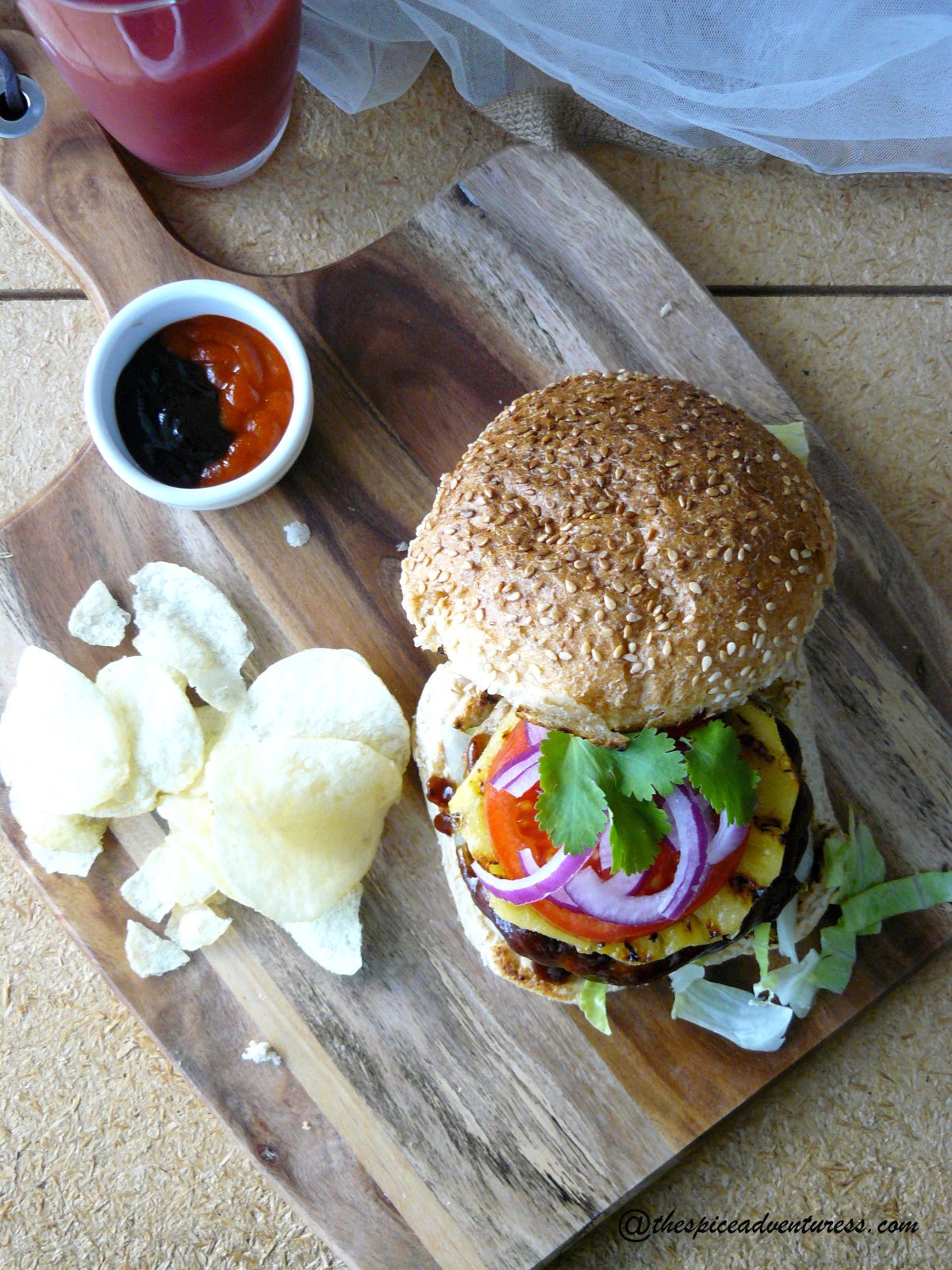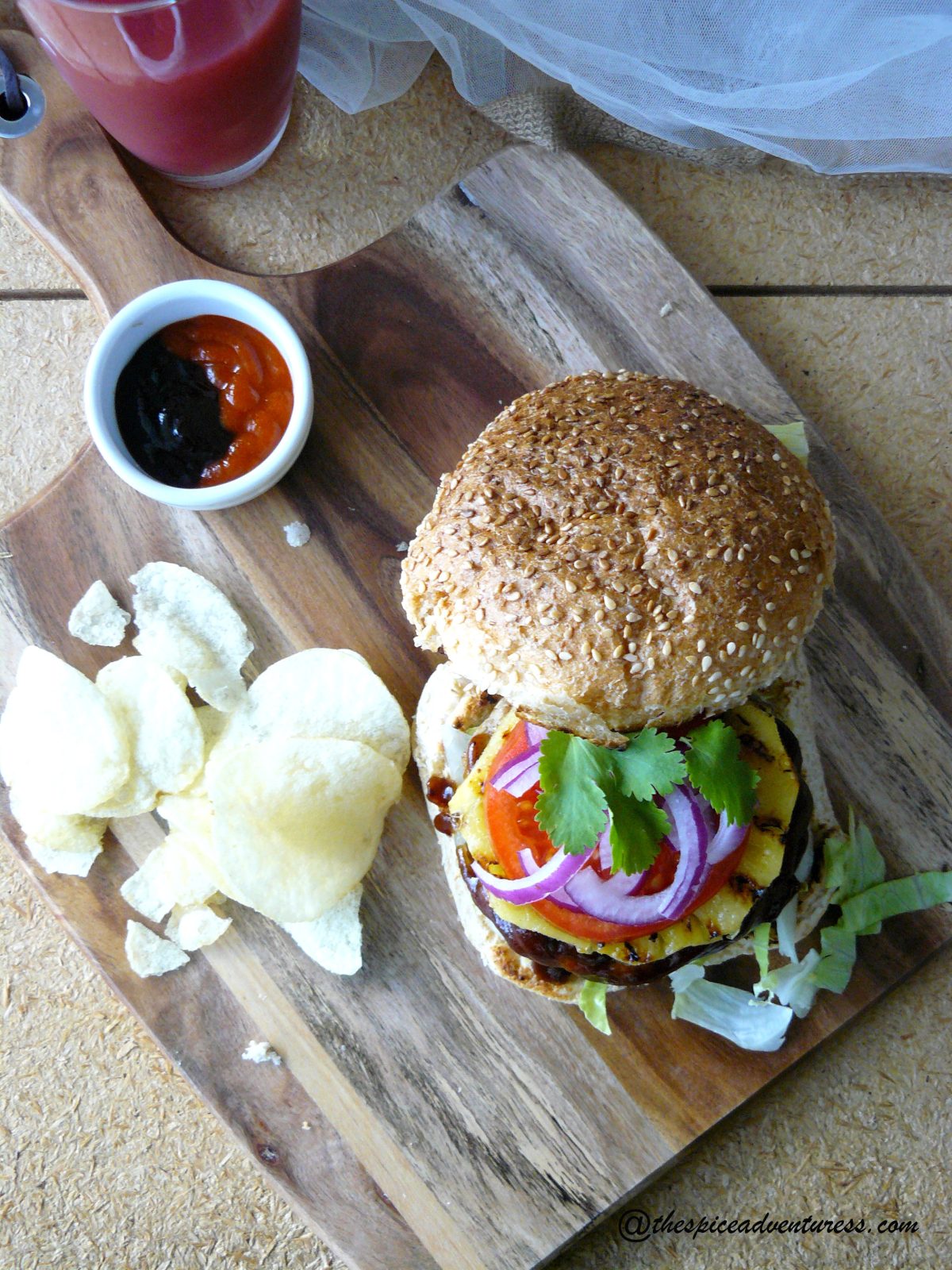 Minced onion, aromatics and a freshly roasted and ground spice mix was added to the pork mince to infuse the classic Indian flavours. The caramelized pineapple adds the hint of sweetness and brings the spices to life.

The best thing about homemade burgers is that these are healthy as you are in control of all the ingredients that goes in and is a great way to get your family to eat veggies too. My hubby would eat tomato in a burger sandwich but would throw it out if I put it in a curry. Got the point?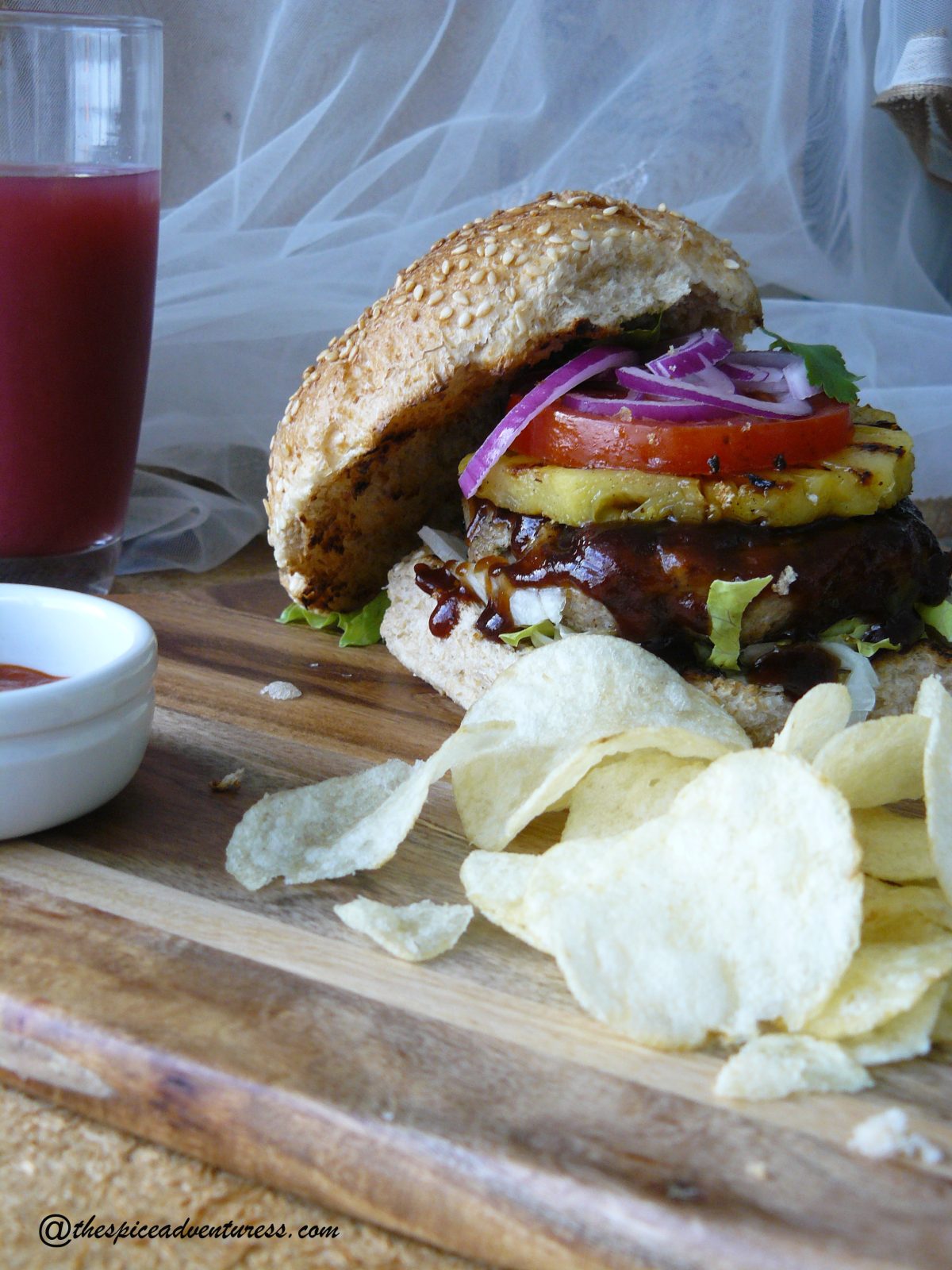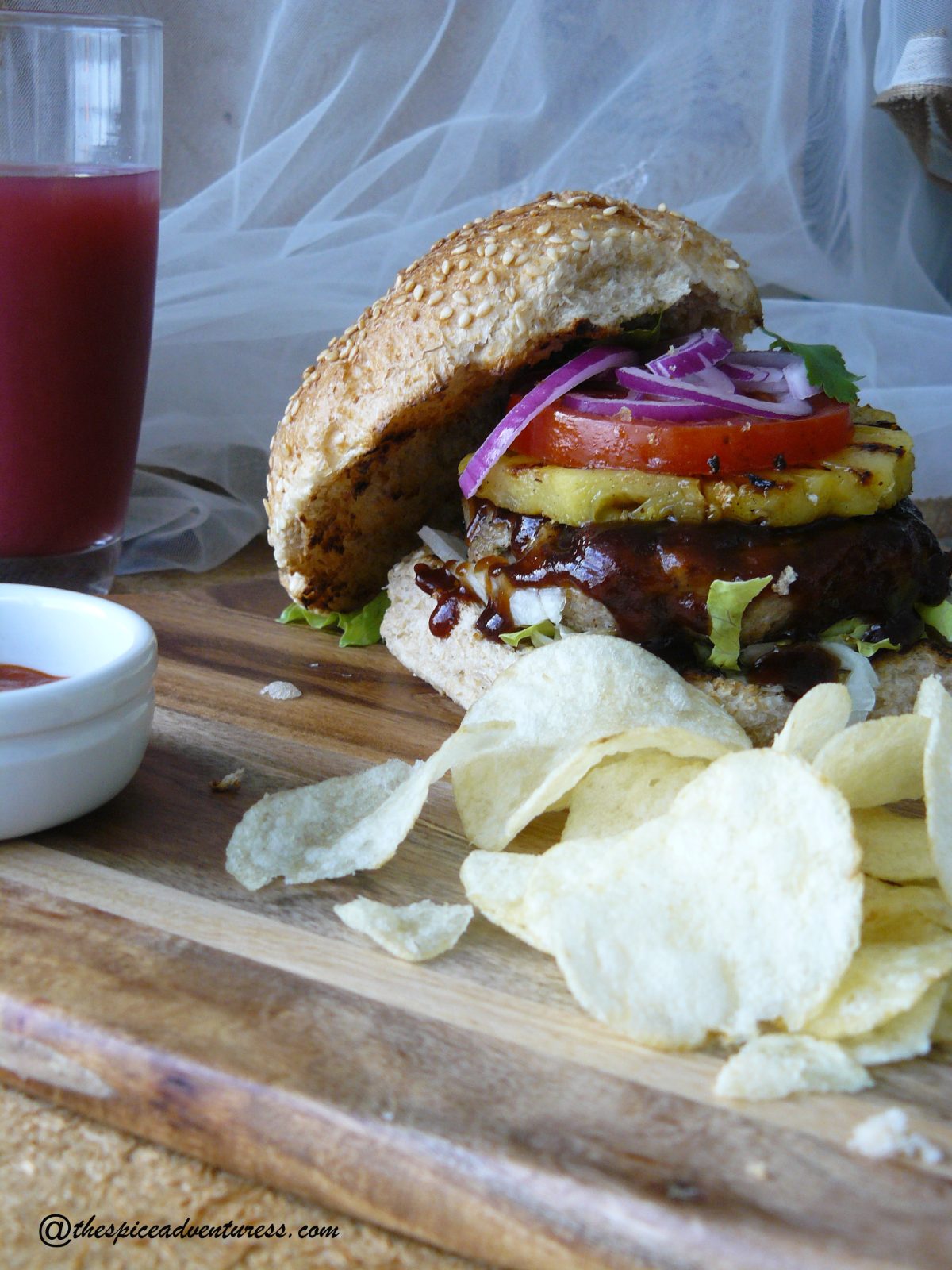 So, here's how you make Indian style pork burgers with caramelized pineapple, tomatoes, onion and coriander.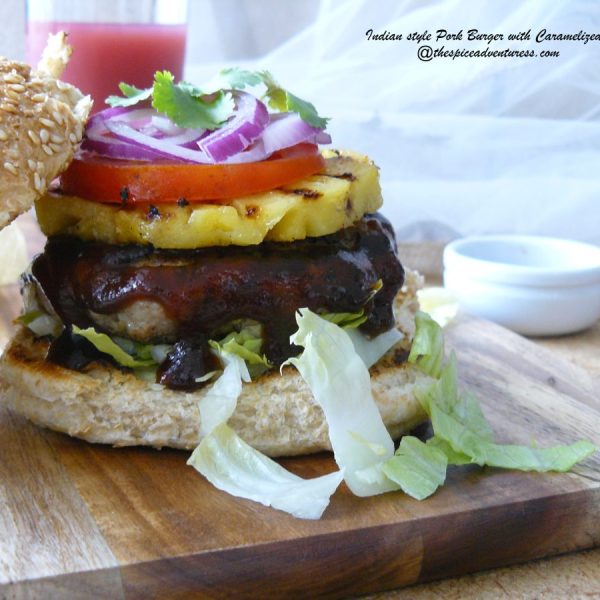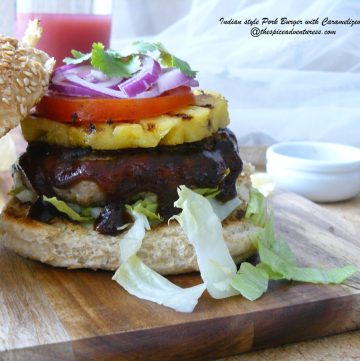 Print Recipe
Indian style Pork Burger with Caramelized Pineapple
Ingredients
For the burger;
1

kg

pork mince

use any meat that you want

1

large red onion

finely chopped

4

cloves

garlic

finely chopped

1

inch

ginger

finely chopped

1

large green chilli

finely chopped
Indian spice blend
2

tsp

Coriander seeds

2

tsp

Dry chilli flakes

1

tsp

Cumin seeds

Salt

to season

1

egg
For the final sandwich;
Burger buns

1

pineapple

cut into thick slices

Cos lettuce

shredded

1 to

mato

sliced

½

red onion

sliced finely

A few sprigs of fresh coriander leaves

Barbeque sauce
Instructions
To prepare the spice blend, dry roast the coriander and cumin seeds. Cool, add the chilli flakes and grind to a fine powder. I used the entire blend as I was wanted a good kick of the spices but you can add just enough to suit your taste preferences.

If you are using a food processor, throw in all the ingredients for the burger including the spice blend; or finely chop the onion and aromatics and then mix all ingredients together for the burger patties.

Form the mince into circular patties and keep aside. Again, the thickness of the patty is entirely upto your preferences; I make thick ones and for a kilo of mince, made 10 patties.

Heat a grill pan, brush with oil and grill the burgers till done; flip around after giving a couple of minutes on each side to get the char grilled marks. Rest the burgers for at least two minutes before preparing the sandwich.

Grill the pineapple slices (make sure the grill is smoking hot to instantly caramelize the sugars which keeps the crunch intact and seals the juices inside; on low heat, the pineapple slices go limp and soggy).

Cut the burger buns in half and grill for that extra crunch.

To assemble the sandwich, place shredded lettuce on the bottom half of the bun and layer up – patty, barbeque sauce, pineapple slice, tomato, onions and coriander leaves.