Adzuki beans are small reddish beans commonly used in Japanese and Chinese cooking. In fact, the name 'adzuki' is of Japanese origin. In the East Asian cuisine, these red beans are common in sweets and desserts, often used as a paste or boiled with milk to make a reduction.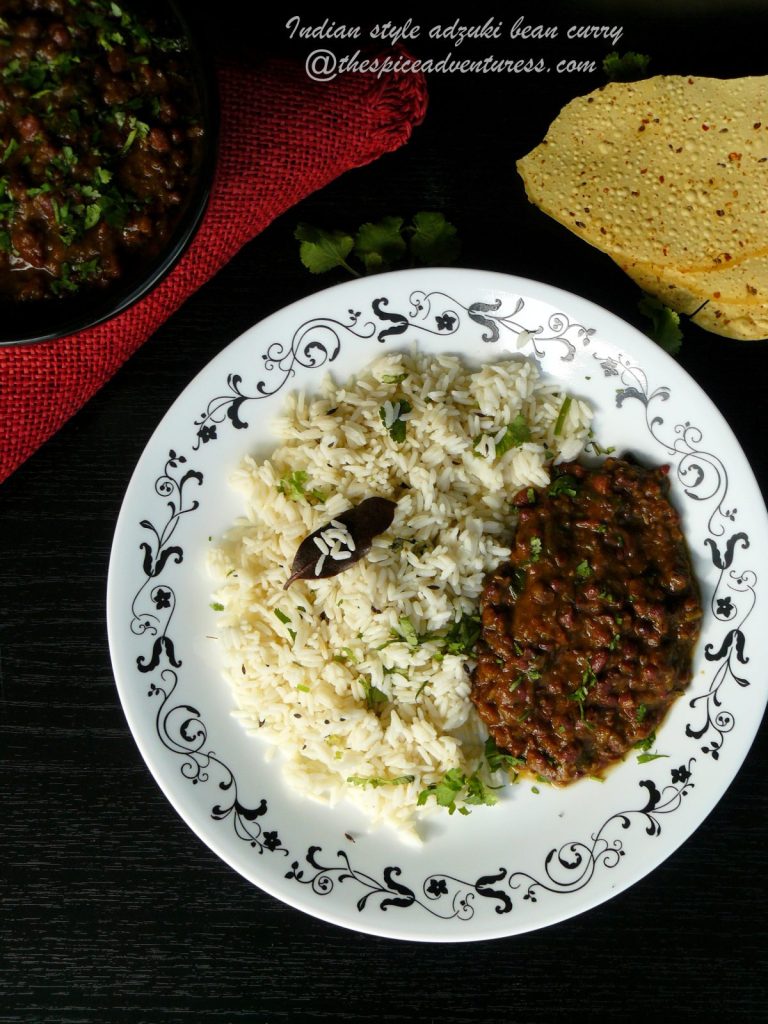 In India, dishes using adzuki beans can be commonly found in Punjab, Gujarat and Maharashtra. Referred to as Lal Chavali in Marathi which literally means red cowpea, chori in Gujarathi or ravaa'n in Punjabi, these beans are often used in chaats (Indian street food). I am not quite sure if there are other traditional dishes using these beans. If you know anything more about it, please do write to me and let me know.
I first came across adzuki beans at the local market; though the beans looked familiar to many others, I knew I had not cooked or tasted it before. So a pack of these came home with me and I have been trying out many dishes, especially Indian ones with these red beans.
Recently, I made a batch of the kadai spice blend which is commonly used to flavour Indian curries. And it suddenly struck me to combine this spice blend with the adzuki beans and come up with an Indian curry of sorts.
This adzuki bean curry is as Indian as it gets; the curry paste is prepared by caramelizing onions and aromatics to which tomatoes and finally the spice blend gets added. Just like any other lentil, it is best to soak these beans overnight and then cook the following day to reduce cooking times. And yes, if you have the Indian pressure cooker, life is bliss!
Like I mentioned, the kadai spice blend is quite common in North Indian cuisine and a regular feature in all restaurant menus. Quite a versatile blend incorporating the flavours of coriander, cumin, fennel, cardamom and bay leaf, this blend can be used in other Indian curries too, both vegetarian and non-vegetarian.
So, here is the method to prepare Indian style adzuki beans curry with kadai spice blend;