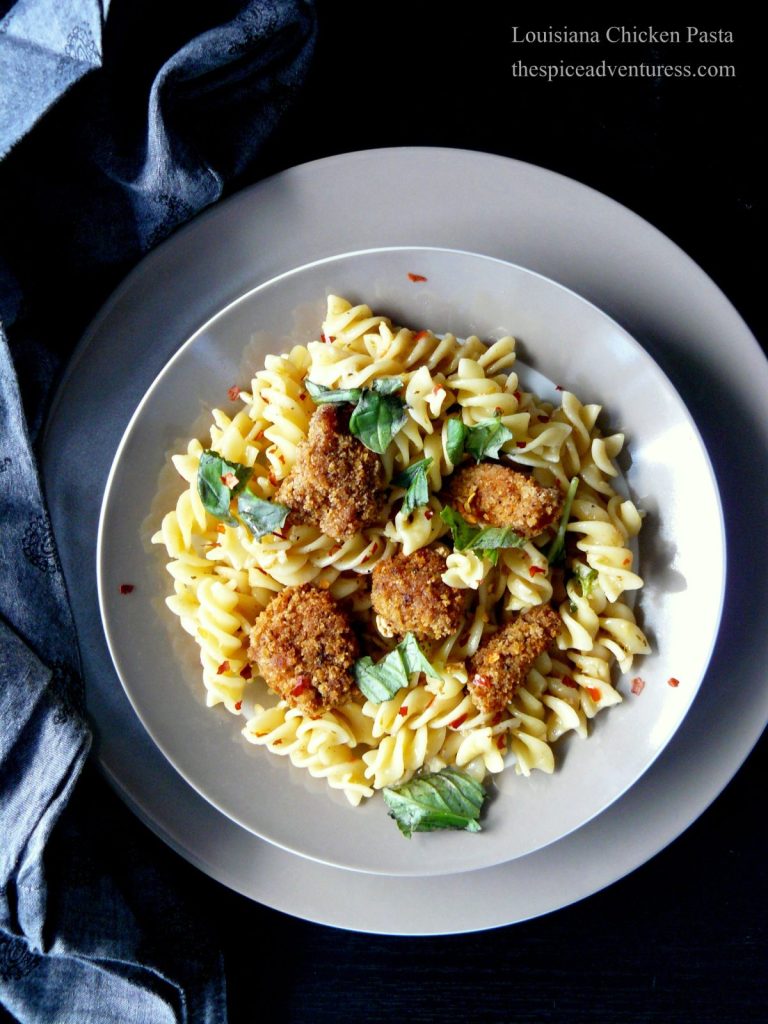 I got introduced to pastas very late in life, somewhere in my late-20s but when I did, I was hooked for life.

At that time, the pasta dishes used to be quite rudimentary in the Indian culinary scene. Apart from a handful of five star speciality restaurants, most places sold either pasta in white sauce or red tomato sauce. While it was comforting, there wasn't much variety to choose from.

I learnt my first basic white sauce recipe from a colleague and I still remember vividly the thrill it gave me when I had mastered it at home. After that, pastas became a pretty common feature in our household especially after my little one was born. Children love pasta, don't they!

But once I started making pasta dishes at home, I wanted to venture out beyond these two sauces. I started reading and researching more on Italian cuisine and it was a surprise to discover the sheer variety of pasta dishes available.

The real experimentation with pasta recipes happened after arriving in Australia especially with the abundance of ingredients and produce here. I have learnt many classic ones and also experimented and created some wacky ones; you can find it all here.

Today's pasta dish, Louisiana chicken pasta, is not my creation but one I found on a fellow blogger's site. Apparently, this is an Americanized version made famous by The Cheesecake Factory. What instantly captured my attention was the versatility of this recipe. You can use the Cajun sauce and come up with other pasta recipes of your own or you can use the fried chicken in many other ways; as a starter, in subs etc….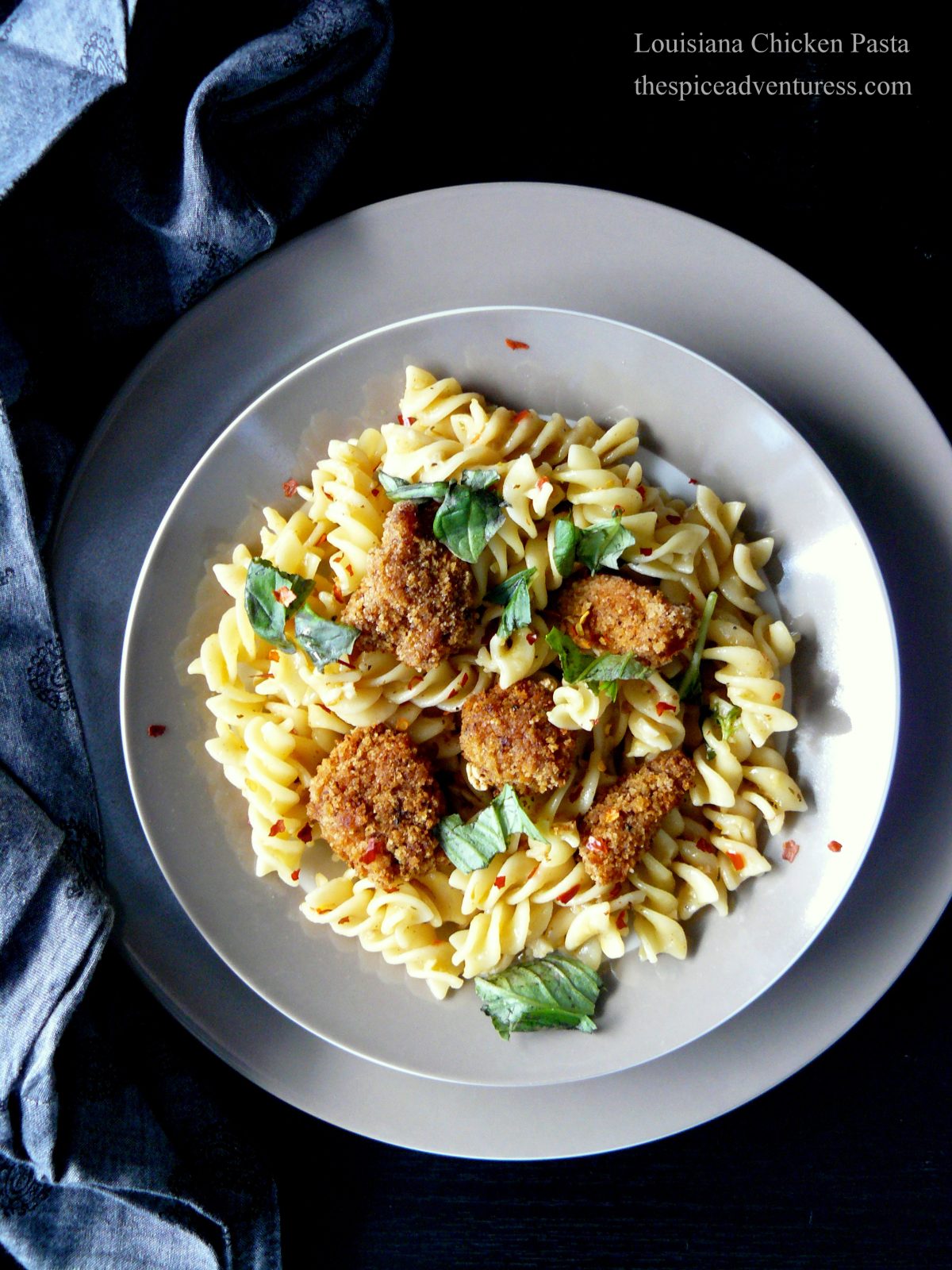 Louisiana chicken pasta incorporates all the flavours we enjoy as a family – creamy, luscious, rich sauce with the aroma and flavours of the Cajun seasoning wafting through tossed through perfectly cooked penne and topped with succulent, fried Cajun spiced chicken pieces. And yes, a generous grating of Parmesan to transport you to culinary heaven.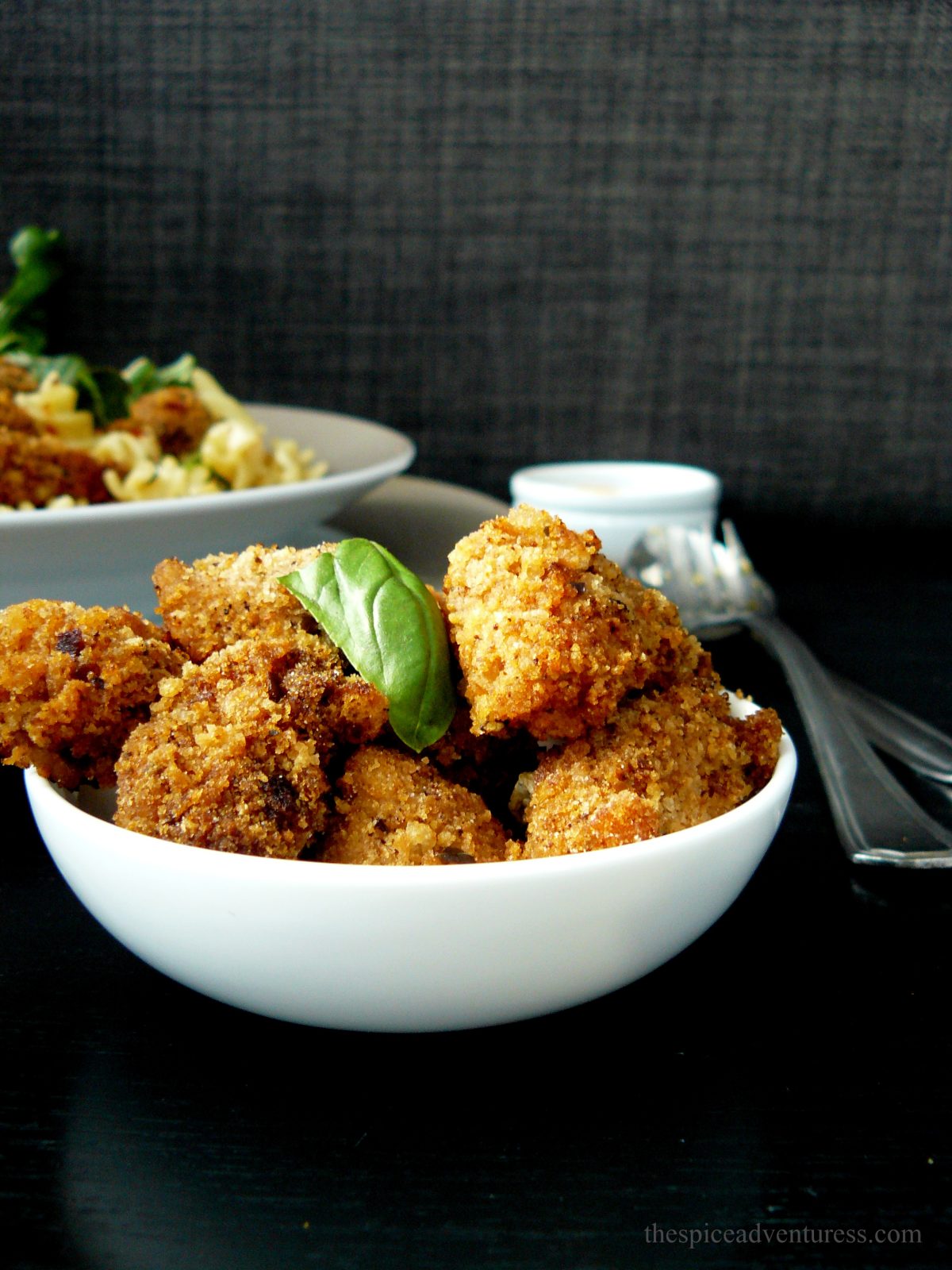 Recipe Courtesy – Savory and Sweet Food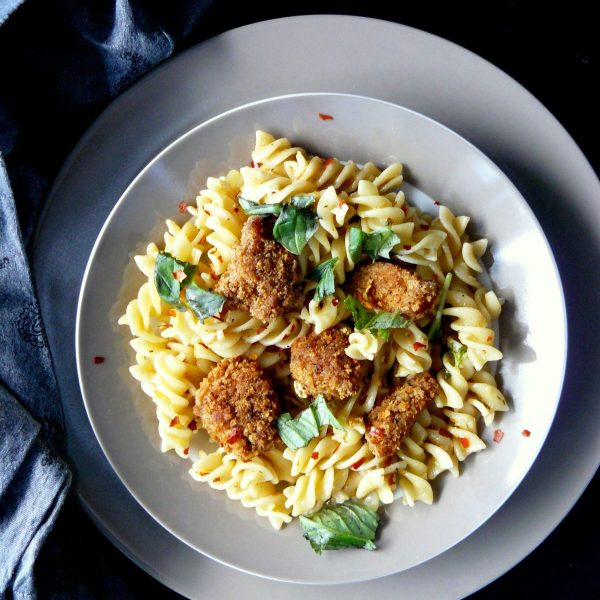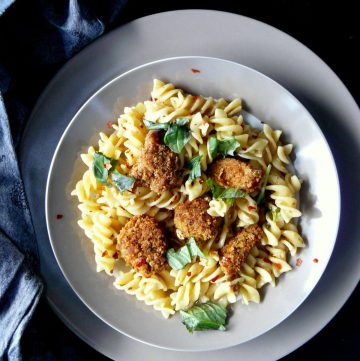 Print Recipe
Louisiana Chicken Pasta
Ingredients
Chicken:
300

gm or 2 boneless skinless chicken breast

cut into big cubes

4

Tbsp

vegetable oil

1 ½

tsp

Cajun spice

¾

cup

breadcrumbs

1

Tbsp

flour

½

cup

parmesan cheese

grated

½

cup

milk
For the pasta
1

Tbsp

butter

1

Tbsp

olive oil

1

small bell pepper

chopped ( you can mix red green and yellow)

½

small onion

chopped

3

whole garlic cloves

minced

1

tsp

crushed red pepper flakes

1 ½

cups

heavy cream

1 ½

tsp

Cajun spice or Creole seasoning

½

cup

low sodium chicken broth

1

Tbsp

fresh basil or parsley

½

cup

grated parmesan cheese

Salt

to season

freshly ground black pepper

to season

250

g

Fusili

Chilli flakes

optional, for garnish
Instructions
For Cajun Sauce:
Melt butter and olive oil in large pan over medium heat.

Add the peppers, and onion to same pan, until crisp-tender, about 4 minutes.

Add garlic and crushed red pepper to pan and sauté 3 minutes.

Add cream and chicken stock and mix in the Cajun spice blend.

Simmer until sauce thickens slightly, about 5 minutes.

Add basil and Parmesan cheese to sauce, stirring to incorporate.

Season sauce to taste with salt and pepper. Reduce heat to low, and simmer till the sauce thickens.
For the chicken:
Marinate chicken pieces with Cajun seasoning and leave for 30 minutes.

Mix breadcrumbs, flour, and Parmesan cheese together.

Place milk in dish for dipping.

Dip chicken in breadcrumb mixture and then in milk and then back in breadcrumbs.

Heat oil in a pan, fry the chicken pieces till golden brown and keep aside.
For the final dish:
Cook the fusili in large pot of boiling salted water and drain.

Add sauce and toss to coat.

Place pasta with sauce on plate, sprinkle chilli flakes and top with chicken breast.

Serve hot and tuck in!