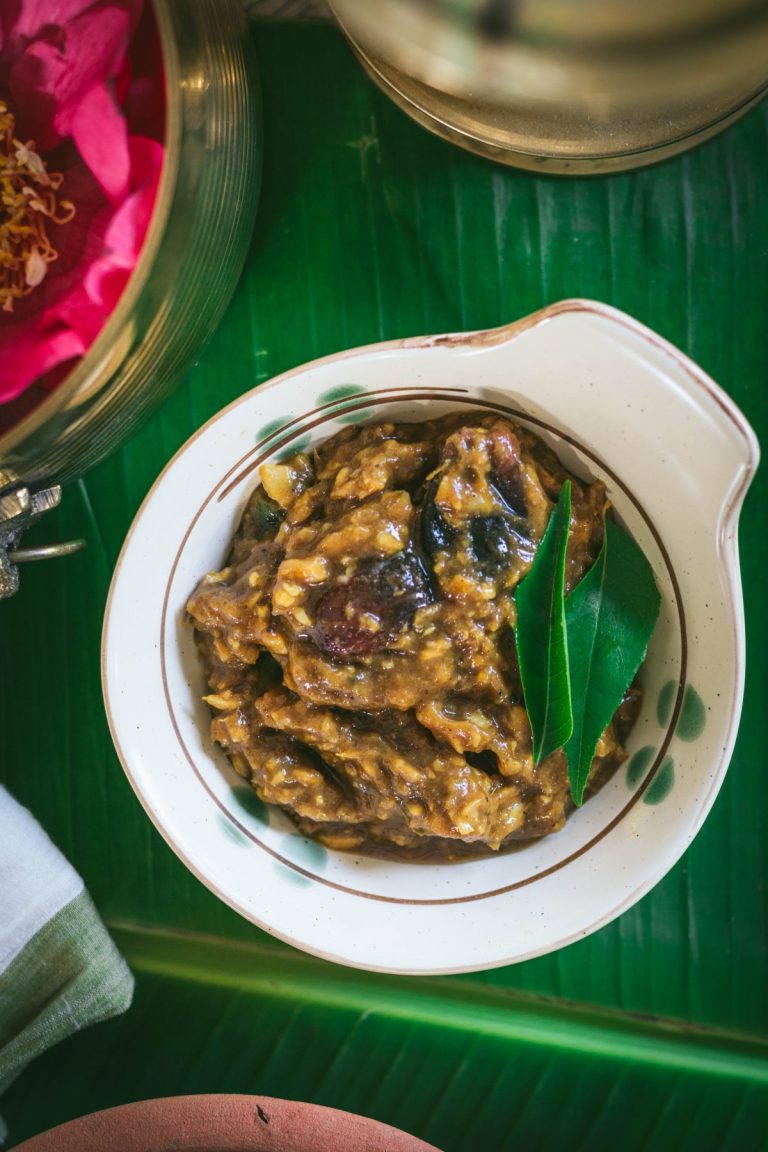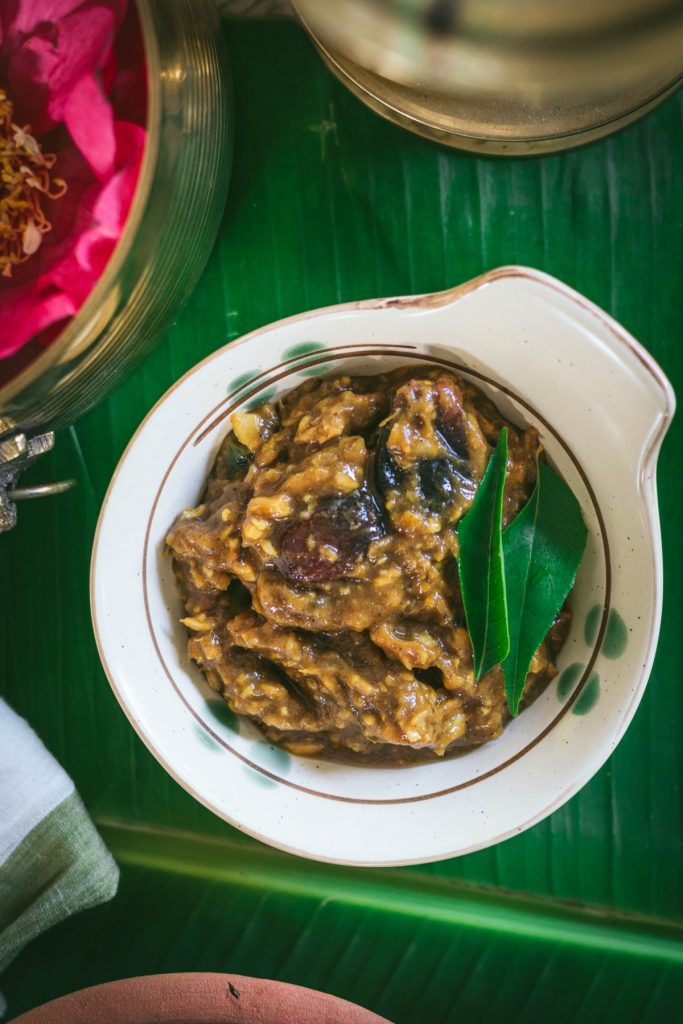 A classic, traditional chutney of Kerala, Puli Inji which means tamarind ginger chutney is unheard of in other parts of India and of course, rest of the world.
While the sweet tamarind chutney of the Northern regions of India achieved a cult status because of its use in the chaats (Indian street food), Puli Inji remains virtually unknown.
Puli Inji/tamarind ginger chutney is a common feature in most Kerala households, but especially prepared during the festival of Onam; it has a very important place on the banana leaf feast sitting right next to the pickles.
This tamarind ginger chutney is my absolute favourite and I would request my mom to prepare a bottle for me every time I came home for vacation. She would make two, fully knowing that I would like to carry a bottle back to the hostel (it made the hostel grub much more edible).
I always thought that making this chutney involved a lot of expertise which is why till now, I refused to learn how to prepare it. But this Onam (which went by in September and yes, this post was due long ago), I decided to give it a go and called up my mom for the recipe. She was surprised to hear that I thought it's a complicated chutney to prepare. After reassuring me that it was indeed very simple, she gave me a detailed recipe with instructions; you know how moms are – even if they know u can cook, they will start from switching on the gas stove.
I was delightfully surprised that this tamarind ginger chutney was indeed an easy affair. I got it right in the very first attempt – a taste of my childhood perfectly captured.
Traditionally, puli inji is served as an accompaniment with rice and other curries but you can use in any way your taste buds desire.
If I had to describe puli inji to anyone, it would go like this…..a tangy chutney with the freshness of aromatic ginger, fiery green chillies balanced by the sweetness of jaggery. Lipsmacking!
Ingredients:
1. 300 gm seedless brown tamarind (or remove seeds before use)
2. ½ tsp turmeric powder
3. 1 tsp red chilli powder
4. 200 gm ginger, finely chopped
5. 6 green chillies, finely chopped
6. 3 sprigs curry leaves
7. 80 gm jaggery
8. ½ tsp roasted fenugreek powder
9. 2 tbsp rice flour
10. ½ tsp mustard seeds
11. ½ tsp fenugreek seeds
12. 3 dry red chilli
13. 2 sprigs curry leaves
14. Salt, to season
15. 2 tbsp coconut oil
Method:
1. Soak the tamarind in one litre of lukewarm water for 15 minutes. Then grind it into a paste. Strain into another bowl.
2. Place on low heat and add turmeric and red chilli powder.
3. Add the chopped ginger, chillies and curry leaves; continue to cook on low heat till bubbles appear at the edges.
4. Add the jaggery and season with salt.
5. At this stage, it is important to taste and adjust the flavours; it should be a perfect balance of tanginess, heat, aromatic ginger and sweet. If you feel any of the flavours are out of proportion, adjust accordingly.
6. Add the roasted fenugreek powder and mix well.
7. Lightly roast the rice flour and add to above, to thicken the chutney.
8. Once the chutney has thickened, remove from heat.
9. Add a tempering with oil, mustard seeds, fenugreek, dry red chilli and curry leaves.
10. Cool and store in air tight bottles or containers. This chutney can be stored for upto a month when refrigerated; i.e. if it lasts so long!