Onam is not just a festival, but an emotion for all Keralites. Here is a round-up of dishes that are traditionally made and served for the Onam Sadya (Kerala banana leaf feast). This list is definitely not complete.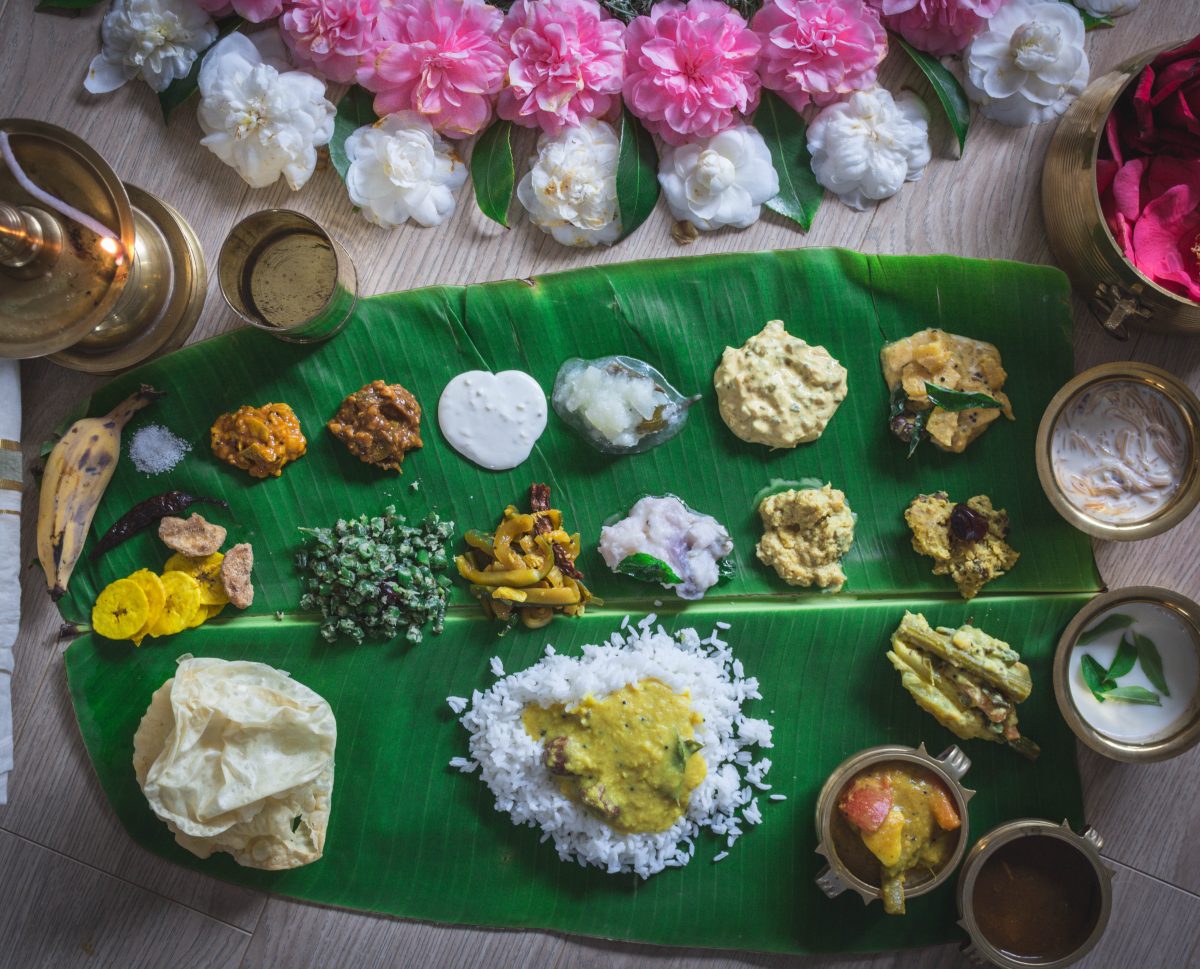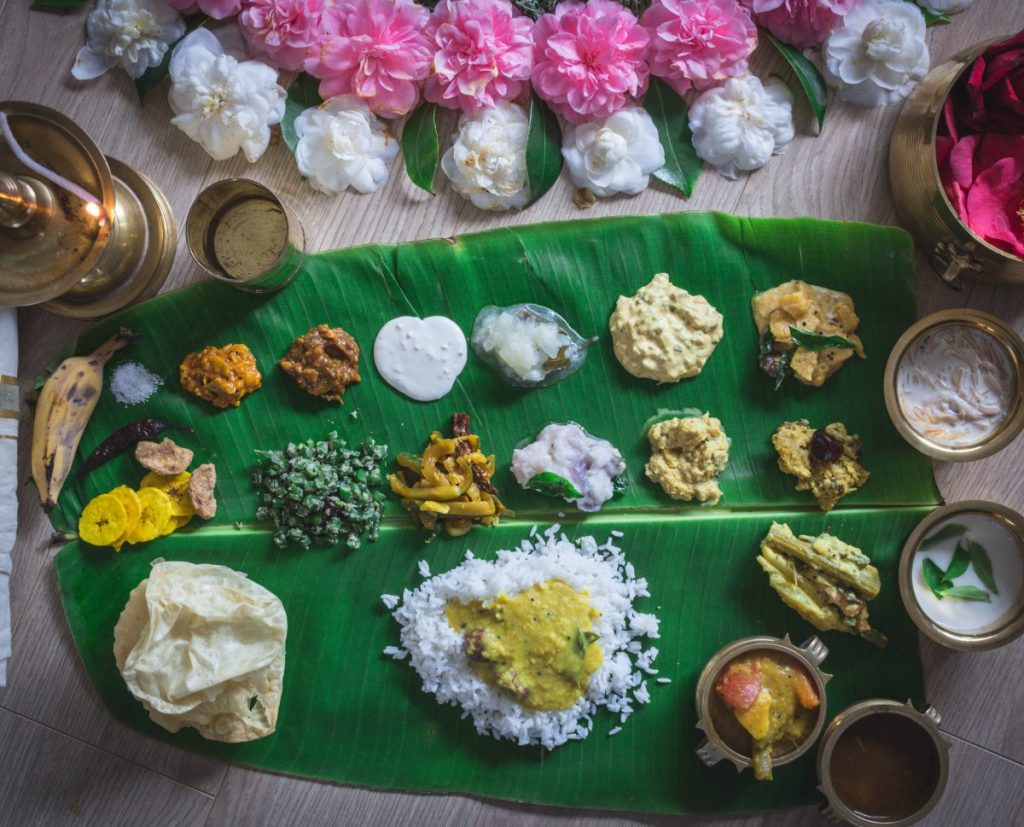 A delicious childhood……I know that's not an appropriate adjective at all but that's exactly what my childhood was like. Great food always for the family and for the zillions of friends who came home to eat my mom's food.
Just like most people, there are so many memories associated with food from my childhood. But nothing else perhaps is as profound as the Onam sadya; maybe because it came only once a year or maybe because I was always fond of large feasts.
Growing up in a foreign country, the food is how I connected with my birth land. So when I think of Kerala, it is the food that rushes to my mind especially the rather elaborate Onam sadya. I can still remember my mom rising at the crack of dawn to prepare all the delicacies for the feast and me, her little assistant hovering around in the kitchen. As I grew, so did the responsibilities….chopping veggies and washing dishes. While the former was a prize to be conferred upon, the latter I thoroughly disliked even to this day.
After I got married and had my own small family, the Onam sadya was a tradition I continued. While I am deeply spiritual but not religious, there are very few cultural traditions or festivals that are celebrated in our home unlike many Indian families. But the Onam sadya has stayed with us because for me, it was all about sharing a slice of my childhood with my little boy.Do you celebrate Onam at home or have friends with whom you celebrate? I would love to hear your stories and memories too….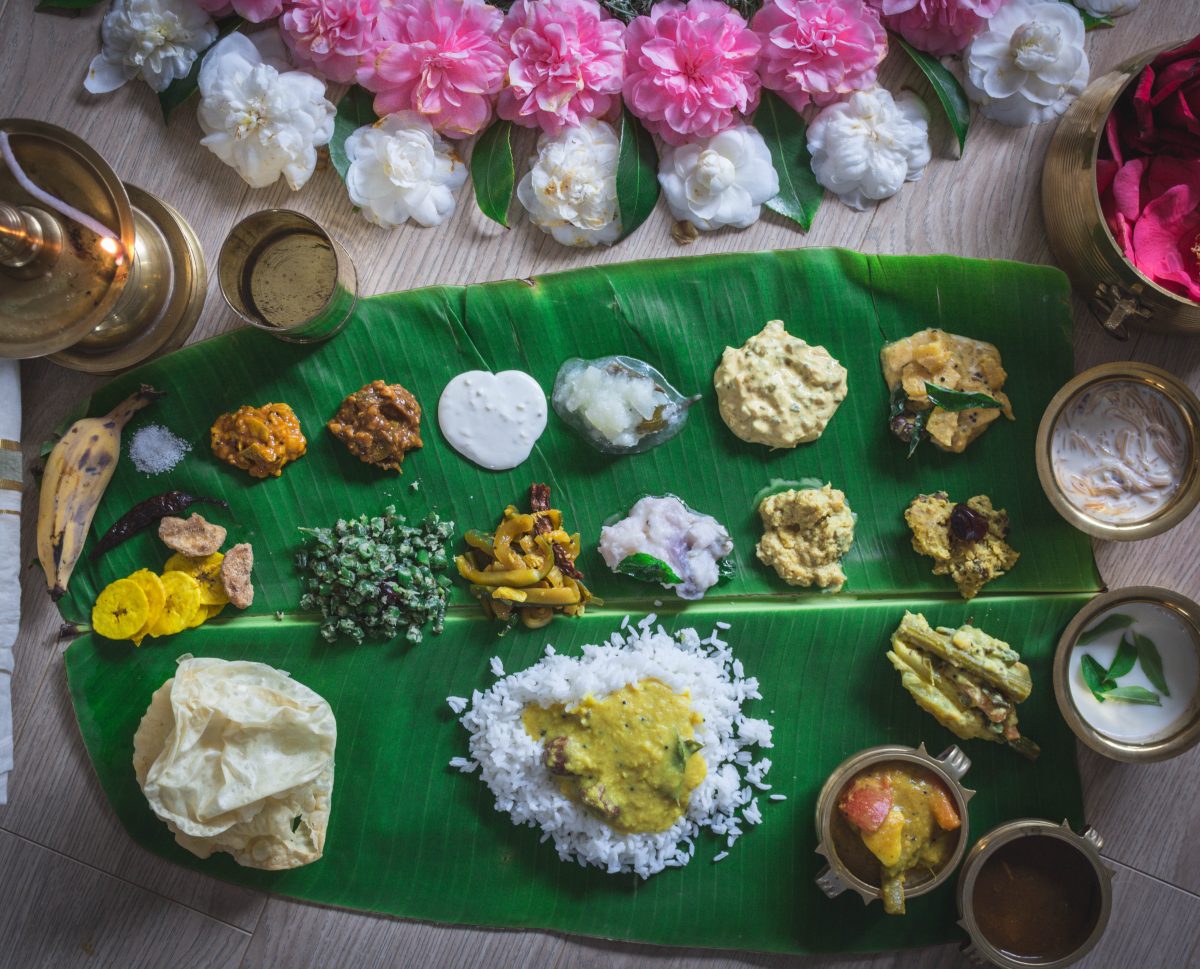 And here is a compilation of some of the dishes that is traditionally served for the Onam sadya. As I mentioned in my previous post, I do not have the entire list but there are quite a few if you need some help preparing for the feast. And if you have nothing to do with this festival, it still doesn't matter because you get the opportunity to learn a few traditional vegetarian dishes from God's own country.
This is a great example of an instant pickle and with raw mangoes in season, a must have in your refrigerator and without which no Onam sadya can be complete.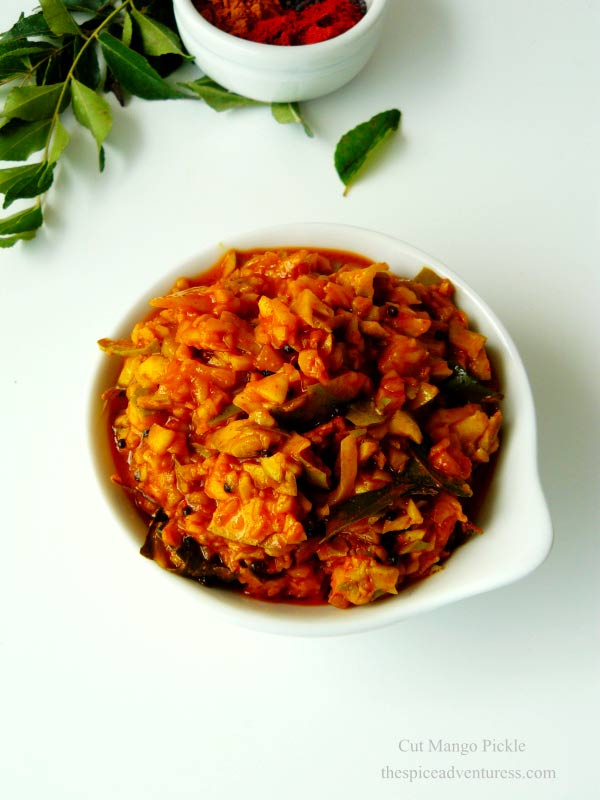 Puli Inji (Tamarind Ginger Chutney)
A preparation unique to the state, this chutney is all about the balance of flavours. A lipsmacking condiment for the feast.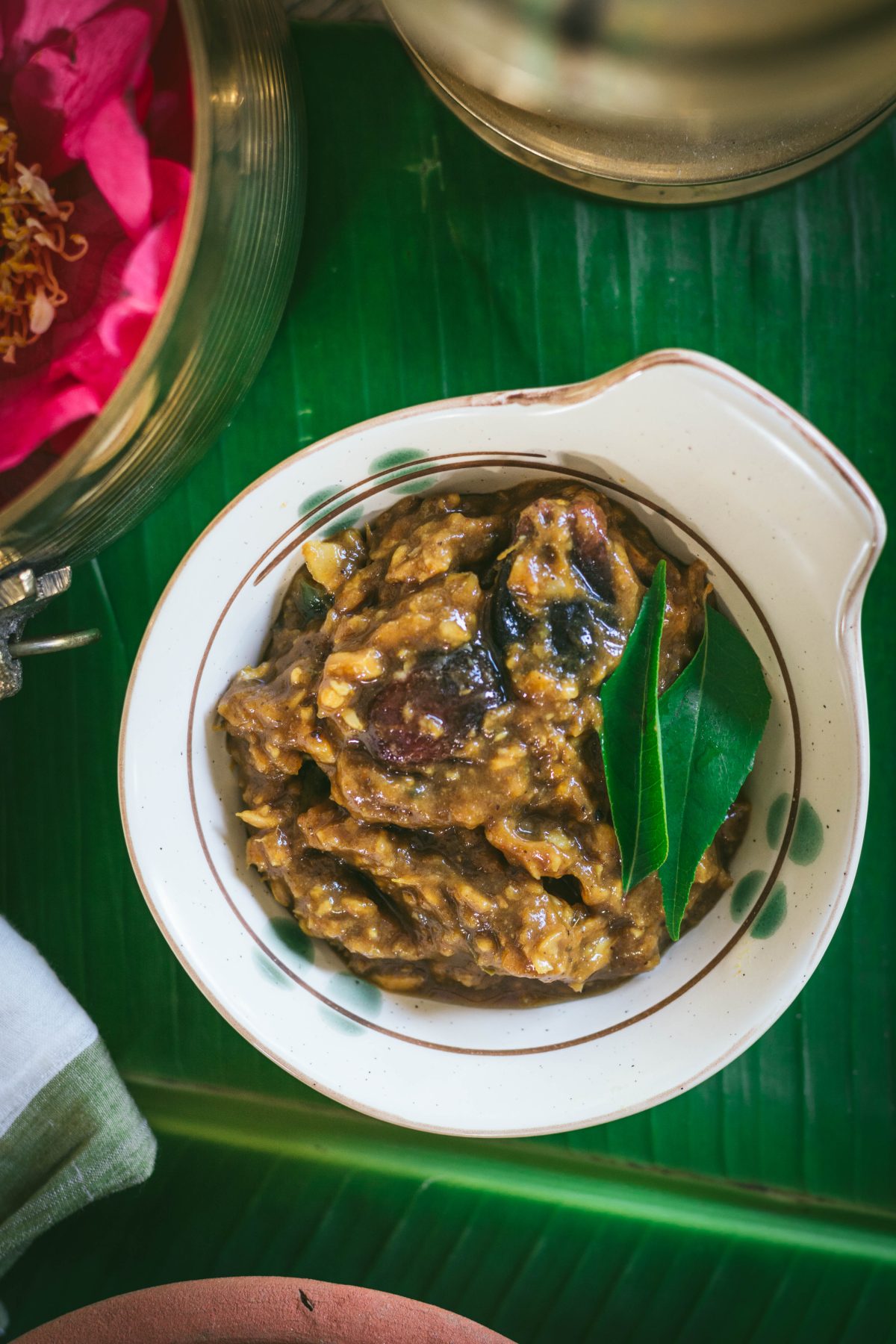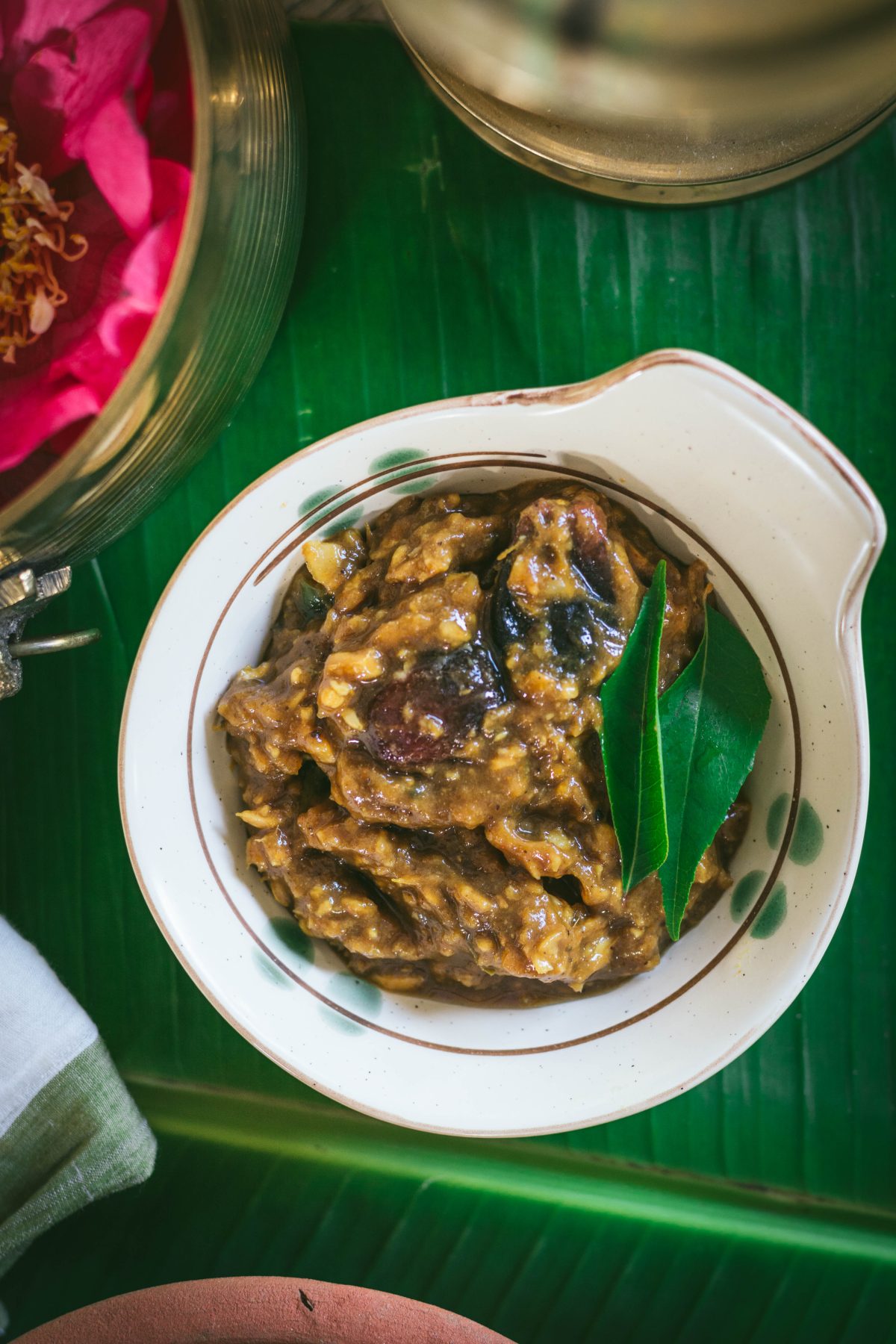 Olan (Wintermelon with Coconut Milk)
Succulent melon/gourd pieces simmered in coconut milk and spiced with green chillies. While winter melon is available in some markets, it still might be a tad difficult for everyone to source. Use native Australian cucumbers instead!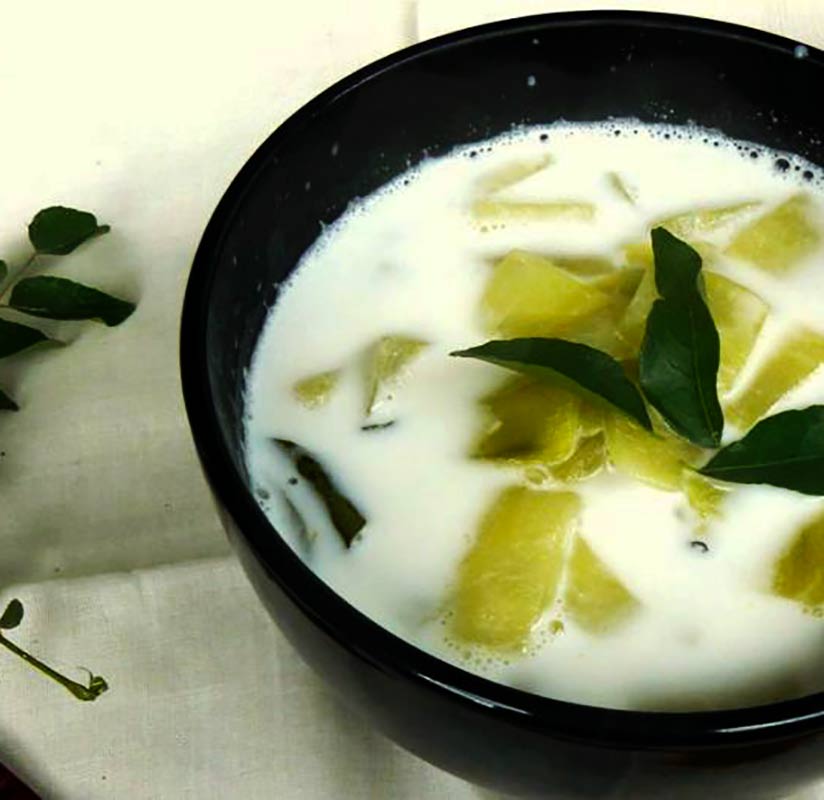 Kaalan (Kerala style Yam and Plantain Curry with Coconut, Yoghurt and Peppercorns)
A lesser known component of the Onam sadya, this yam and plantain curry is more famous in the central parts of Kerala. A creamy texture and spiced with black peppercorns, there is a slight twinge of sourness from the curd which completes the flavour profile of this unique vegetarian dish.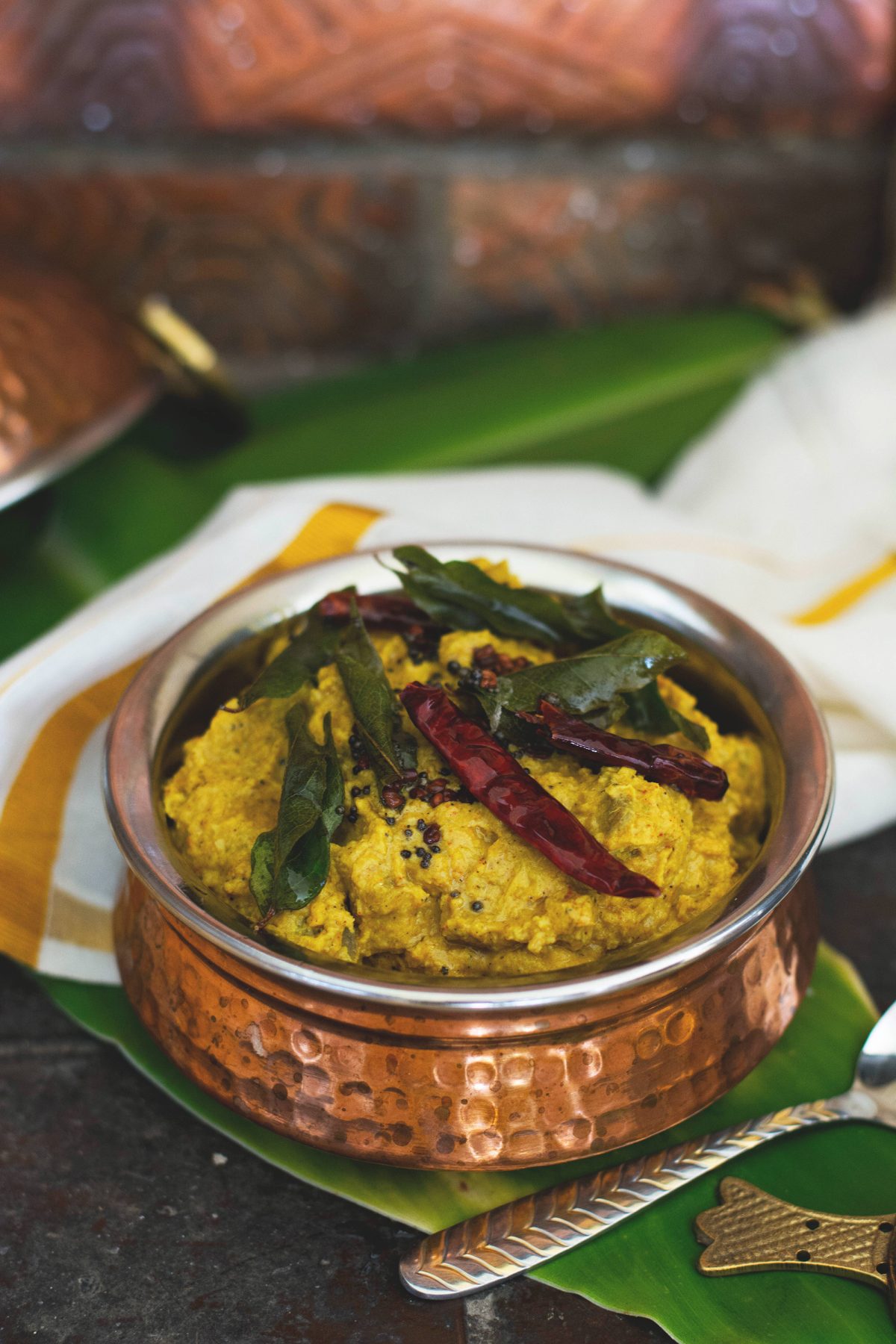 Another classic, traditional dish that enjoys its quiet spot on the Onam sadya spread. This is one dish where the potato actually gets sidelined and the coconut takes over. The taste that hits your senses is the warm aroma of coconut oil with the rich sweet creaminess of coconut milk against the subtle hotness from the ginger.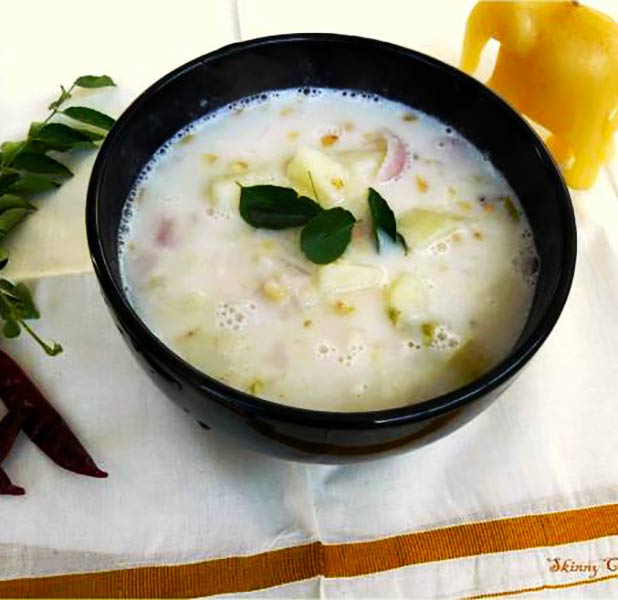 Beetroot Thoran (a stir fry with beets, greens and coconut)
A staple vegetarian dish which can be recreated in a zillion ways using just about all kinds of vegetables, legumes, meat etc…. For the sadya, a thoran is important but you can make any kind you wish to. I chose beetroot because it's our favourite.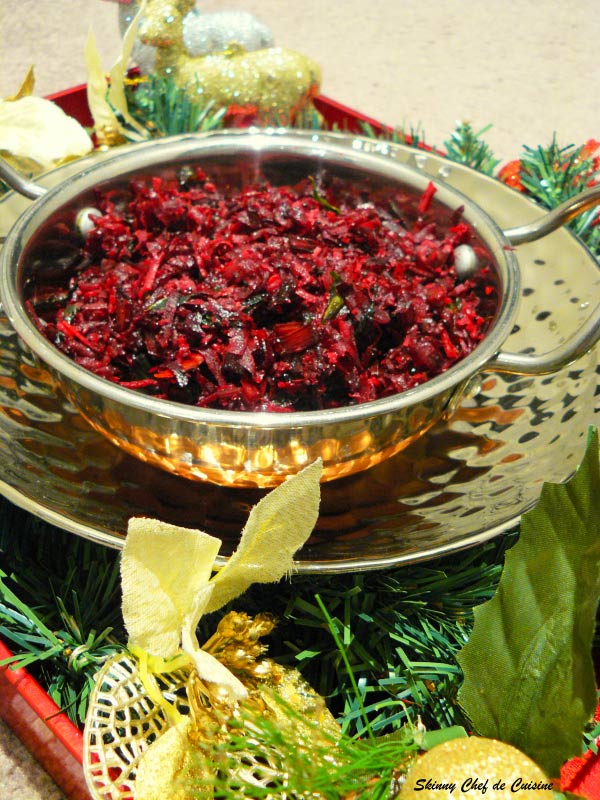 Avial (Mixed vegetables in a creamy coconut yoghurt base)
The most famous vegetarian dish from Kerala, this medley of vegetables in a creamy coconut yoghurt sauce is simply to die for!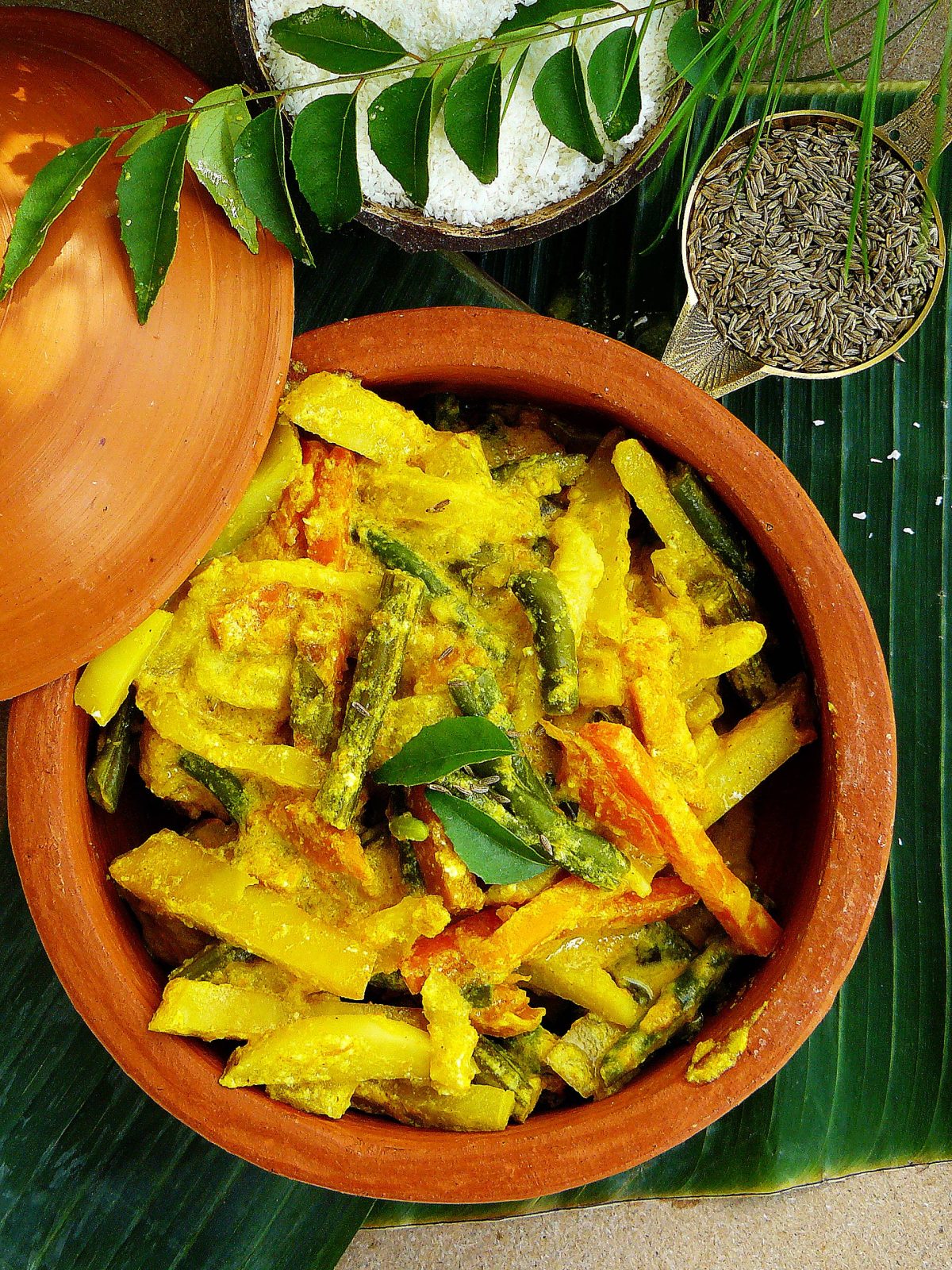 Thai Baby Brinjal Pachadi (spiced baby brinjal yoghurt dip)
Now you must be wondering what is Thai brinjals doing in Kerala cuisine. Well, it is just my way of using local vegetables. Traditionally a pachadi or yoghurt dip is made using native Malabar cucumbers which is not available here so I substituted it with baby brinjals.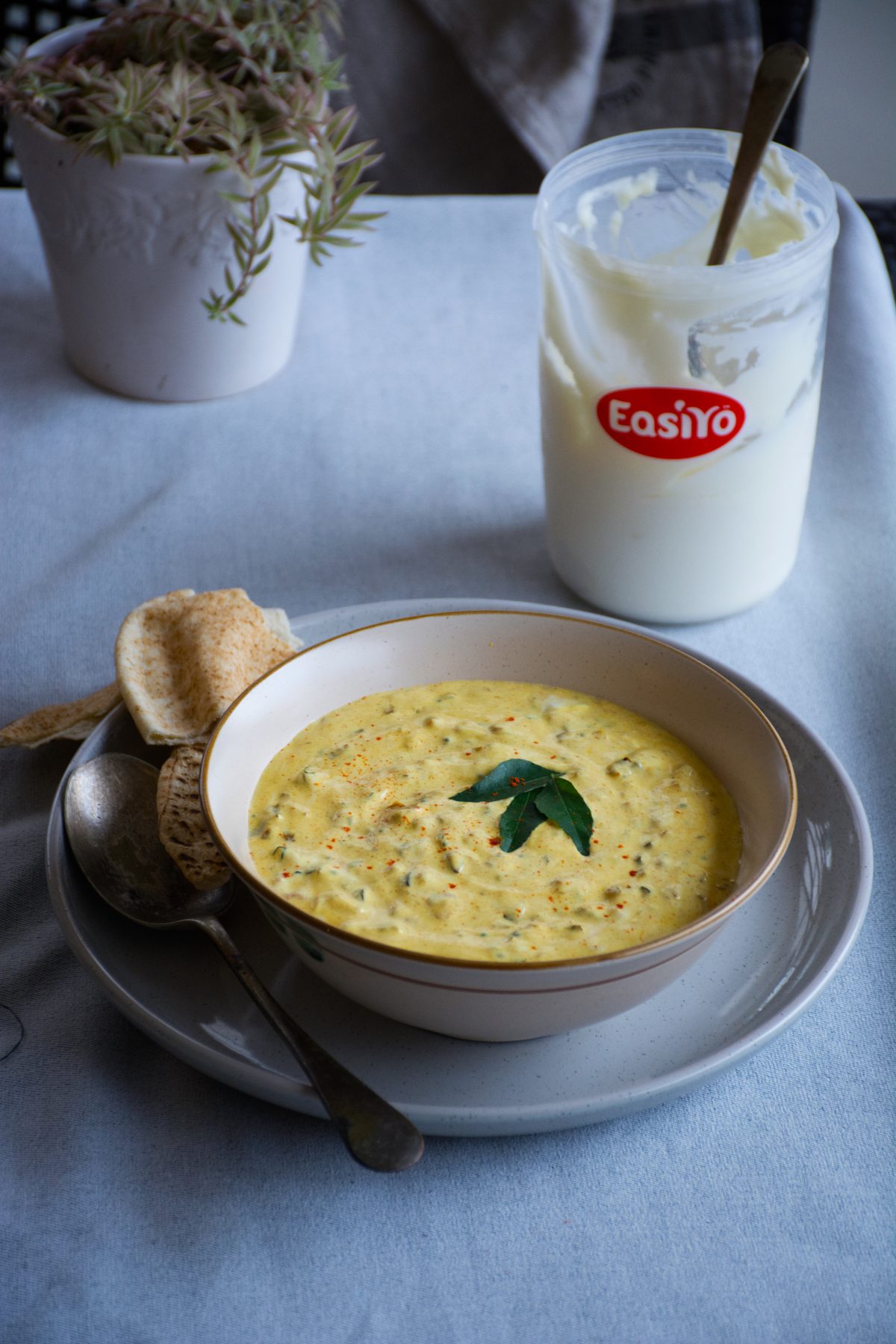 Pineapple Pachadi (a savoury pineapple dish with coconut and yoghurt)
Pineapple Pachadi….another favourite from the Onam sadya. Delicious, sweet pineapple cubes simmered in a mildy spiced coconut yoghurt base. Sweet, spicy, tangy, it's a play of all different flavours on your tastebuds.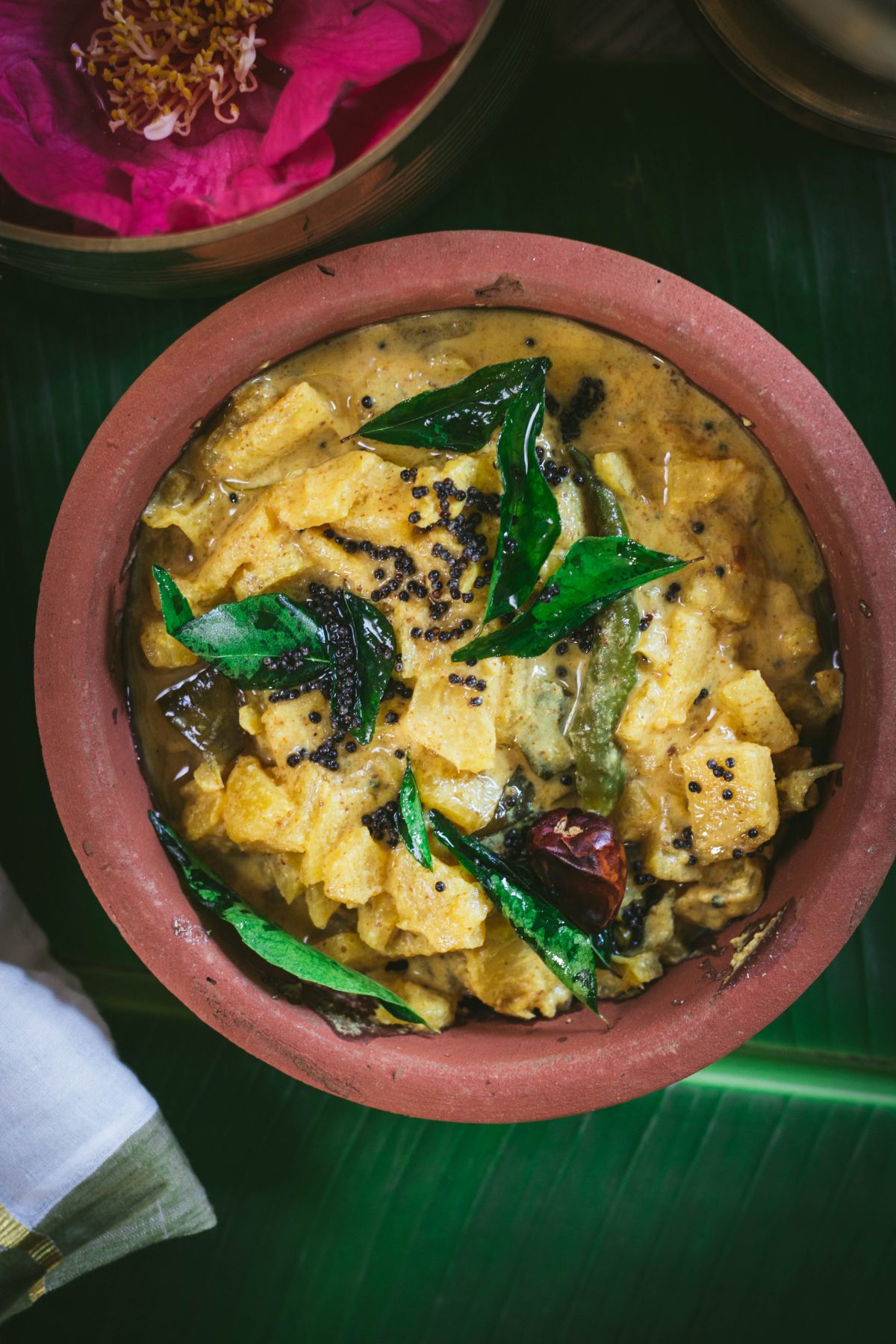 Kootu Curry (Kerala style Black Chickpeas, Plantain and Yam Curry with Coconut and Peppercorns)
Essentially a mixed vegetarian curry which is always prepared using black chickpeas, raw plantain and Indian yams. This dish is a true representation of the state as the main flavour components are coconut and peppercorns. It is the Malabar region that gave 'peppercorns' aka 'black gold' to the world. So the Kootu curry is a befitting tribute to that discovery which changed the course of the world.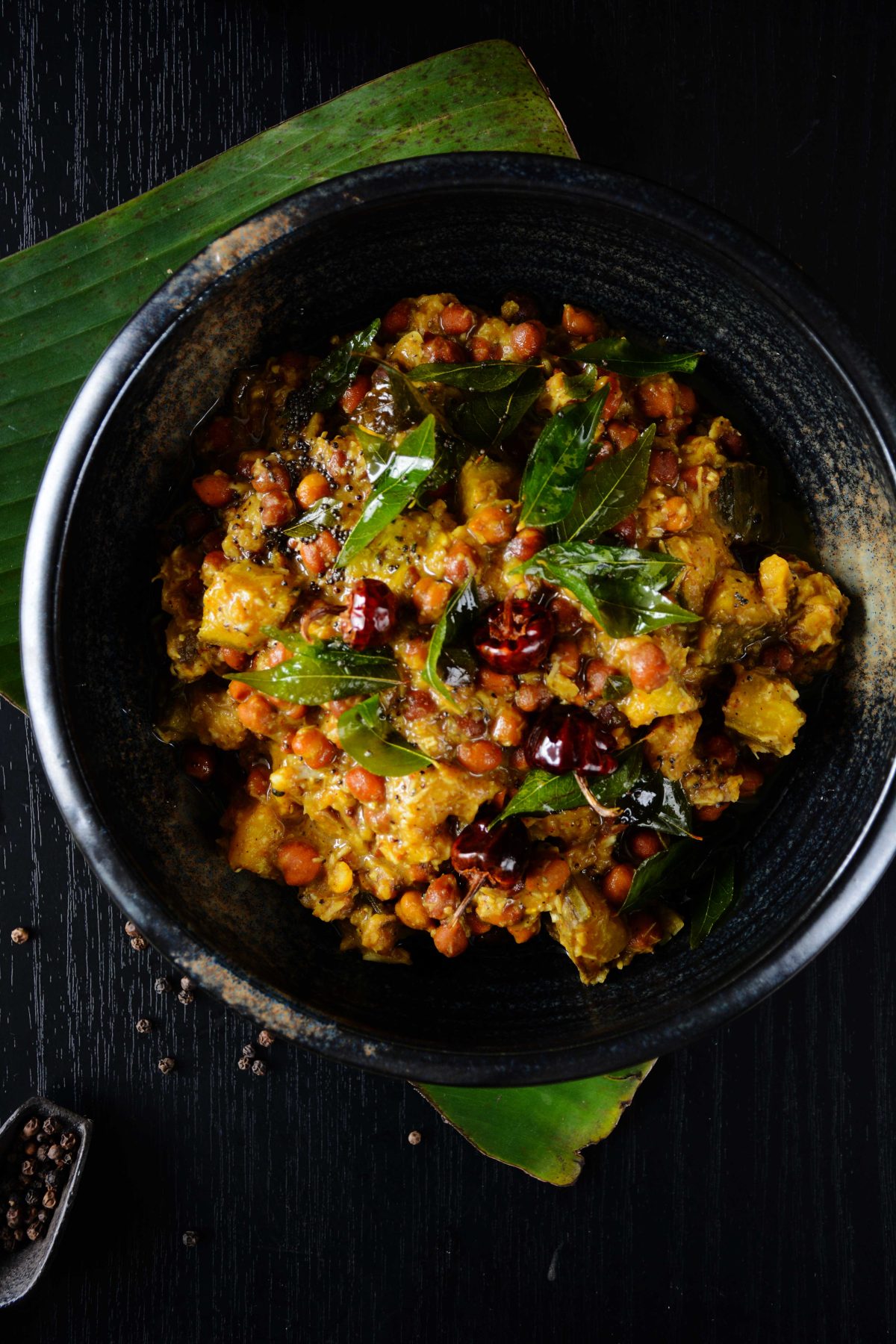 So that brings us to the end of the list…..I know it's far from complete but as I said, it's a work in progress.
Happy Onam folks!