Kaalan – a delicious Kerala style yam and plantain curry flavoured with coconut, yoghurt and peppercorns; an integral dish of the Onam sadya.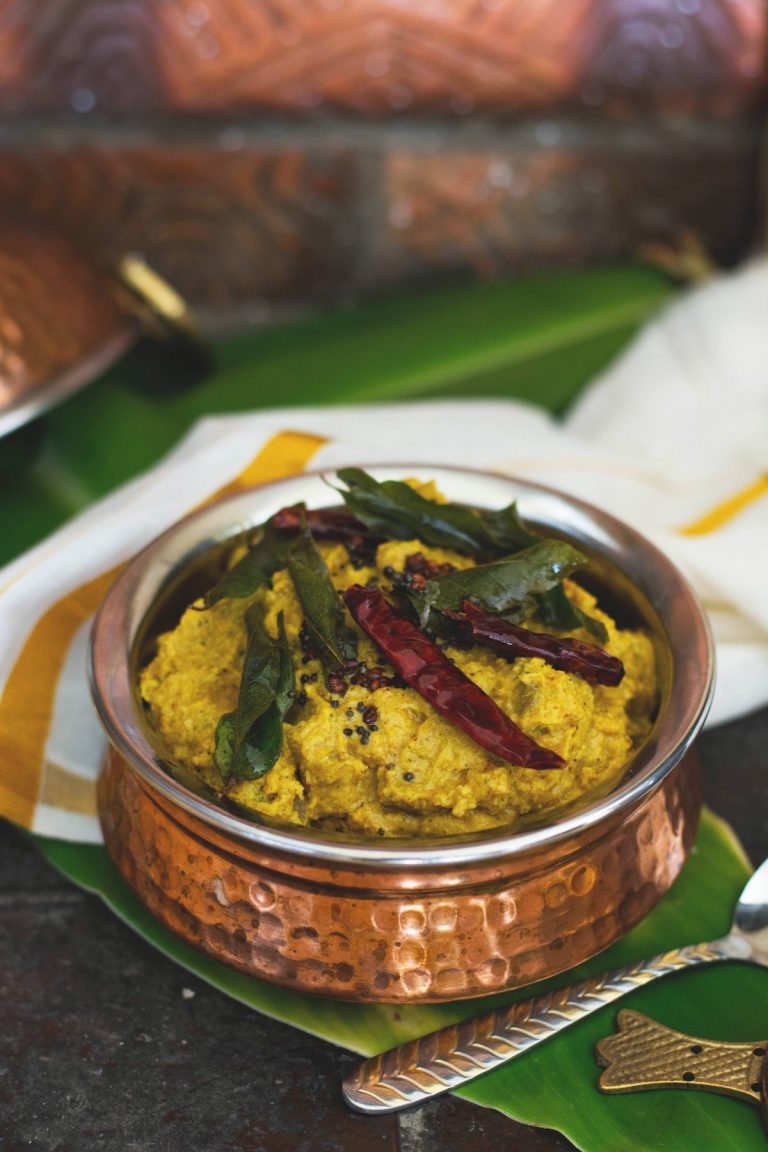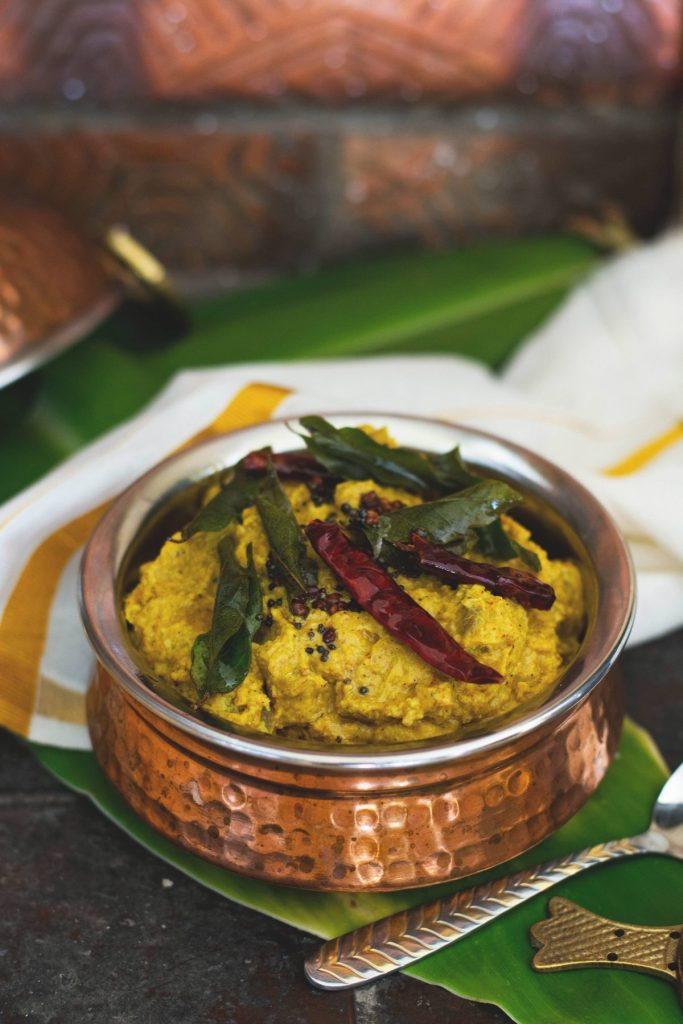 Onam is almost here, just another week to go and most households which celebrate this festival must have begun the preparations.

For those who have not heard of this festival before, Onam is an annual festival that is celebrated in the state of Kerala, South India. The whole state comes together irrespective of caste, creed and religion and every household celebrates it albeit in a small manner. Without going into the specifics, one of the most important aspects of this festival is the feast, also referred to as the Onam sadya.

The sadya is traditionally served on a fresh banana leaf and includes at least 24-28 dishes, sometimes even going as high as 64. Every year I try and add a few recipes to the list here and hopefully, some day I will have the entire compilation. So the next two posts here will be about this 'delicious' festival since I will be celebrating it this year too just as I have done for the past 35 years of my life.

Today's dish is called kaalan (I know it's a hard one to pronounce for all those who do not know the language) or a yam and plantain curry with coconut, yoghurt and peppercorns. This recipe might sound quite similar to avial but the taste is very different due to the vegetables used and also the texture and consistency.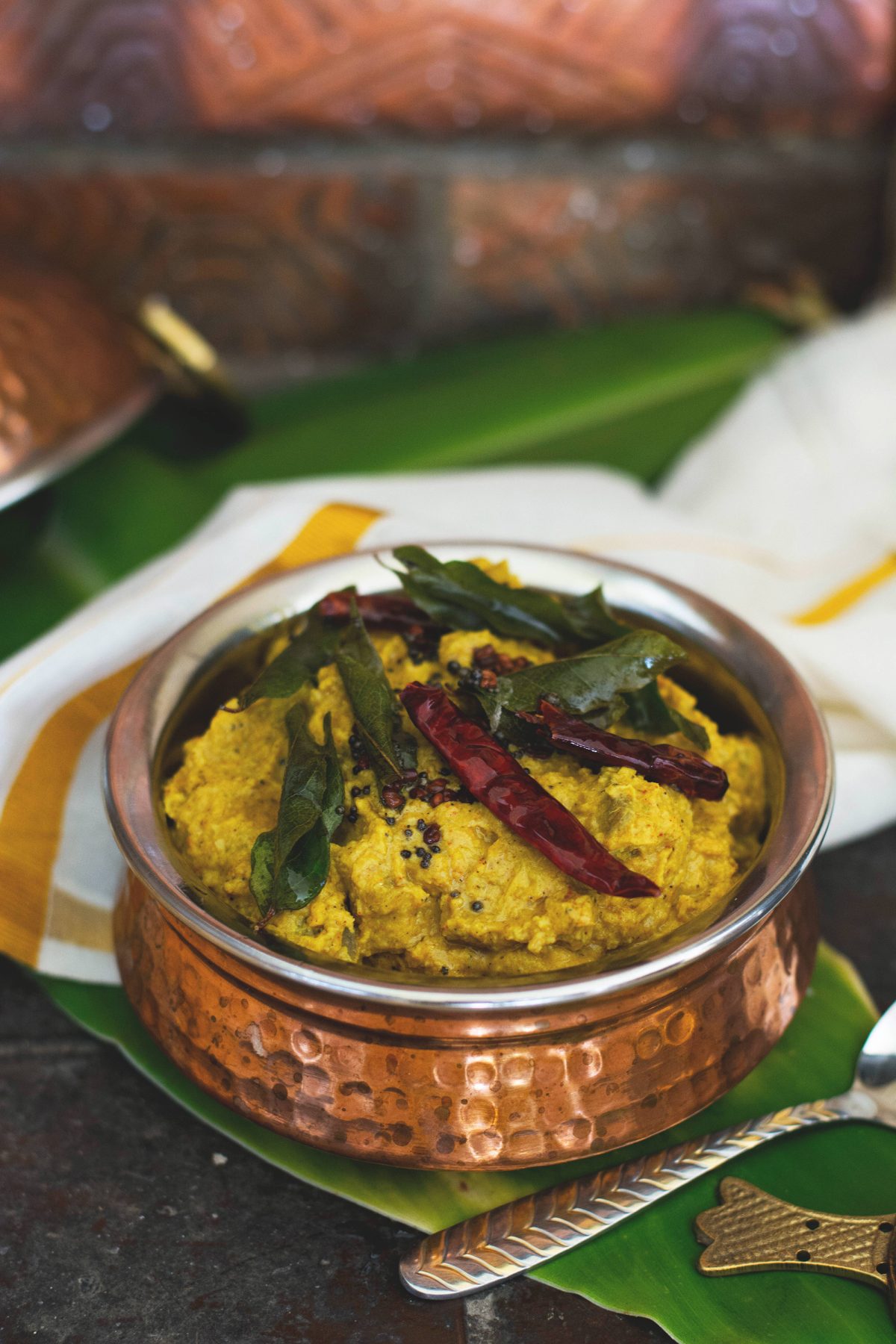 A couple of days ago, I was on the phone learning how to make this dish from my mom. Even though I am familiar with the consistency of this dish, she kept stressing about its importance. In her words, 'the consistency must be that if you throw a spoonful of the kaalan at a wall, it must stay put and not slide down'….. Sigh. Mothers have such a unique way of recipe telling!

Now I am not going to advise you to do the same. Just make sure that the curry is thick enough yet not too dry and the secret to getting that is a spoonful of ghee that you must add at the end. Though other spices are also added, the predominant flavour in the kaalan is that of peppercorns. A slight twinge of sourness from the curd completes the flavour profile of this unique vegetarian dish.
For more such delicious Onam recipes, visit this article.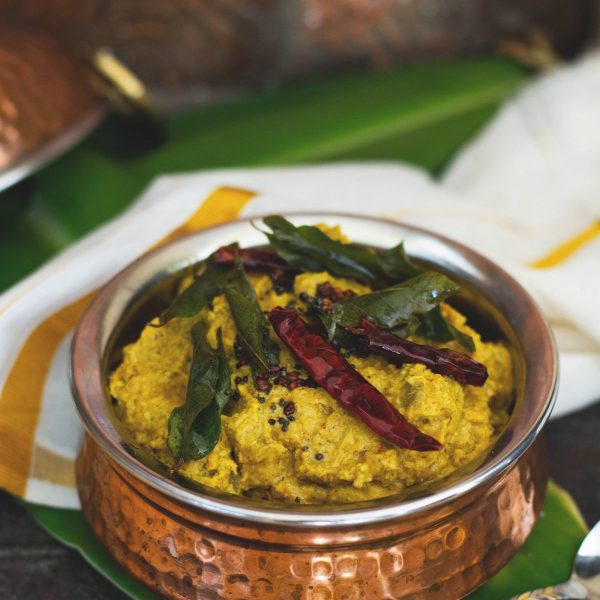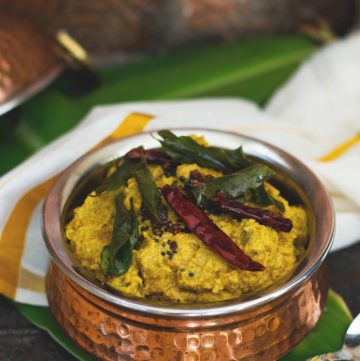 Print Recipe
Kaalan (Kerala style Yam and Plantain Curry)
Ingredients
1

cup

yam; diced

1

raw plantain; diced

½

tsp

red chilli powder

¾

tsp

turmeric powder

½

cup

fresh grated coconut

1

tbsp

black peppercorns

adjust to preferences

1

green chilli

½

tsp

cumin seeds

½

cup

natural thick curd/yoghurt

1

tbsp

ghee/clarified butter

2

tbsp

coconut oil

½

tsp

mustard seeds

½

tsp

fenugreek/uluva seeds

2-3

dry red chilli

2

sprigs curry leaves

Salt

to season
Instructions
Add the diced yams, red chilli powder, half of the turmeric powder and salt to a pan; add 1 cup water, bring to boil and cook covered till the yams are completely cooked to a consistency where it can be mashed. Add more water if necessary but not too much; remember that a thick mash is what is needed at the end. (You can use a pressure cooker also).

In another pan, cook the diced plantain with the remaining turmeric powder, water and salt till just done so that the pieces are cooked but still have a bite to it.

Grind the coconut, black peppercorns, green chilli, and cumin along with curd to a fine paste. If the curd is a bit sour, add a pinch of sugar too.

Once the yam is cooked well and mashed, add the plantain to this along with the ground paste. Simmer on low heat till mixed thoroughly. Add the ghee and continue to mix on low heat till the thick consistency is reached. Taste and season with salt if necessary.

For the tempering, heat coconut oil and crackle mustards seeds. Add the fenugreek seeds, dry red chilli and curry leaves.

Pour this over the top of the prepared curry, remove from heat and keep covered for at least 10 minutes before serving.