It is a well-known fact that India has a highly varied culinary scene which means that a lifetime might not be enough to experience and understand all the different cuisines that make up this vast country.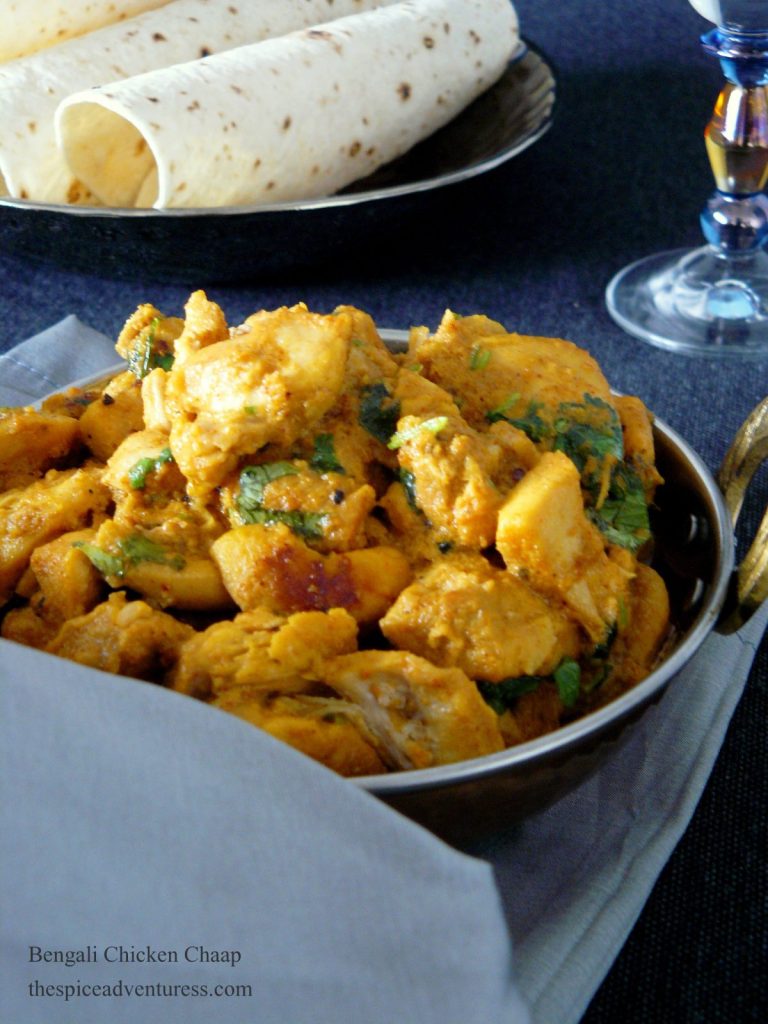 My knowledge of Bengali cuisine is very rudimentary; it would be right to say that this is my first serious Bengali dish where I have tried to understand the building blocks of this cuisine. Typical to every other Indian cuisine, the Bengali style of cooking is very distinct with a lot of variations from region to region.

I started looking up the various blogs that showcased Bengali cuisine and one of the interesting finds was Scratching Canvas. The simple, yet colourful photography, honest writing and easy to follow recipes got me started and this Bengali chicken chaap is the first one I tried from Rimli's blog. She always gives a bit of insight into the tradition or culture behind a dish which helps me gets an inside view to the fundamentals of Bengali cooking.

Bengali chicken chaap or chanp is a very common and revered dish, especially as an accompaniment to biryani. It is a very classic chicken preparation found in many regions of Kolkata (or Calcutta for many of you) and is prepared during all festivals or special occasions. The dish is believed to be a result of the Mughal influence on Bengali cooking due to the gloriously creamy texture and the use of saffron and mace.
Though I will not prefer this with a biryani (guess, that's for the puritans), I would totally recommend this chicken dish with flat breads or steamed white rice or even the South Indian appams (fermented rice pancakes).

You will find plenty of variations to the chaap recipe from region to region and household to household. I followed the recipe given on the blog religiously except for the fact that I used boneless chicken pieces though traditionally, this dish is made using chicken drumsticks or the whole leg pieces. In fact, the name chaap comes from this cut of meat; but I leave it to you to decide which cut of meat you want to use.
The Bengali chicken chaap is a luxuriously creamy dish where the succulent pieces of chicken are coated with the richness of hung curd and the quirky pungency of poppy seeds indulged with saffron, mace, black pepper and red chillies. A truly divine dish to start your culinary journey into the heart of Bengali cuisine.
Hung curd preparation can be found here.