A simple and flavourful stir fried chicken that celebrates the bold flavour of the Sichuan peppercorns along with dry chillies and cashews.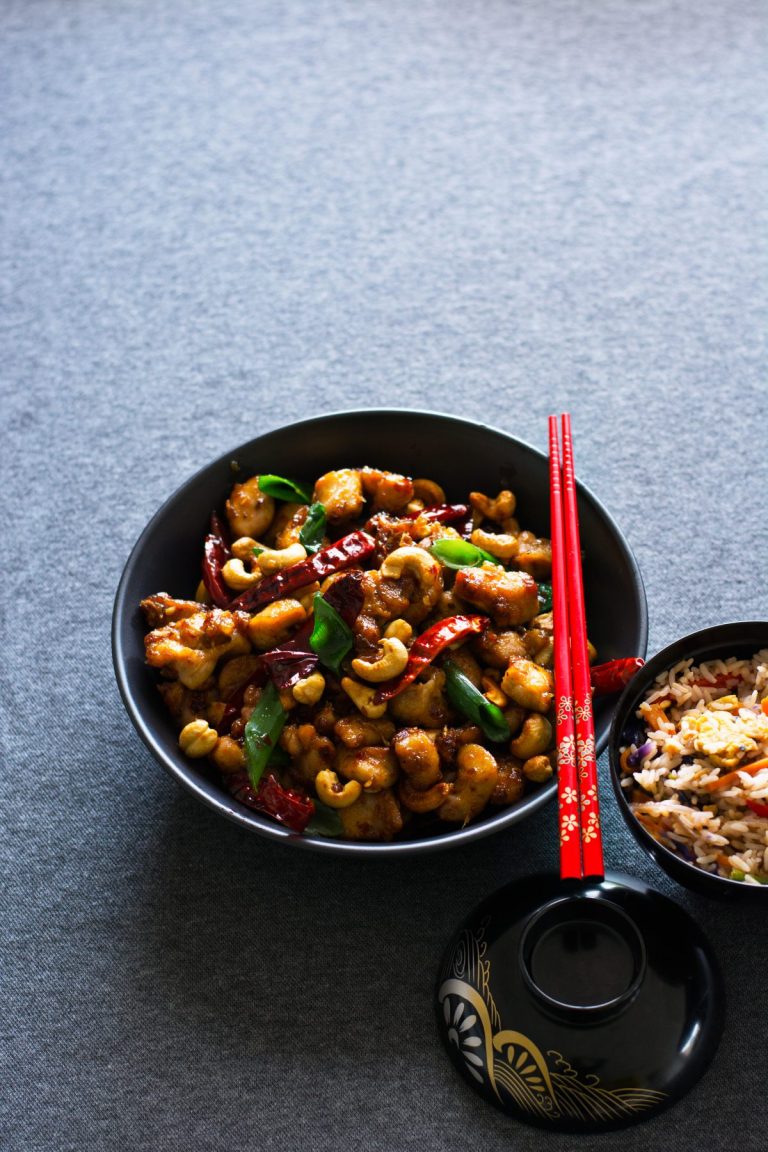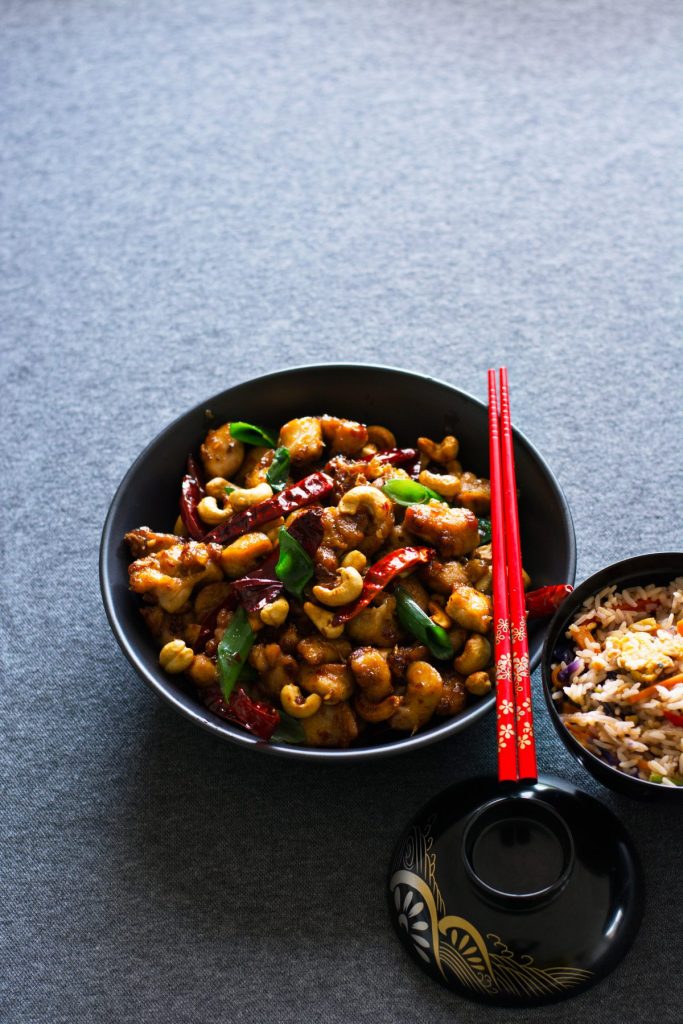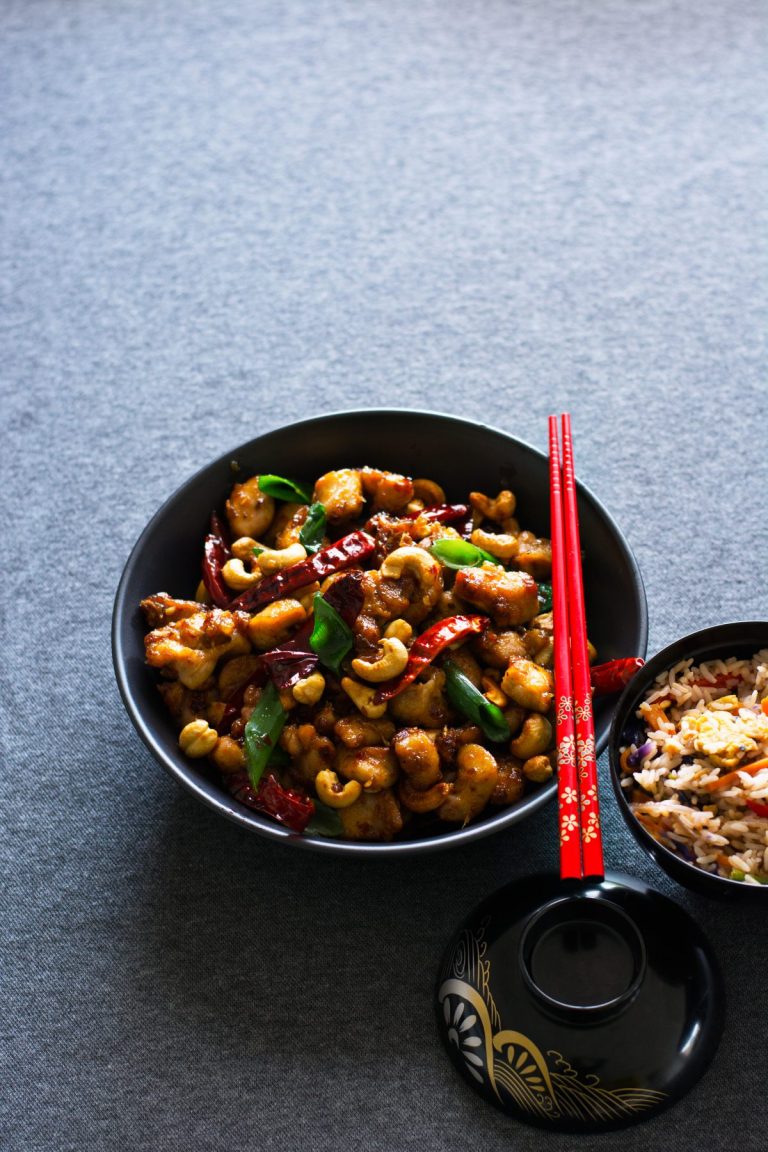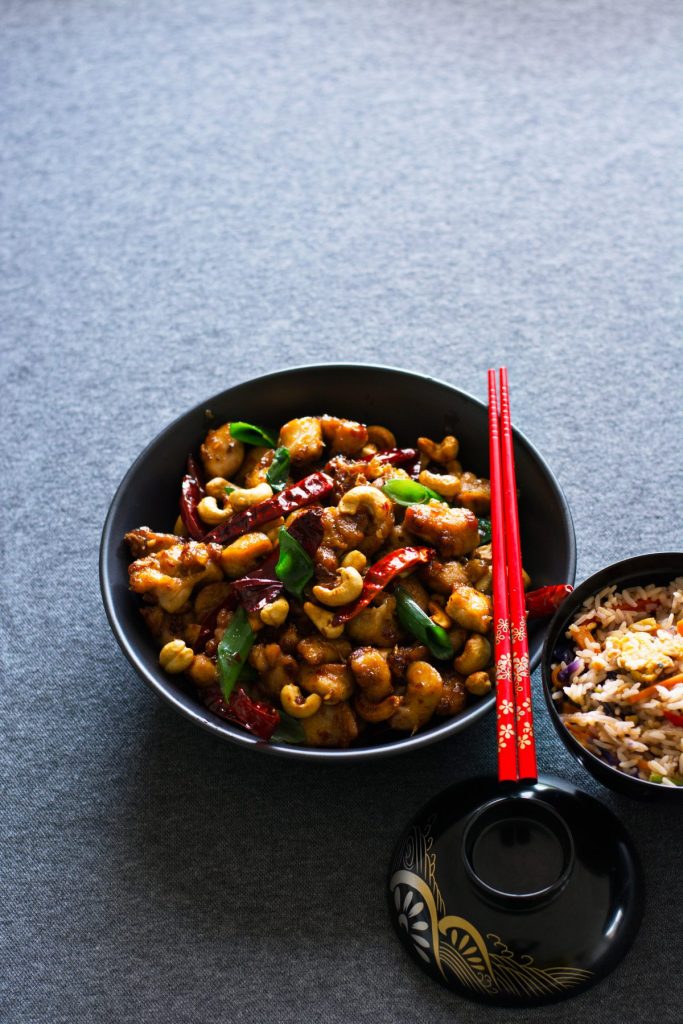 I hate eating alone. It has always been a depressing task to eat alone and I have noticed that I eat less, do not enjoy my food and also eat crap when I am alone.

I remember noticing this habit of mine during high school, especially during the exam times when I used to study late and had dinner at a different time to my younger siblings. Within a few days of eating alone, my mom noticed that I wasted much of the food and started looking dull and deprived. Initially, she blamed it on the studies (oh well! Only I knew the truth of that) but soon she realized that it is my dislike of eating all by myself that led to this. And from then, she made sure that she sat with me every time I ate at a different time to the rest of the family.

Today, I am a mother but this has not changed a thing. I still hate eating alone even if it is the everyday lunches when the others are at school or work. In spite of being aware I must eat well and healthy, I tend to backslide a lot when I am eating alone. The whole process is a depressing one for me and I try to nullify the damage as much as possible by watching television or videos to accompany me for lunch.

And this habit of mine has always made me ponder the thought of how interwoven food actually is with our souls. It is not just a means of sustenance; it has the power to affect our souls in the deepest manner possible. Food shared with loved ones transcends every other joy on earth and according to me, happiest are those who sit down together for a meal every single day.

For us, on weekdays, it is dinner that is shared and eaten together – the most joyous time of the day (especially for me, after long hours of being alone). Amidst endless chatting, laughing, fighting, teasing and sometimes even crying, we enjoy the meal with a real sense of togetherness and as a family.

And for this very reason, dinner is always the well-thought of and prepared meal of the day. Most of the dishes posted on my blog are also eaten by the family at dinner.

This stir-fried chicken with Sichuan peppercorns, chillies and cashews is what I prepared for dinner last week. A dish from the Sichuan province of China, this one is flavourful and fiery.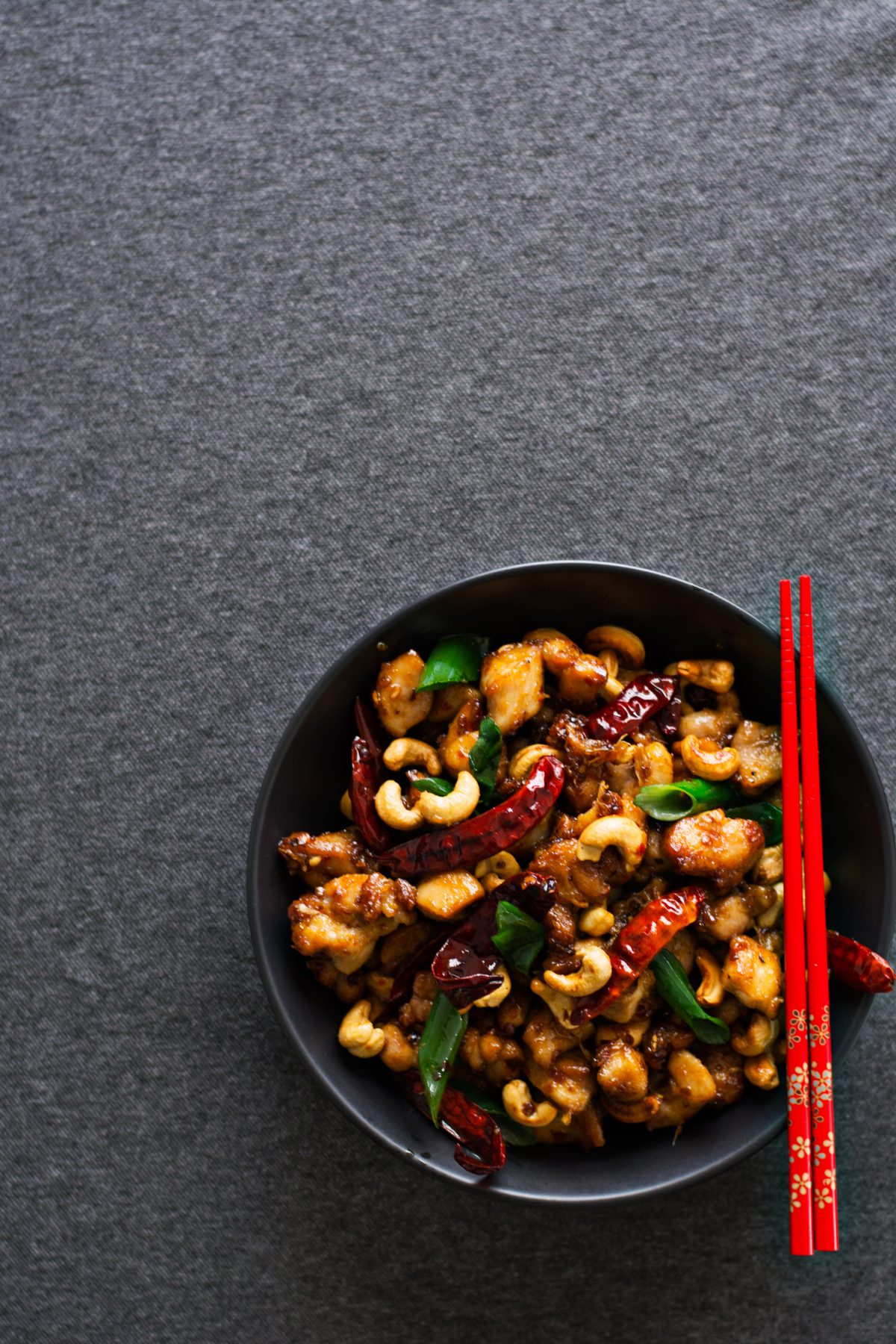 The star of the dish is the Sichuan peppercorns which is an integral part of any recipe from the Sichuan province of China. Unlike other parts of China like the Cantonese or Hunan region, the food of the Sichuan province is high on the heat scale. This is mostly because of the bone chilling wet and clammy climate of the region which enables the residents to have a high tolerance for spicy foods.

You can of course reduce the heat of this stir fried chicken by cutting down on the Sichuan peppercorns and chillies but then that would take away the soul of the dish. In spite of the peppercorns, this stir fried chicken does not have a numbing heat, instead it has a rich depth and flavour that makes the heat bearable.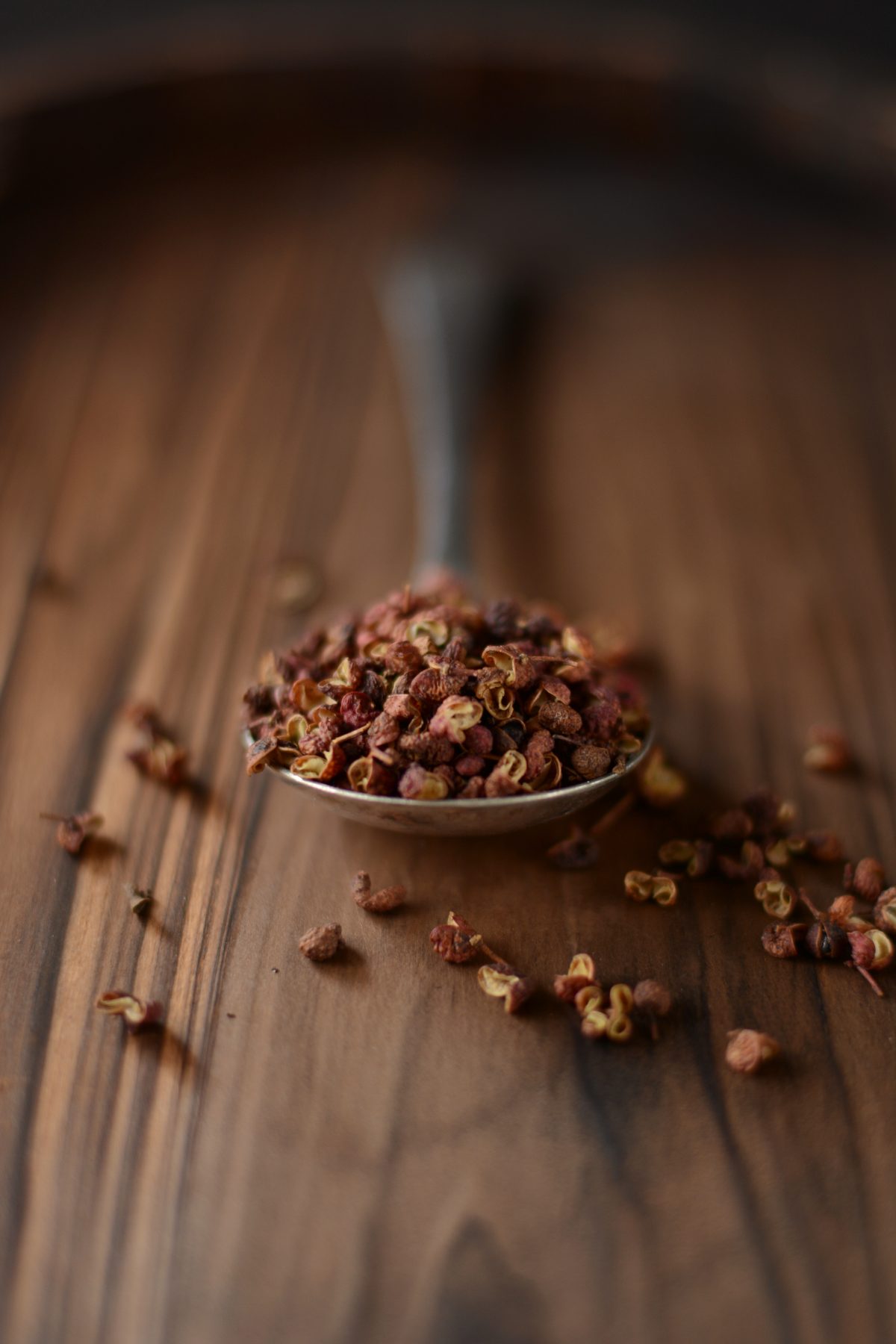 I wouldn't recommend this dish to those who run away at the sight of chillies. This is not a subtle dish, it packs in a punch and is bold in terms of flavour.

So, let's get cooking stir fried chicken with Sichuan peppercorns, chillies and cashews paired with a simple egg and red bell pepper fried rice.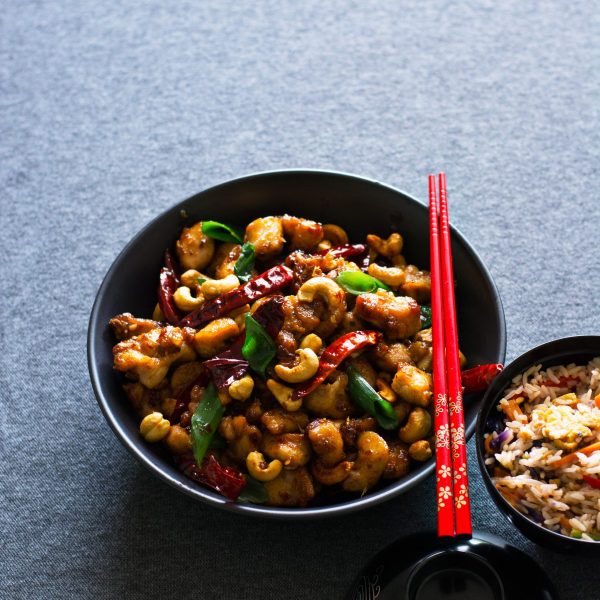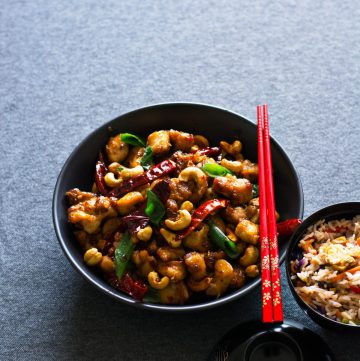 Print Recipe
Stir fried Chicken with Sichuan Peppercorns
Ingredients
500

gm boneless chicken thigh

1

tbsp

Sichuan peppercorns

Salt

to season

2

tbsp

chilli oil

2

tbsp

cornflour

50

gm cashewnuts

4

garlic cloves

finely chopped

1

inch

ginger

finely chopped

8

dry red chillies

4

tbsp

chilli garlic sauce

2

tbsp

Chinese cooking wine

2

tbsp

sugar

2

spring onions

Vegetable oil
Instructions
Marinate the chicken with cornflour, salt, chilli oil, Sichuan pepper and refrigerate for at least 2 hours.

Heat oil in a pan and shallow fry the chicken pieces; drain and keep aside.

Remove excess oil and roast the cashewnuts in the same pan and keep aside.

In the same pan (add more oil if necessary), sauté garlic and ginger for a minute. Add dry red chillies and sauté for one more minute on low heat.

Add chilli garlic sauce, cooking wine, sugar and mix well.

Add the chicken pieces and cashews; mix to combine.

Remove from heat and garnish with spring onions.
Notes
If you cannot get Sichuan peppercorns, then increase the quantity of dry red chillies and use. And for chilli oil, I infused red chilli flakes in vegetable oil and used it; you can also get the same in Asian stores or takeaways.
It is important to check seasoning after adding the sauces and adjust accordingly.