Transcending cultural barriers through food…..a topic so close to my heart! And that is exactly what I am sharing today. No traditional Christmassy recipe; instead a traditional lamb dish from Kashmir, a breathtakingly beautiful land conflicted by petty religious and geographical differences.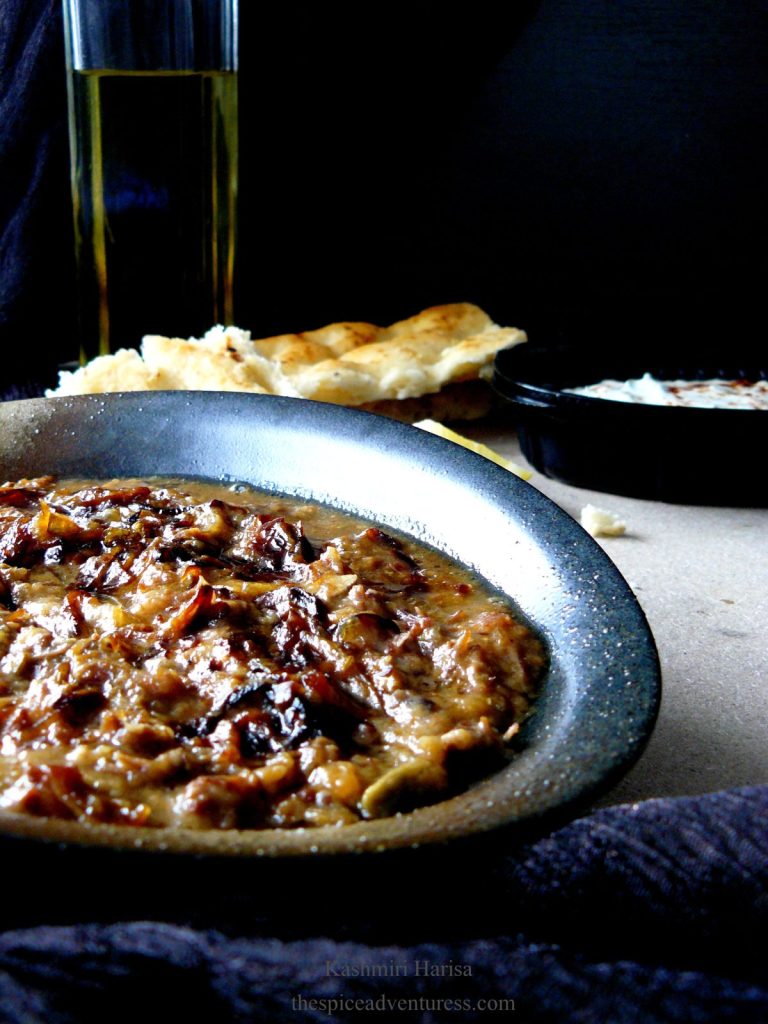 Harissa, the North African spice blend is quite famous but do not confuse it with this dish which is often referred to as Kashmiri Harisa.

A bit of history on the dish; Harisa is an age-old traditional lamb preparation that is prepared during winters. It is extremely fatty and high on calories and hence prepared exclusively during the freezing chilling winters of the region as a way of warming from within.
There are special cooks in Kashmir known as 'harisagarows' who are the traditional cooks and keepers of this dish. But today, you can find plenty of households preparing this (like I did) but still the best harisa is always sold by these cooks.

Kashmiri harisa is a prized and expensive dish which requires high quality mutton, long hours of preparation along with constant stirring; it is an art in itself. And maybe for this reason, in the past few years, affluent Kashmiri families have started the practice of sending huge quantities of Harisa to the families of newly-married daughters. A food dowry, if I could say!

The recipe that I tried out is not completely traditional and I have used a few short-cuts to adapt it to my lifestyle. I made this during the peak winter here but decided to post it now when the rest of the world celebrates winter. I mention again that it is a high calorie dish and hence must be consumed only in small quantities.
It is important to get good quality mutton for this dish, which is then cooked with spices and aromatics till tender. Once it is cooked well, the bones are removed and then comes the stirring part with the addition of rice, milk and onion, eventually getting it into a paste like consistency. It is important to use mutton on bones rather than boneless to impart flavour to the dish.

Kashmiri Harisa – a rich, indulgent traditional mutton dish of Kashmir flavoured with spices, aromatics, rice and crispy fried onions.
Recipe Courtesy – Sheikh Qayoom, Srinagar