This is going to be my last post for 2014. Oh! What a year it has been….personally and professionally. A lot of ups and downs, good and bad……every bit a learning curve or an experience that has matured and wizened me plenty.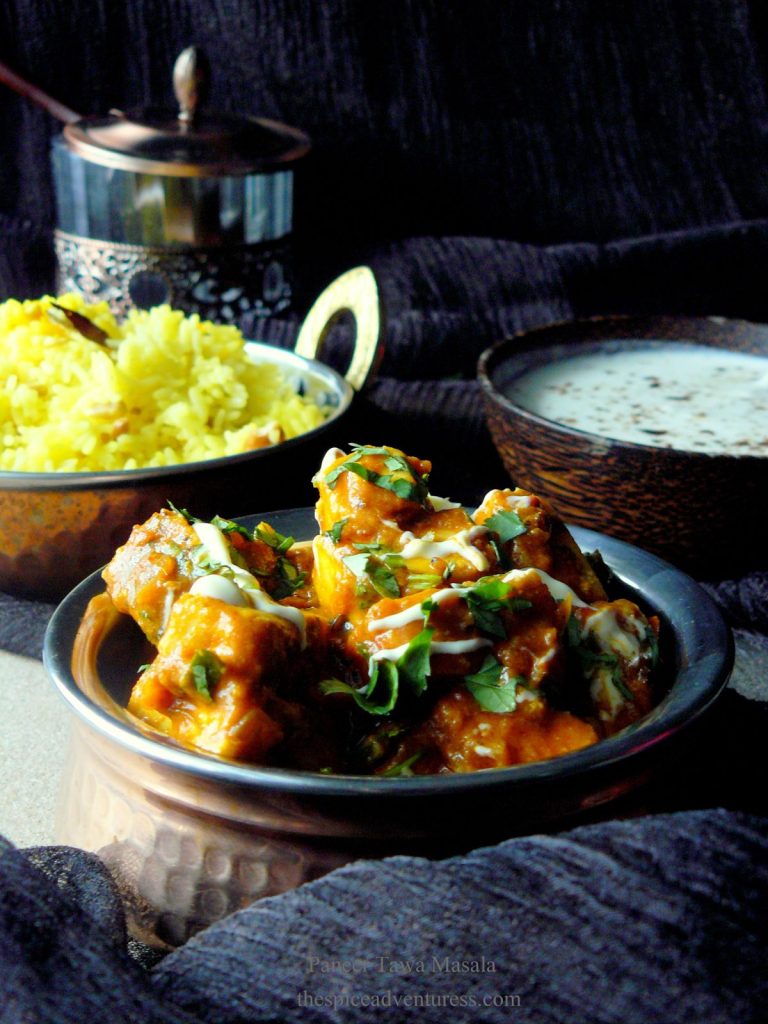 Super-busy days, I have not been cooking much. Christmas was at a friend's place so put up my feet and let someone else feed me for a change. And since we really cannot think of or take a long vacation, we are having little outings most days with trips to the CBD, local eateries, movies etc…..

But the break from the kitchen is not for long; we are hosting the New Year's Eve party for our friends at our place. So it's back to menu planning, shopping and preparations for the big day.

I wanted to share one last post with all of my readers before bidding adieu to 2014. Today's dish is rather special as it is one of the first paneer dishes that I learnt to cook at the beginning of my culinary journey. And I thought this is the perfect way to end this festive or must I say, the 'feast'ive season.
Paneer tawa masala is famous as a street dish, as this is usually prepared on a large tawa or flat cast iron pan which really lends a lot of flavour and oomph to this dish. But at home, I do not have a tawa and used a regular pan. The flavours are still delicious and this is undoubtedly my favourite paneer dish of all.

Paneer is often referred to as the Indian cottage cheese; it is available at most stores these days, especially the Indian specialty ones. It is also super easy to prepare paneer at home and there are plenty of videos on the internet if you wish to try it out.
The medley of spices and aromatics simmered in ghee or clarified butter is what makes this paneer tawa masala super delicious. It is perfectly spiced, not too hot and is a dish that anyone who loves Indian flavours would enjoy. Pair it with hot Indian flat breads and a yoghurt dip on the side and you have an amazing dish on your hands. I also included a side of saffron rice with nuts to go with this meal to complete the thali.

So, here's how you make paneer tawa masala; succulent cubes of cottage cheese simmered in a gravy of spices, aromatics and tomatoes. Yumm!
And before signing off, wishing all of you a blessed and prosperous New Year….filled with love, peace, joy and more food!