My first post for 2015 has to be about coffee – my poison!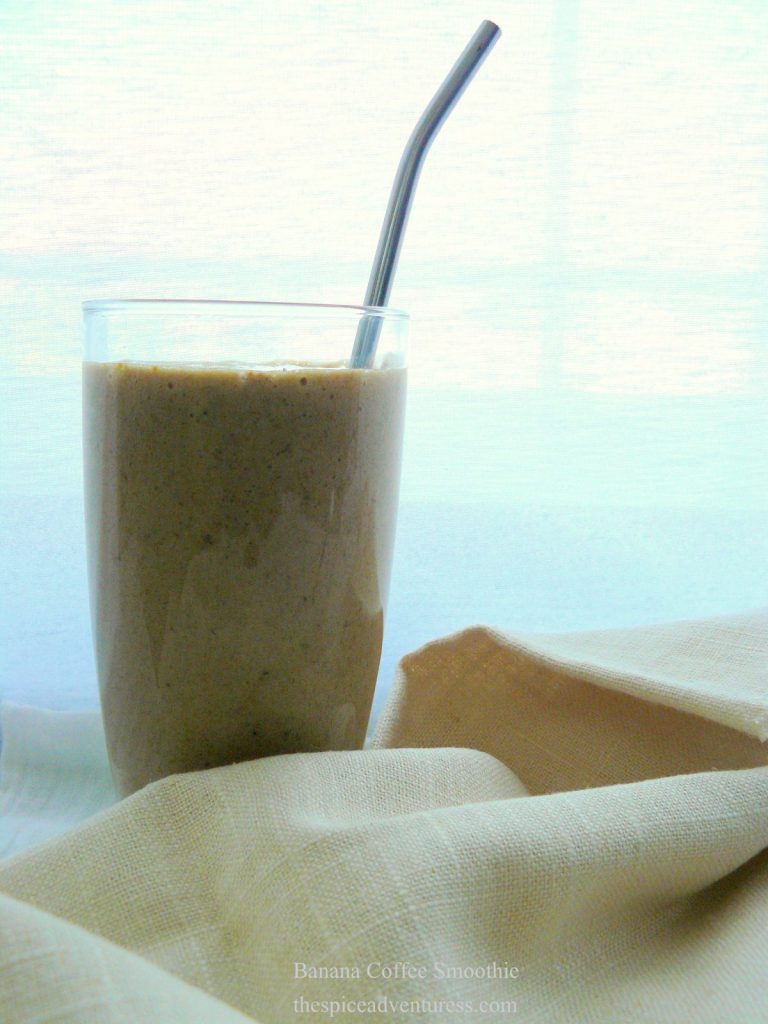 I had been a 'milk drinking' gal for the longest time. But while doing my Master's, I realized that my humble glass of milk could not keep me awake during the long, intense (and sometimes, boring) lectures on genetics, virology, immunology etc….

My classmates recommended the strong, dark potion called coffee sold at our in-house café, and that's how the addiction started. This particular brew was full on – high on sugar, high on caffeine and the habit stuck.

Today, I simply cannot function without my cuppa coffee. For a brief period, my caffeine levels were dangerously unhealthy but luckily, common sense and will power prevailed. I have cut down my coffee intake to 1-2 cups a day now. But I still need it high on sugar, high on caffeine. And whenever I order my cappuccino at a café and say 3 sugars please, I still get the '3 sugar-really-look'?

When I first saw this smoothie on Nigella Lawson's (well, who doesn't know the domestic goddess) channel, it was love at first sight. Coffee with banana…..what a delicious way to hide my caffeine beneath a lot of nutritional goodness!
The banana coffee smoothie is the simplest one to make. I always store peeled bananas in my freezer; it comes so handy to whip up a smoothie and you don't need to hunt for ice too. The smaller varieties of banana work best as these are sweeter and you don't need to add any extra sugar; and if you must add honey to sweeten the smoothie.

While in India, I was a Nescafe girl but here in Melbourne, Moccona is my go-to instant coffee powder. It's rich, dark and delicious…..and makes me the perfect cappuccino.

So if you are a coffee lover like me, then this smoothie is a must try…a great pick-me-up for those rushed mornings when you need more than a caffeine kick. And if you don't like coffee, you can still make this smoothie; just replace the coffee with chocolate – as my son has it!