One of the biggest problems that I face as a blogger is dealing with people who do not value the work that I do. And because they do not understand the mechanics of this work, they always try to undervalue, underestimate and de-motivate me.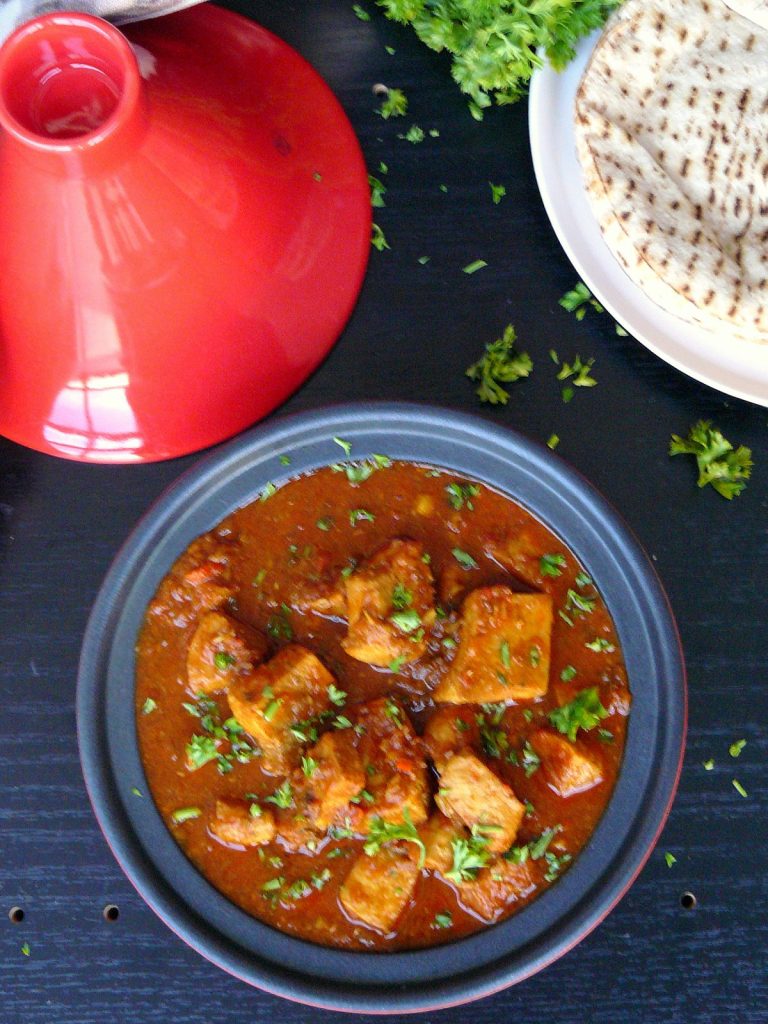 If you have your head in the right space and a goal in sight, then dealing with these hypocrites is easy. And my experience teaches me the wisdom contained in the age old proverb….Silence is golden! I never try to explain or talk about my work to anyone who is waiting to dissect it economically or undervalue its importance. And this is the only advice I would give to any other blogger whose creativity and focus is challenged by this issue. Exercise your right to remain silent…..

Instead, use these folks as your stepping board to success. For every person that tries to pull you down, work twice harder to achieve a milestone. And if you are passionate, ready to work your butt off, success will eventually knock your door……

And it is this passion for food that made me experiment with this dish…Pan fried tuna in red chermoula stew.
Ever since I tried the red chermoula, I must say I have fallen in love with its rich, vibrant and deep flavours. Have you seen my kangaroo skewers with red chermoula? If you missed it, go take a look here.

I had kept away some red chermoula from that time to experiment with some other dish and the idea of using it in a fish stew came as an inspiration while gazing at the rows of seafood at my local shopping centre.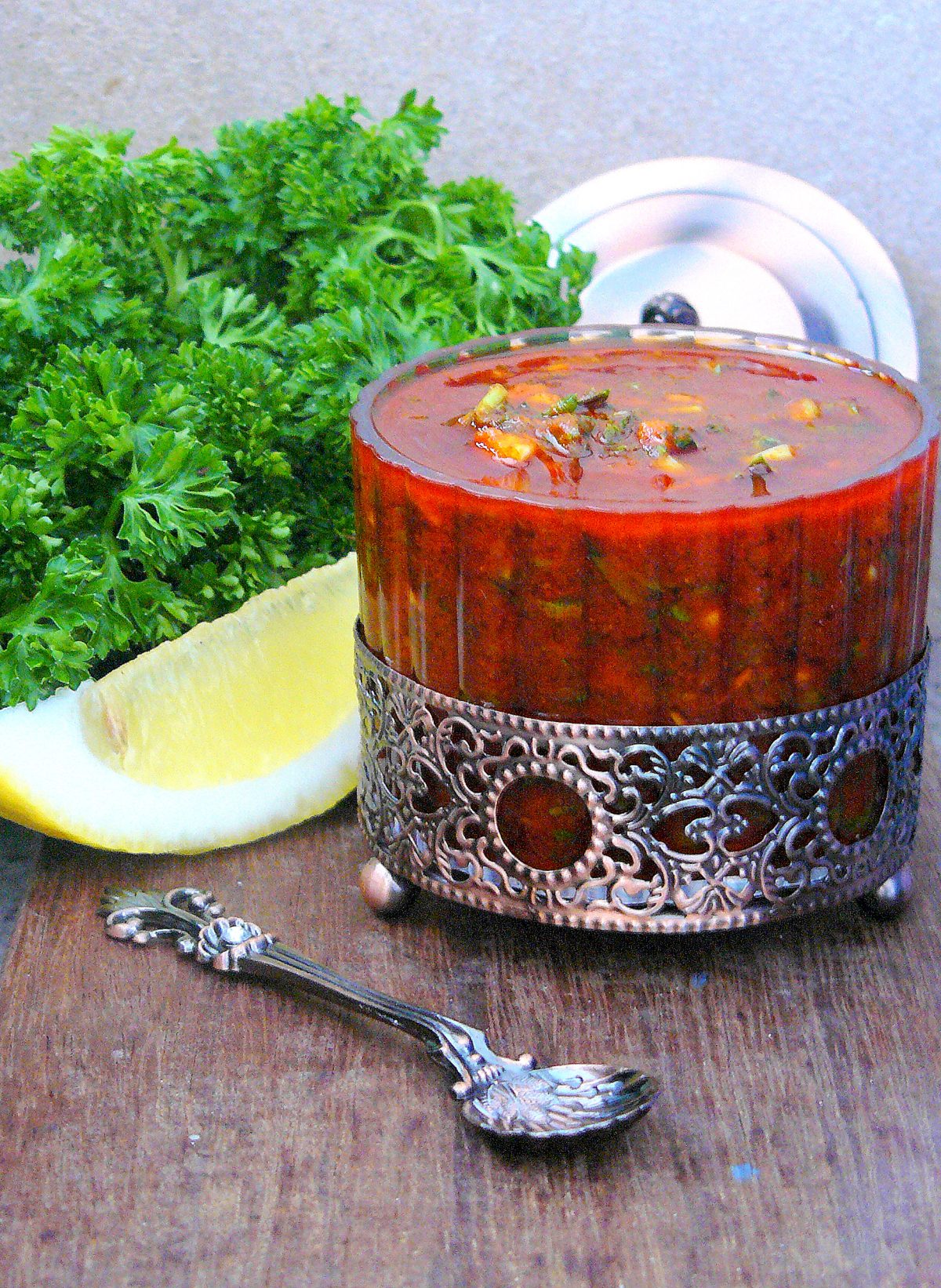 My eyes fell on the tuna fillets and I was thinking of what should I do with it. My thoughts were along the Indian style fish curry route when suddenly the chermoula popped up. And that's how today's dish happened.

Red chermoula has a rich, deep flavour with the robust earthiness of paprika, tomatoes amidst other spices and herbs. While it goes amazingly well with any kind of meat, you need to take care while pairing it with seafood. One of the foolproof ways is to use the chermoula as a marinade for grilling fish. If making a stew like this one, make sure to use seafood that is meaty or fleshy enough to soak in the flavours of the chermoula.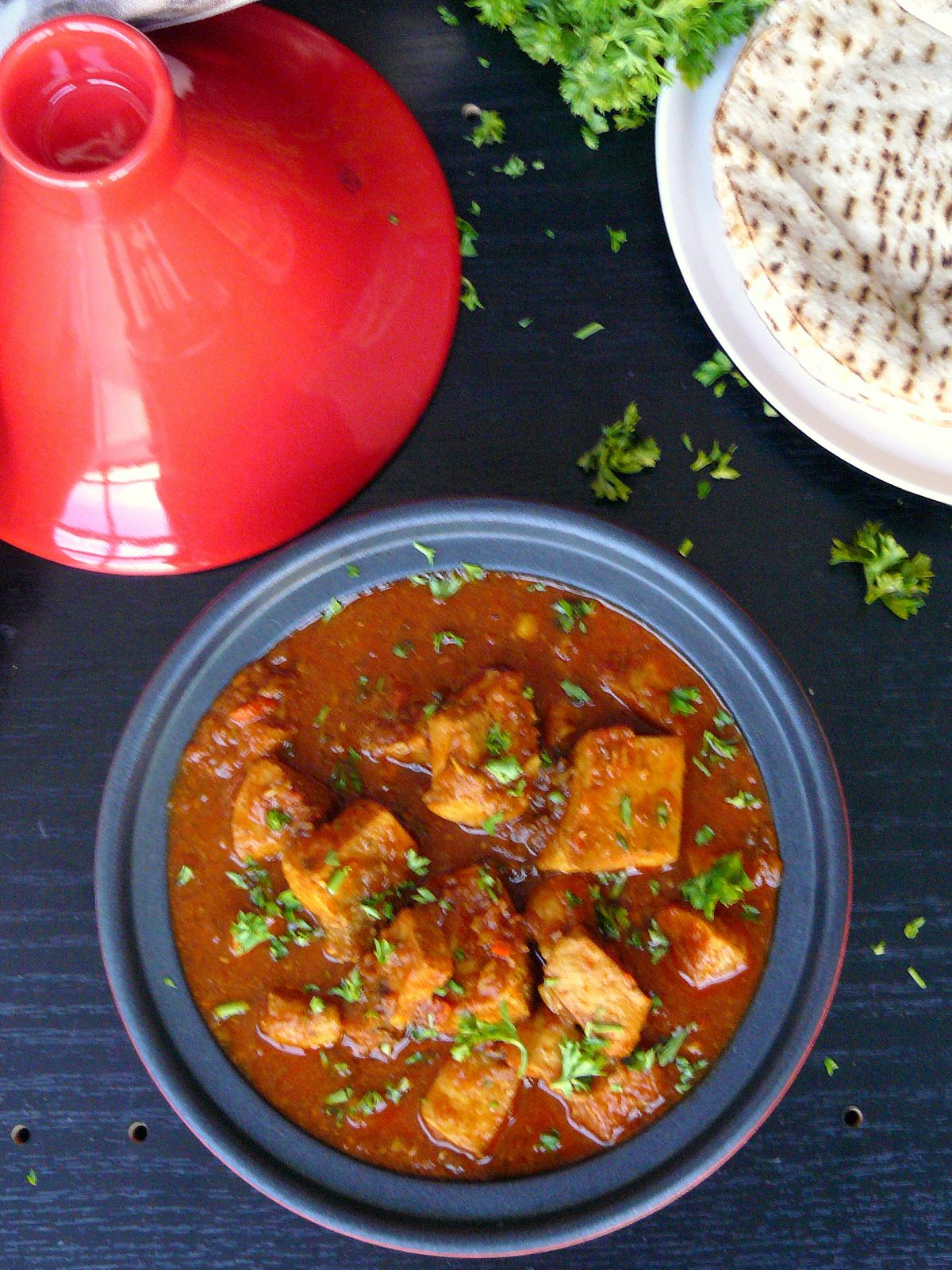 I would call this Pan fried tuna in red chermoula stew an Indo-Moroccan dish drawing inspiration from the flavours of both these beautiful cuisines.

The recipe for red chermoula can be found here.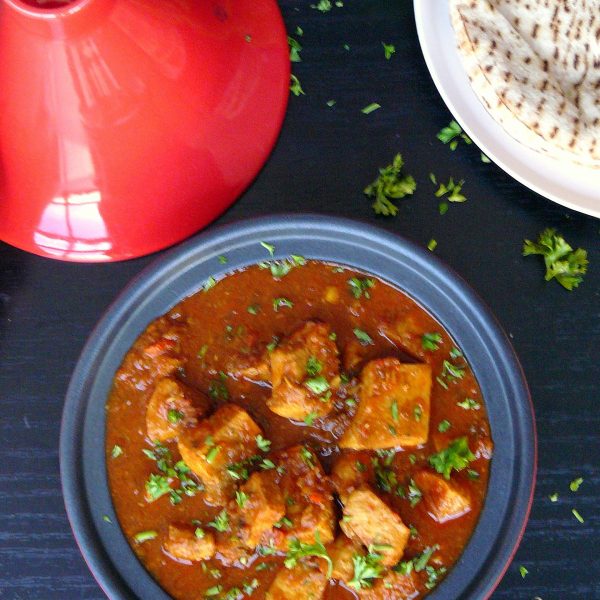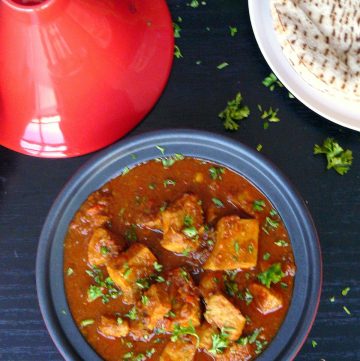 Print Recipe
Pan fried Tuna in Red Chermoula Stew
Ingredients
500

gms yellow fin tuna

fillets cut into cubes

4-5

tbsp

red chermoula

Salt

to season

Olive oil

to shallow fry the fish + 2 tbsp

1

large red onion

finely chopped

3

garlic cloves

finely chopped

½

tsp

turmeric powder

1

tsp

coriander powder

½

tsp

cumin powder

½

tsp

kashmiri chilli powder

2

fresh tomatoes

finely chopped

Juice of ½ lemon

½

cup

fresh parsley

finely chopped
Instructions
Marinate the cubed fish pieces with 2 to 2 ½ tbsp of red chermoula. Season with salt only if necessary as chermoula contains salt. Keep for at least 2-3 hours or longer if possible.

Shallow fry the fish pieces till half done (about 2 minutes on either side). Again, the chermoula contains oil so very little oil is necessary in the pan to shallow fry. Remove and keep aside.

In another pan, heat 2 tbsp oil and add the chopped onions and garlic. Saute till the onions turn light brown.

Then add turmeric powder, coriander, cumin and Kashmiri chilli powder.

Saute on low heat for another minute and add the tomatoes and remaining red chermoula.

Mix well to combine and continue to cook on low heat for 5 minutes covered.

Then add 1 cup water and bring to boil. As it begins to boil, add the fish pieces and cook covered till the fish has cooked well. (Add more water if necessary)

Open and add juice of half a lemon. Stir through and check seasoning; adjust if necessary.

Remove from heat and garnish with chopped parsley.