What is a curry?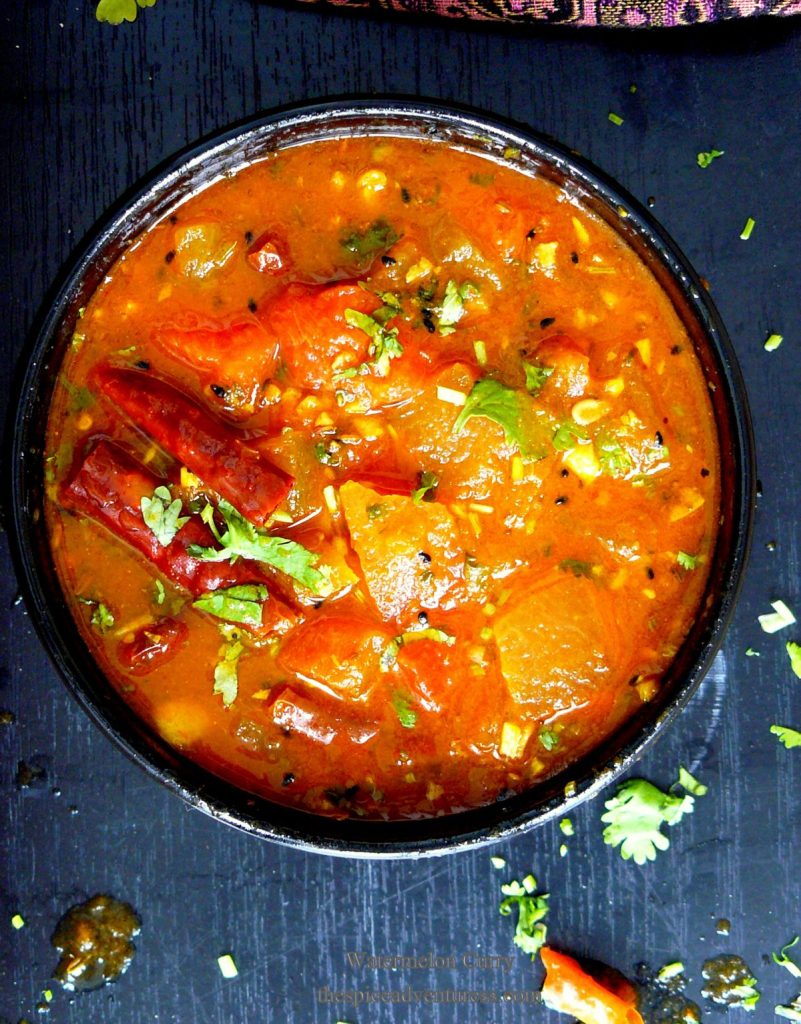 The age old question that has been debated much and beyond with no hope of an answer in sight!

Well, I do not wish to get into the origin of this word; Wikipedia does a good job of that. Neither do I wish to get into what the world defines a curry.

For the average Indian, a curry refers to any dish that is in the form of flavourful gravy. When we cannot find a traditional name to the dish, we end up calling it a curry anyway.

So is the case with this watermelon curry.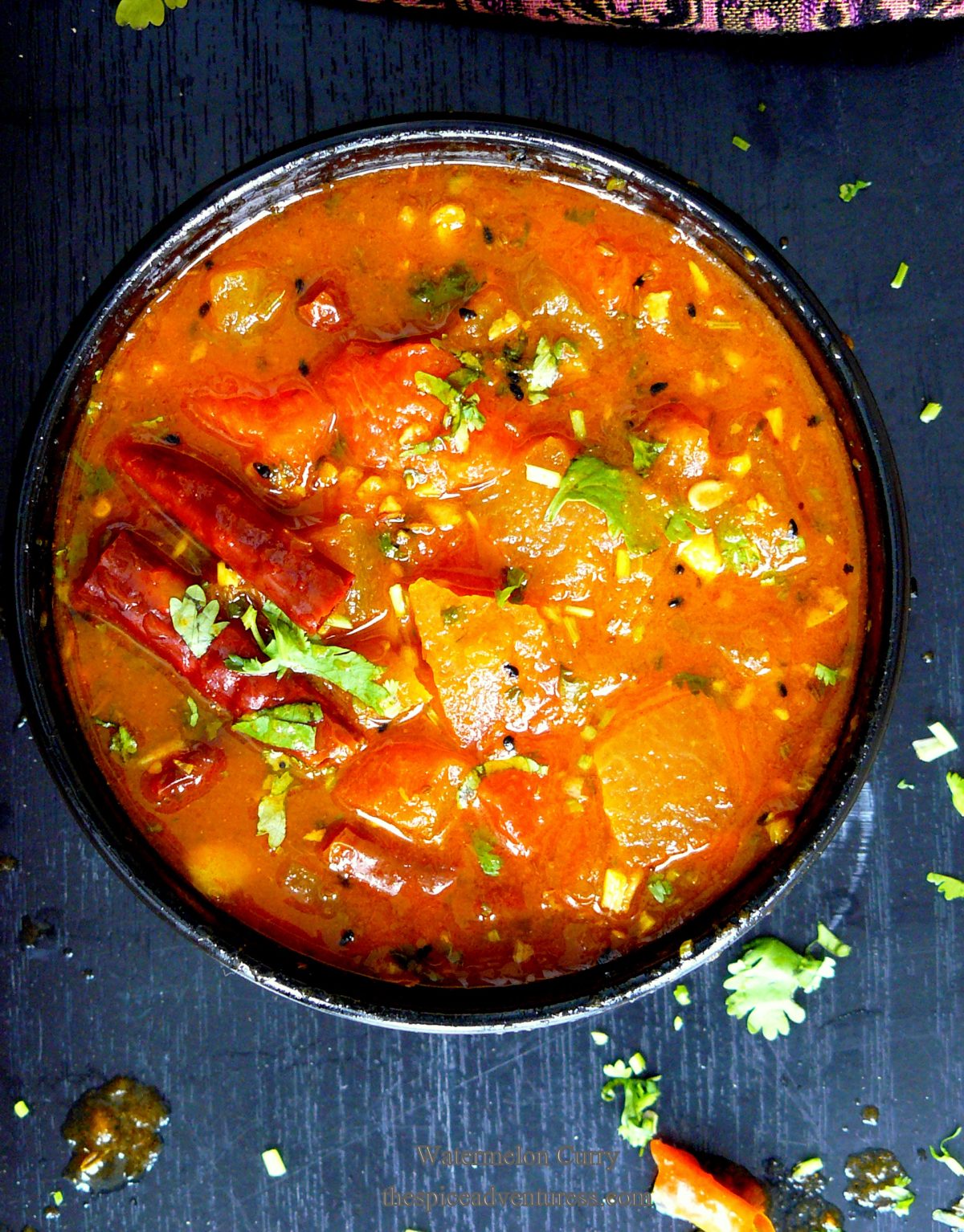 It does not fit in with the global definition of a curry but for an Indian, this would classify just perfect.

Watermelon curry?? I am sure that's the thought running through your head right now if you haven't heard of this dish before. It was the same apprehensive feeling I had when I first came across this dish in saveur.com

I knew this curry was going to be an awesome one while scrolling down the list of ingredients but still somewhere in my head was the nagging thought, 'will it be too sweet'?

Apparently, the watermelon curry is a famous dish in Rajasthan and is enjoyed with both phulkas (Indian wheat flat bread) and rice. I had it both ways and enjoyed it just the same.

Yes, there is sweetness from the watermelon but then there is a whole lot of flavour from the spices that penetrate deep into the melon pieces to give us a delicious, refreshing and light dish.

This is a curry that can be a perfect example to the fact that spices do not mean heat but flavour. The cumin, carom seeds, nigella seeds and dried chillies release all its flavour into the oil and cuts into the sweetness of the melon pieces. The soft rind of the watermelon adds just the right amount of bite and texture to an otherwise soft dish.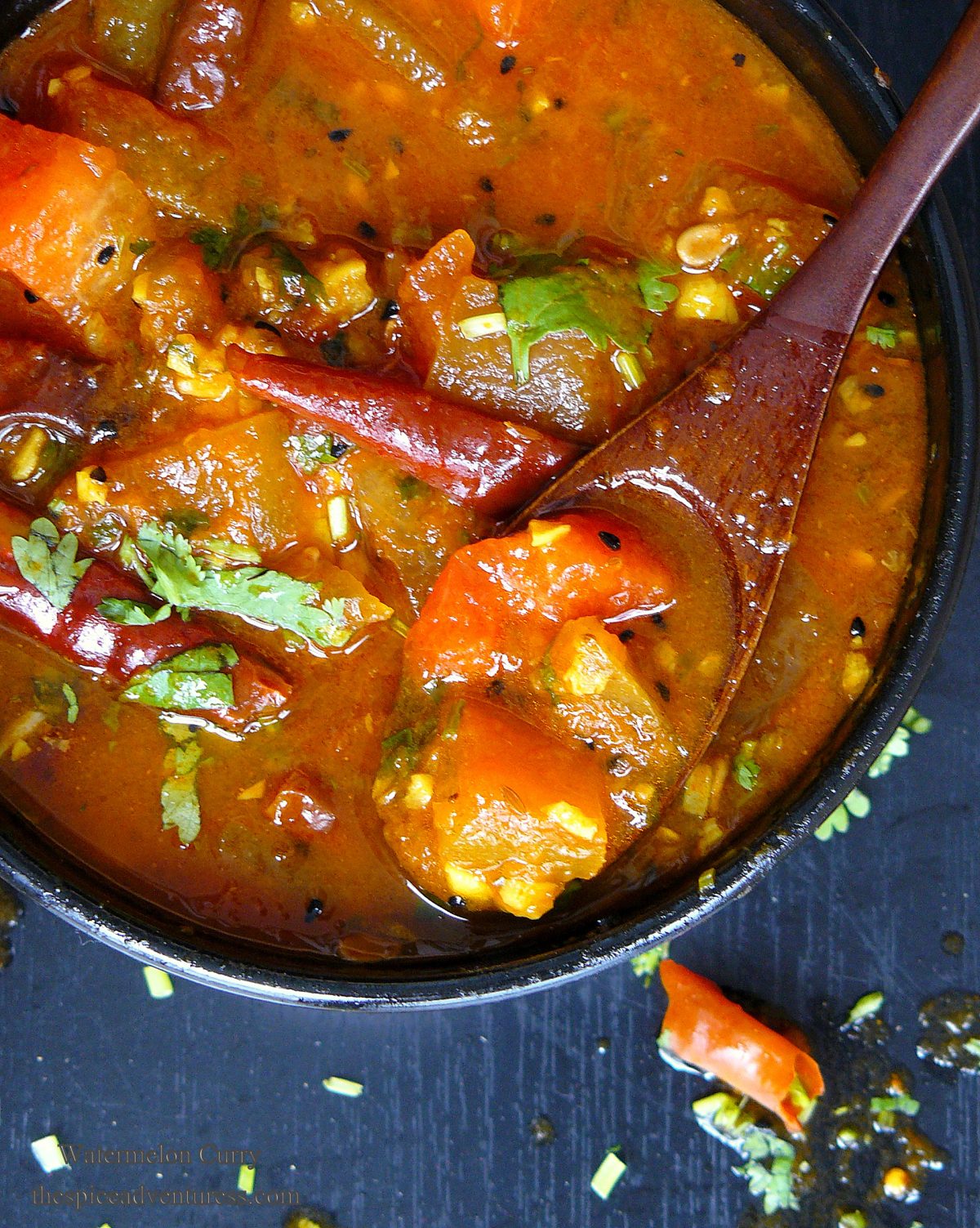 Believe me, this is a dish you will enjoy so make sure to give it a try.

Watermelon curry – sweet juicy chunks of watermelon in a flavourful gravy of spices and aromatics.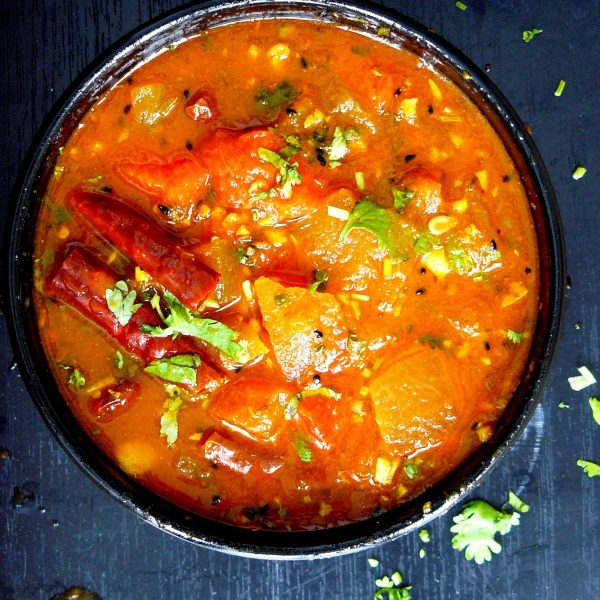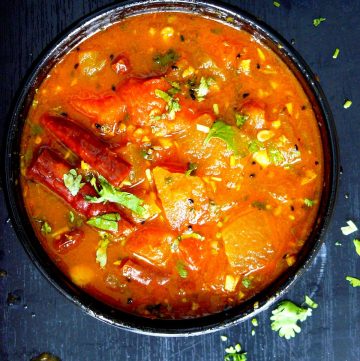 Print Recipe
Watermelon Curry
Ingredients
1

kg

seedless watermelon with rind

2

tbsp

vegetable oil

½

tsp

ajwain/carom seeds

½

tsp

cumin seeds

½

tsp

nigella seeds

black onion seeds

3

dried red chillies

broken into small pieces

4

cloves

garlic

finely chopped

salt

to season

¼

tsp

turmeric powder

2

tsp

fresh coriander leaves

finely chopped
Instructions
Cut the outer dark green layer of the watermelon rind keeping the inner whitish-green rind intact. Remove the red flesh of the watermelon from the whitish rind; dice both separately and keep aside.

Heat oil in a pan and add the whole spices; ajwain, cumin, nigella and dry red chillies. When fragrant, add the garlic and sauté on medium heat for about 30 seconds.

Add the watermelon rind pieces and turmeric powder, mix well and season with salt. Cover and look for about 6-7 minutes till the rind has browned and softened. Do not add any water.

In the meantime, blitz half the watermelon flesh pieces and keep aside.

After 7 minutes, add the blitzed watermelon pulp and ½ cup water; mix to combine and cook covered till the rind has become tender.

Then add the remaining flesh pieces and cook on high for 3-4 minutes.

Garnish with chopped coriander leaves and serve warm.