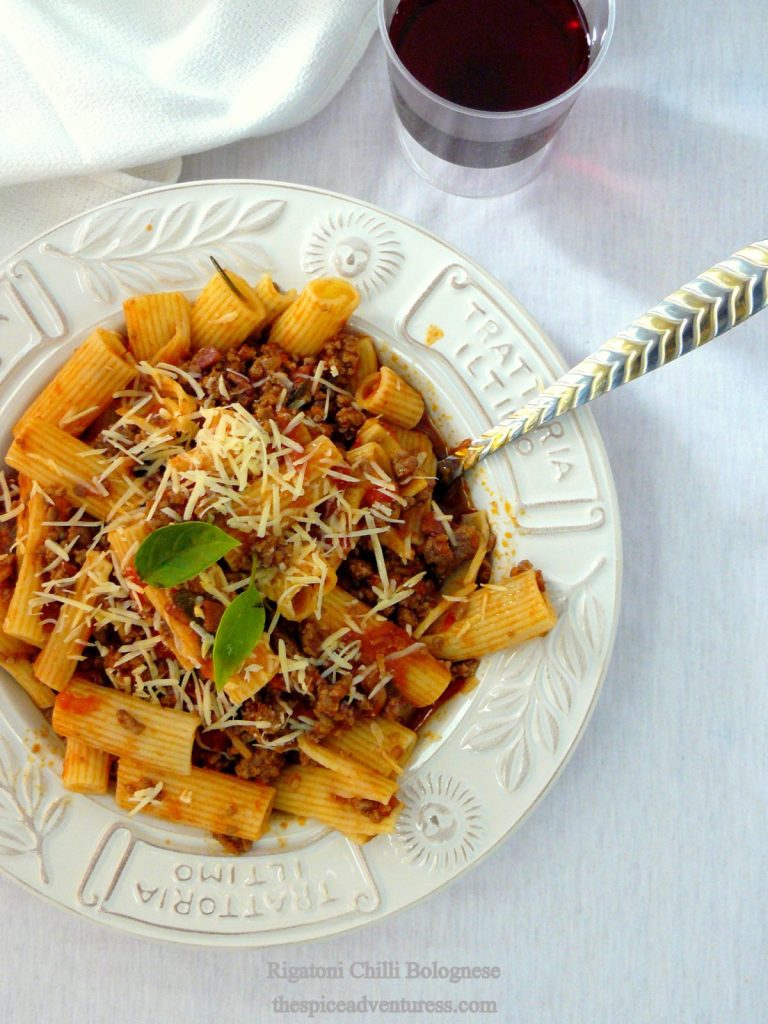 The saga of one pot meals continue especially after the loooong weekend. Well, it was a quiet Easter for us this year; just the three of us catching up on….us!
We did everything we enjoyed (read lazing around). And I also made this big pot of Bolognese made from scratch!
Well, making Bolognese is not rocket science; it's become an everyday dish in almost all Australian households. But most people make the mistake of using bottled sauces for the same. I agree it's convenient, we are all pressed for time but pause – have you ever thought how many chemicals you would have consumed in just one meal?
And speaking of flavour, the store bought sauce doesn't stand a chance against a pot of deliciously bubbling, rich and vibrant homemade bolognese.
Now coming to today's dish, the Rigatoni Chilli Bolognese is a twist to the classic we have all come to love.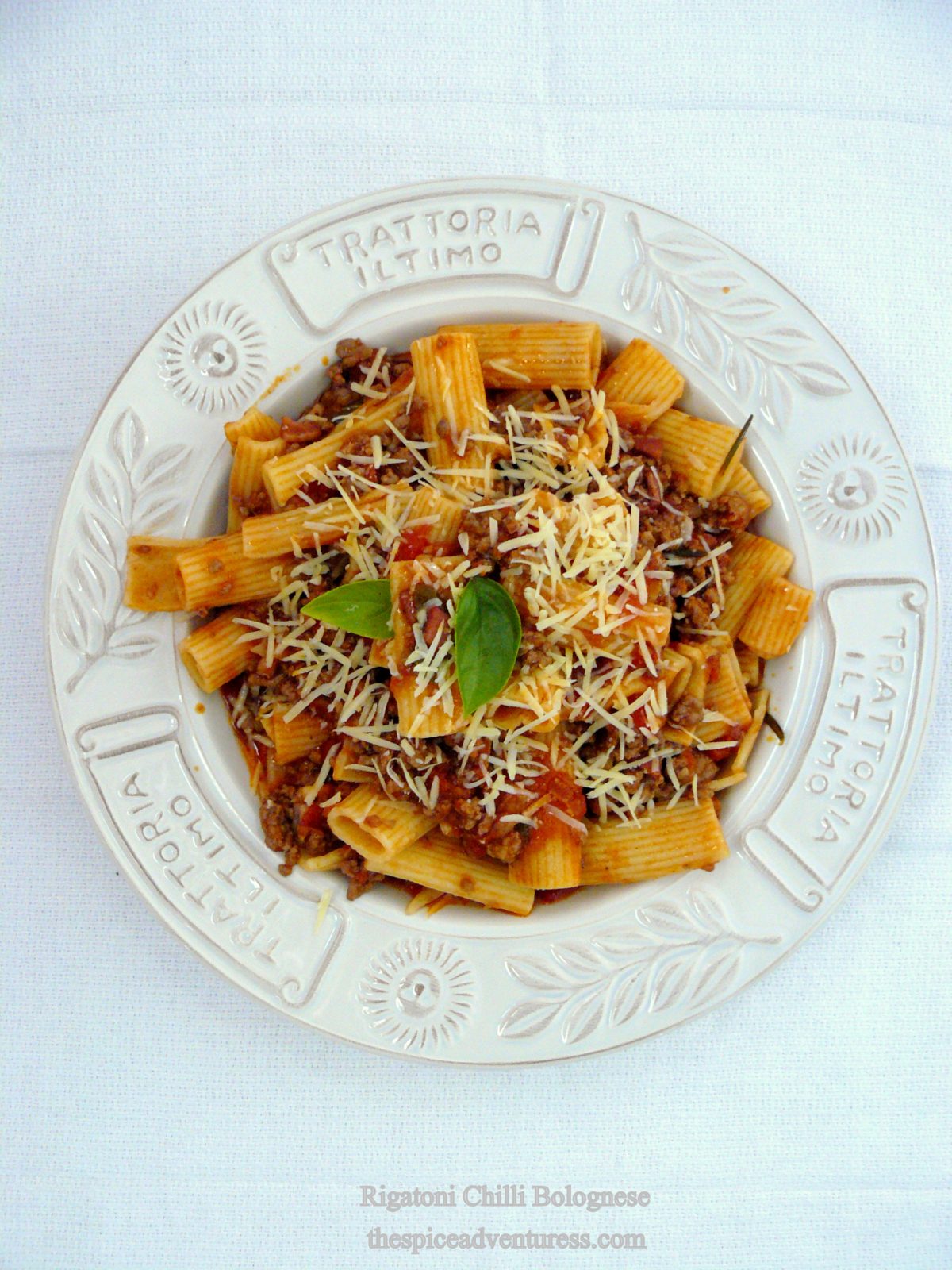 The reason for using rigatoni – I am not a big fan of spaghetti. I can't be bothered to perfectly twirl the delicate strands of spaghetti around my fork for every single mouth. The rigatoni is robust and big, perfect to soak up my rich chilli bolognese, it's all about comfort.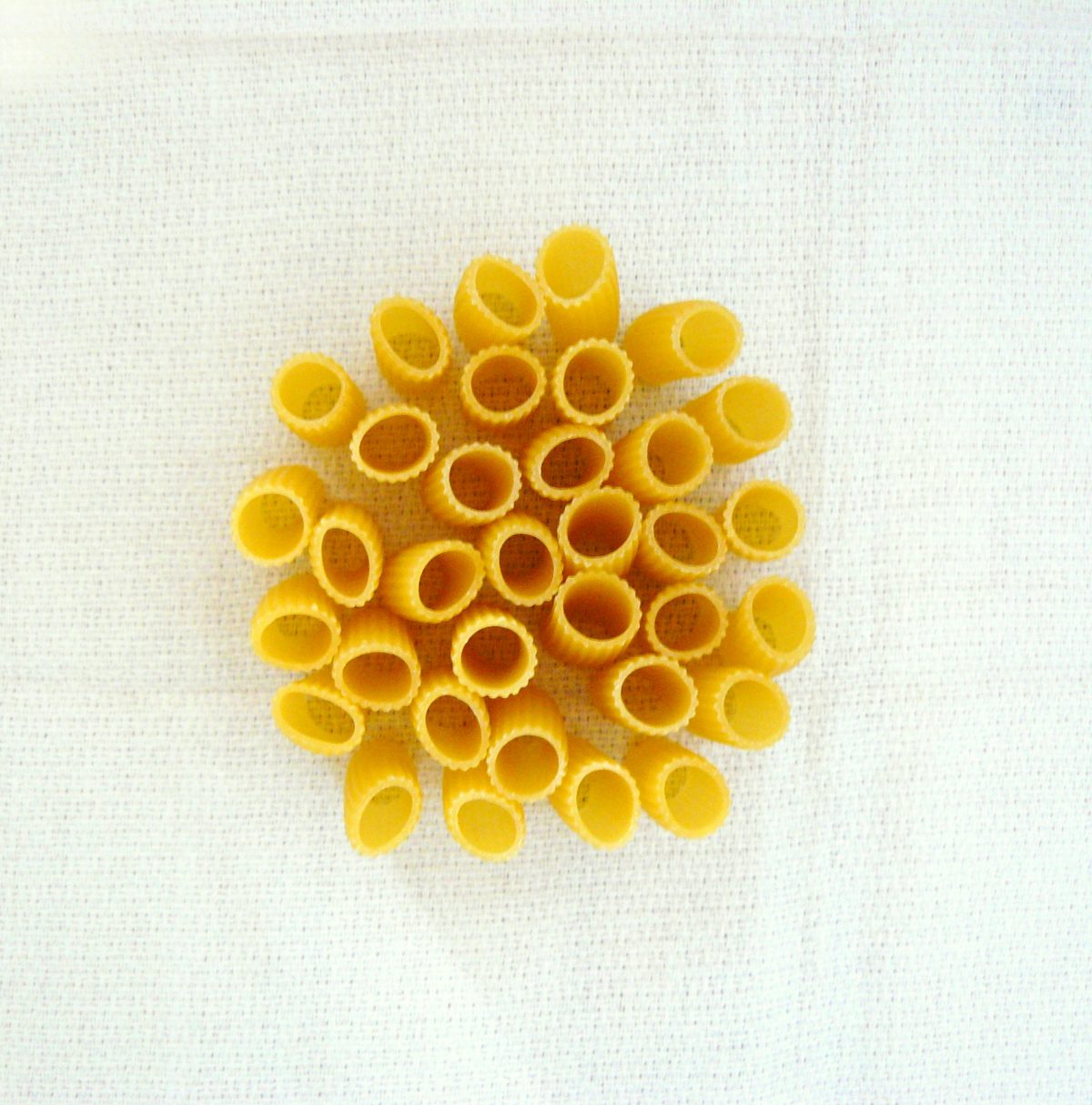 This chilli bolognese is all about flavour, deep and rich. Slow-cooking is the best way to extract and get those robust flavours. And a hint of chilli to warm your insides on a cold, rainy day.
So picture this…..on my favourite spot on the couch with a bowl of hot steaming and delicious chilli bolognese in my hand, a glass of red by my side, and my favourite movie running.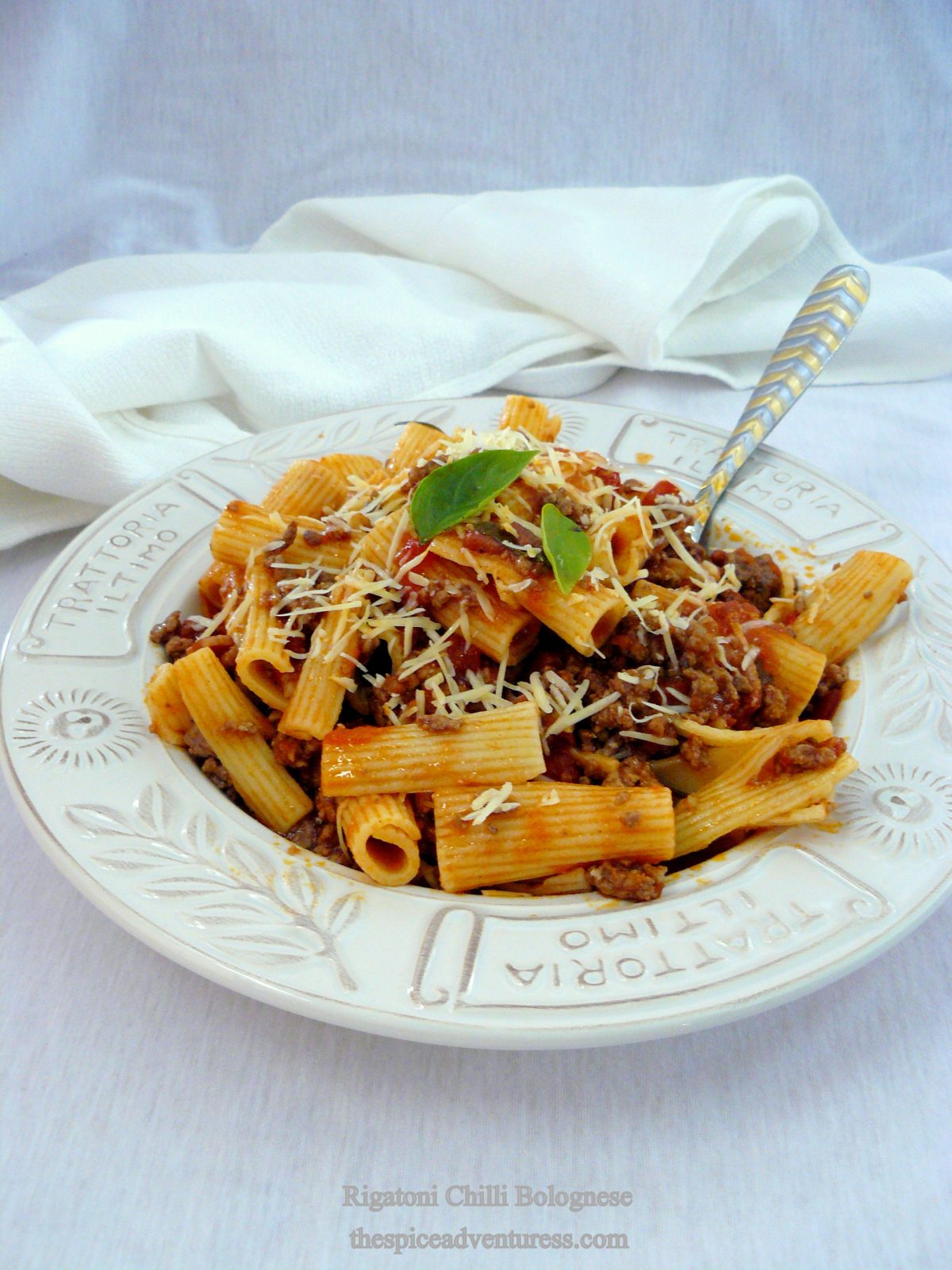 Are you drooling by now? Then you know what you ought to do!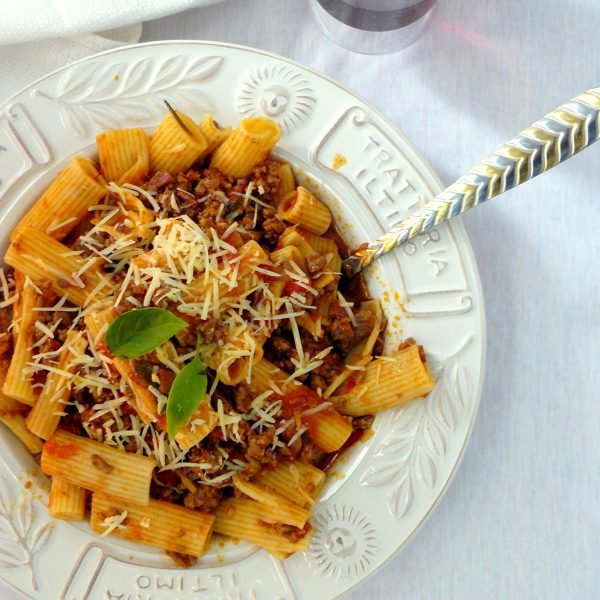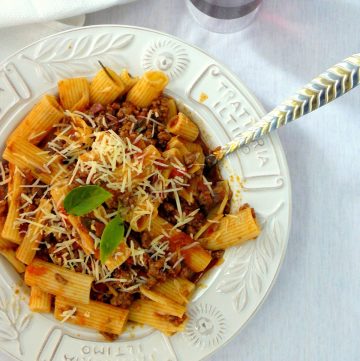 Print Recipe
Rigatoni Chilli Bolognese
Ingredients
500

gm rigatoni

150

gm bacon

chopped

4

garlic cloves

finely chopped

1

dry bay leaf

1

cup

red wine

1

beef stock

dissolved in 1 cup water

1

sprig fresh rosemary

6

fresh basil leaves

¾

th cup chilli sauce

adjust to heat preferences

2

cans crushed tomatoes

1

kg

lean beef mince

Sugar

a pinch

Salt

to season

Freshly milled black pepper

to season

½

cup

olive oil

Parmesan

as much as you wish
Instructions
In a large heavy bottom pan, heat the oil; brown the mince in batches and keep aside.

In the same pan, add the bacon and fry for about a minute.

Add the bay leaf and garlic; sauté till the garlic is just beginning to brown.

Add the red wine and cook on low heat till the alcohol burns off completely; about 10-15 minutes.

Then add the beef stock along with the rosemary and basil; bring to boil.

Next, add the chilli sauce and crushed tomatoes along with 1 cup water. Add sugar and season with salt and pepper.

Cook covered on low heat for about 30 minutes, stirring occasionally.

Add the mince and continue to cook covered for another 30 minutes. Add water if the mixture looks dry.

Cook rigatoni in boiling salted water till al dente or follow packet instructions.

Drain the pasta reserving a cup of liquid.

Add to the bolognese along with the reserved liquid. Mix well to combine.

Serve warm with grated Parmesan.

Tuck in!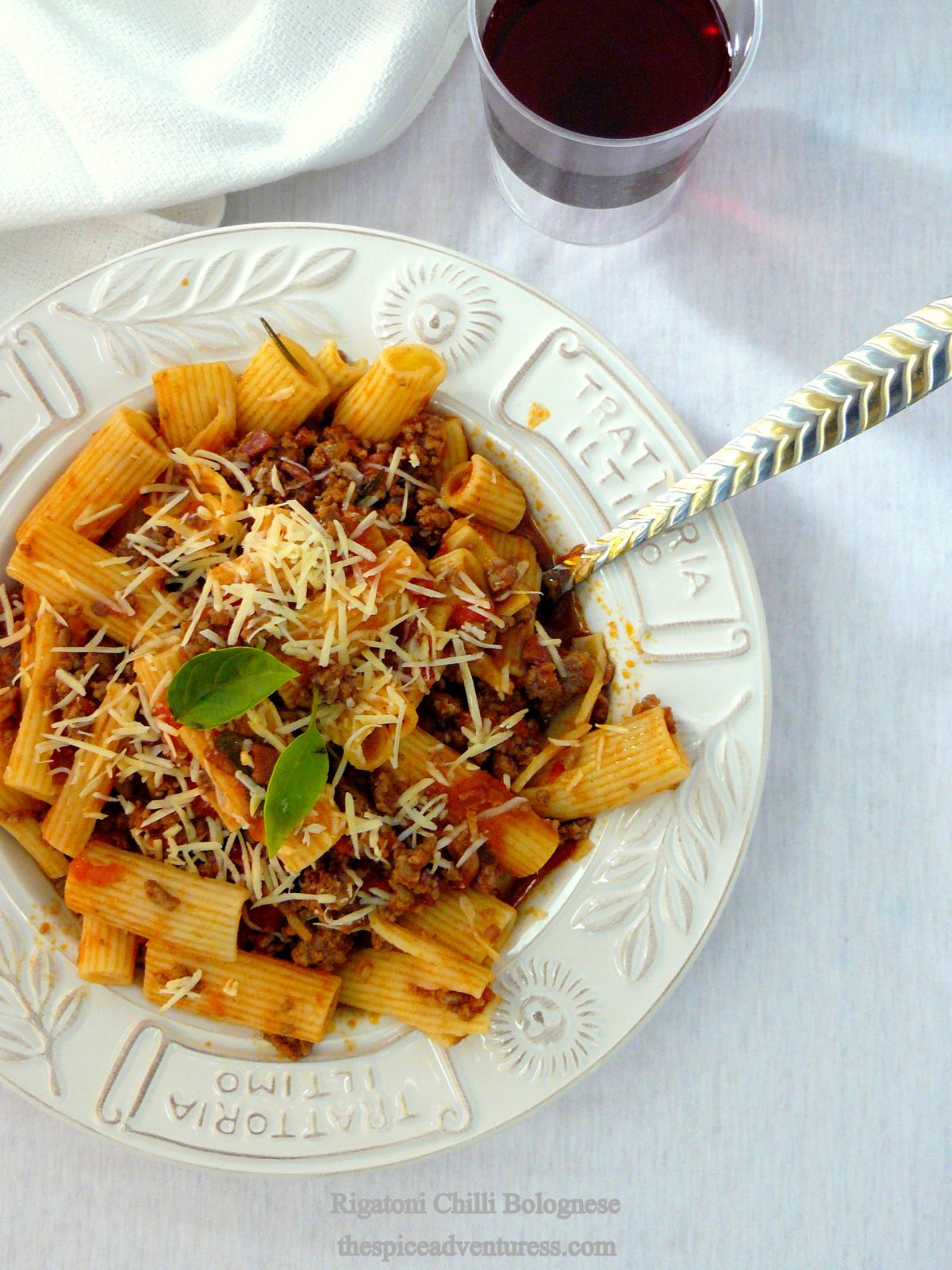 What's your comfort food? Do share your story……