Deliciously smoky grilled sardines with Recheado paste or Goan red masala; a delight for your tastebuds!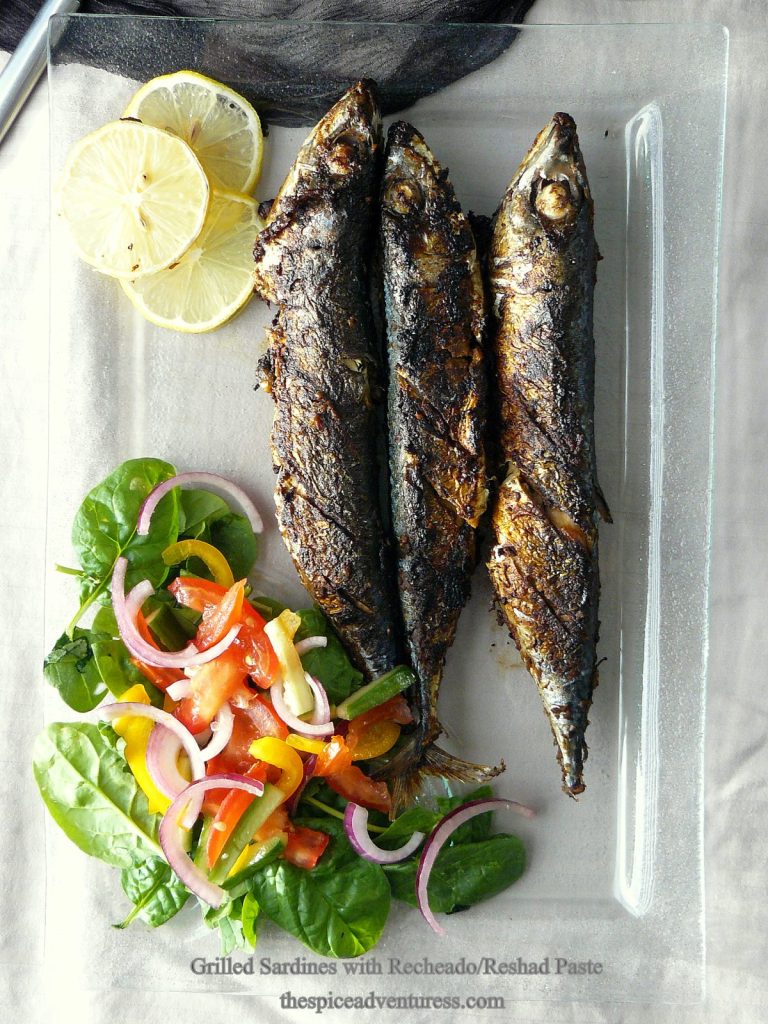 Yes, it's coming! The much dreaded 'writer's block' which rears its ugly head occasionally is slowly creeping in.

I can identify it these days. Starts with the physical self, a slow drain of energy which eventually creeps into my mind and pfffff…..I go blank.

Unlike earlier, I don't fight this phase anymore; neither do I get upset or frustrated. I understand that it is my inner self asking me to slow down, take it easy and give it the rest it deserves. And this phase is an experience which bounces me back stronger and surer of who I am and the work I want to do.

So if you find me not my usual self or see a bit of irregularity here, I am just waiting for my mojo to be back.

Today's dish uses sardines, the large oily sardines. These are larger than the regular sardines; contain more oil content which makes it much healthier as these contain higher levels of omega-3 fatty acids. The only catch is that these types of oily fish also contain a higher level of mercury or dioxin. So while extremely nutritious, these have to be taken in moderation.

I have always enjoyed the flavour of oily sardines especially when grilled. The higher oil content keeps the fish moist and with a bit of spice rub on it, these sardines are a delicious feast.

This time, I used the famous Goan spice marinade known as the Recheado paste or Reshad paste or sometimes, also as the Goan red masala. Don't get thrown off by the word 'red'; it has less heat and more colour due to the use of dry red chillies.
These grilled sardines with Recheado paste is a great starter or accompaniment to any meal, especially Indian meals. Try these instead of the traditional seafood choices for your next bbq party.
The Recheado or Reshad paste is an excellent marinade for seafood, especially fish that are fleshy in nature. The spices are blended with tamarind and vinegar with a hint of sugar to balance out the flavours. If you do not have a grill, then pan fry the fish. But the best option would be a coal fired barbecue to grill this fish; add a couple of beers and enjoy!
So let's enjoy these deliciously smoky Grilled sardines with Recheado paste.