This Punjabi style Green Beans Fry is simple, delicious and nutritious. Do you need any other reason to try it out?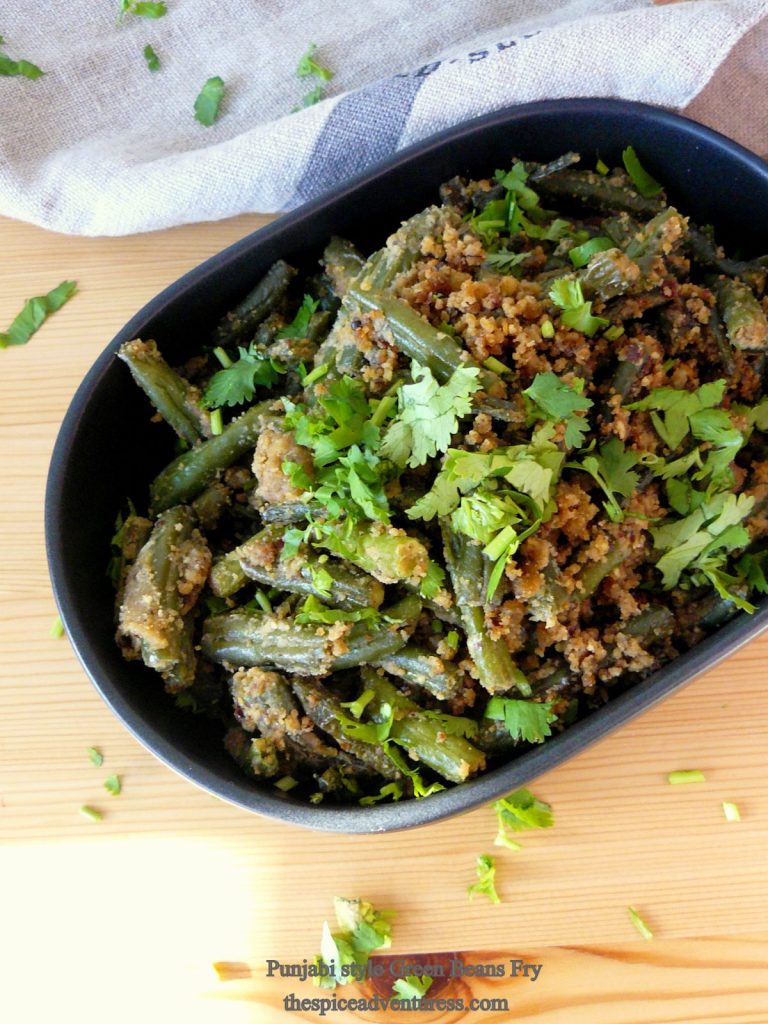 Today, I am going to take you all on a short trip to my childhood….

I have never been a fussy eater at all but I am a slow eater…..a terribly slow eater! And I can only eat very less quantities at a given time. This has been the case since childhood which has irritated and frustrated my poor mom as long as I can remember.

Coupled with the irritation of having to deal with the ranting from others, 'Oh this child is so thin, doesn't she eat anything?' and the frustration of getting me to finish my meal, she decided that feeding me herself was the only solution.

And thus began the saga of getting fed by hand – every meal from morning to night except my school break would be fed by my mom. And I relished it! To the extent that the practice continued till I was in Grade 9. Then we made the shift from Dubai to India, and all hell broke loose.

Shocking! A teenage girl who had to be fed by her mom's hand everyday…..I was mercilessly teased and made fun of. But I couldn't bother a bit…I continued to enjoy getting fed. And believe me…in her hands, even the most basic dish would taste delicious. But don't worry, it didn't last even for a month. India has a strange way of knocking sense into you and teaching you the facts of life. I learnt to feed myself…..quite well actually though, I am still a bit slow. But now that I am a food blogger….I would call it relishing the flavours in each mouthful!

Now the reason for oversharing this rather embarrassing part of my childhood is this; even when I used to be fed by my mom, if there was anything that I was particularly fond of on the plate, I wouldn't wait for her to give it. I will eat that on my own. And green beans always used to be one of the veggies…..
I love green beans, all varieties and in all forms. Stir fried with spices and grated coconut, steamed with garlic and butter, sautéed with spices and caramelized onions, blanched..there are a million ways to cook with beans and I love all of them.

Today's style was a new one I learnt from the book, 'The Vegetarian Table' by renowned food writer, Yamuna Devi.

This Punjabi style green beans fry is simple, robust but so moreish and full of flavours. A thick batter of chickpea flour is also added to the dish and cooked in such a way that it forms nuggets of goodness to be mixed through the dish. Makes it high on the protein quotient too.

These beans are just perfect to be combined with an enriching yet comforting meal of steamed rice and dal. Simple yet nourishing….just as food is meant to be.
Here are other delicious vegetarian dishes to try out…