A quirky name right!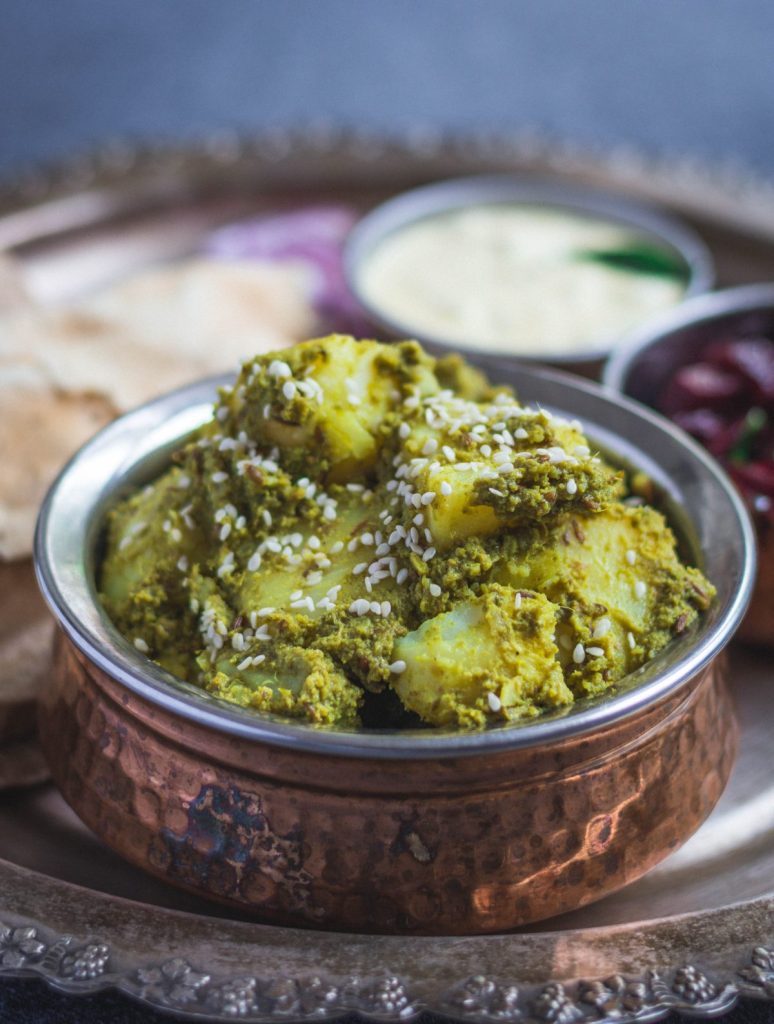 Chutneys and pickles are an integral part of every Indian meal. While the flavours may vary as you travel across the country, these condiments are a staple that's enjoyed from breakfast to dinner. Often play second fiddle to the main dish, though these are complex flavours that incorporate years of culinary wisdom. So it's not surprising that a chutney can inspire the creation of a whole new dish itself.
I have never had this kind of dish while living in India. It was not really popular in South Indian restaurants, not sure if that's the case now. But it was quite surprising to see this on the menu of most Indian curry houses and takeaways in Melbourne. North Indian flavours are most represented here in restaurants so that could be why it's become popular here.
The base of this dish is the mint coriander chutney, which we all love with any tandoori dish. A few more spices to enhance the flavours and it's ready to be used as a gravy base. Some versions of this dish do use yoghurt especially when you want it as a gravy style. Since I was making a semi dry dish, I didn't add any yoghurt.
Murgh/Chicken Chutneywala is the more common dish as chicken pairs exceedingly well with this mint coriander chutney. But potatoes are excellent flavour absorbers, so it makes an extremely delicious pairing too.
The sesame seeds are not just for garnish; the nuttiness of the sesame enhances the overall flavours and adds a really delicious textural element to the whole dish. Another key ingredient is amchur or dry mango powder for that savoury tartness that's brilliant in this kind of green chutney. Easily available in most Indian stores in case you are wondering where to source it from.
So let's get started on this simple, delicious Aloo Chutneywala. Also on the thali – chappathis, cumin pappad, beetroot sabzi and my signature zucchini pachadi.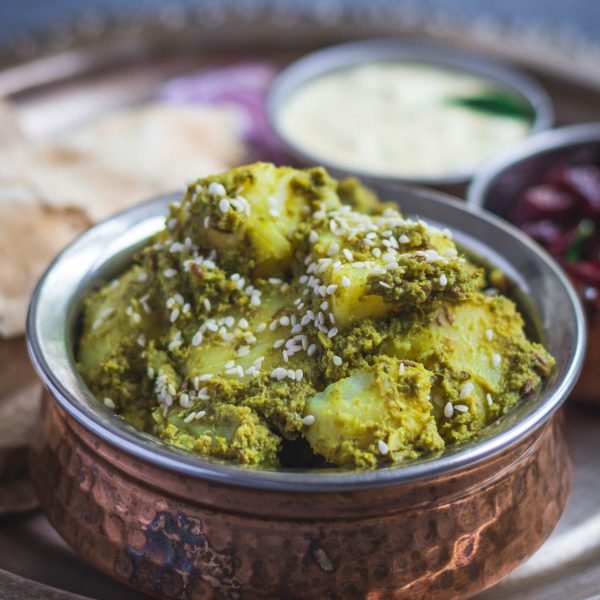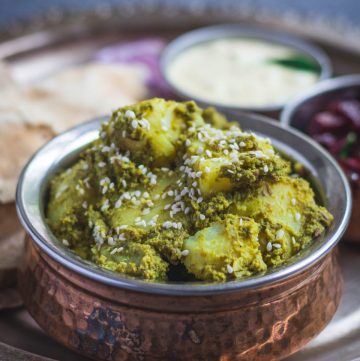 Print Recipe
Aloo Chutneywala
Ingredients
3

potatoes; diced

1

cup

packed coriander leaves

¼

cup

packed mint leaves

3

green chillies

adjust to heat preferences

1

inch

ginger

3

medium garlic cloves

1

tsp

lemon juice

1

tsp

cumin seeds

½

tsp

turmeric powder

1 ½

tsp

coriander powder

¼

tsp

garam masala

Salt

to season

½

tsp

amchur

dried mango powder

1

tsp

roasted sesame seeds

2

tbsp

vegetable oil

Salt

to season
Instructions
Cook the potatoes in salted boiling water till just done. Drain and keep aside.

To prepare the chutney, grind together coriander, mint, garlic, ginger and green chillies to a fine paste.

Heat oil in a pan and add the cumin seeds, followed by the green chutney; mix to combine.

Sauté on low heat for 2 minutes, stirring often and then add turmeric, coriander powder, garam masala and amchur powder.

Mix well and continue to cook on low heat for a minute, stirring so as not to burn the spices.

Add the cooked potatoes and toss well through the masala.

Taste and season with salt if necessary. Squeeze the lemon juice and toss well before removing from heat.

Garnish with roasted sesame seeds.