When it comes to cookware, it is all about quality rather than quantity for me.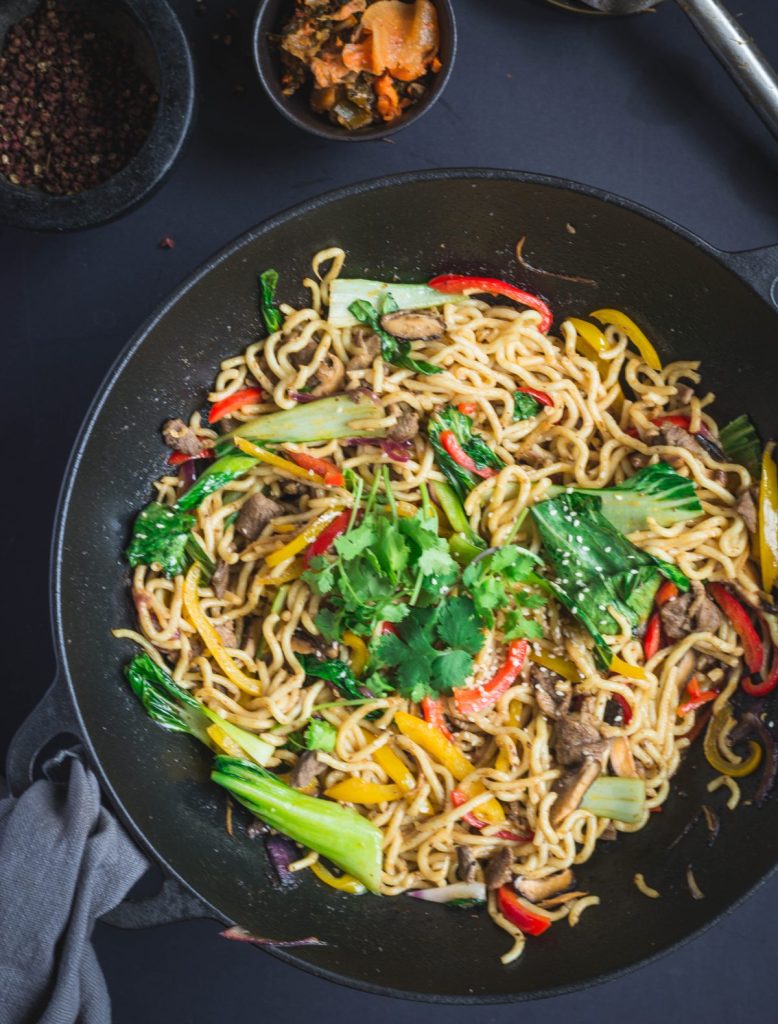 A few years ago, I made the switch to high quality, long lasting, durable cookware moving away from the Teflon coated pots and pans to more natural ones like cast iron, terracotta etc…. The right type of cookware is also important. With kitchen space always being limited, I prefer multipurpose ones that can be used to prepare a wide range of dishes.
And one that tops that list is a wok!
I think I can categorize my life as….before the wok and after the wok. That's how much it has changed and influenced my cooking with regard to taste and texture. The right kind of wok is just as important as choosing the right kind of ingredients. And I use mine not just for Asian style dishes but for all sorts of cuisines especially slow roasted meat dishes, curries, deep frying etc….
For a long time, I used a regular carbon steel wok till I came across this Victoria Seasoned Cast Iron Wok from Kitchen Warehouse.
Kitchen Warehouse has always been my go to online shop for purchasing cookware, bakeware and other kitchen accessories. About 6 years ago when I moved to Australia, I bought my first mortar and pestle from Kitchen Warehouse and since then, I have lost count of the number of times I have purchased from them. A wide range of products, reasonably priced including shipping rates and prompt delivery.
This wok is made by a Columbian brand called Victoria, which specializes in premium quality sustainable cast iron cookware. Apart from woks, this brand also makes other high quality cast iron cookware like tortilla press, skillet, grill pan, sauce pan, Dutch oven, griddle pan etc….
Pros:
Pre seasoned at high temperature with organic flaxseed oil so no extra time required to season which means I can start using the wok straightaway.
The generous size (35.5cm) is perfect for me to cook up a large batch of family meals and also handy when I need to cook for parties and get-togethers.
Easy grip side handles
Ideal base diameter for stability and balance when placed on a stove top; can also be used on campfire, grill or oven.
Heavy duty construction for lifetime durability and functionality.
Multipurpose – stir fry, slow cook, deep fry, steam etc….
Cons:
Heavier in weight, but that's expected of any cast iron cookware so don't really consider that a disadvantage considering the numerous advantages.
Maintenance is a key factor when it comes to any cast iron cookware; a little care and love will ensure that these last a lifetime. After use, it is important to hand wash with warm water and salt or using a mild soap. After wiping dry, the wok must be rubbed with a light coat of oil like flaxseed, coconut, canola etc… and then heated in an oven or stove top till lightly smoking. Wipe off the excess oil and allow to cool completely. Store in a cool and dry space.
Like I mentioned, I do use the wok for cooking different styles of dishes, but it's an absolute must when it comes to most of the Asian style cooking. Stir fries, noodles, fried rice…..I do put my wok to good use on a weekly basis.
Today's recipe is an invention of sorts, inspired by the different noodle dishes that I have tried out in the past. Usually the meat of choice is chicken or beef, but I had some duck breasts on hand which I wanted to use. The result was outstanding, wonder why I didn't use duck before. If you do not eat duck, substitute with your meat of choice or omit it completely for a vegetarian version.
It's a simple preparation, the main flavours coming from the duck along with ginger and Sichuan peppercorns. There are two key factors while making a noodle dish like this – getting your wok to the right temperature i.e. smoking hot for the quick stir fry action and having all the ingredients prepped and ready to go.
While you can use regular button mushrooms, I would encourage you to try out Shitake if it's available. The earthy, umami flavours adds so much depth to a dish like this. Hokkien style noodles are a great choice when you have bold flavours to soak up when compared to the thin egg noodles. The amount of Sichuan peppercorns and chilli sauce is totally your choice. For me, this turned out medium spiced for the quantities I have mentioned.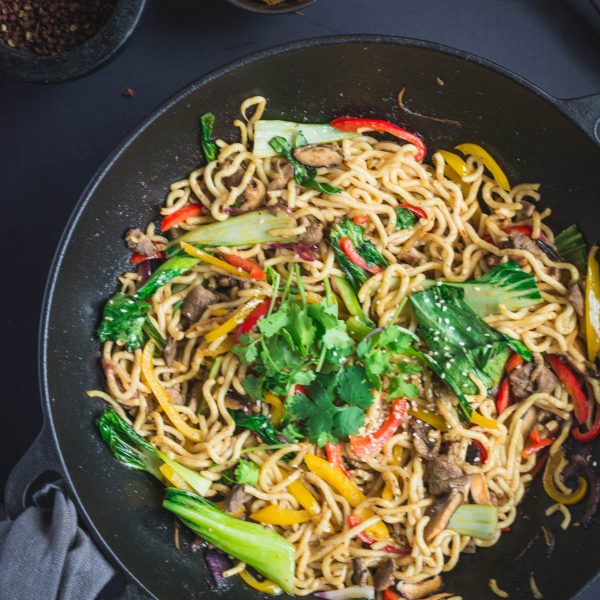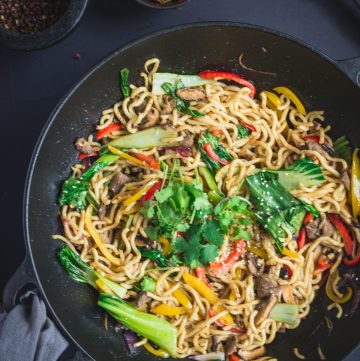 Print Recipe
Duck Noodles with Ginger and Shitake
Ingredients
800

gms Hokkien noodles

2

duck breasts

with skin (approx 400gms); thinly sliced

1

red onion; sliced

1

yellow bell pepper; sliced

1

red bell pepper; sliced

1

punnet shitake mushrooms; sliced

1 ½

inch

ginger; julienned

Shanghai/baby bok choy leaves; sliced in half

1 ½

tsp

Sichuan peppercorns

adjust to heat preferences; crushed

1

tbsp

hoisin sauce

1

tsp

chilli sauce

A splash of rice wine vinegar

Salt

to season

2

tbsp

sesame oil
Instructions
In a bowl, add the sliced duck pieces, half of the crushed Sichuan peppercorns, salt and mix well.

Cook the Hokkien noodles as per packet instructions and keep aside.

Add 1 tbsp sesame oil to the wok and heat; when the wok is smoking hot, add the sliced duck pieces and stir fry on high heat for a minute. Then lower heat and add half of the julienned ginger and cook covered till the duck pieces are cooked and tender. Remove the duck pieces along with the juices if any and keep aside.

Heat the wok again (if there is any liquid residue from the duck meat, allow to dry out) and add the remaining sesame oil.

When smoking hot, add the onions and shitake mushrooms. Stir fry for 30 seconds and then add the bell peppers. Mix and return the duck pieces to the wok.

Also add the remaining Sichuan peppercorns, hoisin sauce, chilli sauce and rice wine vinegar.

Toss well and then add the cooked Hokkien noodles and the baby bok choy leaves. Toss well to combine, taste and season with salt if necessary.

Remove from heat and serve.
Disclaimer – This post has been brought to you in collaboration with Kitchen warehouse. The recipe, musings and opinions are entirely mine.