Dahi Bhindi is a deliciously creamy dish popular in the northern parts of India, a must try for bhindi lovers!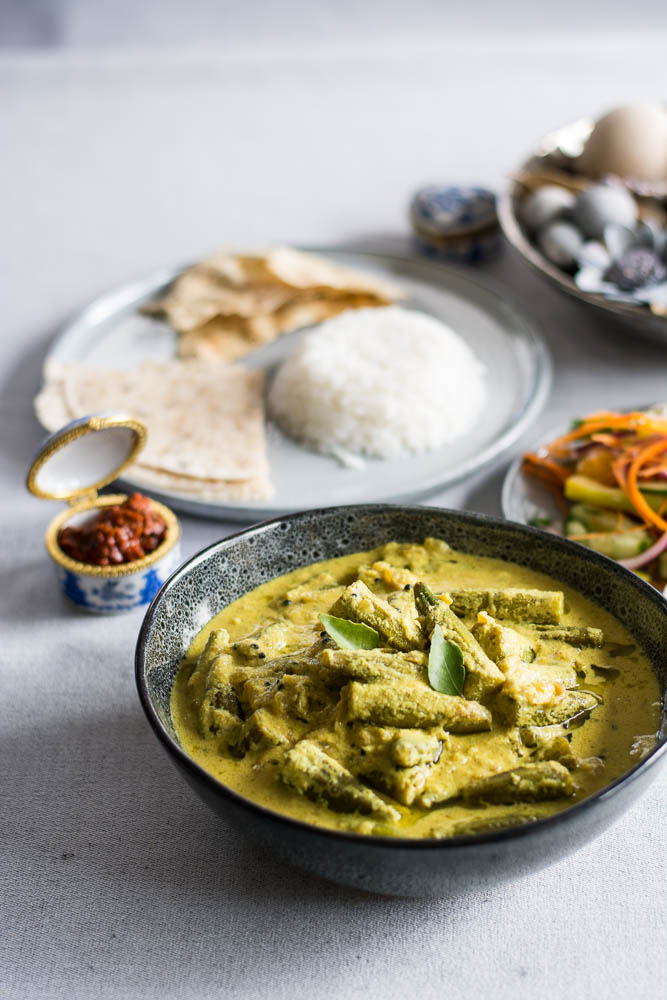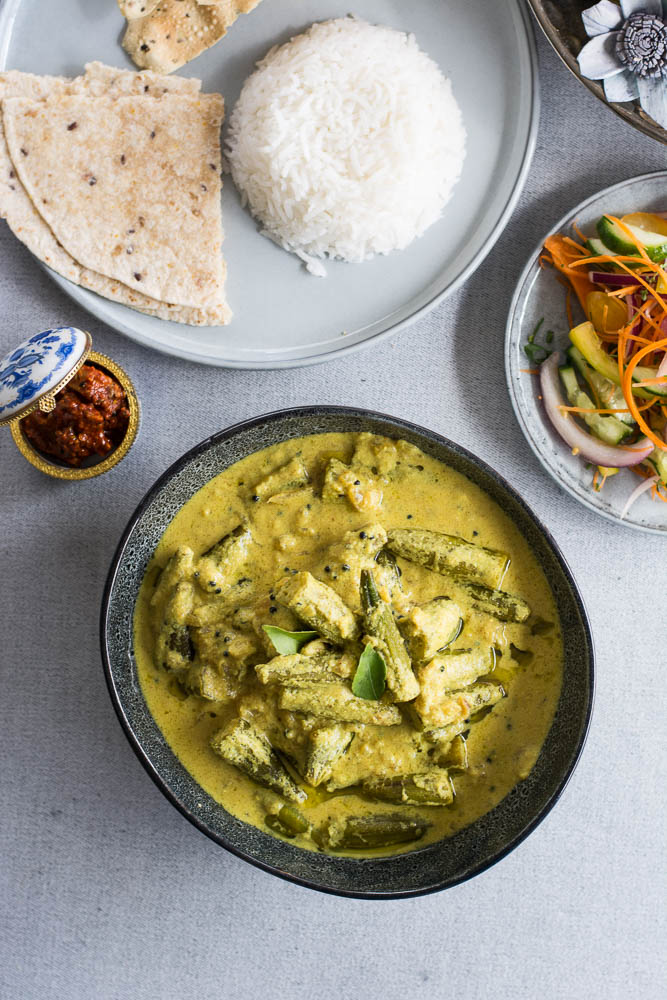 Okra/bhindi/ladysfinger – my absolute favourite vegetable. In fact if you ask me what would I like my last meal on Earth to be, I would say chappathi, lentils and okra (just the way my mom makes).
I have loved every single okra preparation I have had till now in my life. Guess I love this veggie so much that even a bad dish wins approval from me. My love for okra is quite legendary at home that my siblings often tell my mom not to ask what I would like to eat (when on vacation) as I would say an okra dish.
While I enjoy every style of okra preparation, one of my all time favourites is the stir fried one with lots of onions, garlic and chillies. This okra/bhindi raita is another favourite of mine; pairs so well with a simple pilaf.
But today, I am sharing an okra dish that I have had only at restaurants till now. Dahi Bhindi or okra in creamy yoghurt based gravy is a popular dish in the Northern parts of India. Best paired with chappathis (Indian flatbread), this dish is an absolute winner if you love okra.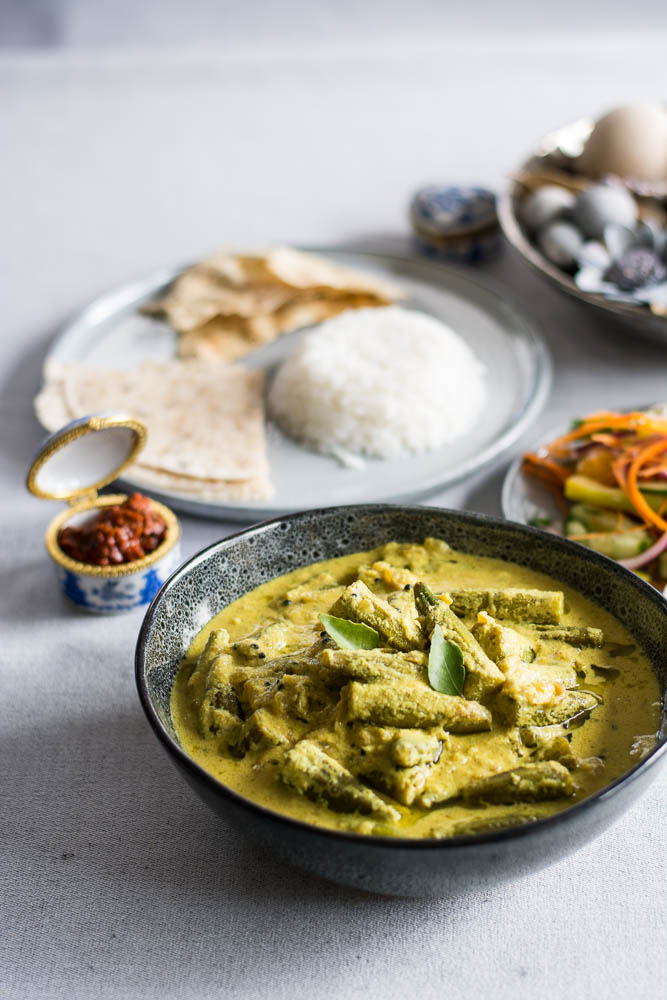 Most people are put off by the slimy texture of okra and there are a few tips by which you can prevent this. The first tip is to wash and dry the okra well. After draining the excess water, I use a kitchen towel to completely dry the okra before cutting it which greatly helps to reduce the slimy texture.
Also, lightly frying the okra before adding it to the gravy helps to prevent it getting slimy. In a non stick or cast iron pan, add the okra pieces and lightly fry with no oil (or with just a tsp of oil) on low heat. I always follow this method if I am using the okra especially for curries or gravies.
Another tip is not to stir the okra around too much while cooking. Always cook on medium heat and stir only occasionally.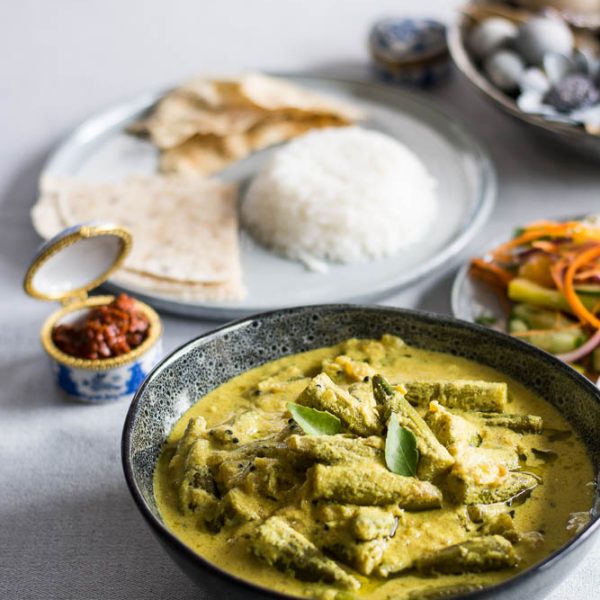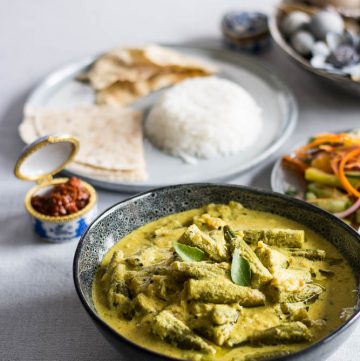 Print Recipe
Dahi Bhindi
Ingredients
400

gms okra/bhindi/ladysfinger

remove head and cut into half

1

Spanish onion; finely chopped

1

tsp

mustard seeds

½

tsp

turmeric powder

Salt

to season

1

cup

thick yoghurt

3-4

tbsp

vegetable oil

2

tbsp

coriander leaves; finely chopped
Ground masala
¾

cup

freshly grated coconut

3-4

green chillies

adjust according to heat preferences

1

inch

ginger

3

large garlic cloves

5

shallots/small onion or 1 small red onion; chopped
Instructions
In a non stick pan/kadai, heat 1 tbsp oil and lightly fry the okra till half done. Remove and keep aside.

Grind all the ingredients given under the ground masala to a fine paste like consistency and keep aside.

In the same pan that the okra was fried, heat the remaining oil and add the mustard seeds. Once it begins to crackle, add the chopped onions. Sauté till softened and translucent.

Then add the ground masala, turmeric powder and season with salt. Cook on low heat till the rawness of the ingredients has gone away and oil begins to appear at the sides.

Beat the curd well and add this to the masala; mix well and add enough water to get thick gravy.

Then add the okra and cook on low heat till done.

Remove from heat and add the coriander leaves; mix well.

Keep for atleast 15 minutes for the flavours to develop.
Notes
The gravy can thicken on standing or when refrigerated. Add a little water while reheating to get the desired consistency.