A hearty and comforting Potato and Parsnip Soup garnished with bacon and chilli oil to oomph up the flavours. It's a delicious autumn/winter dish for the whole family but honestly, I can have this all year round. Omit the bacon or replace with fried mushroom for a vegetarian option.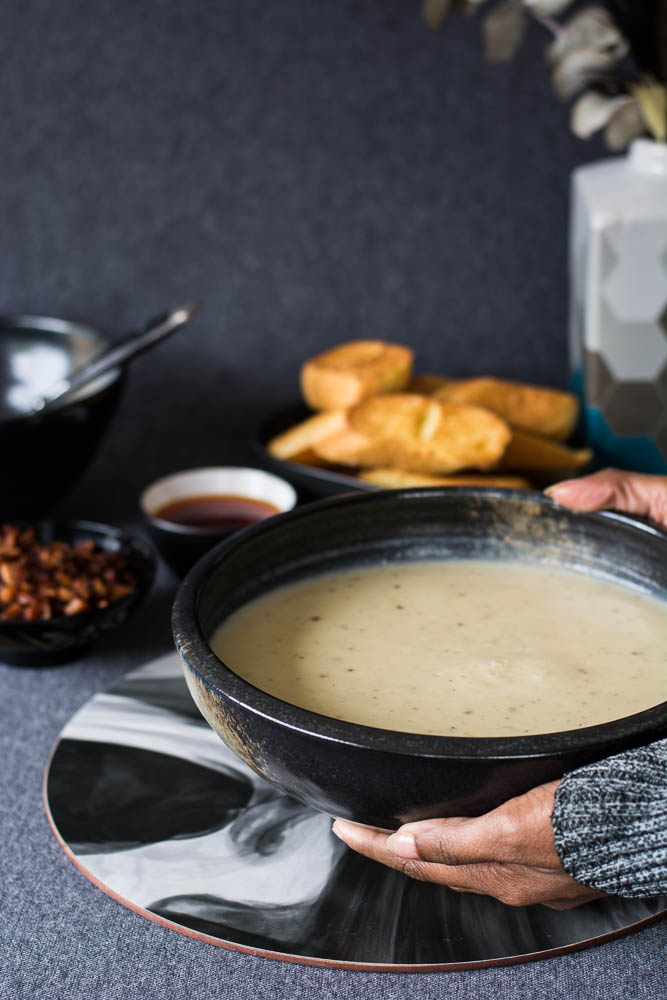 It's a beautiful, bright and sunny day today!

I smile as I write this because it's technically autumn but today feels like a perfect spring day. And I know the cold days are just round the corner so I am glad to soak in the sun while it lasts. (A quick look at the forecast tells me not to get excited as it's all rain and chills the rest of the week).

Weather plays such an important role in my mood, especially after moving here. While in India, there was only the intense heat to battle but here, it's all the different seasons and with Melbourne being a little crazy on the weather front; it has been a long journey learning how to deal with it from wearing the right clothes, eating the right food and planning our everyday life around it.

But I think I can say that I seem to have adjusted well. While the changing seasons still has an effect on my overall mood, I don't get too worked up about it instead learning to embrace and enjoy the beauty of each season.

And that brings us to today's recipe – Potato and Parsnip Soup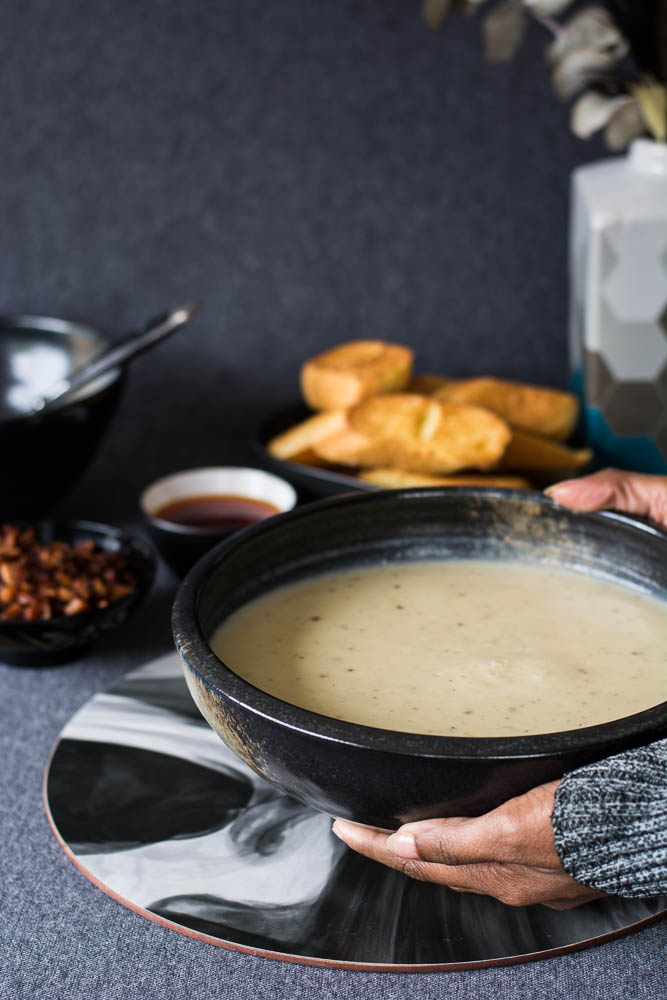 Soups are one of my favourite categories of dishes to make during autumn and winter. It's warm, hearty and comforting with minimal effort. It's a really easy dinner, makes excellent leftovers and a great way to try out new veggies. Like parsnip, in my case.

I think the only reason why I have never cooked with parsnip before is unfamiliarity. It's not a common one in South India, so I have never really tasted it before. Hence, it's not a veggie I reached out for while shopping. In fact, as I pick up the carrots often placed nearby, I make a mental note to check out a recipe and then buy it; but that has never happened too.

This time I was determined to get parsnip and though there were many recipes that I had bookmarked, I wanted something familiar hence opted for this soup. This potato soup is one I make often so adding parsnip too seemed like a good idea, at least the first attempt wouldn't be disastrous.

But this potato and parsnip soup turned out to be no disaster. Instead it quickly became one of our favourite soups for the season, especially with that really moreish, savoury addition of bacon and chilli oil.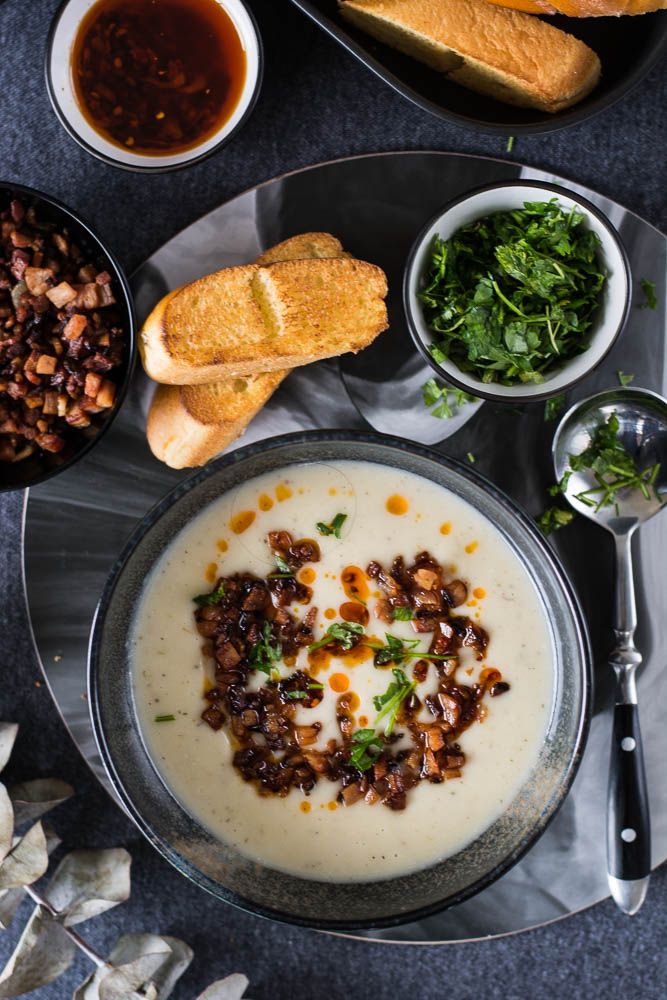 Yes, you heard it right…chilli oil! Not just for dumplings, it's one of my favourite toppings for soups, stews, just about anything. I love that spice hit, a depth of flavour that cannot be explained in words. Well I don't make the chilli oil myself; it's so easy to get at any Asian grocer or supermarket. And the crispy prawn ones are the best!

If you prefer to make a vegetarian version, skip the bacon and chilli oil; instead add bread croutons or fried mushrooms and a dash of Tabasco or sriracha if you like the spice kick.

I prefer not to use cream, instead always use a dash of milk to lend that sweet creaminess to the soup.

So let's get cooking Potato and Parsnip Soup with bacon and chilli oil. I am sure you are going to make it plenty during the coming months….
Here are my three top favourites when it comes to soups;
Tomato Soup with Garlic Butter Croutons
Scandinavian Potato and Pumpkin Soup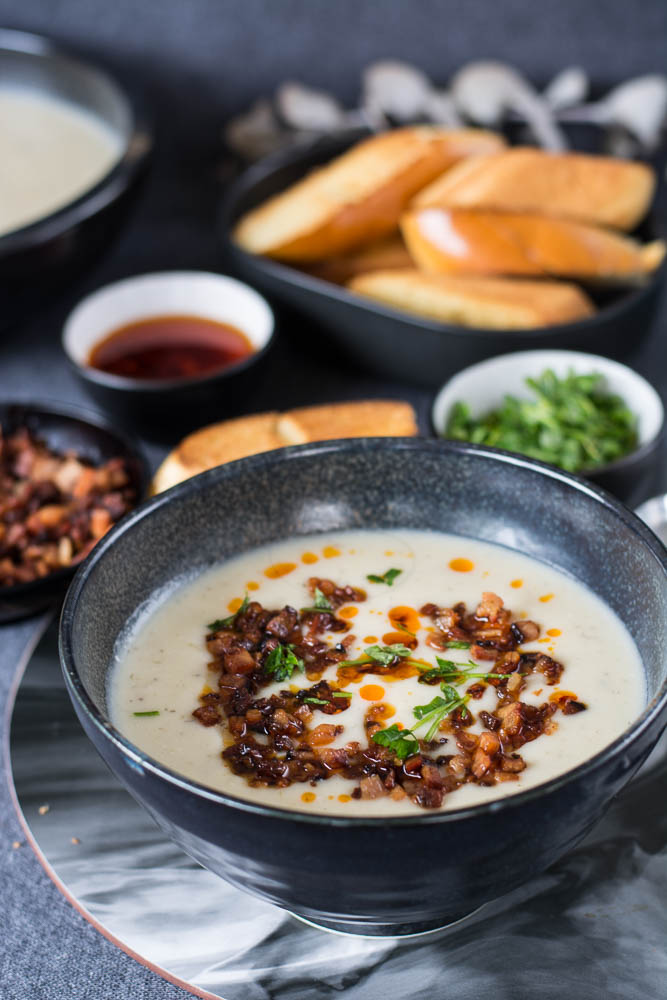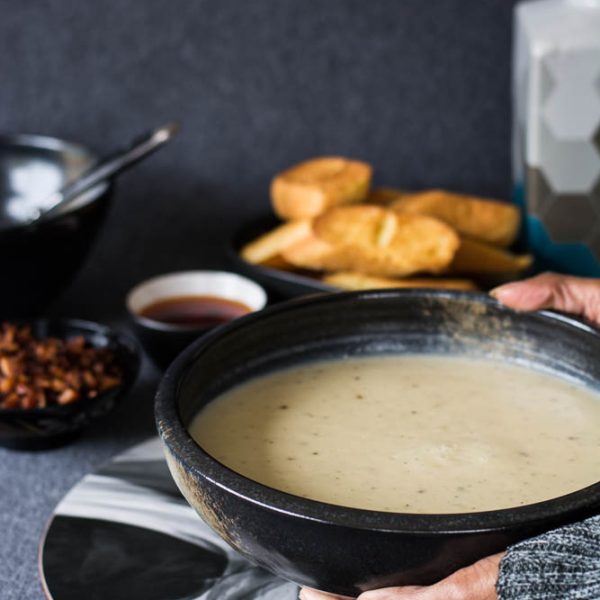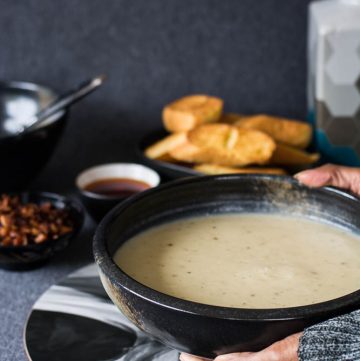 Print Recipe
Potato and Parsnip Soul (with Bacon and Chilli Oil)
Ingredients
2

large potatoes; skin peeled and diced

2

parsnips; skin peeled and diced

1

medium onion; chopped

1

garlic clove; crushed

2

tbsp

butter

2

tbsp

olive oil

5

thyme sprigs

including garnish

1

litre vegetable stock

chicken stock works great too

150

ml

milk

Salt

to season

Black pepper; to season

150

gms bacon; finely chopped

Chilli oil

I used crispy prawn head chilli oil
Instructions
In a large stock pot, heat the oil and butter. Add the garlic and onions; sauté till the onions are softened.

Then add the potatoes, parsnip and 3 thyme sprigs; mix well to combine and add the stock. Bring to boil, then lower heat and cook covered till the veggies are cooked well and mushy.

Once the veggies are cooked, turn off heat and allow to cool lightly before blending the whole mixture.

Return to heat and add the milk; taste and season with salt and pepper.

In another pan, add the chopped bacon and sauté on low heat till crispy. No extra oil is required as the bacon releases enough oil.

Ladle the soup into bowls and garnish with bacon, chilli oil and thyme.