Mondayitis! And I seem to be suffering from copious doses of it. I wonder if there will ever be one Monday when I will wake up ready to embrace it instead of diving right back underneath the sheets.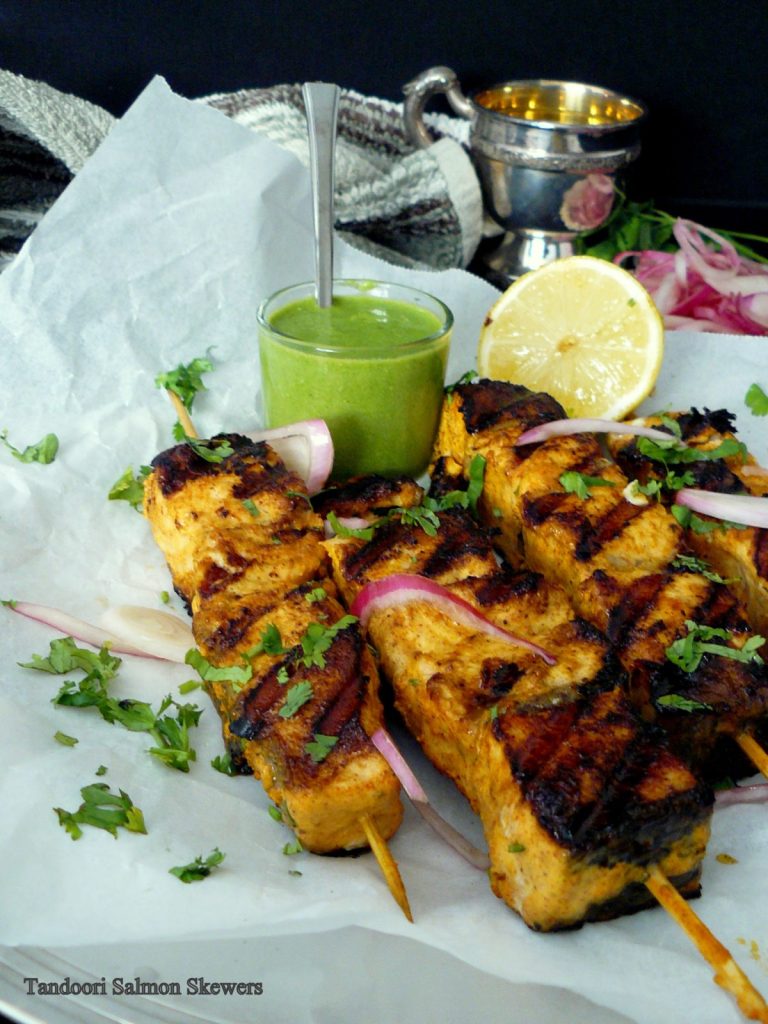 In a long day ahead, the only silver lining seems to be this blog post…..because that's how excited I am to bring you today's dish, 'Tandoori salmon skewers.'
For the longest time, I have wanted to try out an Indian inspired salmon dish, especially after seeing and reading a lot of similar dishes on Masterchef, Jamie Oliver's YouTube channel and also several restaurant menus.

Salmon is a very meaty fish with a distinct flavour and texture; it can be the most amazing experience if cooked properly. But if you overcook it, then you completely kill the flavour and believe me, it's not something that you want to do especially after spending a whole lot of bucks buying it.

I have eaten salmon plenty of times and have cooked with it too but never an Indian inspired one. Today we have a delicious tandoori dish using the salmon fillets. Smothered in the fragrant, flavourful and rich marinade resplendent with spices, the tandoori salmon skewers make the perfect party starter.
Was a tad bit hesitant with this one wondering if the tandoori spice blend which is rather strong and packs a punch would overpower the actual flavour of the fish. But it didn't at all…..there is a sudden explosion of flavour in the first bite from the spicy, tangy notes of the tandoori marinade followed by the succulent sweetness of the salmon itself.
Do make sure not to overcook the fish!
Ingredients:

1. 700 gm, Atlantic Salmon fillet; cut into large cubes
2. 1 cup thick curd

Click here to read full recipe……

And here is the recipe for the mint coriander chutney.
Recipe developed, shot and styled for Supreme Seafood