Only for a South Indian can 'gunpowder' mean something delicious!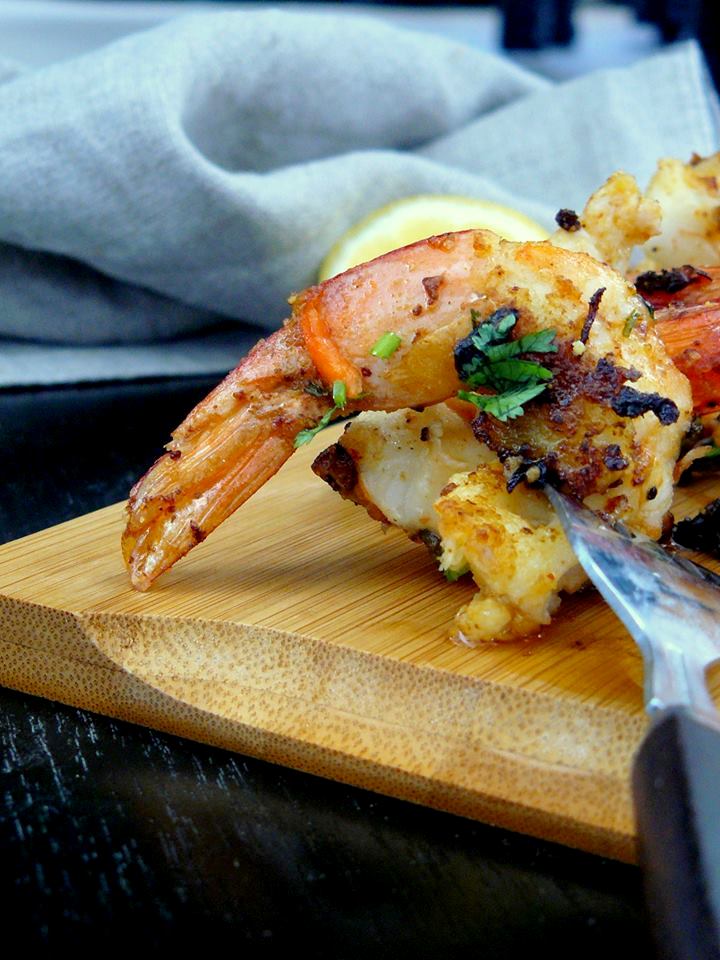 Gunpowder is a fiery spice blend that often graces the breakfast tables of many South Indian regions. It is usually mixed with ghee/clarified butter or sometimes just vegetable oil and used as a condiment to dosas and idlis (both breakfast staples of the region).

Now with a name like gunpowder, it's rather obvious that this blend is indeed a spicy and fiery one. The ghee is usually added to tone down the heat but let's not kid ourselves; this one is still hot and for those with stronger palates.

But today, we are shaking things up a bit. Since I am clearly not a morning person (as most of you know), I am taking this breakfast favourite to spice up my favourite ingredient – seafood!

Gunpowder prawns. Yes, that's what I am calling today's dish.
Get your hands on the juiciest tiger prawns you can, nothing less would do to make this lip smacking delicacy that is definitely a conversation starter.

It's a pretty simple and straightforward recipe; even making gunpowder is no rocket science. The ingredients are few and the process simple. I have incorporated familiar South Indian flavours which are all present to complement the heat of the gunpowder. And you will see that the prawns can absorb a lot of the heat so that the final dish is actually not very spicy unless you add loads of the spice blend which I do not recommend anyway.

Since I wanted more prawny flavours (for lack of a better word!), I sautéed the shells first with butter and shallots and then added the prawns. But if you cannot stand the smell or if you are not comfortable with the step, just sauté the onions without the shells and toss in the prawns.

Ingredients:

1. 600 gms tiger prawns (with shells)
2. 3-4 tsp gunpowder
3. Salt, to season
4. 2 tbsp butter
5. 1 sprig curry leaves; finely sliced

For full recipe, click here….

Recipe developed, styled and photographed for Supreme Seafood.