Inspired by a traditional South Indian rice preparation, this Tempered Cauliflower Rice is one of the most delicious ways to eat cauliflower. Enjoy it instead of grains or add it as a salad to your meal; either way, it is sure to be a big hit with everyone.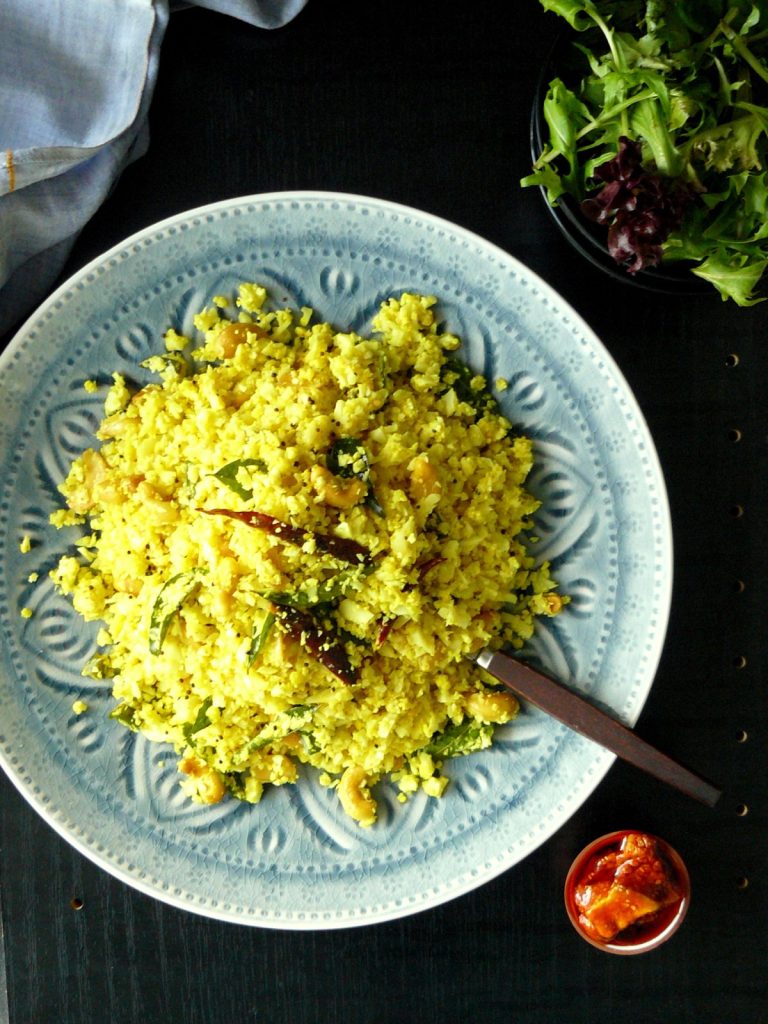 I have finally jumped on the 'cauliflower rice' bandwagon!
The rise of the 'raw food' trend has been momentous in the recent times, especially given the current focus on health and natural living.
Cauliflower, perhaps, is one of the first ingredients that began to be used in its raw form as a substitute for grains. If you haven't got the concept, cauliflower florets are blitzed to a finely grated form to mimic rice. A couple of brilliant cooks and chefs began to come up with delicious and unique ideas of using cauliflower beyond its traditional form. And today, it has a cult following around the globe.
Though I have come across quite a few recipes using cauliflower in this new avatar, I really didn't intend to make it. And I almost certainly wouldn't have if not for the editor of the community magazine where I freelance. 'R' has been asking me for an Indian inspired cauliflower rice for months now and I kept putting her off. But finally, here I am with the simplest 'cauliflower rice' dish.
So this tempered cauliflower dish is a simple, non fussy dish drawing inspiration from the rice dishes of South India.
A no-brainer really! All that I did was borrow the idea and pair it with the South Indian style of tempering rice and merged it together. Easy peasy, just as Adi would say.
There are so many ways you can use this tempered rice. Have it as the main dish (like I did) with a side of pickle, pappads and salad or you could make a Buddha bowl with chickpeas and an assortment of veggies. It is great as a filling for burritos replacing the lime rice or a nice accompaniment to your steaks (hugely cuts down the guilt factor!).
Before we get down to the recipe, if the idea of using cauliflower as a replacement for rice/grains has tickled your fancy, here's another delicious dish I would totally recommend. Sneh is a brilliant cook and she has come up with the perfect pot of cauliflower biryani salad!!
And before you check out the recipe, here are five of my favourite healthy and nutritious vegetarian dishes;