My Instagram journey has so far been a highly delightful and inspiring one. I have been able to interact with a wonderful bunch of creative friends there and some wonderful human beings too. And a friend that fits that bill is Natasha (or Nats, as I sometimes call her). Nats is known as @thegutlessfoodie to the Insta folks and if you are curious as to why that name, check out her profile.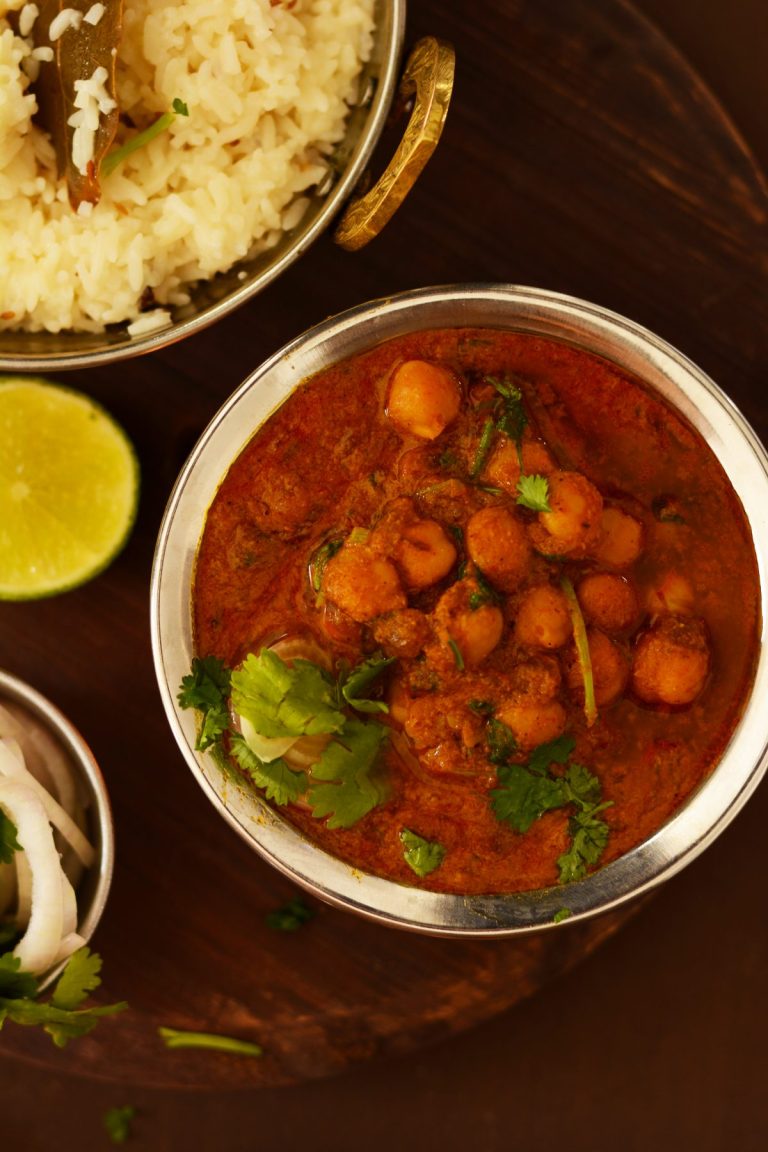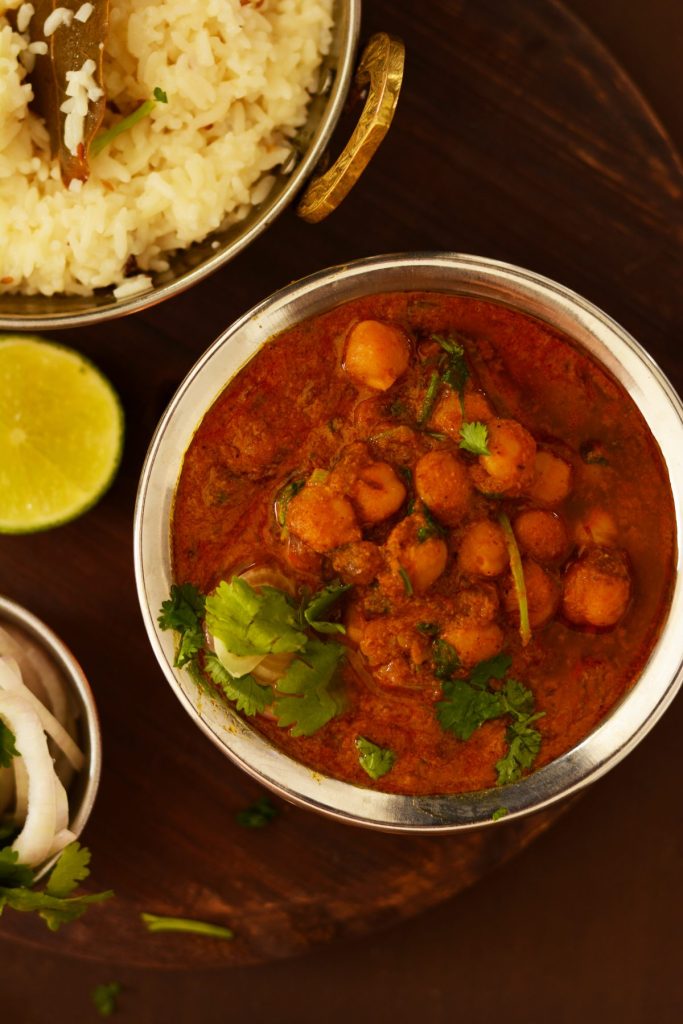 Apart from being such a darling, Nats has a whacky sense of humor that always brings a smile to my face. And if you follow her, you would get truck loads of inspiration for everyday dishes. Like I did, for this Chickpeas and Mustard Leaves Curry (with my special East Indian Bottle Masala).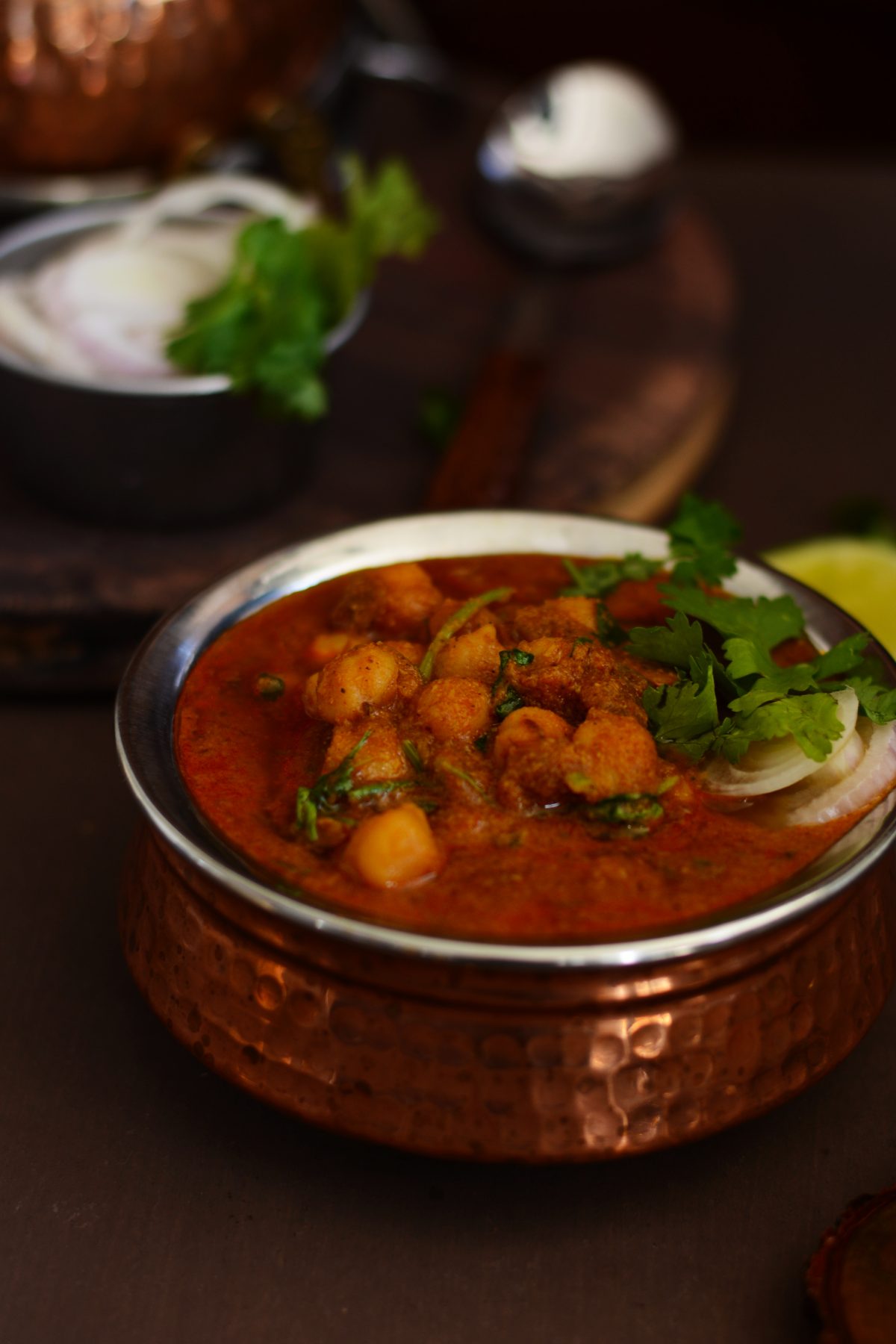 This recipe is my adaptation of Natasha's dish since I added mustard leaves and also used my special East Indian Bottle Masala to spice up the curry.

Mustard leaves are super healthy greens that are used extensively in North Indian cuisine especially states lying near the Himalayan belt. I wanted to try and grow these in my balcony garden but that meant trying to grow it in a pot. An experiment that yielded good results.

The only thing about growing mustard leaves in a pot is that you get only baby leaves and not the large one that is typical when grown on the ground. Also, since I was trying to grow it the first time, I planted the seeds in a small pot; next time I would try in a larger pot to see if the size of the leaves get bigger. If you live in an area where you can easily find mustard leaves in the market, then go ahead with that or substitute with any other greens if growing it in your garden is not an option for you.

Anyway, I found that the baby leaves tasted more refreshing than the larger mature ones which meant that I could use it for garnishing my salads and also in pasta dishes. In fact, I was planning on a salad when Natasha's chickpea curry caught my attention.

For my East Indian Bottle Masala story, you need to read this post (which also tells you another delicious way to use this spice blend).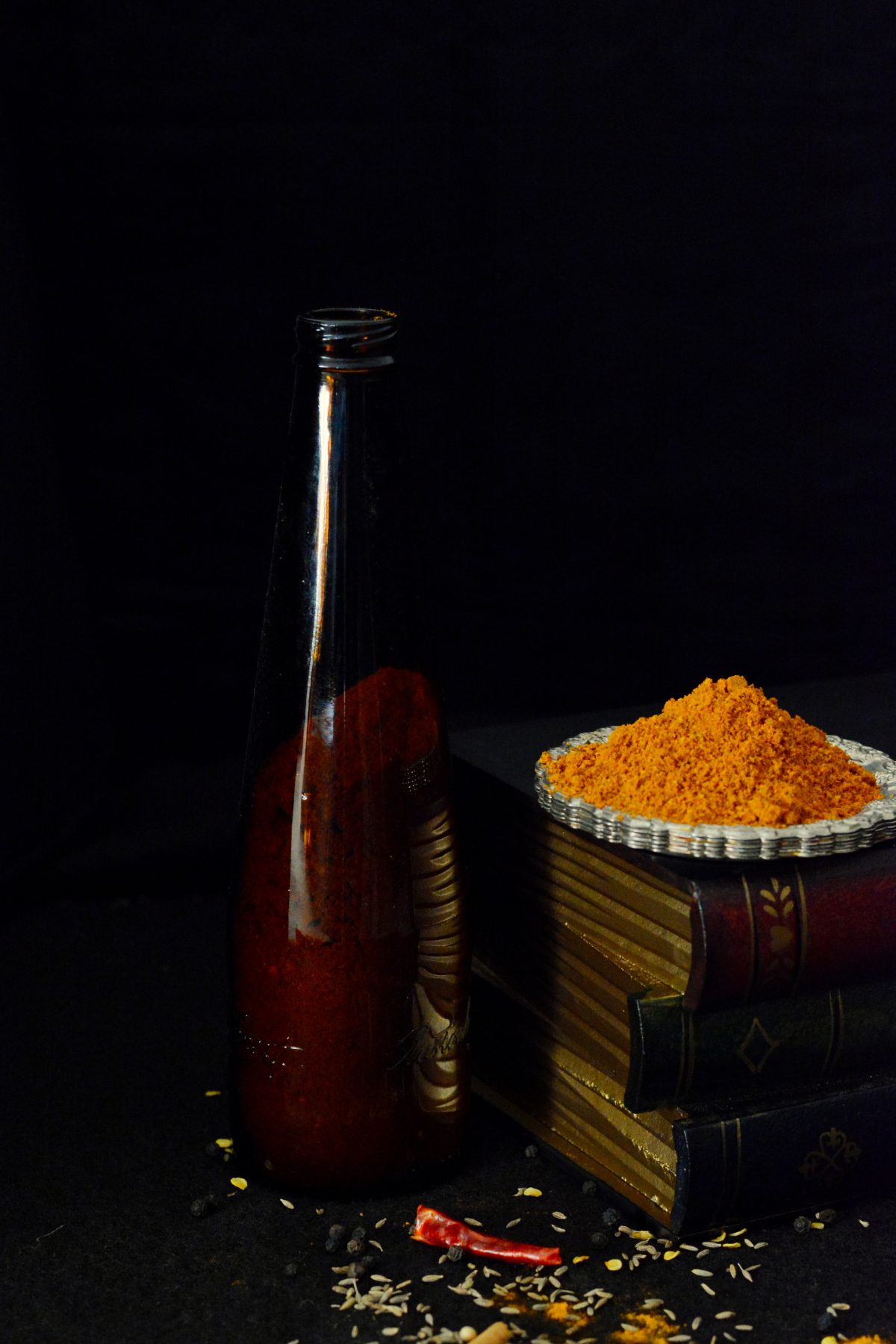 This chickpeas and mustard leaves curry is a simple, everyday dish that can be paired with flatbreads or rice and with a simple salad on the side. How I love these simple yet delicious and healthy almost one-pot meals that are just so comforting and nourishing at the same time.

The leaves wilt quickly even when added right at the end of the dish so you will hardly notice it in the photographs. But it's there peeps…all the goodness and flavour is there.

Ok, so let's get cooking….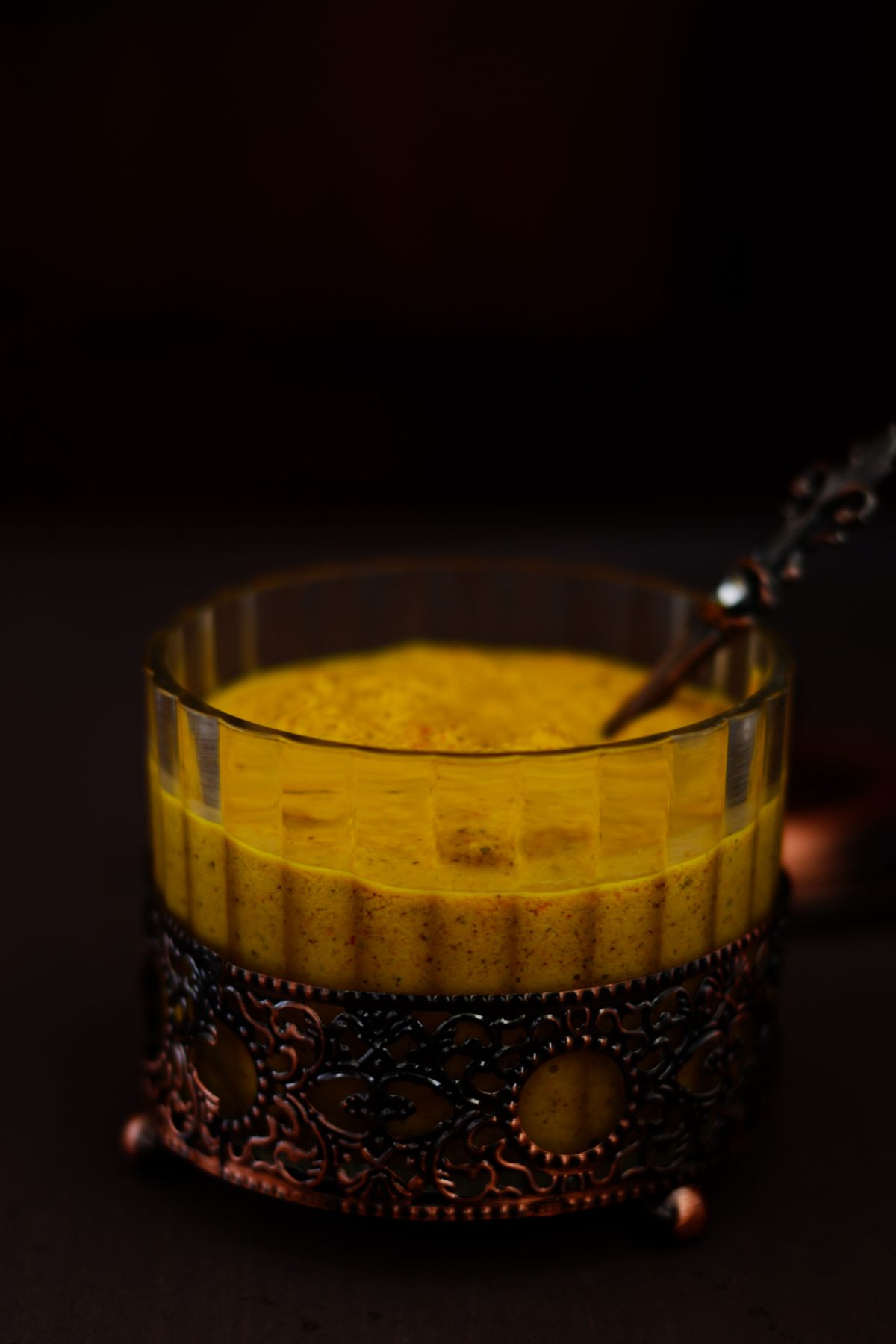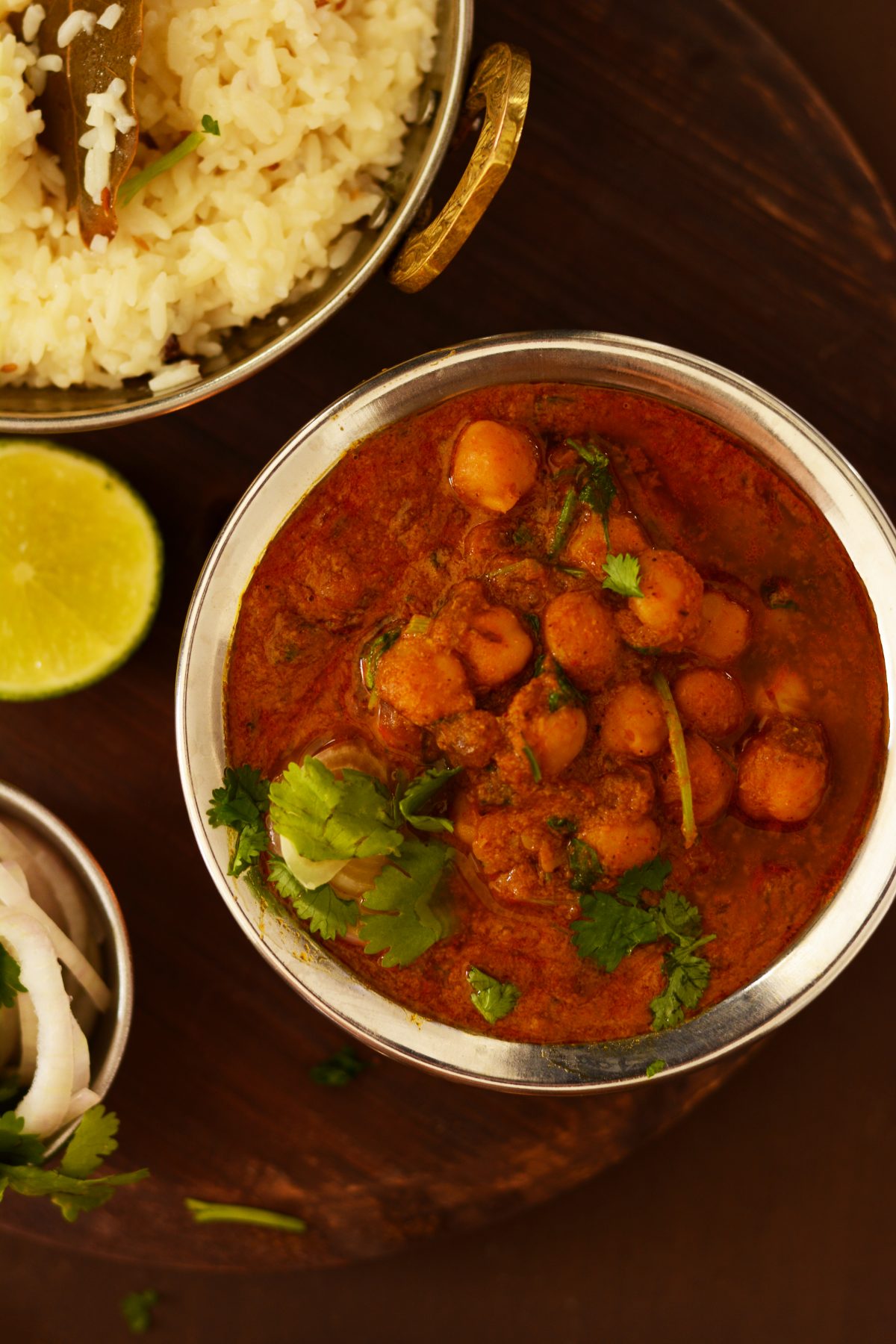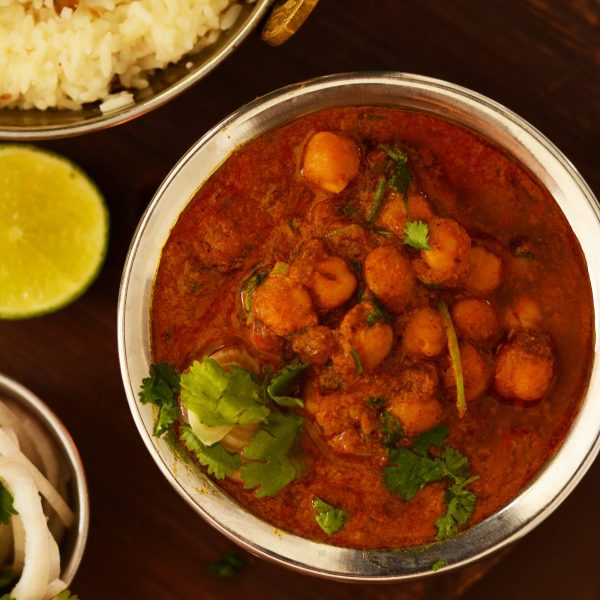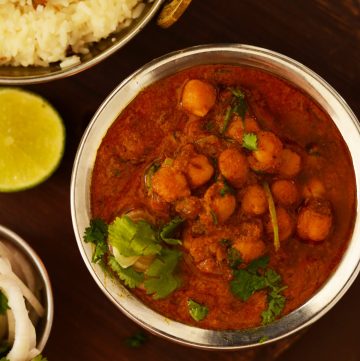 Print Recipe
Chickpeas and Mustard Leaves Curry
Ingredients
1

cup

chickpeas; soaked overnight

½

cup

mustard leaves

roughly chop if you are using the bigger ones
Coconut spice mixture
½

tsp

crushed cinnamon

10

black peppercorns

¼

tsp

fennel seeds

2

green cardamom

1

tbsp

roasted gram flour/garbanzo bean flour/besan

½

tsp

almonds; crushed

½

cup

grated coconut

2

large garlic cloves

1 ½

tbsp

East Indian bottle masala

3-4

tbsp

vegetable oil

1

star anise

2

dry bay leaf

1

black cardamom; crushed

2

medium red onions; finely chopped

½

tsp

red chilli powder

A pinch of asafoetida

1

tbsp

tomato paste

Salt

to season

3

sprigs fresh coriander leaves; finely chopped
East Indian Bottle Masala:
12.5

gms dry Bedki chilli

12.5

gms dry Kashmiri chilli

45

gms turmeric powder

30

gms coriander seeds

14

gms cumin seeds

10

gms white sesame seeds

10

gms poppy seeds

7.5

gms fennel seeds

25

gms mustard seeds

2.5

gms black cumin/shahjeera

3

green cardamom

5

cloves

2.5

gms black pepper

3

gms cinnamon bark
Instructions
To prepare the bottle masala, dry roast all the spices till aromatic and fragrant. Cool and grind to a powder. Store in an airtight bottle or container and use as necessary.

To prepare the coconut spice mixture, grind all the ingredients given under No.3 with a little bit of water to make a thick paste.

Heat vegetable oil in a pressure cooker (or pan if you don't have a cooker). Add the star anise, cardamom and bay leaf; after a few seconds when the spices have becomes fragrant, add the chopped onions.

Sauté till light brown and then add the red chilli powder. asafoetida, tomato paste and coconut spice paste. Cook on low heat till the masala comes together and the rawness of the spices and coconut have gone.

Then add the chickpeas and cook till done (around 2-3 whistles would be enough if using a pressure cooker).

Finally, add the mustard leaves, stir through and remove from heat. Since these are baby leaves, it does not require any cooking time but if you are using the bigger ones, you may need to cook it for about a minute.

Garnish with chopped coriander leaves and serve warm.