Khichdi – the comfort food for one half of the Indian population! A nourishing rice dish made even better with the addition of carrot greens.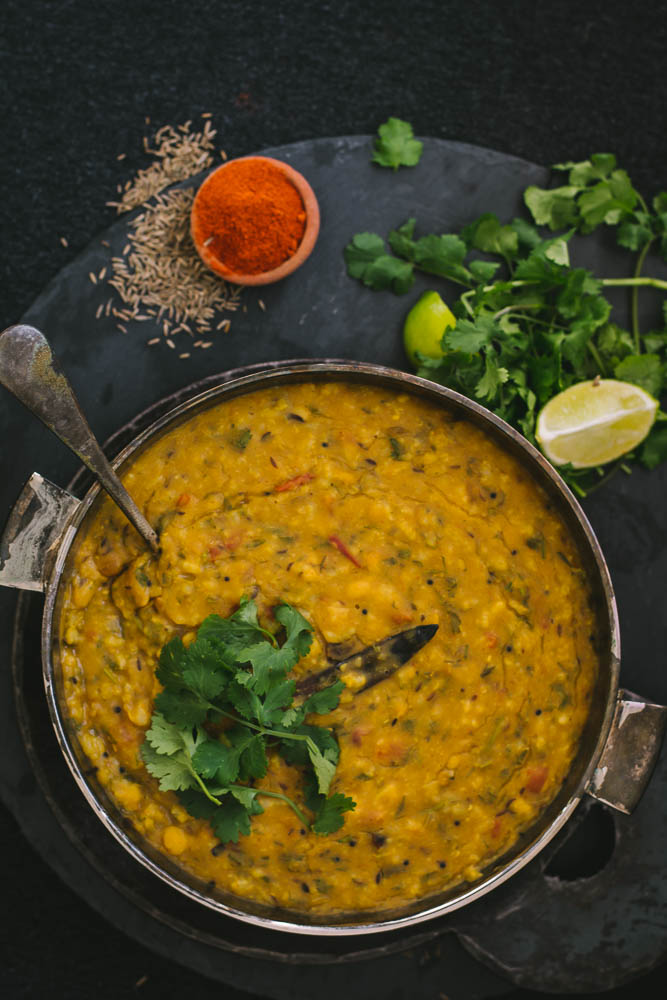 I say this specifically because khichdi is not a dish that is popular in my hometown, Kerala. And hence I was not aware of its existence for a very long time.

My first tryst with khichdi happened somewhere along the Pune-Mahabaleshwar route. We were living in Pune at that time and were visiting the hill station when we stopped at a roadside dhaba for a quick meal. Sam suggested that I try the khichdi (he had already developed a taste for it, thanks to his office mates) and hesitatingly I did. But oh boy, it was a revelation.

The rich, spicy, almost creamy consistency of rice and lentils with that generous drizzle of ghee made my tastebuds sing with joy.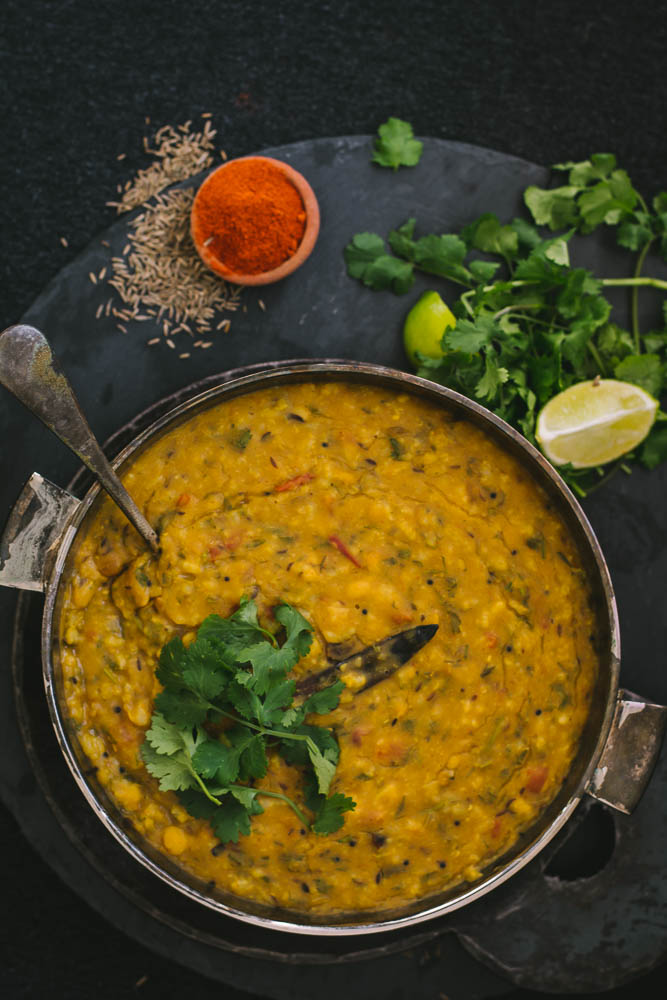 And while I consumed many plates of khichdi during my stay in Pune, I never ventured to cook it in my kitchen till about 2 years ago.

I think it's the memory of that taste that encouraged me to make a khichdi at home. It's no rocket science, but often we need a motivation or purpose to try out something new.

At its heart, a khichdi is nothing but rice and lentils cooked together, mashed and then tempered with spices. But that tempering is what makes all the difference. It can be as simple or as complex as you want and in my opinion, the whole flavour profile of the khichdi depends on it.

My version of the khichdi is not the most traditional but neither a fusion. It is perhaps an amalgamation of various styles based on flavours and spices that I like best.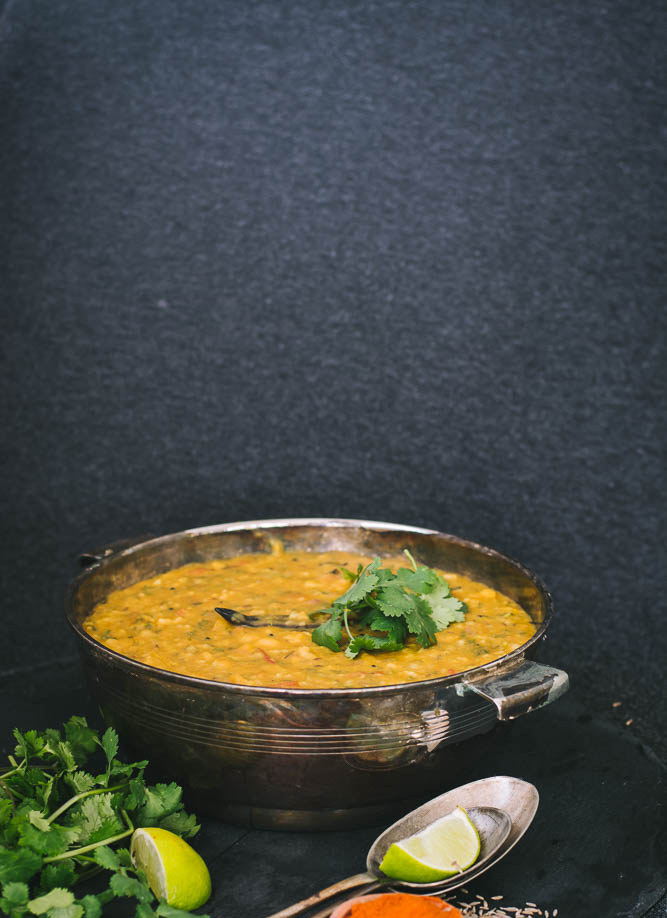 Khichdi is an extremely healthy dish because of its powerful combination of carbs and proteins. Usually prepared with just one type of lentils, but my version has a mixture of lentils and pulses along with some sort of greens like spinach, fenugreek or even carrot greens, as I have done today.

You can either make a mix of the lentils from what you have at home or pick up a packet of the soup mix like I do. Or use just one type of lentil; it's totally your wish. When using a soup mix, it's best to soak it overnight so that the cooking process is much faster.

How many of you use carrot greens as an ingredient? It has gained a lot of attention with the raw food movement and is often found as an ingredient in salads, pesto etc…. But I also love to use it in my dal (lentil) preparations just the way I would use spinach. Beetroot leaves can also be used this way but needs to be cooked more than the carrot greens.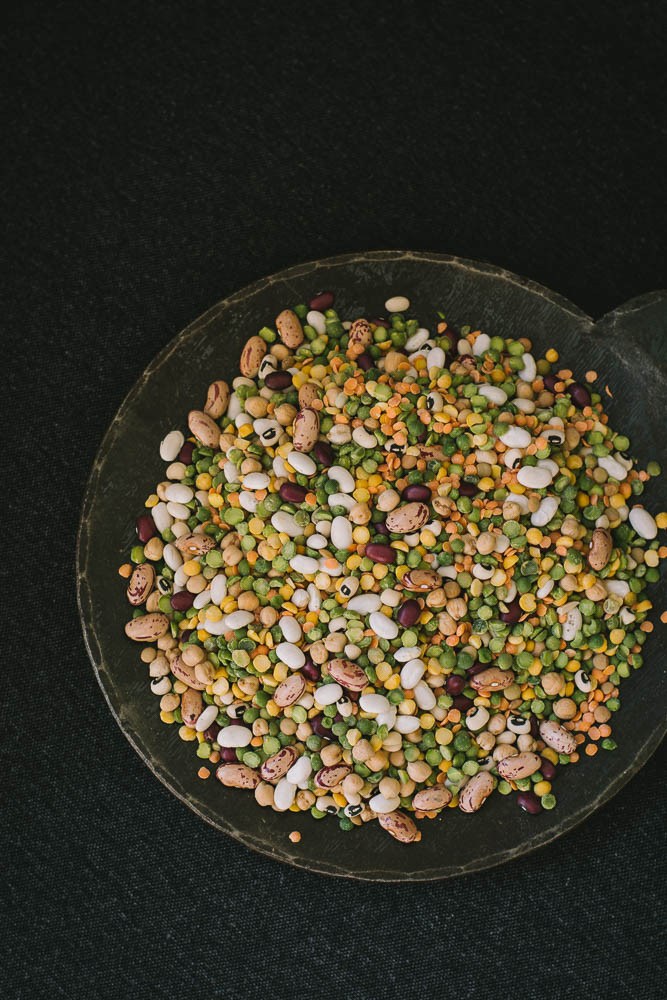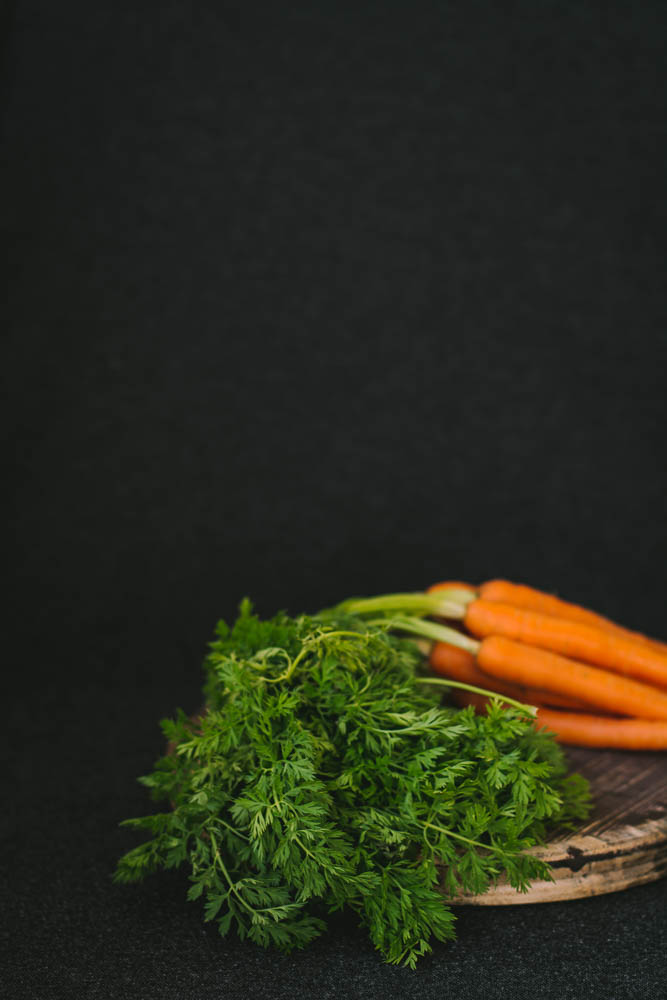 Even though I pressure cook the lentils and rice for time constraints, I always slow cook for a good 15-20 minutes after adding the tempering. A bit of extra time only helps intensify the flavours which I really want from my plate of khichdi.
And a final drizzle of hot ghee is an absolute must!
If you want to include more healthy greens into your daily diet, here is another delicious curry with chickpeas and mustard leaves that you must try out.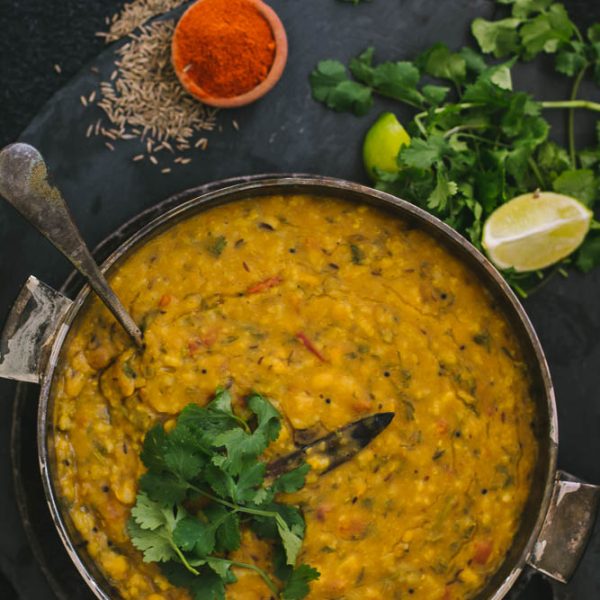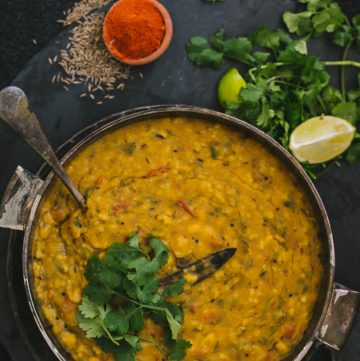 Print Recipe
Khichdi with Carrot Greens
Ingredients
1

cup

mixed lentils; washed and soaked overnight

1

cup

medium grain white rice

Carrot greens

(I used the greens from 4 small carrots); finely chopped

Salt

to season

Ghee/clarified butter; for serving

2

tbsp

coriander leaves; finely chopped
For tempering:
2

tbsp

ghee/clarified butter

2

tbsp

vegetable oil

1

tsp

mustard seeds

1

tsp

cumin seeds

½

tsp

caraway/shahi jeera seeds

3

dry red chilli

1

medium red onion; finely chopped

1

tbsp

grated garlic

1

tbsp

grated ginger

2

large ripe red tomatoes; finely chopped

½

tsp

turmeric powder

½

tsp

Kashmiri chilli powder

½

tsp

red chilli powder

1/4

tsp

asafoetida

½

inch

piece of jaggery or ½ tsp raw sugar
Instructions
Wash the soaked lentils and rice together. Add to a pressure cooker or deep bottom pan and cook well with enough water (remember to season with a pinch of salt). The lentils and rice must be cooked enough to be able to mash well.

In another pan, heat ghee and oil; add the mustard seeds and allow to splutter.

Then add the cumin and caraway seeds; as it begins to crackle, add the dry chillies and onion; sauté till softened.

Then add the garlic and ginger; sauté till the onions have turned light brown.

Next add the tomatoes and cook on medium heat till the tomatoes have softened and turned mushy.

Then add all the spice powders and jaggery; sauté till the whole masala comes together and oil starts appearing at the sides.

Meanwhile mash the lentils and rice using the back end of a ladle or potato masher.

Add the chopped greens along with the masala to the lentils and mix well; season with salt if necessary.

Add more water if necessary and cook on the low heat for 10-15 minutes.

Finish off with the chopped coriander leaves.

Serve warm with a drizzle of ghee on top.